Quick Big Brother Spoilers
Head of Household: Jag
Nominees: America and Blue
POV Players: Blue, America, Jag, Matt, Felicia, Bowie
POV Winner: Jag
Veto Ceremony: Veto was not used.
Havenots: ?
Lock your ranks in before midnight
The Situation: Blue is the target.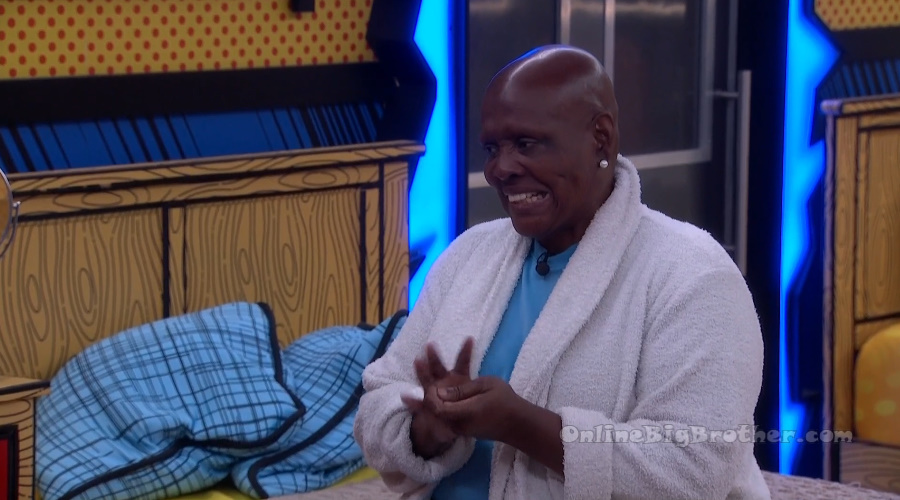 7:20pm Comic Bedroom – Cirie and Felicia
Cirie – I had my chat with Blue. Felicia – And what did she say? Cirie – Girl they got her in hook line and sinker. Felicia – what did she say? Cirie – she thinks she's good. She is planning for next week. I ain't saying nothing. Felicia – so who they telling.. they're saying they're getting out America? Who is the second person? Bowie Jane? Cirie – for what second person? Felicia – for double eviction. Cirie – I guess. You heard her say it here. Felicia – now he did tell me, if he goes that route he didn't want to blindside her. So either Tuesday or Wednesday he was going to tell her. Now I am going to see what he says.. I am going to talk to him again tomorrow .. Have you guys.. Have you .. Have Matt and Bowie Jane decided.. and that's the problem. Is there a consensus on which direction we going in? If it is Blue, are you planning to tell her? Cirie – right. Felicia – because I think its only right because of how this happened. Cirie – well you know they can't tell her. Felicia – yeah that's right they can't. Cirie – she was like ain't nothing I can do about it because I didn't win the veto. She was like but I trust my friends. Talking about Matt and Jag. Felicia – he was talking to me earlier when I was doing the dishes and he was talking about our final four. He was saying that Blue and then America and then next week Bowie Jane. Cirie – okay. Felicia – He said and we just stick with the plan of the final four, he said after that its the HOH and the veto.. he said but we have to cover each other for this final four. I really do believe that's where he is going. I said it will be interesting because everyone wants to be in the final two seats .. basically only two people are going to land there. And so I said that HOH at the final 3 decides who sits next to them. I said now I am not crazy enough to believe .. say it was me in the final 3, you ain't taking Matt with you? But I said whoever wins at the final four and the three dictates the final outcome of the game. He said yeah and he said that I realize that people see me as a huge threat because of my competitions… but think about it last year Taylor won, Monte picked her and she beat him. He didn't get a vote. He thought that she was a an easy win because he had won all those comps. Cirie – he won a lot of comps? Felicia – MMmmhMmm. He was just like Xavier. He won all of the comps. Cirie – Monte did? Felicia – Mmmhmmm. Her social game was better than his. He was like I don't think just because I've won these comps.. he said I realize that you have a good social game. Cirie has a good social game. Matt has a good social game. So he realized that sitting next to a Bowie Jane, or next to a you or me… doesn't guarantee him a win. Cirie – Bowie Jane ain't you and me. Bowie Jane's social game ain't yours and mine. So a Bowie Jane is a guaranteed win. PRACTICALLY. Felicia – yeah. He basically said that when he said your social game and my social game. Matt's social game. He didn't mention her name. And rightfully so. Bowie Jane just woke up two days ago. Felicia – she woke up this morning. We just woke her up. But he is saying the final four is the four of us. And at some point .. I guess this is where I am trusting to get a plan and stick with it. Cirie motions to Felicia not to say anything to anyone – Matt mentioned to me that he knows at some point Jag's got to go. Don't say nothing. Felicia – I won't. He said its all in the timing.. He said I don't know if the timing is during the double or not. So he been thinking about it. So I think if we were to win that first HOH, if Matt wins the veto.. we could talk him out of using it. He thinks Jag will win the veto in the first HOH. He said so Jag will play in the next HOH and if he wins that one.. he can't play in the next one. Felicia – that's what I said, next week. Cirie – that's what he (Matt) is saying we should do. Felicia – that's why I am saying you almost want to win the first one and not the second one because then the next week you can do it.. at that five to four. Cirie – so then if we win the first one, what are we going to do? Felicia – I think the first one.. we still put up America and Bowie Jane. And we send home Bowie Jane.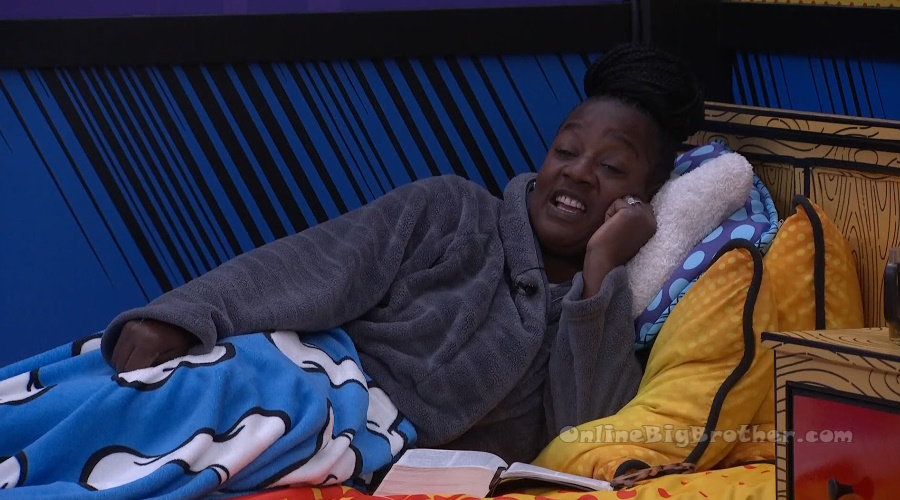 Comic Bedroom – Blue, Felicia and Cirie.
Blue joins them to talk about the strategy for the double eviction. Felicia – I think you put them up and one of them goes home.. now you have to convince them when you can't play that they're not your target. Because I think if one of them goes home, I think the other one is actually low key happy. Because they feel like they got rid of their true competition. They will never do it themselves, I don't think but if someone else does it they're happy campers. Blue – okay so what about my position because obviously I am very close to both of them right. I am not worried about taking a shot but the only thing I am worried about is them taking a shot at me because like when I can't play HOH right… Because my thing is I draw that line.. then they are 100% coming after me. And if they get rid of me and again I am not underestimating ya'lls skill at all what so ever but they come at me .. if they come at me and I go home the chances of them winning whoever it is is so much higher. So for me I think .. and lets talk about this. If I win the first HOH, I put Bowie Jane up and Jag. I think that for me makes sense for my HOH because Bowie Jane could be the target and Jag could be because I don't want to get more blood on my hands.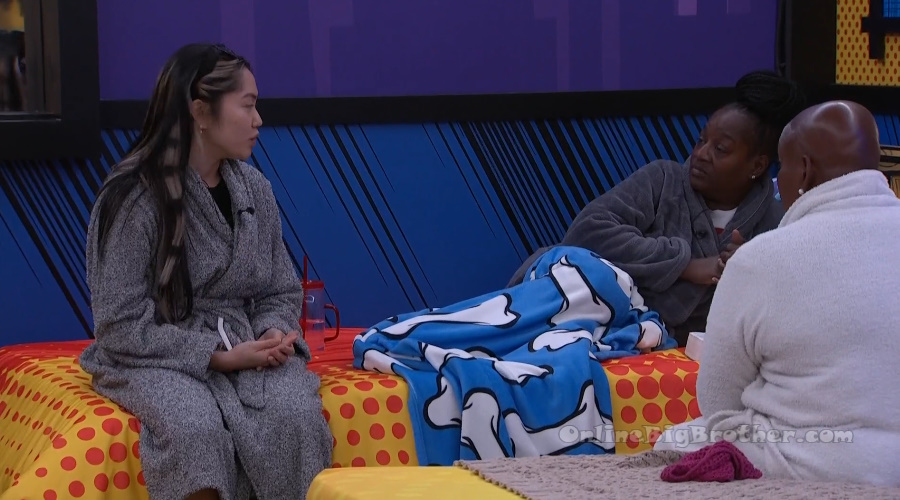 Felicia – and because you know he's a good veto player. Blue – exactly. So, I just want Jag as comfortable as possible so he doesn't feel like he needs to win. If Matt wins, I think there is a possibility that I could convince him to not use the veto on Jag. Because I don't want more blood on my hands and have to put you or you .. I think there is a possibility where Matt doesn't use the veto. If Jag pulls himself down.. then we got an issue. If Jag comes down, we got two options. One, I put Matt up.. if I put Matt up I might as well have put both of them up because then that's obvious that I am drawing the line. I think there is a way where I put Matt up and say I didn't want more blood on my hands. I hope you understand. Maybe I could convince him. The second thing is, well I guess I wouldn't put either of ya'll up so I guess there really isn't no other option. I would have to put Matt up. Bowie is the target, Bowie is the target. Next HOH, because I can't play they might put you two up.. If I win veto, I take one of you down and Matt has to go up or Jag has to go up. I think that would be a really good idea for us to strike. Felicia – yeah. Blue – personally I am not worried about Matt. I have beaten Matt a lot of times. I am worried about Jag. If Jag is the one that takes himself off the block, I have to for my game… I have to switch coarse and target Bowie. Because if Jag starts coming after me, he damn won the game. Because Bowie is going to go straight to them and ya'll can beat anyone in mental. That's easy but the vetos are so physical sometimes. That's how I see it. I want us three to be final three. This is where I stand. I would love to see a woman of colour really make it far .. and if Jag targets me oohhhh.. that's going to be hard. Cirie – I think that sounds logical. That makes a lot of sense. Blue leaves the room. Cirie – I wanted her to win the veto so bad so that she could take care of herself.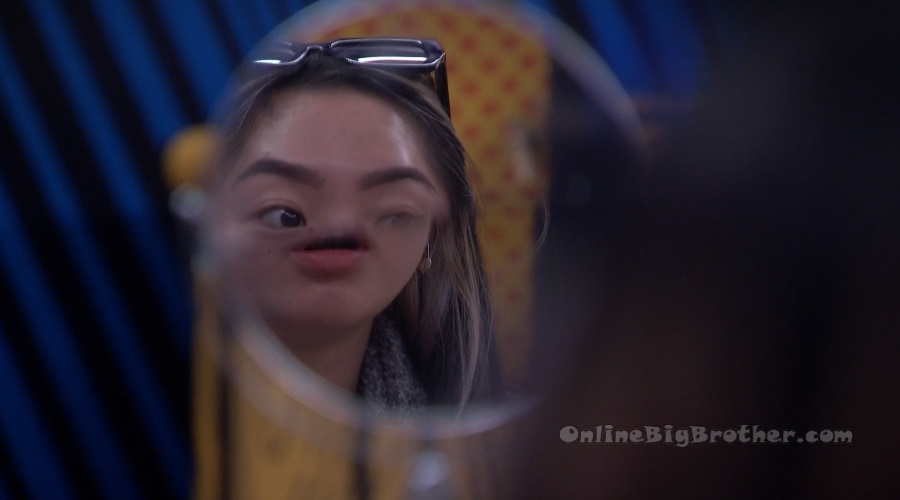 8:20pm Backyard – Matt and Blue playing pool.
8:32pm Backyard – Blue and Matt.
Blue – I think we have been in similar situations and I feel like our relationship has gotten a lot stronger in the past few weeks.. I actually feel like awhile. I feel like a month. I feel like its been really good. So just like I am doing my due diligence and letting you know that I want to be here very badly. Matt – oh I know that. Blue – I think I have proven that I deserve to be here over America. Matt – phhhtt tell me about it! Blue – just letting you and Jag know that ya'll are my final 3. With the double coming up.. the first one will probably be mental. So I definitely want to be in a position where I can help you. And Jag can't play in HOH too so being able to be here and help. Like five get to the five is my goal. And with America being here its going to be you and Jag. I think especially with you I have been really straight forward and haven't lied.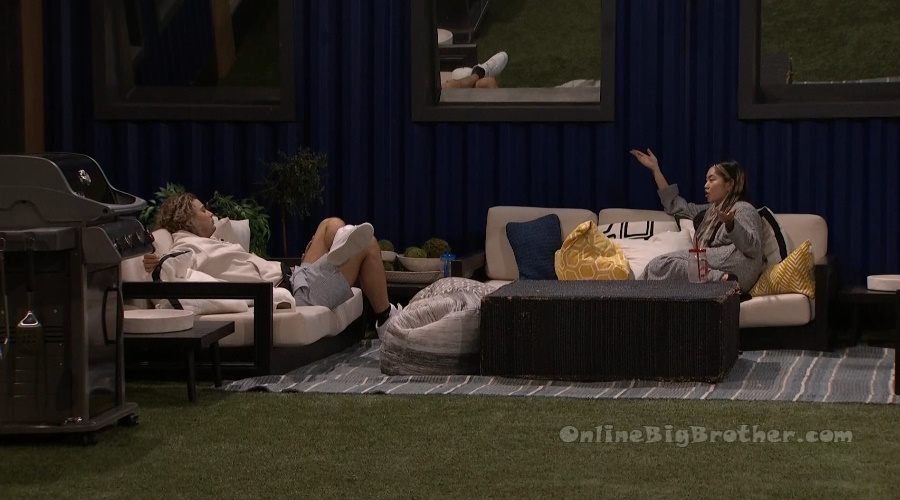 9:05pm – 9:30pm Comic Bedroom – Cirie and America
America – everyone is telling me different things about who wants who out this week. Cirie – they're lying. We've had no conversations with them about wanting you out. America – and like I understand because I know ya'll are close with Blue too. And like me and Blue are pretty similarly matched. Cirie – they have their agenda. They just think everybody is just going to lay down and they'll roll on by to the end and that is crazy! That is crazy for us to think to allow that. They took out Cory, they took out Jared. And we just going to be like okay let me get the door so you can get the cheque! We can't do that. Forget about Bowie Jane she won't do it.. but Felicia will take the shot. Everybody is scared. I am trusting you. America – I'm not going to say anything. It feels better saying F**k it, I am going after Matt and Jag. Cirie – I'll do it, I ain't scared! F**K it! What do I have to lose?! America – they literally won't come after you. If I am here, they will put me and you up. And its Felicia and Bowie voting.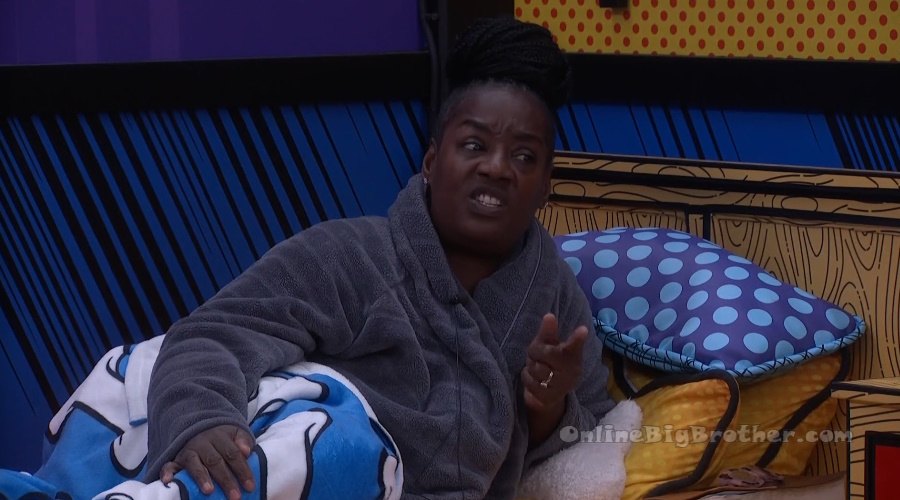 9:35pm – 9:50pm Backyard – Bowie and Felicia
Bowie – I had a chat with him (Jag), he wants it to be Blue. Felicia – so you, me and Matt want Blue and Cirie wants it to be America. Bowie – she does? Felicia – she does. I am trying to get her to stay with Blue. Bowie – and honestly that's her decision if she wants to. Why does she? Felicia – this got to stay between me and you.. Bowie – yup 100%! Felicia – she wants it to be who she thinks is the biggest probability of taking a shot at Matt and Jag. Bowie – ah okay yeah. I guess I hadn't thought of that angle but yeah that makes sense. Felicia – and she figures Blue will do it before America .. and be successful. Bowie – yeah. But yeah, we may not last. Like she might also vote us off. Felicia – and that's the point I keep trying to make. I said at some point you have to trust somebody. So we get rid of Blue and we keep America.. I said you know you can't trust America as far as you can see her. And I said after that if they win the next week, they may put you on the block. Bowie – yeah that's right. Yup. Felicia – and I know everyone is trying to think of how do we get out Matt and Jag we have to get to the end but.. Bowie – they're strong competitors and they can also potentially take you through to the end .. you know? Its not necessarily a bad thing. Felicia – yeah and that's my thought. I say hold on and keep that cover for as long as you can. Blue can't give us that much cover.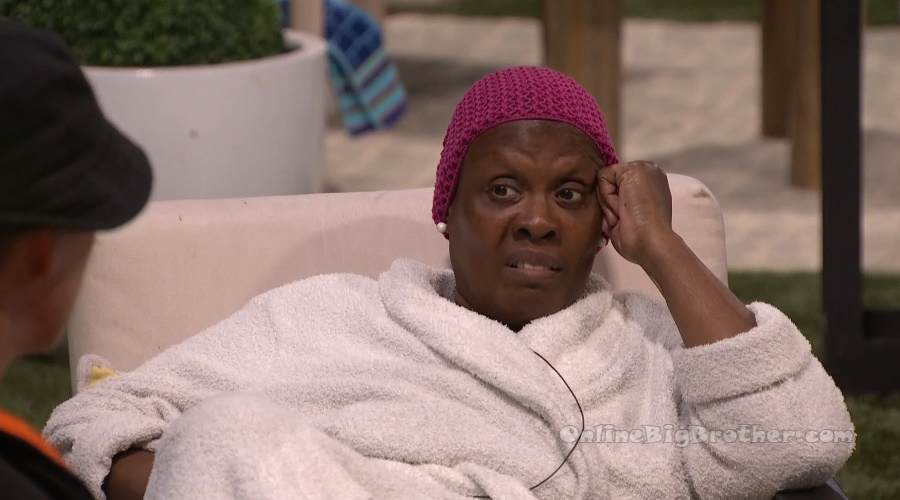 10:05pm Comic Bedroom – Jag, Bowie, Felicia, Matt and Cirie are hanging out and chatting about piercings.
10:35pm Comic Bedroom – Felicia and Cirie.
Felicia – a part of me really feels bad for Blue. She believes them. Cirie – I do believe that one of us are going to win because its us against Bowie Jane, America and Matt. Felicia – Okay! And its going to be a mental challenge. I am sure of it. Cirie – I think its going to be you or America that's going to win. Then what? She thinks even if we take the shot they're (Matt & Jag) are still going to go after her (America). Felicia – Na! They're coming after us because we're supposed to be aligned with them. She's not aligned with them. They don't care nothing about her. They'll keep her and Bowie Jane to get rid of our a$$es! If we take the shot we can get rid of one of them. I still think there is a way to get to five with them and take them out. I think if you do it now its too early and they'll just knock our a$$es off.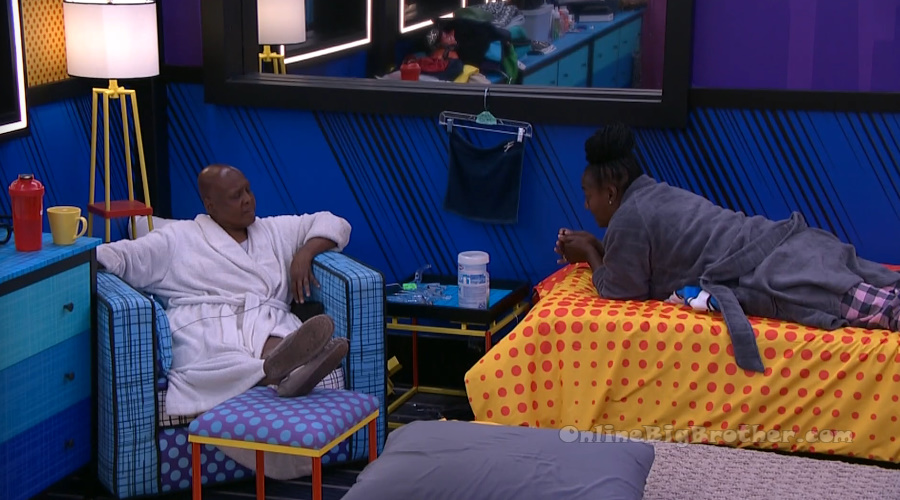 11:05pm Bathroom – America and Bowie.
Bowie – I had another chat with Jag and chatted with Matt and its not even a question (voting out Blue and keeping America). America – okay, I don't know what her campaign is like but for me and I told Jag .. okay you want me to keep up this whole charade that I am going after you guys.. that's what my campaign is going to be so its just been pretty basic. Bowie – did he (Jag) think that was a good idea? America – well yeah, he in his speech said that he is coming after me .. it makes sense for me to be going after them. I'll be the shield. Right like they are always going to come after me so I don't know what Blue is pitching but I just know she is a lot close to them because of Jared. I just don't know what her pitch could be. Bowie – yeah I don't know. One thing at a time .. its all going to go pretty fast on Thursday. America – yeah we can chat on Thursday. Bowie – I will definitely tell you if anything changes.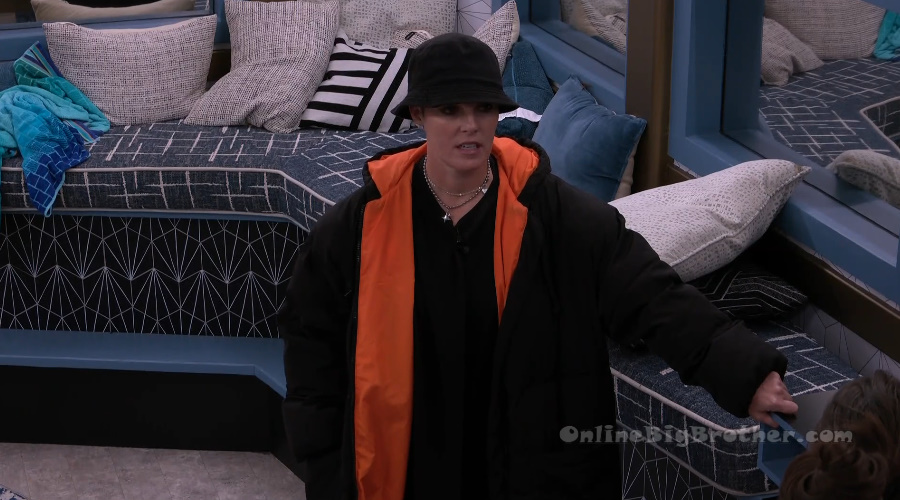 11:17pm – 11:25pm HOH room – Matt and Bowie.
Bowie – they probably think they can get one of us. Matt – that's why I put my foot down and just said I am voting Blue out. Because every time they would redirect and they would be like Blue is competitive but… Because even if we keep Blue and she doesn't take a shot at us. She takes a shot at you. Bowie – yeah. Its just as bad. Like its not good for us at all.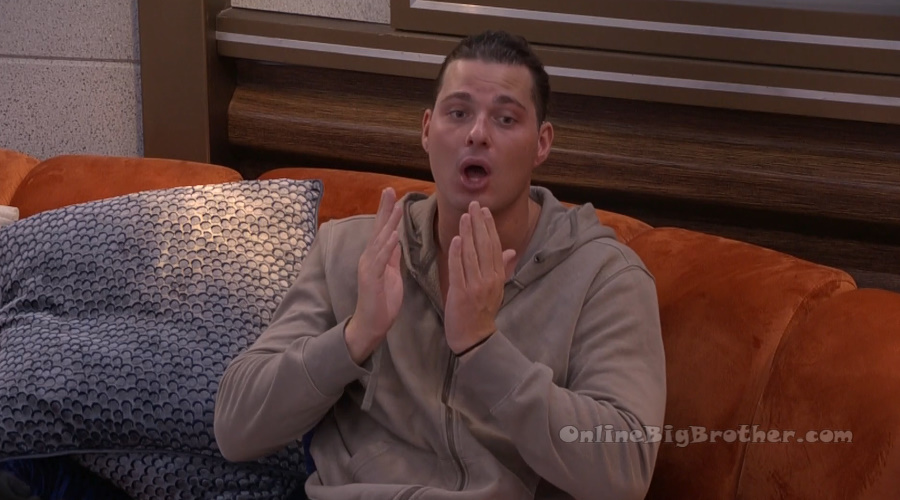 If you've enjoyed our updates this season and want to leave a tip you can do so through PayPal.
You don't even need a Paypal account to contribute. Any amount is appreciated! 🙂