1am in the havenot room - Caleb relay's his conversation with Frankie to Cody and Derrick. Caleb says do I think if he (Frankie) won it would he put me up, I don't know. But I would feel way more comfortable if one of you guys won it. Big Brother blocks the feeds and when they come back - Cody and Derrick are alone. Cody says that Caleb just said that Frankie said he wasn't going to put him up so who does that leave? Derrick says he could just be saying that to Caleb. To not take a shot at him but he's lying through his teeth. Derrick says Christine has been throwing comps left and right but not any more.
-Post has been updated--Post has been updated--Post has been updated-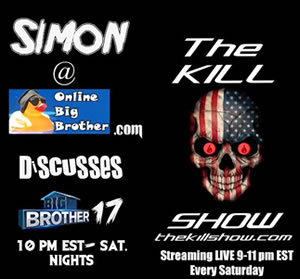 Simon from Onlinebigbrother on THE KILL show Saturdays @ 10pm
http://thekillshow.com
9-11pm
Big Brother Links
Bitchy Big Brother Blog
Big Brother attwx
Hamster Watch
Quirkydudes Archives
Big Brother Archive
Big Brother Gossip
OnlineBigBrother Forum
I Love Reality TV
Big Brother Junkies
IHateBigBrother!
Big Brother 2009
Big Brother Network
Big Brother Insider
The Big Brother Forum
yakkityyaks