-Post has been updated-
9:15am - 9:40am Donny, Hayden and Cody are in the kitchen talking. Hayden talks about his first impression of Caleb. At first he looked scary with the tattoo and stuff but then when he did his selfie with Julie Chen he had a big smile and two thumbs up. (Hayden imitates what Caleb did in the photo above.) Hayden asks Donny if he heard / remembers all the BB messages that were played last night? Donny says that it was blasting over his bed but that he doesn't remember them. Hayden tells him that they weren't used in the Battle of the Block competition so we're thinking its for an upcoming competition. Donny wonders if the messages were just to throw you off and keep you awake. Hayden tells Donny all the messages.
-Post has been updated--Post has been updated--Post has been updated--Post has been updated-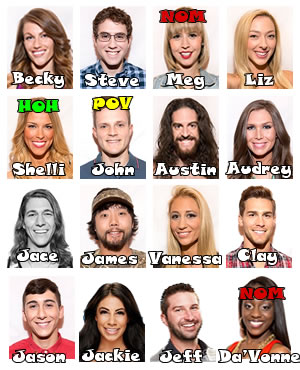 Big Brother Links
Bitchy Big Brother Blog
Big Brother attwx
Hamster Watch
Quirkydudes Archives
Big Brother Archive
Big Brother Gossip
OnlineBigBrother Forum
I Love Reality TV
Big Brother Junkies
IHateBigBrother!
Big Brother 2009
Big Brother Network
Big Brother Insider
The Big Brother Forum
yakkityyaks