So Canada did you enjoy your HOH? We nominated Sabrina and Andrew AKA the boogermance. Jon won the Power of Veto and chose not to use it on either of the nominees. His excuse was that he felt if he used the veto he ran the risk of someone close to him going up, someone like Neda. This is because the assumption in the house is that Neda hasn't been involved in much "Game Play" she will not be liked by Canada and would therefore have a lot of votes to be nominated. Andrew didn't do much campaigning to stay, he stated that he loved Sabrina too much to do that.. groan. Kenny did more campaigning for Andrew than he did for himself. Sabrina did a bit of campaigning but again she said she loved Andrew too much to go against him and break their boogermance.
-Post has been updated--Post has been updated--Post has been updated--Post has been updated-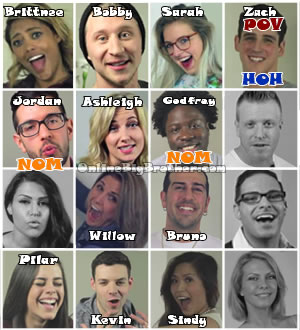 Big Brother Links
Bitchy Big Brother Blog
Big Brother attwx
Hamster Watch
Quirkydudes Archives
Big Brother Archive
Big Brother Gossip
OnlineBigBrother Forum
I Love Reality TV
Big Brother Junkies
The Reality Junkies
Big Brother Fans Blog
IHateBigBrother!
Big Brother 2009
Big Brother Network
Big Brother Insider
The Big Brother Forum
Because You're Addicted
yakkityyaks