11:20pm Up in the HOH room - Pilar, Brittnee and Sarah are chatting about what the POV competition will be like. Sarah received medication for her back pain. Sarah leaves and sits with Godfrey under the stairs. Willow says she hopes she wins her first veto today. Sarah heads to the HaveNot room to lay down. Zach, Bruno, Bobby, Godfrye an Willow are in the living room. Zach talks about crushing Brittnee in the soccer havenot comp yesterday. Bobby says I can't wait to watch that one. Bruno says that will be a great one to watch.
-Post has been updated--Post has been updated--Post has been updated-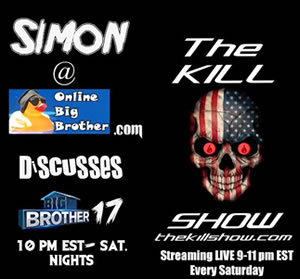 Simon from Onlinebigbrother on THE KILL show Saturdays @ 10pm
http://thekillshow.com
9-11pm
Big Brother Links
Bitchy Big Brother Blog
Big Brother attwx
Hamster Watch
Quirkydudes Archives
Big Brother Archive
Big Brother Gossip
OnlineBigBrother Forum
I Love Reality TV
Big Brother Junkies
IHateBigBrother!
Big Brother 2009
Big Brother Network
Big Brother Insider
The Big Brother Forum
yakkityyaks