Head of Household Winner – Memphis
Have nots – Kaysar, NicoleF, Christmas, David
Nominations –
Power of Veto Players are –
Power of Veto holder –
Power of Veto Ceremony –
Safety Suite –
Live feeds —-> Grab your Live feeds here. Try it free.
Rank the houseguests —-> Big Brother 22 Ranking
Memphis picked the have nots. Kaysar, NicoleF, Christmas, David
6:16 pm Feeds come back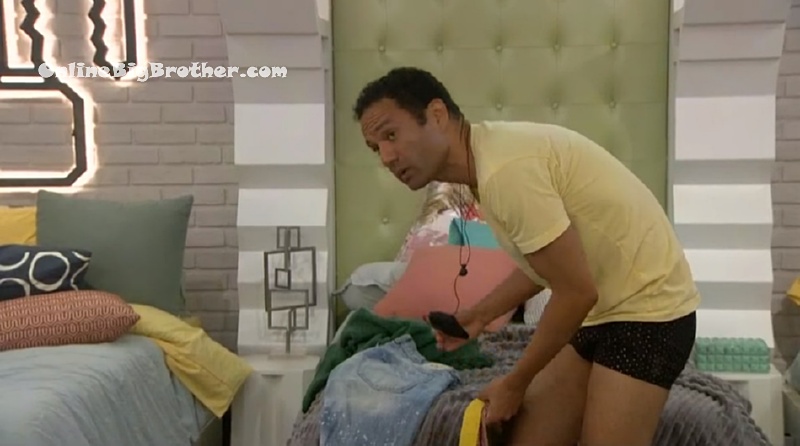 6:20 pm Kevin and Bayleigh
Kevin is worried about what Memphis will do. He thinks he might go up.
6:25 pm They get alcohol, Two bottles off wine and 4 beers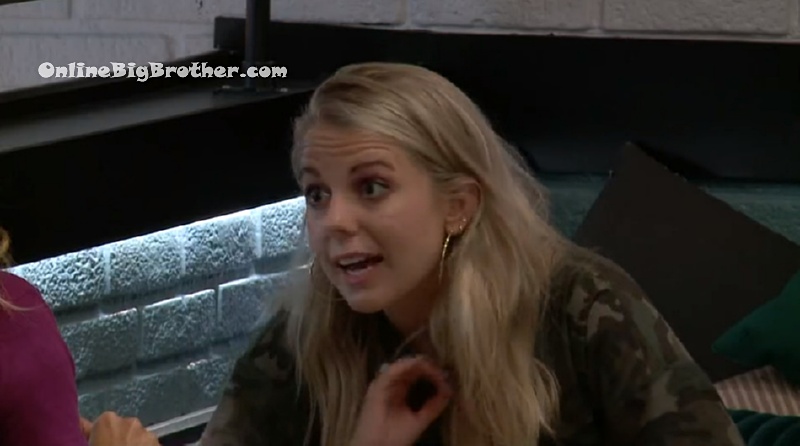 6:35 pm Christmas and NicoleF
NicF tells Christmas that she's Janelle's target.
Christmas – if I'm their target because they see me a threat .. they better be
NicF – We have to make sure Ian stays in the house this week I have a very close relationship with him.
NicF – Out of all the people from their side.. Ian is a number for us
Sh1Tmas – I agree with that 100%
Sh1Tmas – Janelle f***ing pisses me off man
Sh1Tmas – that kind of player makes me so mad
Christmas – I wanted to win HOH and I was going to f**ing put her up
NicF – NicoleA is close to her she pretends to be your friend she's not. She talks to you
Sh1Tmas – no
NicF is going to sit back and wait for people to get drunk then she'll talk to them. "Out of sight out of mind"
Christmas – She didn't even wear her costume the whole time why didn't she get a penalty vote
Nicole says Janelle never wore the bottom part of her costume because she complained her feet are small
Feeds cut
Nicf – you're so easy to get along with
Sh1Tmas – I love this game but I don't f*ing need the drama I'm not like that
NicF – Memphis will do what he wants to anyway .. I'm a little nervous
Sh1Tmas – he's not going to have the balls to do what he needs to do
NicF – he's not going to do what he needs to do
NicF – It's going to take a couple of shots. we can't push for this week.. we can get her next week.. If someone catches wind they will save her in the safety suite
NicF – don't tell anyone you don't like her. I'm pretending to like her
NicF – Kiss her butt, I hate doing it but, I just hide.
NicF – It's not going to be this week. that's alright we'll take out the tail of the snake, NicoleA. we'll deal with this week. NicoleA
NicF – I think he'll go after David, Let him go after David
NicF says they can tell Memphis not to waste his HOH on David he's someone they can use as a pawn
Christmas goes on about Janelle twisting her words trying to turn people against her.
NicF – She's trying to get more people against you. Holy crap
Christmas – that is the story of my life people get mad they get intimidated
NicF – the whole other side of the house has to go
Sh1Tmas – I don't know what you feel about Da'vonne but I don't feel comfortable with her
NicF- I like her the best out of the other side. I trust her the most out of the other side
NicF suggests they get real comfortable with Kaysar.
NicF – it's us Vs them
Sh1Tmas – we got one of them out already and we're in power
NicoleF says if one from the other side gets power they'll pick them off.
Sh1Tmas gets excited that the next HOH will be an endurance competition.
Nicolef – I told Keesha straight up that she didn't have my vote.
NicF – I can't play dirty this year you get what I'm saying. I'm not gunna It's not worth it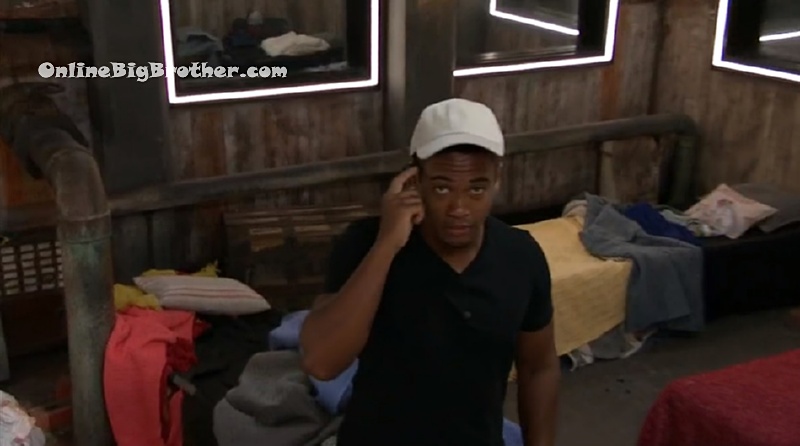 7:05 pm David
D – lets play it, lets play this game.. let's play this game. before I tell you more give me one second
D – first off. Shoutout to OVI ..
D – this is where you toughen up. YOu have to go through some hardships to toughen this out I want to be up here. I want to be right here. I'm happy to be here I really want to play I really want to game now. I want to grind from a tough spot I want to play from a tough spot
D – I will not be going on the block in this game I got two chances to get out of it. I'm putting a team together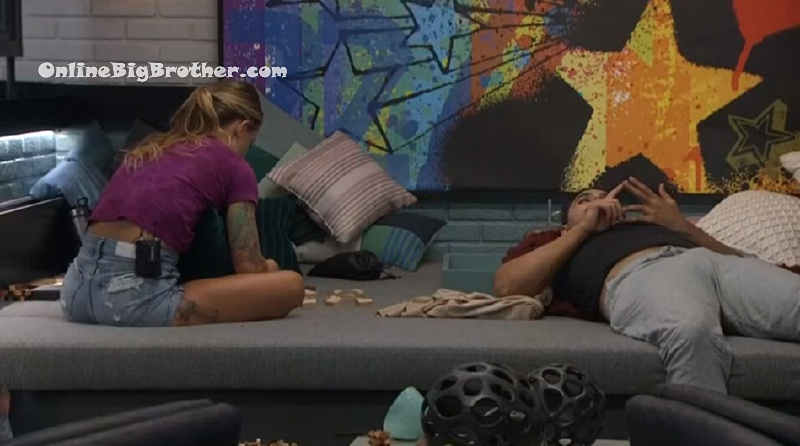 7:25 pm Christmas and Kaysar
Talking about being have nots this week.
Christmas asks who he thinks he would work well with
Kaysar – Bayleigh, Da'vonne, you
Kaysar – I like NicoleA she's so sweet.. she's just a sweet person
Christmas – I like those people too
Kaysar – I like Dani
Christmas – she's so dry
Kaysar – what about you
Christmas – I really like bayleigh and me and Da'vonne connected early on I feel like it hasn't been fostered.
Christmas – I really like those girls
Christmas – I think Janelle is a riot
Kaysar – I know Janelle likes you she told me
Christmas – we had so much fun last night
Christmas – I like Memphis I just don't know
They talk about the guys "broing out"
Kaysar says they don't talk to him "out of all those guys it's Memphis"
Kaysar says he hasn't talked game with any of those guys. (Cody et.al)
feeds flip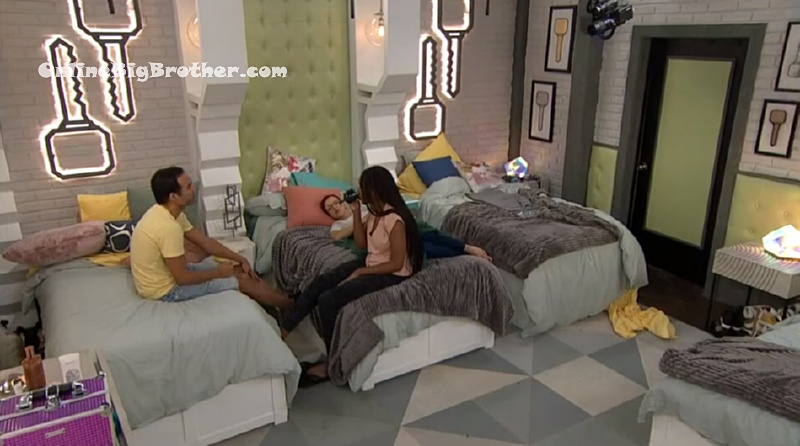 7:38 pm Kevin, Bayleigh and NicA
Kevin says he was angry he was on the block because he never played in the veto
Bayleigh – I like Memphis but we don't talk game
Kevin – I barely had a conversation with him this morning. He told me flat out he would vote for me to stay. He was the first one to stay I know he was campaigning to keep Keesha
Bayleigh – He wasn't campaigning to keep Keesha but he was one of the votes they ere counting on to keep Keesha
Kevin says the first time he ever talked to Memphis was this morning.
Kevin thinks Memphis will get help from Janelle and Kaysar in planning his HOH. This is why Kevin wanted to sleep in this room.
Kevin leaves… Bayleigh and NicA chit chat … The camera zooms in on NicA
Feeds flip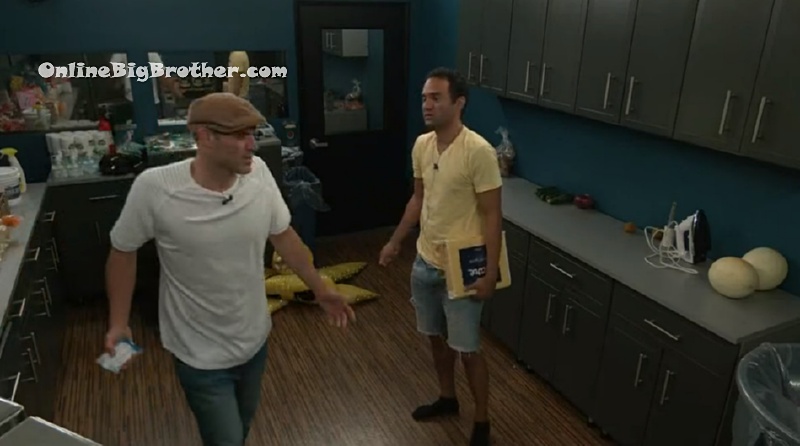 7:44 pm Enzo and Kevin
Enzo – The game just started bro yo.. I hated that competition today I f***ing hated it. I just didn't know what the f***
Enzo – I never did that sh1t on my season I never did that
Kevin – it was a crapshoot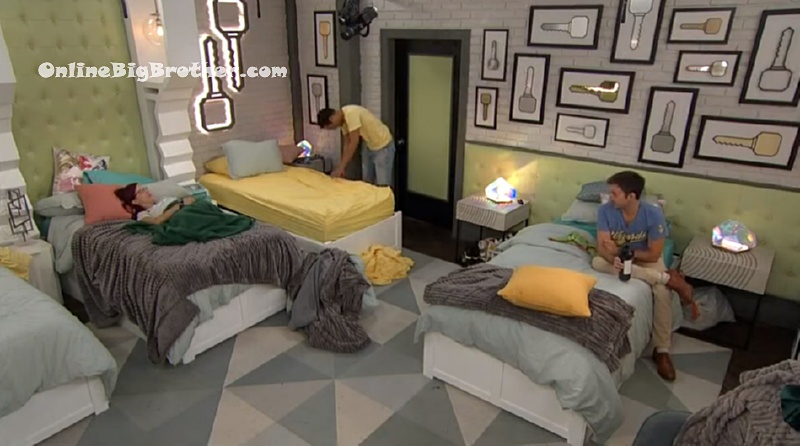 7:49 pm Kevin, NicA and Ian
Kevin going on about how Memphis and Kaysar talk game alot every morning he's walked in on them
Kevin – they could also be talking like we're talking
Ian – I've been up with them early before too and they don't talk game much
Kevin says he was stuck in a room for a whole month to get on this show.
Kevin – do you think you'll play in the safety suite
Ian – not sure yet have to think
Kevin complains that this season they have a smaller house because the backyard is always closed.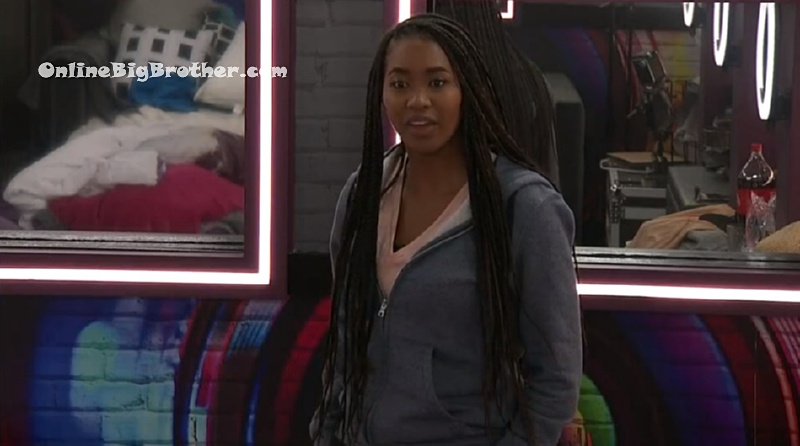 8:14 pm Bayleigh and Cody
Cody talking about how they loves Ian but he's already won the game. says that Memphis has mentioned his name.
Ian comes in.. (Cody sounds like a douche)
More people trickle in chit chat….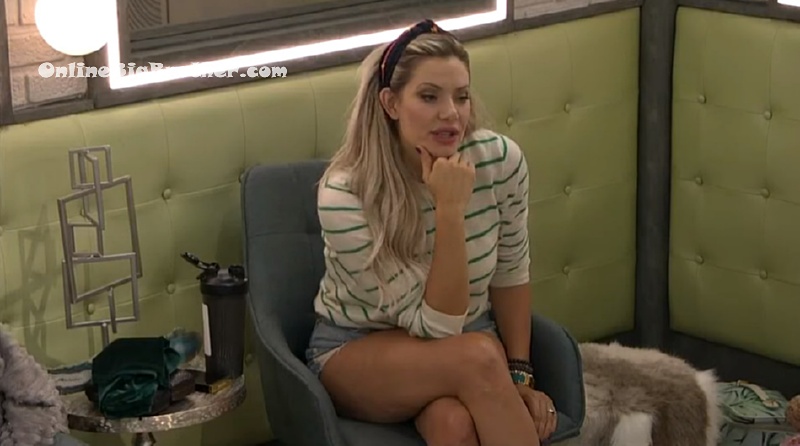 8:30 pm NicA and Janelle
NicA – asks if Memphis has plans
Janelle – I have no idea literally none.. I was good wit Keesha so I'm probably okay. Anyone that crossed her would probably be in trouble don't you think
Nic – Who are those people
J – the people that we're pushing for her to go. You know what I'm saying
NA – I hear you make sense
J – I'm really happy you are in my room.. it's great
Na – i'm really happy i'm in your room too
NicF slithers in
NicA – I feel bad I'm stealing your bed
NicF – that's ok I'm a have not
Nic laughs "you're stealing my bed"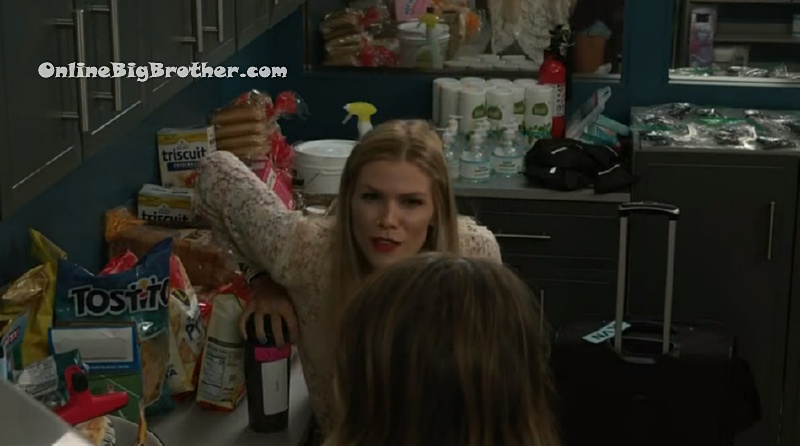 8:30 pm Dani and Christmas
Christmas is talking about using David as leverage in the house because he's alone.
Dani isn't sure he's as alone as Christmas thinks
Christmas – I don't think he's…. not much of a threat. He's never played the game
Dani – makes him an easy pawn.. I feel Memphis will backdoor someone that 's the type of player he'll be. Are we playing in safety suite?
Christmas – none on our team gets to be a pawn
Dani – hell no
Dani says every season that is the dumbest move putting your own people on the block.
Dani – what about the safety suite
Christmas – I think some of us need to go for it.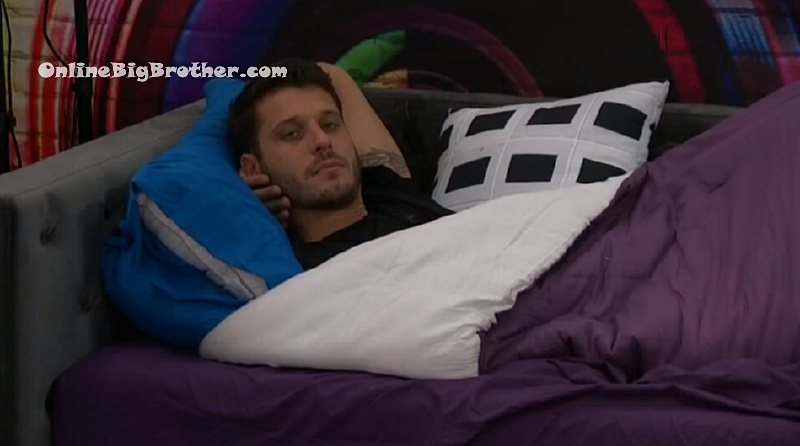 8:43 pm Cody, Tyler and NicF
NicF doesn't think Memphis will put up Bayleigh "he loves Bayleigh"
Cody – I'll be honest he might target Ian
NicF – I know it sucks
Cody – I gotta be honest with you I talked to Da'Vonne she's not a huge van of Janelle.. Janelle came to ma and dragged Da's name.
Cody says if Nicole saves Janelle with the safety suite he'll win HOH week three and put them both up. Says he'll "Clip" Nicole
(Shoot me now this is season 16 he's already saying Clip f***ing clip)
Cody goes on about bayoleigh and Janelle being tight
NicF – I would love to get Da'vonne on our side there's just too many people
Tyler – we can get David on our side
Cody – 100%
Tyler – we can't let David or Ian go
NicF – Kaysar and Janelle will try to make a deal with him
Tyler – they already have
NicF now saying that Memphis is goign after David
Tyler – that's such a waste
NicF – I want to put him up as a pawn.. he's a pawn
For some reason feeds flip … (this is troubling feed editing)
8:54 pm when we're back. NicF going on about sealing the deal with Memphis tonight.
Tyler – are you playing safety suite tomorrow
Cody – I kinda want to I'll have to talk to him first.
Tyler leaves..
Nicole says they can't burn all their safety suites because that would only leave NicA holding one for the last week so she would win and save Janelle.
Cody says that Memphis is going to put up Ian
NicF they can't vote Ian out "He's going to freak out"
Ian walks in …
Kaysar getting ready for some social gaming #BB22 pic.twitter.com/cl0ocIi3gm

— OnlineBigBrother.com (@bigbspoilers) August 14, 2020