Head of Household Winner – Memphis
Have nots – Kaysar, NicoleF, Christmas, David
Nominations – David & NicoleA
Power of Veto Players are –
Power of Veto holder –
Power of Veto Ceremony –
Safety Suite – Christmas wins. Ian is her Plus One
Live feeds —-> Grab your Live feeds here. Try it free.
Rank the houseguests —-> Big Brother 22 Ranking
DURING NOMINATIONS: Memphis told David – "Welcome to big brother" and "Hey buddy, welcome to the grown-ups table"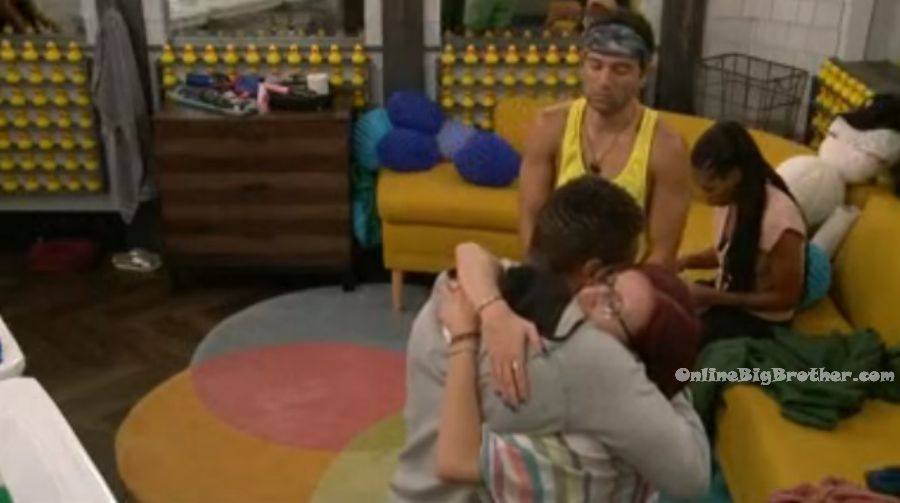 6:51pm Bathroom. NicoleA and David hug.
NicoleA is crying. Everyone is giving her and David hugs. – I am fine. I'm such a straight shooter. Just tell me. Like I don't deal with pu$$y footing. I just can't take it. Enzo to NicoleA – stay strong! Stay strong! Theres a lot to play.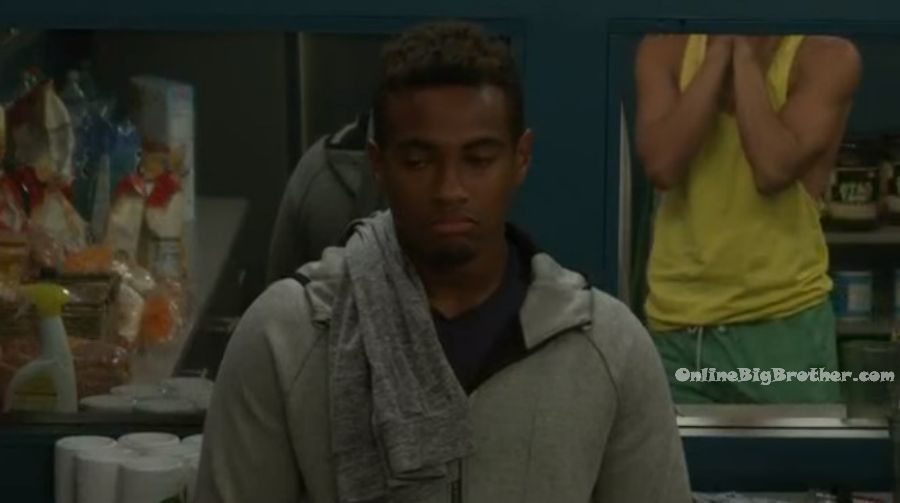 6:50pm Storage room. Kevin, DaVonne and David.
Kevin – I knew it even before he said it because he looked dead at you. David – I've been seeing it all week. I knew it .. come on. Kevin – you can turn this around. I was at a low .. you can turn this around. David – I knew it when he said you can be a havenot. You know .. the comment he said there .. I'm not even upset. I am just angry at those two word he chose. DaVonne – yeah. Kevin – you can win and not even have to campaign against. David – that's what I'm going to do. F**k that! F**k that bullsh*t! Motherf**ker I'm 30 years old! Kevin – that was intentional to get in your head. To make you turn up. First win the veto because you can turn it around. You have tomorrow. Channel that energy tomorrow. And try not to let people know that you're mad at that. Everyone is looking for anything .. you know what I'm saying. Tyler joins them. David – he is just trying to get me angry so I get crazy. Tyler – You can let that sh*t out in the comp. Let it out in the f**king comp! F**k that dude! David – that's some sh*t. Watch him get cooked in that veto! Old a$$! David – I'm going to f**king destroy him. Tyler – he is going to make damn sure you go home after that sh*t. It ain't going to happen. That's how not to do an HOH bro! That's how not to use your HOH. David – I got to be cool! Tyler – F**k that! You got that sh*t. You're here for a f**king reason! Tyler leaves. NicoleF joins David. Nicole – I am sorry .. he never should have said that. And you have to focus on what is next. There are lots of ways to get out of this. Nicole leaves. David – I am going to stay in the storage room. People have to get food. Show some emotion and some pain from that.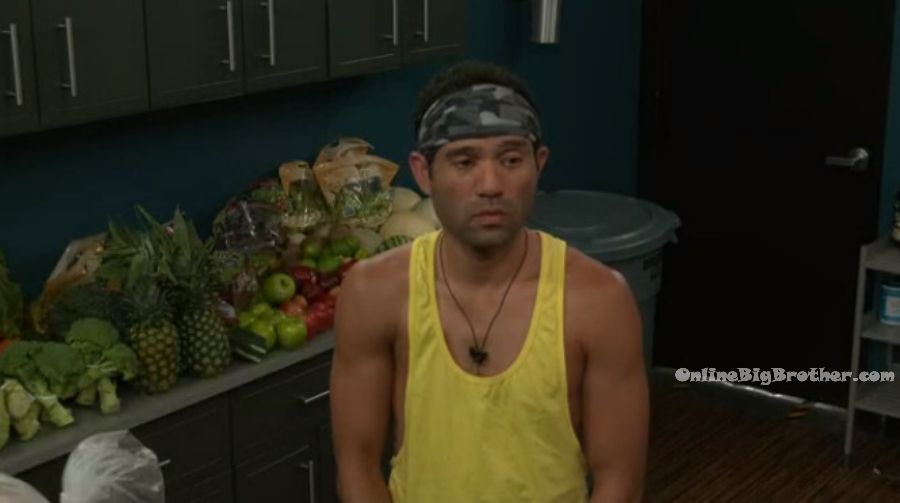 7pm Enzo comes into the storage room.
Enzo – don't worry bro! There's still a lot to go! David – yeah but the way he came. Twice now. Enzo – I know. Its like a cop out for him because you're a rookie. Yo there is still a lot to go! Don't get scared. Its team Freeze! Go in there and get that. If I am in there I am with you too! If Ty is in there too he is with you too! Don't worry about it. Just fight YO! That's it! It sucks because this is all stars season .. you getting thrown in the fire. That's the best way you learn. Just get thrown into it. Don't worry about it! Don't show weakness .. just fight. Just play that's it. You've got me and Ty! We have the POV and then theres votes.. don't worry about it.
Enzo leaves. David to himself. I don't want to be on the block with Nicole. Last year it was Ovi and now this year its Nicole. These are some of the kindest people I have ever met. David leaves the storage room.
Bedroom. Dani, Enzo, Cody, DaVonne.
They talk about how bad that nomination ceremony was. Dani – why, like what kind of threat is he? DaVonne – on the bright side its none of the five. David joins them. Dani give him a hug. Dani – I know this sucks. I am really sorry. No one wants to see you hurting. Its okay to cry too. We all like you a lot. We've all hit rock bottom in this house. We're all here for you and we all genuinely like you and we don't want to see you sad. Its okay, let it all out. You don't need to go out there and let him see you like this. David – welcome to big brother!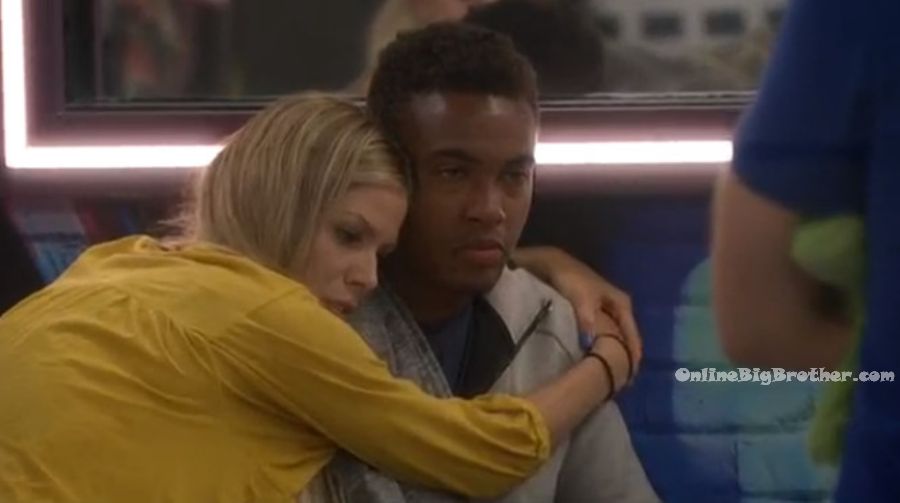 NicoleF to David – its sucks the words that he used! That never should have been used. Just know that I'm here for you and I've got you. We'll get through this week together. I got you.
HOH room. Enzo, Memphis and Janelle.
Memphis – (She (NicoleA said) You can do whatever behind my back just tell me what I want to hear to my face. Even after she didn't play she came and talked to me again for a second time and you know you're going to do what is best for your game. She plays a game that is super straight forward. Which is fine. She told me she wasn't going to use the safety suite. She is very straight forward but for me that is a target. And David .. (Memphis laughs) that might have been a little harsh. Kaysar laughs and says – you think so!?!?! Janelle – this man is like I'm grown, I'm ready! In front of the whole house. I am very nervous. Memphis – the thing about David is look .. this is all stars .. every person that is in this house has put in a lot of work to get far and you guys know this house is a b**ch. He hasn't seen it! He doesn't know it! He doesn't! And I'm not ganging up on the guy. My thought was that I already made him a havenot .. might as well double down! Janelle – so is that your intended target (David)? Is that who you want gone? Memphis – not really. If this kid .. if David can literally power through and get the veto and get through havenot .. he can be here. But I could careless if either of them go home to be honest with you. Look it ain't up to me to decide .. its up to you guys. That's the beauty of this game. That was the two people I could put up and say I am not telling anyone to vote for you or you. Its in their honest hands to figure it out. I don't think you can go through this game without pissing people off. So for me I am okay with pissing them off. We will see how the POV stands. That was the road with the least resistance. Janelle questions why Memphis doesn't see NicoleF as a threat. Memphis – honestly right now I don't see NicoleF as a threat. They talk about Christmas. Memphis – I can't read her. Kaysar – she is intense .. she has ADD .. and she gets insecure .. she requires some reassurance. If you can get her to stay in the lane she is good. Memphis – what do you guys think about the whole Ian thing. I am like what the f**k. Janelle – it was so weird. Memphis – When that happened both times I was like what the f**K is Ian doing? Like Nicole gave Ian a pass to not go on havenot .. which I think is a huge deal. And then Christmas saves Ian. I am not assuming they have deals with him.. Is he going to flip flop around? Janelle – OH YEAH!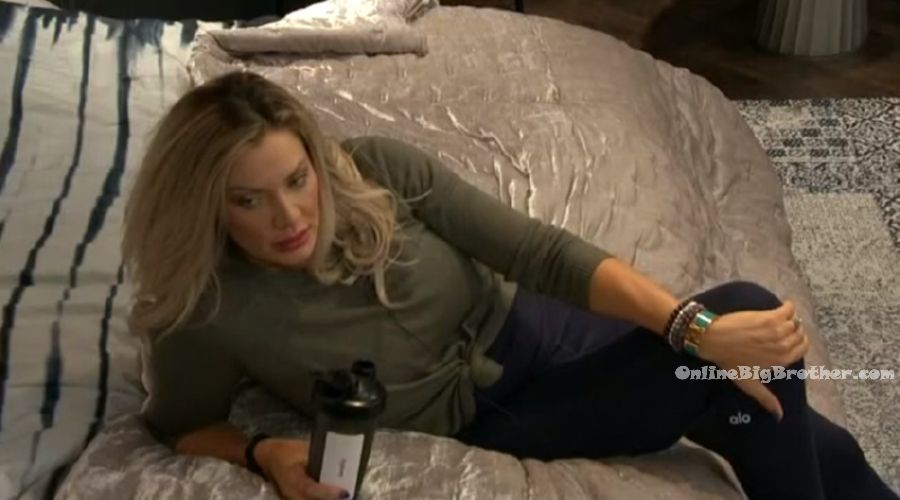 Bedroom. Kevin and NicoleA.
NicoleA is crying. Kevin – its because of your associate to David. Nicole talks about how it triggers her insecurities with last season. Janelle comes to talk to Nicole. Janelle – he (Memphis) said that you refused to do the safety suite. Nicole – I explained why I wasn't doing it. Janelle – what did you say? Nicole – I said I am not going to use it .. I know you're good with me so why would I waste it when I can perhaps use it next week and win it and use it on you. Janelle – this is just a huge f**k up. Nicole – did he watch last season? Did he know I am so loyal that I brought a showmance to final 3?! janelle – I know .. I truly believe that you will be safe .. one of you will come off the block and someone else will go up. It would be really sh*tty if you left. Nicole – if I leave it would be one less number for you. Janelle – I feel like he didn't have enough information.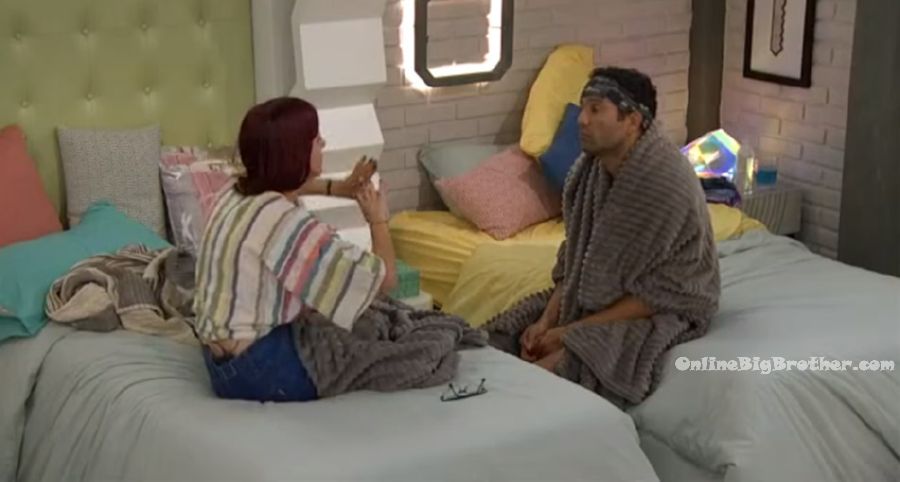 Havenot room. Christmas and David.
Christmas – Make them have to keep you. Don't promise anything that you can't .. over promise .. you know. This is when you actually have to start working with people. Keesha wasn't and that is why she went home. Pick up your social game. Brush it off. Bay joins them. Bay – when you told me this morning that you hadn't had any meetings with him and then how he (Memphis) handled that .. that blew my mind. It didn't have to be that. Christmas – that doesn't reflect on you. Bay – its like a mirror that reflects right back on the person throwing the shade. Bay – none of us here .. are not going to be that mod mentality. And if we see it we will call it out. DaVonne joins them. DaVonne – you don't want to give the house the opportunity to see what its like for you to be absent.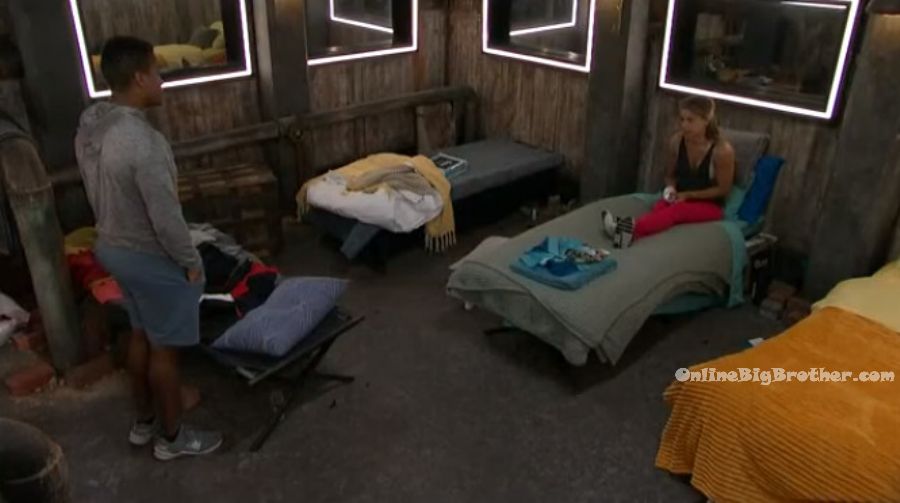 David tells NicoleA to go for the veto. I don't deserve anything more than you do. Nicole – I had my shot at my season. You got f**ked way too early. David – but you are here for a reason. Nicole – I dealt with Michie my entire season .. he (Memphis) doesn't scare me.
8:25pm Lounge room. Dani and DaVonne. Dani – if it stays the same NicoleA is going. DaVonne – what's your deal with Christmas? Dani – I have no idea what that girl is doing! I am waiting for her to just go off on somebody and I am praying it is not me. Oh you like to work out .. I lift weights! They both laugh. I am waiting for her to just go off on someone. DaVonne – it sucks because both of their stories are happening again. Dani – thank god he didn't play that move on me. Can you imagine! I would have said something. Whatever he is going to get himself out of here so fast… he rubbed everybody the wrong way. ..Except Janelle. DaVonne – and Kaysar is probably in that situation.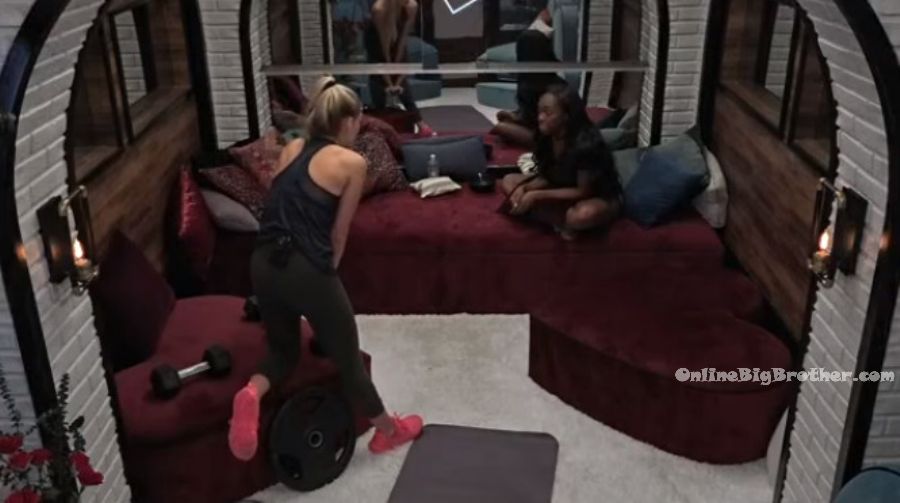 9:10pm The house guest are milling around the house and eating in the kitchen.
9:35pm – 9:50pm Lounge room. NicoleA and DaVonne.
Nicole – I am just frustrated. DaVonne – you and David being put on the block kind of threw everyone off. We thought… I personally thought that you wouldn't be touched for awhile.. and David hasn't done anything. All David does .. and I tell him all the time .. I hate it .. he cleans up after everybody .. wash their dishes, take out the trash. Nicole – this is why I am so frustrated .. he got f**ked so badly last season. DaVonne – but you both did. Nicole – I played my game. He got f**ked and he got f**ked again. The man deserves to play his f**king game. DaVonne – I agree. Nicole – I know we all deserve to be here. DaVonne – its the disrespect and verbiage. I am not okay with it. Nicole – that's what I am saying "Welcome to the big boys table" .. I am sorry but what are you trying to imply? We're all members of this cast.. we're all equal. David has nothing to prove to him or anyone on this cast. DaVonne – and why was he (Memphis) acting like you sassed him? Nicole – If I can be honest with you .. I don't know if Janelle is with us or against us. She (Janelle) said I wanted it to be Kaysar, me, you, and then she said I want to bring in DaVonne and Bay. And I have been saying Kevin a lot .. And if she mentions David .. I pivot. DaVonne – have you talked to her .. what is going on .. I thought you were cool with him (Memphis). Nicole – she said that he (Memphis) said he isn't into big alliances. I told Memphis that I trust him and so I wasn't going to play in the safety suite so that I could play next week and if I won ..he could be my plus one. I talked to Janelle and she said that he told me to play and I said I am not doing that. And that is not true. That is not what I said. DaVonne – you need to have a conversation with him (Memphis). My theory is that David is the target .. and he knows how loved you are in this house. People don't view you as a threat. Nicole – I will feel so guilty if David gets voted out. DaVonne – that's not your fault. You have to fight to save yourself.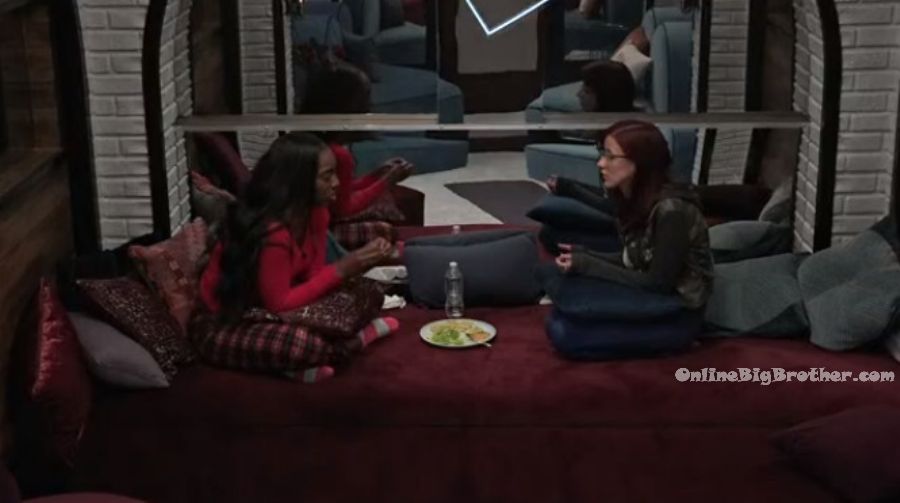 9:50pm Havenot room. Kaysar praying.