Head of Household Winner – Memphis
Have nots – Kaysar, NicoleF, Christmas, David
Nominations – David & NicoleA
Power of Veto Players are –
Power of Veto holder –
Power of Veto Ceremony –
Safety Suite – Christmas wins. Ian is her Plus One
Live feeds —-> Grab your Live feeds here. Try it free.
Rank the houseguests —-> Big Brother 22 Ranking
DURING NOMINATIONS: Memphis told David – "Welcome to big brother" and "Hey buddy, welcome to the grown-ups table"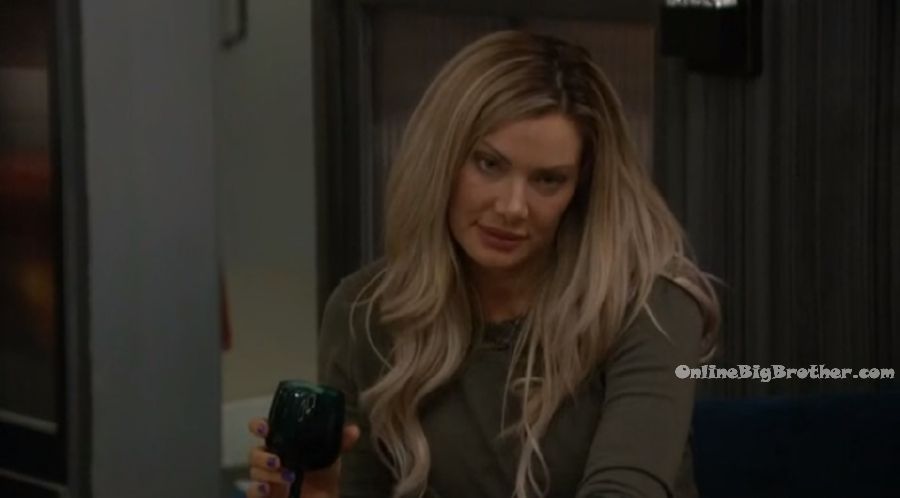 10:10pm HOH room. Memphis and Janelle.
The feed switches mid conversation. Janelle – I think I am at 9 my season (competition wins). Memphis – Nice! Janelle – I won 5 vetos and 4 HOHs. Memphis – holy sh*t! Janelle – and it was a short season. I think I had a 60% chance of winning every time I competed. That is my average. This season ..it is pretty sh*tty because I suck! Memphis – my goal is to win (Veto) and let you guys decide. I am excited to pay tomorrow. I am excited to play in safety suite next week too. This HOH man… that sh*t stresses me out. This is between me and you.. I think with you.. you've hit a certain status with big brother where if someone tries to put you up on the block right now .. it frightens people. Janelle – I feel like there are people in the house that are going to put me on the block. Memphis – you would be surprised. Maybe I am wrong but.. I think no one is going to take that shot any time soon. Janelle – I don't believe that. Memphis – Just because they put you up does not mean you're going home. I think in peoples minds people are scared of you. To do it right now .. it is not ideal to anyone. If they miss .. its like battle ship .. if you miss you're f**ked! Janelle – I think if Kaysar and I hadn't won safety suite last week .. we would have been up. Memphis – when I look at a lot of these people .. I look at them as kids. Janelle – a lot of them are. Memphis – its not that I'm not phased by them but I don't see them on the same playing field. Not to say that one of them isn't going to take me out. I feel like they don't have the mental capacity .. the life knowledge… or maybe I am just over confident and they're all going to come after me. Janelle – I think we're still in danger next week. If Day, Bay or NicoleF would have gotten it we would have been safe. If Tyler had gotten it we would have not been safe. Memphis – you think? Janelle – 100%! Memphis – if Tyler had gotten it and put me up.. I would be gunning for him no matter what. I am not going to be one of these people .. oh its okay or whatever.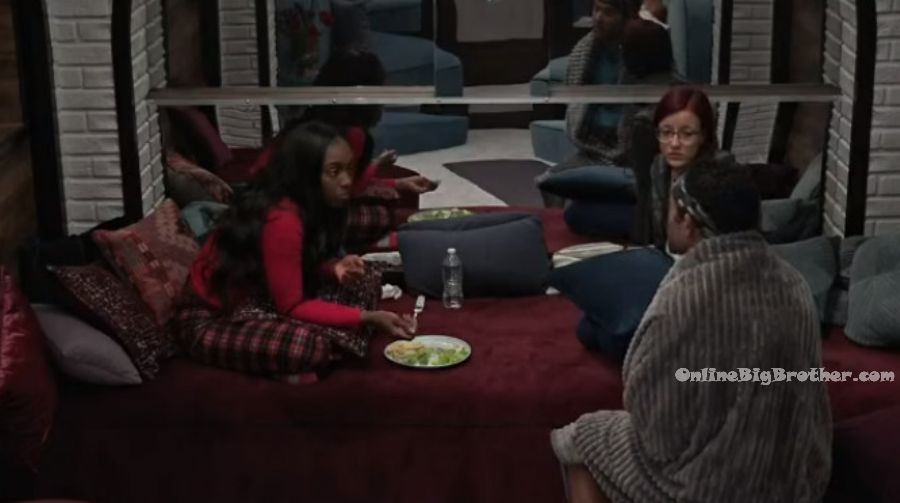 Lounge room. Kevin, DaVonne, NicoleA.
Kevin joins them to tell them that Memphis and Janelle are up in the HOH room laughing and drinking wine together alone. Nicole, you got to.. DaVonne – distance yourself from that. Nicole – just so you guys know .. I am still selling to them that I am with them because I have to. Kevin – she sees you as a vulnerable easy target that she can milk. She is a spider that is weaving a web and if you're not able to avoid it .. you will get used. DaVonne "clocks out" and leaves the room. Kevin – do you want to be on the side with Memphis being a douche bag? Nicole – no. Kevin – because that was a douche bag move what he did .. how he called David out like that. That is the gross side of the house. Like she is up there laughing and having wine. Like that is ugly. Nicole – last night she was telling me that Memphis, her, Kaysar want to bring in me, DaVonne and Bay. Memphis is HOH .. what do you think I am going to say EWWW no I don't want to?! Kevin – that safety suit stuff that Janelle is giving you is bulls*t. That is not the reason he put you up. Something is not adding up .. if Janelle is trying to recruit you .. why would they humiliate you. Nicole – it was Janelle's idea to make the alliance and Memphis is against a big alliance. Kevin – they're sh*tting on us.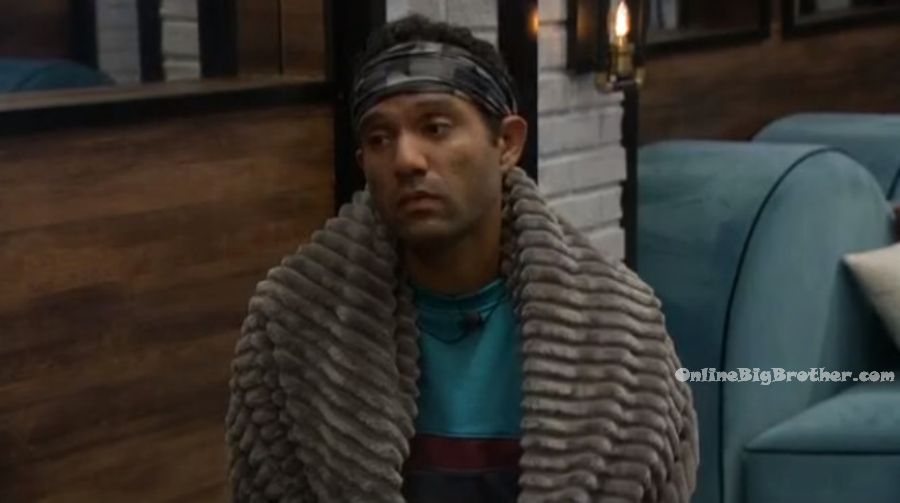 10:20pm – 11pm Dani joins Kevin and NicoleA.
Dani – the delivery (of the nominations) was not okay. Kevin – and to being you into their fold .. that is a humiliation. There is a back door a foot. Dani – I wouldn't be surprised. I am going to have to go back up there and kiss some booty cheeks. I have a feeling like I have no idea what is going on in this game.. no one wants to talk game. Nicole is crying and Dani is comforting her. Nicole – I am the friggin outsider that gets nominated early .. it is so f**king embarrassing. People don't remember me for being a comp beast.. they don't remember me for being a puppeteer mastermind .. they remember me as the f**king teacher that got bullied. Dani – you know what else you're remembered for? You're remembered for being America's Favorite! Nicole – when I got the call .. I told my family I don't think I could do it again if it happens again. I shouldn't have said yes. I shouldn't have put myself through this again. Dani – don't let them break you. The veto is tomorrow. Go out there and kick some major butt .. then take that veto and swing it in their face. I am so sorry that you're going through this. Kevin – you there for me last week. Same feelings. I think he is going to go .. I did that because I wanted you to be a pawn and people not to think we're working together. Dani – no, he would have said that up front.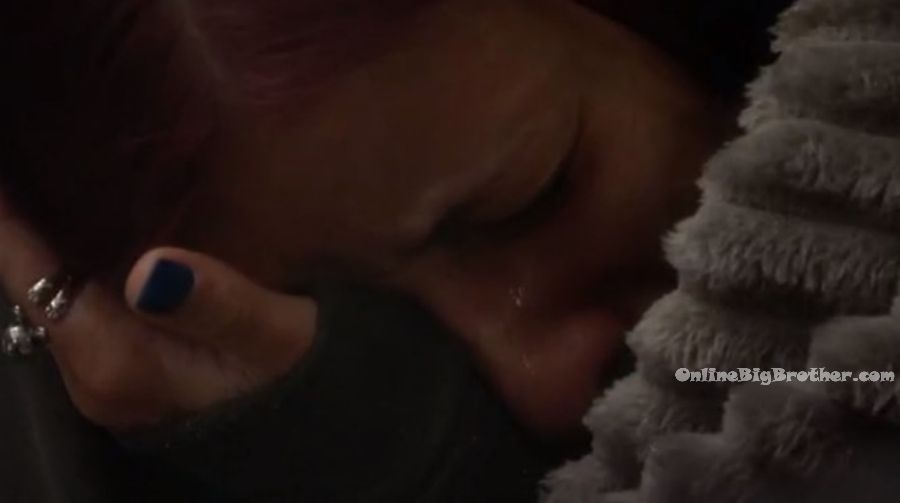 10:23pm Storage room. DaVonne and Tyler.
Tyler – I don't want to go out the back door with out being able to play in the veto. DaVonne – I hope you get picked. And I don't want to be the one to say it but I think it would be smart to leave the noms as they are. I don't want anyone else to go up.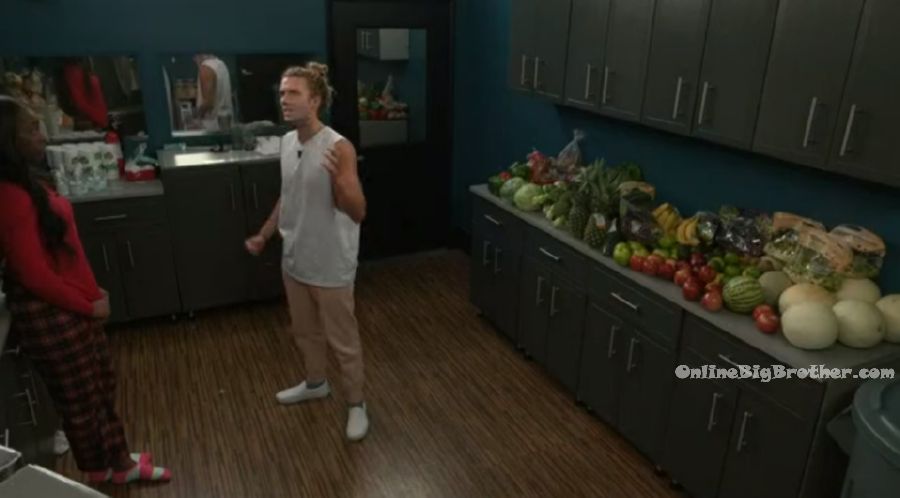 11:10pm HOH room. Cody and Memphis.
Memphis laughs that he fed Janelle all the wine and get "all the information". Cody laughs. Memphis – Gone (bottle of wine). I set it up, Janelle lets crush this bottle real quick. And she was like I'm down. She drank most of it. First of all its so interesting to see their side. They're just grasping at straws. And they're so willing to open up to me. They're splitting the house. They're saying that they have everyone outside our 6. DaVonne, NicoleA, Kaysar, Her (Janelle), basically everyone and they're trying to pull me into that. I am not biting. It is way too early. I am not telling them like f**k off. Cody – they don't have the numbers that they think. Memphis – I just have to make sure they don't stop talking. Cody – Christmas just finished saying.. they're the snakes head. Memphis – who? Cody – Janelle and Kaysar. Kaysar went to Christmas and said the other side of the house which is Dani, Cody, Tyler, NicoleF are trying to get Memphis to do their dirty work and put you on the block. Memphis – they're playing the mind game man. Cody – they think its us as in Me, Tyler, NicoleF, and Dani. Memphis – in their mind they think Christmas is a wild card .. and they think you, Tyler, .. they think Nicole is the mastermind of the entire game. Cody – which is not even close. Memphis – this is what they said.. if I (Janelle) get to play in the POV, I'll use it and put NicoleF up. Cody – that's what she wants you to do? Memphis – yup. They think that Nicole is the top. Cody – the head of the snake. They are so off. We're good because no one knows what we are but they .. Kaysar and Janelle are going to put me on the block with NicoleF. Or I am going on the block next to Tyler. Memphis – I think they're going after NicoleF. Cody – yeah but I could be up there and then the line has to be drawn drastically. This week .. I expect that they're going to want you to keep NicoleA. Memphis – I told them I don't give a sh*t. I don't like that Nicole still has her safety suite. But I am not worried about David at all. Cody – he isn't going to win a comp. And you don't have to worry about David because I am F**KING TIGHT with David. I would just be like listen you didn't have the tight feel with him because you don't get his humor ..he was just kidding. I will F**king wax that in a second. But he also isn't going to win a comp so you don't have to worry about that at all. Memphis – you or Tyler have to start hanging out with Bay more. Cody – no I am telling you that I am f**king tight with Day.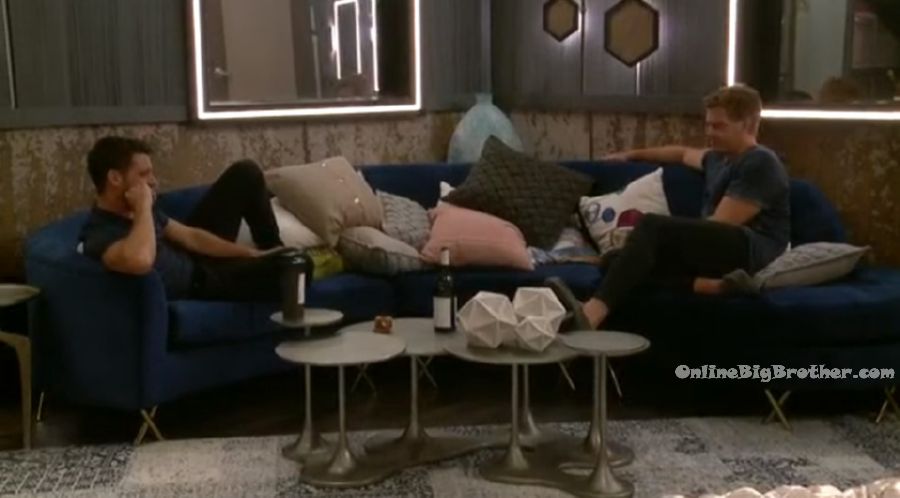 Havenot room. Cody, Christmas, NicoleF.
Cody – yo he is so f**king big like team.. its his disconnect at communicating. He said he didn't think we needed to meet. He was like I was going to show everyone how loyal I was just because nobody was going to be on the block but there was a lot of sh*t. Like they're f**king spiraling. Memphis joins them.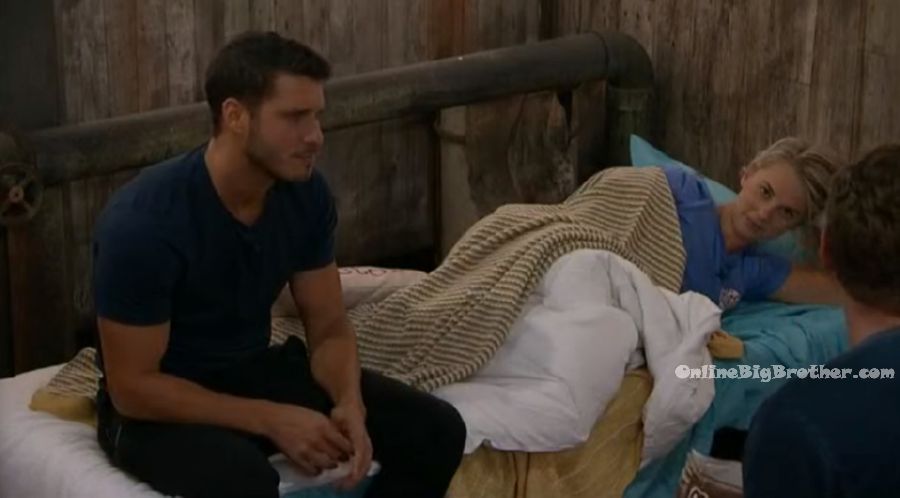 11:40pm – 12am Bedroom. Cody and Dani.
Cody – dude they're spiraling out of control. Dani – who?! Cody – Janelle and Kaysar. Dani – they're freaking working together like I said. Cody – you know who they think the other side of the house is? You, me, Tyler and NicoleF. Dani – who thinks that? Cody – Janelle. Dani – ok so apparently Janelle hates NicoleF and apparently she is against all of us. She told NicoleA that you're totally good. Cody – they think that they have the entire house! And we're the other side. Dani – she (janelle) literally said that she hates NicoleF and that she wants to pull a group of Janelle, Kaysar, NicoleA, Bay, DaVonne and I feel like there was one more person. Cody – and Christmas. Cody explains how if Janelle or Kaysar win HOH next week they'll put two of us up. If one of us comes off, they'll put the other up and one of us will go home. I told Memphis if we win the veto one of them (Janelle / Kaysar) have to go up. Dani – which one? Cody – I said Kaysar. Tyler joins them and Cody tells him everything Memphis said.