Head of Household Winner – Memphis
Have nots – Kaysar, NicoleF, Christmas, David
Nominations –
Power of Veto Players are –
Power of Veto holder –
Power of Veto Ceremony –
Safety Suite – Christmas wins. Ian is her Plus One
Live feeds —-> Grab your Live feeds here. Try it free.
Rank the houseguests —-> Big Brother 22 Ranking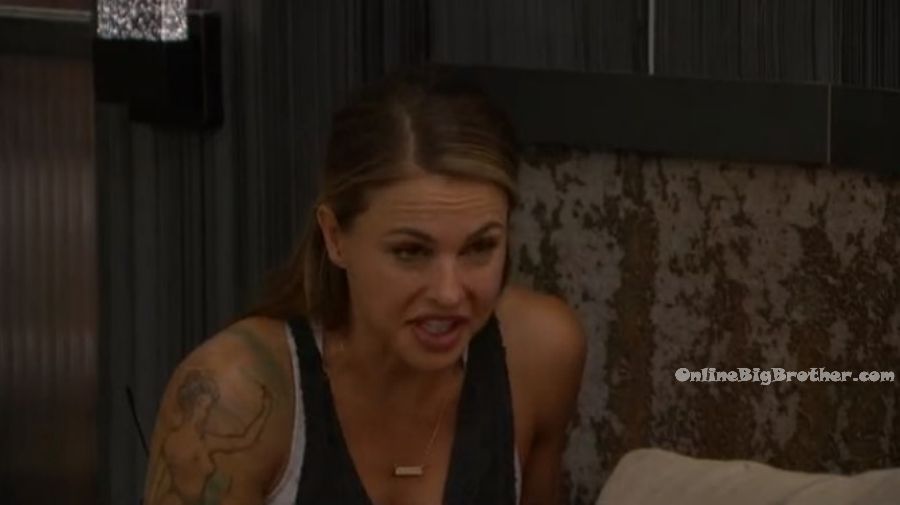 5pm HOH room. Christmas and Memphis.
Memphis – if its me, NicoleF, Tyler, and Dani next week playing in the thing we have the ability to pull ..save two people in our alliance automatically. The odds are in our favor. Christmas – who else would be playing? Memphis – NicoleA would be the only one and she might not even be here next week. You know what I mean. Oh and Enzo but he is just floating around like a birdie.. I am not worried about him at this moment. In my decision making right now .. I see Nicole she is the only one with the safety suite that is on that board that is not in our alliance minus Enzo. Christmas – Kevin asked me why didn't you save somebody that has a safety suite pass? And I was like I honestly didn't think about it. I was just so excited to play and to win. Memphis – you would rather save Ian and he can be a vote. Christmas – I bought him a week. He didn't feel safe so he played. Memphis – I just want to make sure you're feeling the love from me and our alliance. Christmas – I am. Memphis – with these 6 people I honestly think that we could get to final 6. Memphis – and I have a good relationship with Kaysar. And you do with Ian. Keep it open. I think we're in a good position. We're good. Christmas – I want to be clear .. I have complete trust in our alliance and I hope me not using it on one of us is ok. Memphis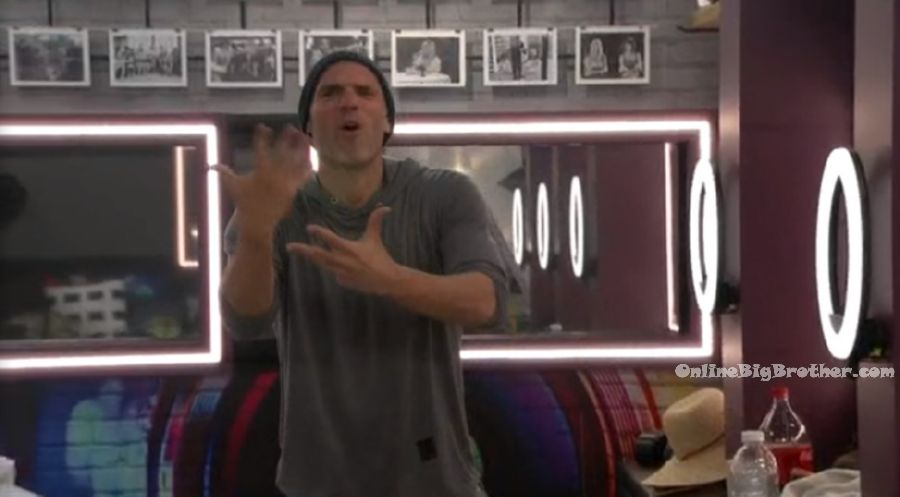 5pm Bedroom. Cody and Enzo.
Cody – I mentioned Janelle's name and I kept saying positive, positive, positive… Now I'm going to back track. I f**ked slipped because I was getting a little worked up because Janelle was turning sh*t and I know she's doing sh*t. We might be projecting this sh*t on Janelle but Dani is the smartest f**king player. Enzo – no, I like her. We're going to use her. We're going to use her to get to where we got to get to. I think Day might be going up! Cody – I think so. They both laugh. Cody – but here is the thing she is a number for us so we need to make it like she is not the target. Enzo – if I win POV I am back dooring somebody. Cody – if he puts her up we cant let her go. Enzo – we're back dooring someone. We should call that alliance "The Connect!" I like that. And then we have "The Core Four". The Connect is me, you, Bay, Day. Cody – I am getting lost.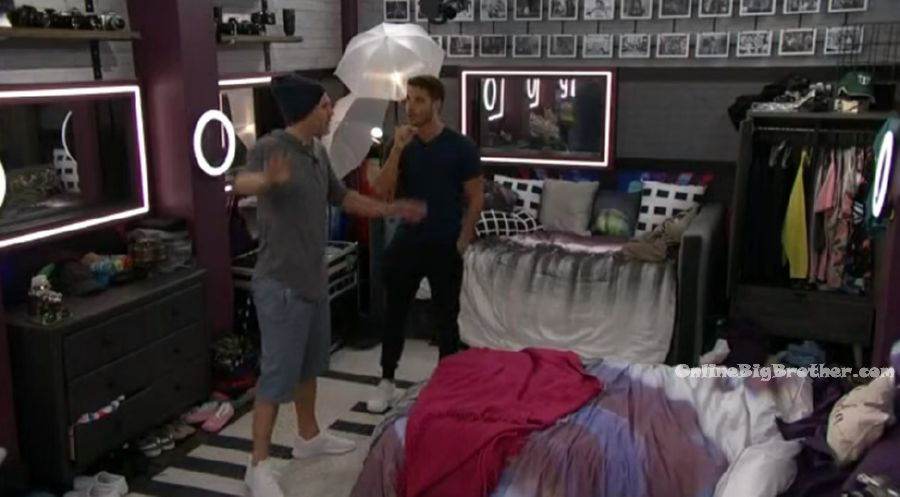 HOH room. Bay and Memphis.
Memphis – I haven't decided yet.. If I decide to not pull your name and put you on the block then I want that reciprocated at some point in the coming weeks. And that's not hey we're going to build this thing together.. look our communication is great. I try not to build those types of relationships until the second half of the game.. when the power starts to shift in the game. When I say lets do an eye for an eye .. if I keep you off the block and keep you safe this week then I am going to want that favor returned at some point. Bay – okay. Memphis – and there is nothing more to it than that. If we decide to work together down the road then we will have a different conversation at that point. I don't think building a relationship like that in the beginning is smart because no one is going to stick their neck out. Bay – I can do that. I like that. You're in it to win it. And I know I'm going to win an HOH coming up. I'll protect you. Memphis – and if I win HOH again ..they're going to add up and I might just ask for money. Bay laughs. Thank you for thinking about that.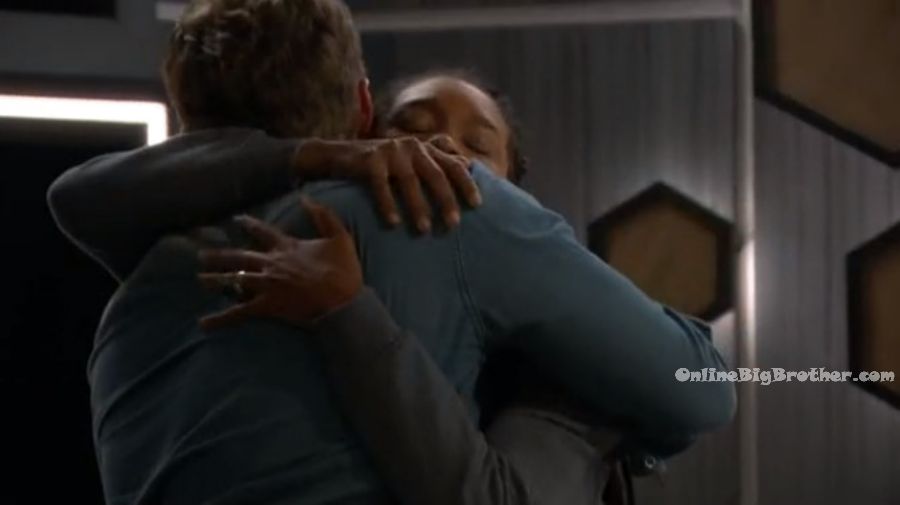 Bedroom. Dani and NicoleF.
Dani – this is the stupidest thing .. she (Christmas) is like it doesn't matter who goes up.. HELL YEAH IT MATTERS! She puts up who he wants and we just go okay! lets go! That is so stupid. Nicole – who would you want to go up? Dani – I just don't want DaVonne.. NicoleA would be the best one for us. Nicole – cut the tail off. Dani – Janelle keeps coming up trying to get information out of me. She is trying to get information out of me but not saying anything. I am trying to give her anything that isn't anything.. Like trying to think of things just so she tells me something but she isn't telling me anything so why would I tell her anything. Who is Janelle working with other than kaysar and NicoleA? Nicole – I think its just them. Dani – but DaVonne is saying they're not. Nicole – DaVonne has played this game a lot. She's played twice. She has a reason to lie to me. Dani – Has Janelle said anything to you about me? Dani – no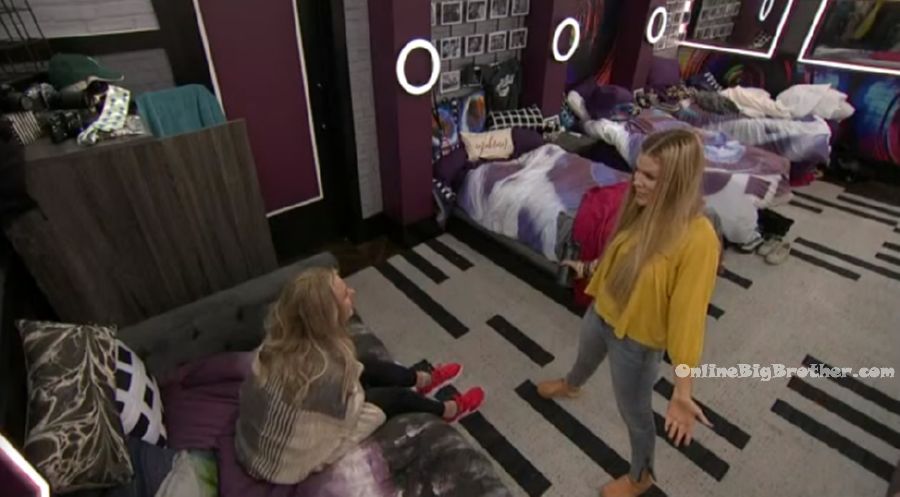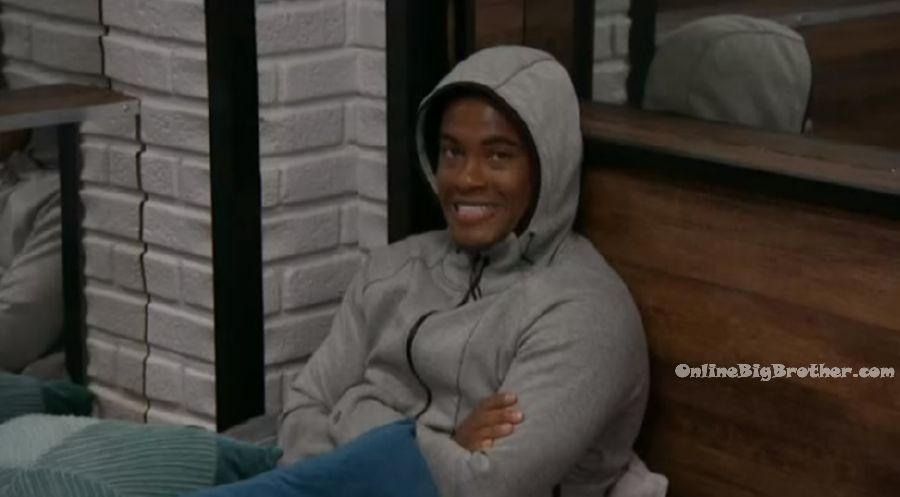 5:53pm Big Brother blocks the feeds for the nomination ceremony …
6:50pm Still blocked..