Head of Household Winner – Memphis
Have nots – Kaysar, NicoleF, Christmas, David
Nominations –
Power of Veto Players are –
Power of Veto holder –
Power of Veto Ceremony –
Safety Suite –
Live feeds —-> Grab your Live feeds here. Try it free.
Rank the houseguests —-> Big Brother 22 Ranking
Memphis picked the have nots. Kaysar, NicoleF, Christmas, David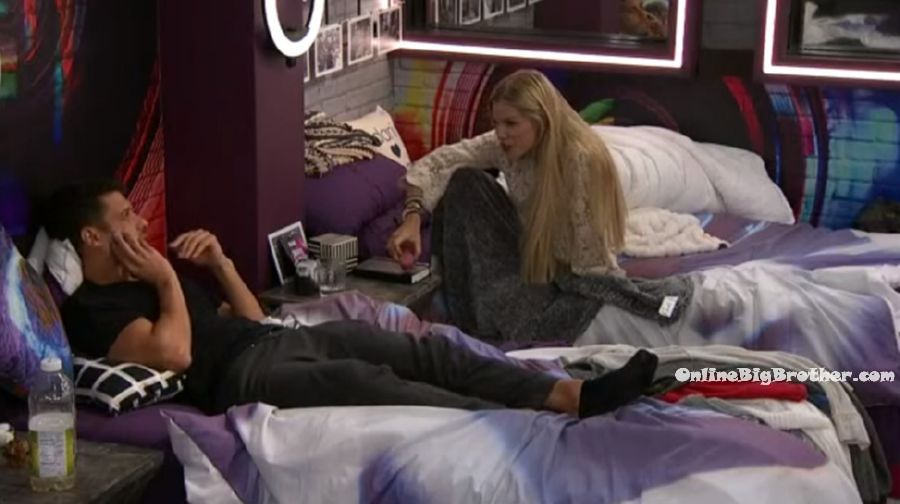 9:25pm Bedroom. Dani, Cody and Enzo.
Enzo – what happened with Christmas and DaVonne? Dani – I don't know what happened after. Enzo – DaVonne was mad at Christmas. Cody – that is all stemming from Janelle… Janelle is causing so much sh*t. DaVonne was mad because Christmas was keeping sh*t from DaVonne. Enzo – Janelle is with Memphis? Dani – I don't know.. Enzo – yeah Janelle is with Memphis. Enzo – if one of us gets put on the block we have the votes to stay. Dani – yeah. Enzo – a good portion of the votes. Cody – I don't think any of us are going on the block. Its a matter of someone staying that is going to help us. Like David should not be someone that is up there. Dani and Enzo – I think he will be. Enzo – but then who does he put up with David? Cody – Yo! Deada$$ if she is sitting on the block, I am sending her home.. she is too tight with Janelle. Dani – and they're about to get even closer. Enzo – because they're in the same room. Dani – she's going on Rikki Lake again. Enzo – I don't think Memphis is trying to get crazy. Maybe like Ian. Cody – its possible. Dani – I bet you anything .. look at him he isn't going to get a NicoleF out. He is going to backdoor someone. 100%! Cody – the problem is what benefits us is clipping people that are tight to Janelle. Because if he (Memphis) isn't going to go after her.. we have to make her weaker. That is the best option. And if NicoleA is the best option.. then see you later NicoleA. I love you but.. Janelle is causing too much sh*t at the end of the week. She won the numbers with Keesha, Nicole .. she started getting ground. Enzo – are you playing in this comp (Safety Suite)? Cody – I don't want to. Enzo – she is going to play. Cody – who is? Enzo – DaVonne. Cody – cool. Dani – Are you? Enzo – I want to see where his head is at first. Cody – I would rather wait. Enzo – it gives him a reason to put you up. What if Memphis asks you who you would put up? Cody – maybe we send Dani up there to find out who he wants up and then we just hammer it home.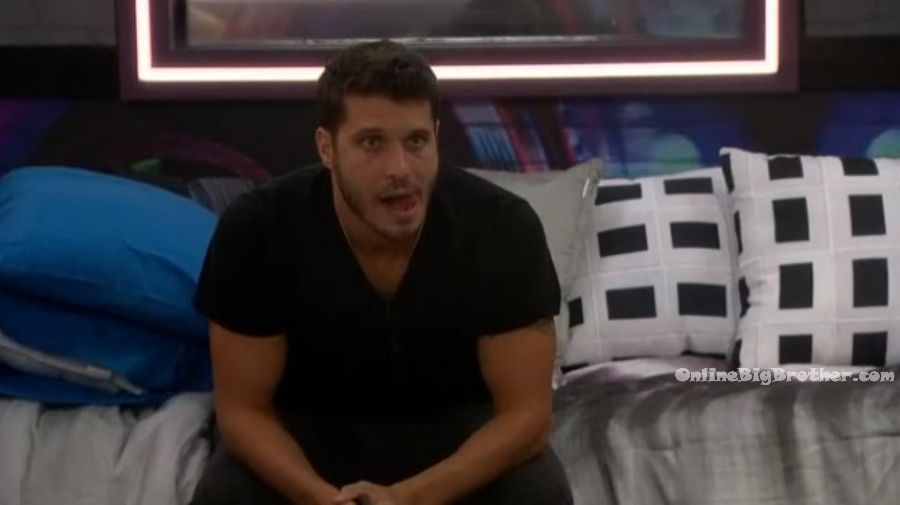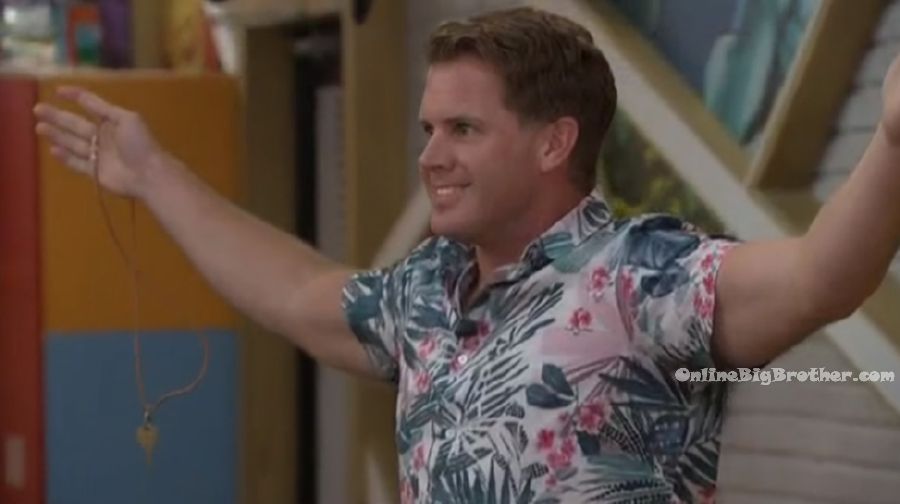 9:50pm Memphis comes out of the Diary Room and screams WHO WANTS TO SEE MY HOH ROOM!!!!! He scares NicoleF. All the house guests run up to the HOH room to see his room / basket and hear his HOH letter. His letter is from his son. Enzo – I don't want to win HOH now.. I'm going to be a mess!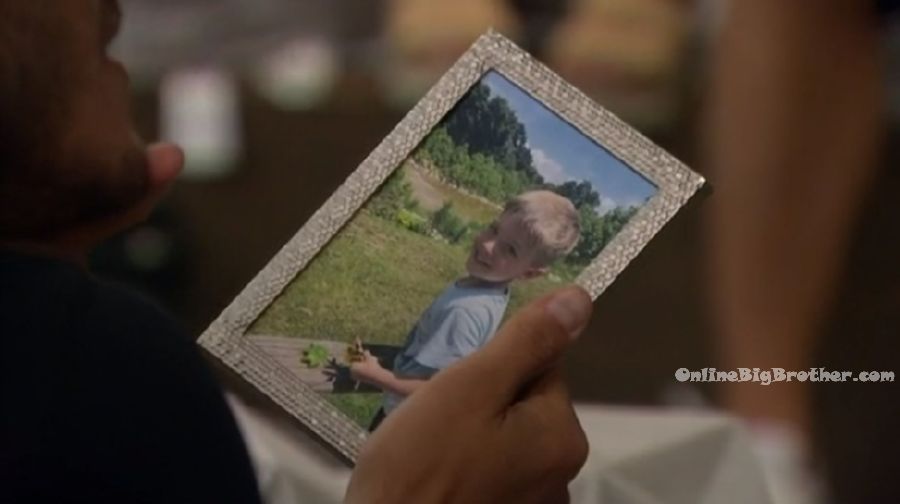 10:05pm HOH room. Everyone heads out except for Janelle. Janelle to Memphis – I'm so excited. That was awesome! Memphis – that was heavy. Janelle – it was such a horrible day. Keesha almost had the votes too. She had five. Memphis – you know I almost voted for her. Janelle – I feel embarrassed for her .. 13-0 is really bad. Memphis – unfortunately when you find yourself on the block that early .. it is what it is. Janelle – there were 5 people including you ..but then Christmas was so wishy washy. Memphis – it would have been more beneficial for her to be here at least for the next few weeks. Janelle – me too. Kaysar is convinced that his (Cody) target was her and that he was pushing for her to go. Janelle – Kevin said he had 5 handshakes to keep him. Memphis – I believe it. He straight up asked me this morning. Janelle – he did?! Memphis – he made some comment about maybe I won't be here tomorrow and I said don't say that .. I think you're good. And he said he wasn't going to talk to me because I was friends with Keesha. I'm like its a game.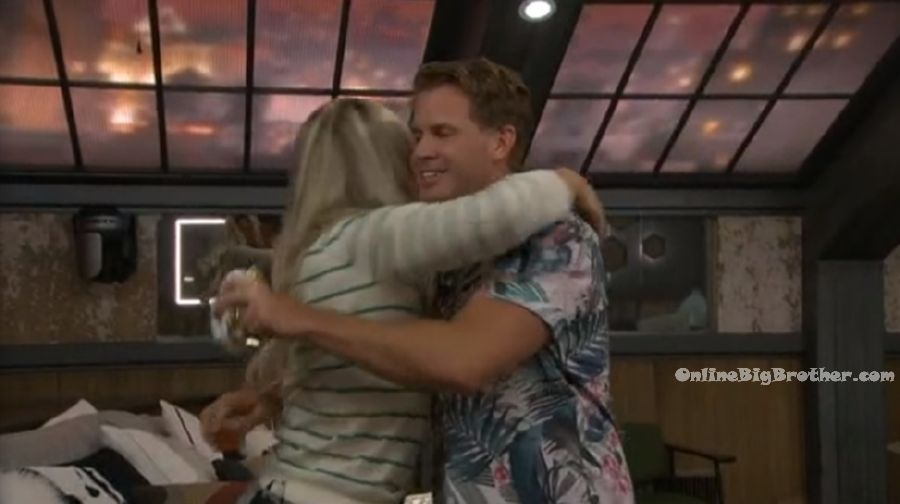 10:08pm NicoleF and Christmas.
Nicole – Don't tell anyone .. but Cody is going to tell Kevin about the votes. What was going on. Christmas – about the votes? Nicole – about how Janelle was trying to flip it. Christmas – Kaysar came up to me after and I think he was trying to feel me out .. to work with me. And I was like .. he was asking me .. I wasn't feeling well but I didn't know at the time that I was starting to get a cold sore. And that just makes me feel like sh*t and so like its a little embarrassing but whatever.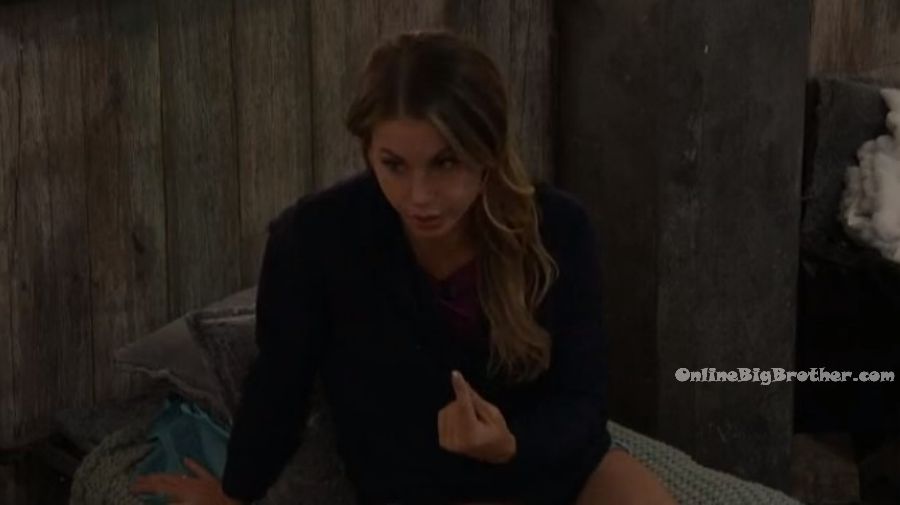 10:15pm Memphis, NicoleF and Christmas.
Memphis – my concern is that the five people in our group are not going to play in the safety suite. Christmas – no, no we can work through all that. Memphis – if those five people don't play then those people are going to be like wait a minute! Christmas – I can play it .. let me play it. And that will give them more reassurance that this isn't happening. Nicole – at least 2 or 3 of us have to play. Christmas – not all of us .. maybe 2. Memphis – lets figure that out because its tomorrow. Nicole – what are you thinking. Memphis – I have no idea. If you can win it .. obviously that makes my life easier. And then obviously I am going to play next week because why wouldn't I. Dani joins them. Christmas – if you (Memphis) gets house guest choice will you pick me? NicoleF – what's our name? Memphis – they're (production) checking "The Usual Suspects". Nicole and Christmas leave. Dani talk to Memphis and asks who he will put up. Memphis doesn't know yet. Dani asks if he will backdoor someone. Memphis – its too early for that.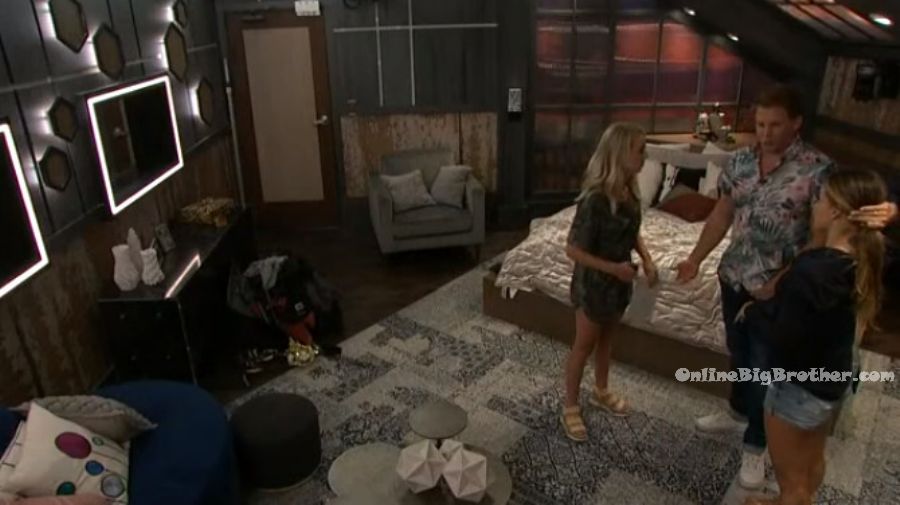 Havenot room. NicoleF and Christmas.
They head into the havenot room to celebrate. Nicole – Janelle can't play in it (safety suite).. probably NicoleA. Christmas – I am going to f**king smash her! They wonder who Memphis will put up and how he might put up Ian. Christmas – tell him (Memphis) that you have Ian in your pocket and that he's a vote for us. Christmas – the only way that Janelle is safe is if she wins the veto. Nicole – and that's if she is even picked.
Nicole & Christmas celebrate @bigbspoilers #BB22 #BB22allstars pic.twitter.com/bMcd0OenIk

— Dawg (@DawgsBigBrother) August 14, 2020
10:32pm – 11:05pm HOH room. Cody and Memphis.
Memphis – I already told the girls that at least two people have to play in the safety suite tomorrow. Cody – what do you think I should do because we have other stuff going on too. Memphis – if you don't have to play and you can convince Tyler to play then don't do it. Cody – and then wait till week 3. Memphis – I am definitely going to play next week. Don't play this week but we need to convince two people to play.

HOH room Kaysar and Memphis.
Kaysar – what are your thoughts? Memphis – I have some people in mind. There are two options. Make an easy week like last week. Or pull the trigger on someone that I think is a threat. Kayar – is someone coming after you? Memphis – I could pick four players that would be a pain in the a$$. Obviously you already used your safety suite .. but I am telling everyone that comes in here that they should too. I not saying that I am going to put you up, just that I don't know who I am going to put up. You and I have a good dialect and I trust you to a certain extent. Kaysar – I trust you. Memphis – and whoever wins the safety suite ..whoever they pick (as their plus one) shows a lot too. Memphis – we will see what happens and see who plays and then go from there.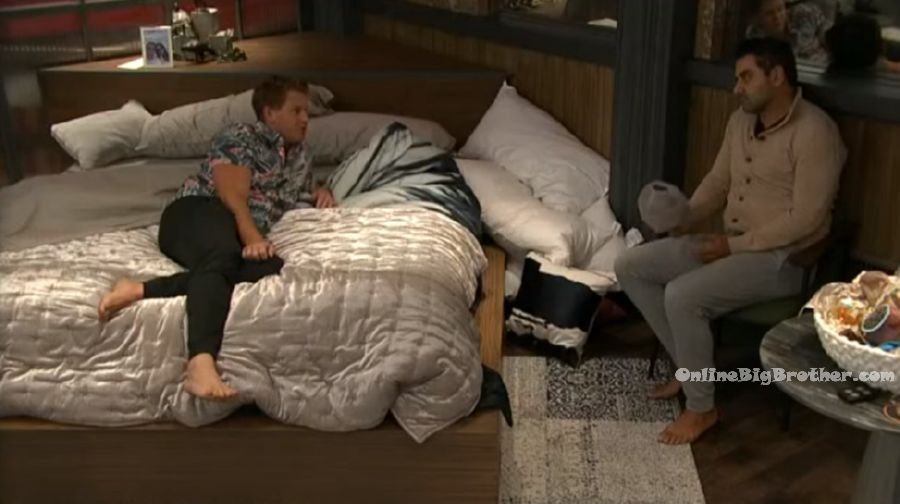 12:30am Bedroom. Janelle, Kevin, NicoleA
Kevin – people didn't trust me. Janelle – No, that didn't have anything to do with it. They wanted Keesha gone. That is it. It had nothing to do with you. They just wanted her gone. They all voted together. There are certain people that didn't even ask me my vote. Nicole – I wonder if the five includes Enzo. Three guys and two girls. Kevin – I got the vibe that Enzo is the straight shooter type. Tit for tat type. Janelle – I don't think Enzo is part of it. Nicole – I've wanted into pow wows. Minus the person that used to be on the day bed, plus the person that is now on the day bed. Janelle – yes! Yes! Kevin – I wonder if they associate me with.. Janelle – they associate you with us.. that's why you were kept out of the loop. Nicole – what about the three girls? Janelle – they're not with them. Kevin – I am f**king lost. Nicole – I legit walked in before the vote and they were having a pow wow. Janelle – are you serious, the four? Which four? Nicole – Cody, NicoleF, Dani, and Tyler. Janelle – I always see those four. I busted them. Nicole – that is a scary four. Janelle – yeah! Nicole – we need to band together. I wish he would just put up two of the four. Janelle – one of them has to go this week. Nicole – do you think David is a part of them? Janelle – yes, or a hanger on or something. The four are definitely together. Nicole – one wins safety suite, put up the other two, one comes down, put up the hanger on. If you were to talk to Memphis and mention what you're seeing .. and Kaysar would do the same. If I were to do it he would be like who the f**k are you. Kevin – I'm going to talk to him tomorrow morning ..early.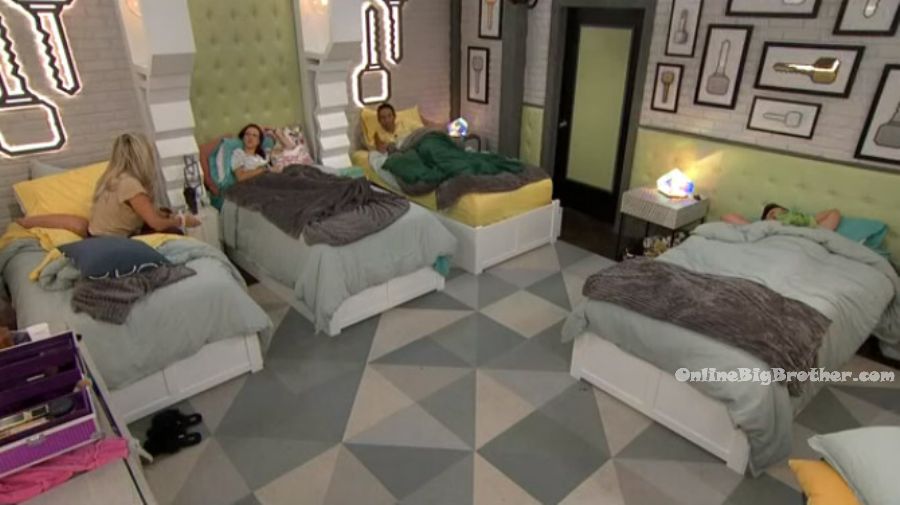 1:30am – 3:15am Bathroom. NicoleA, Janelle, Kaysar.
Janelle – I think Dani has been double dealing. Heavily! And like I love her like a sister but.. Kaysar – yup, I haven't been able to place her in the game. Janelle – she is in that four. She's got NicoleF, Cody has Nicole and they have Tyler. Nicole – and I think Enzo is on the outskirts of that. Enzo is the low man on the totem pole. Like they just use him for information and as a number. He is Enzo. Janelle – yeah. They're scared sh*tless because they don't know what he (Memphis) is going to do. They are really obviously together. Kaysar – interesting so David is not a part of it. Nicole – I don't see them having Bay, Day, Christmas.. they don't have me. They don't even talk to me. Janelle – who cares. Nicole – that hurts my feelings. Kaysar – you have to be careful .. as soon as you tip people off you lose control. Right now you want them to feel secure so they continue to do what they were doing so you can collect information. We need to confirm that those four are working together. Janelle – its confirmed. Nicole – the guys are better at hiding it than the girls. Kaysar – I don't give them shit. Nicole – I go in circles with them. Janelle – I think he (Memphis) wants David out. Kaysar – as you start to listening to their pitches remember this bit of information because that's what their agendas are. Janelle – that they're going to target floaters. If he says Christmas's name or David .. you know that is it. They're not bold enough to say Kaysar or Janelle. Nicole – does this mean we have a final three? Kaysar – sure. Janelle – we have to get through week two first. If we could make it further ..sure. I have one goal .. we can't let them have any more power. This is embarrassing. Janelle – we need more people than three in our alliance. Nicole – this is our core. Janelle – I want Bay, Day in our alliance. And Christmas. Nicole – and Kevin. Kaysar – no. Nicole – why not? Kaysar – he is unstable. Nicole – so us three, Day, Bay, Memphis and Christmas. Janelle – and we have to convince Memphis to work with us while he is HOH and while he doesn't want an alliance.. Janelle – if we float around the idea of the two winners .. that's a pretty good idea. Janelle heads to bed. Kaysar – I feel good about everyone else .. its just a matter of getting Kaysar on the same page. Nicole – okay, well you know I'm on board. Nicole and Kaysar head to bed.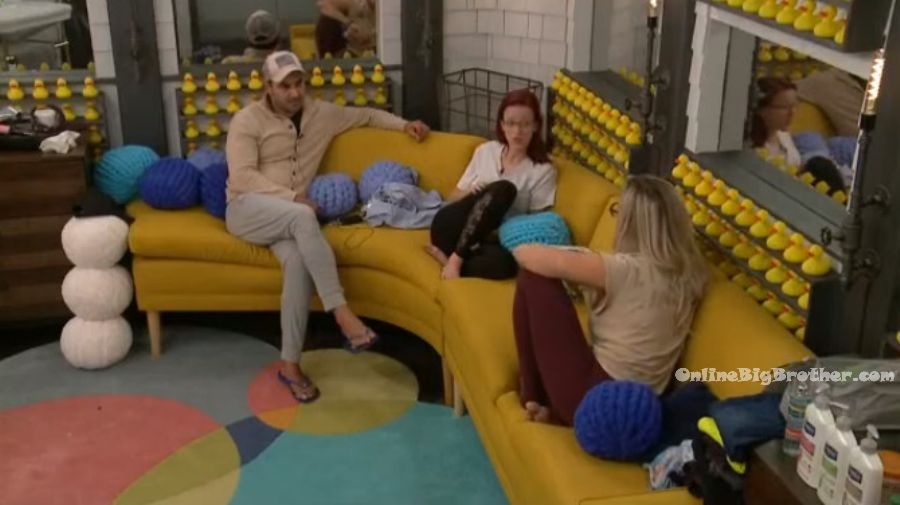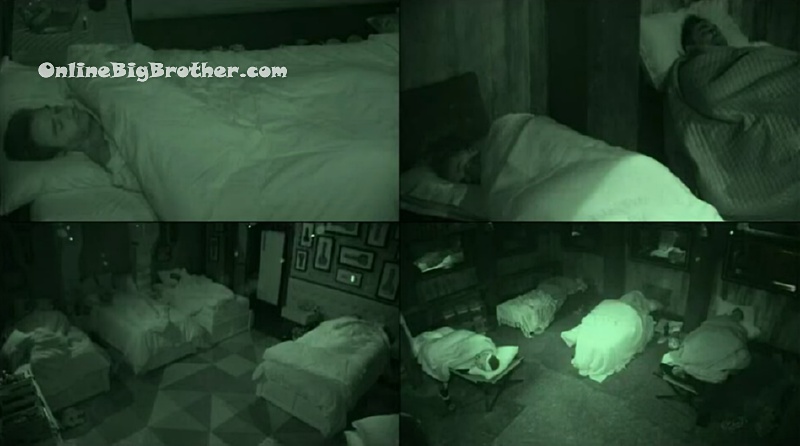 6:48 am They've been sleeping since that Conversation ended above.


7:50 am David is up making coffee.