Head of Household Winner – Cody
Have nots – Ian, Kevin, Memphis, NicoleA
Nominations -Keesha and Kevin
Power of Veto Players are – Cody, Kevin, Keesha, Enzo, Kaysar, Ian
Power of Veto holder -Enzo
Power of Veto Ceremony – Enzo doesn't use it. Nominations stay the same.
Safety Suite – Kaysar & Janelle
Live feeds —-> Grab your Live feeds here. Try it free.
Rank the houseguests —-> Big Brother 22 Ranking
Kevin is staying as of 4:30 pm.
7pm Bay is leading a yoga class in the living room. Cody and Ian are playing backgammon.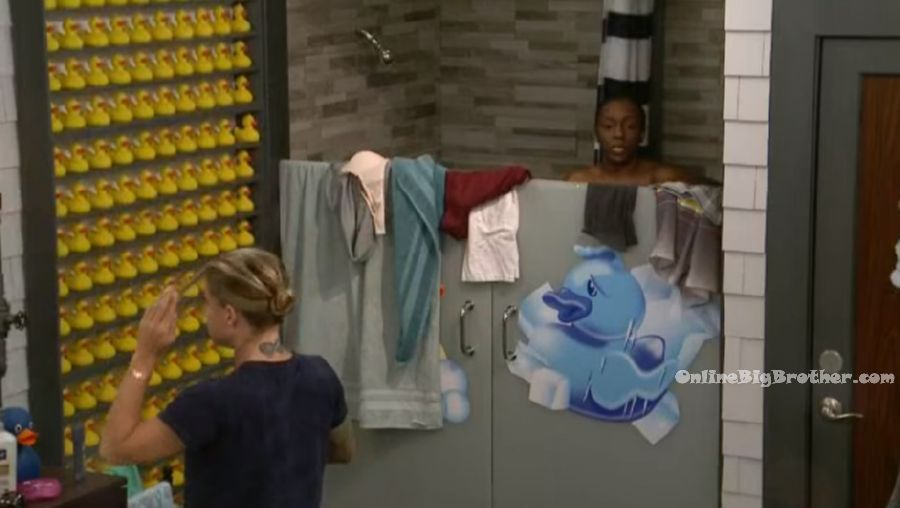 7:33pm Bathroom. Christmas and DaVonne.
DaVonne – I definitely want us to vote together whoever it is. Christmas – I haven't even talked to Keesha. She is funny. DaVonne – she's amazing. And I feel like she deserves to be here. I just know that Keesha is somebody that I feel like.. Christmas – trustworthy. DaVonne – yes! Christmas – did Kevin play a good game? DaVonne – they both did .. that's the problem. Christmas – somebody mentioned that because he (Kevin) was so close at winning the veto ..that's what they had in mind. That's almost like drawing sticks .. you know?! Like he was almost there. Not because of social. Social they're both spot on. DaVonne – wait.. I'm confused .. people are saying to keep him? Christmas – right? DaVonne – which one? Christmas – to keep him (Kevin) because he was further in the veto? If we don't decide to keep him that's fine. DaVonne – I just don't want to stick out like a sore thumb. Christmas – I don't think anyone does. That is like the only ..can stick to the wall sort of. I am down either way. DaVonne – I don't want the girls to get picked off. Christmas – and the all girl alliance never works. Like just chill out .. be cool! DaVonne – everything will get defined tomorrow for sure. Its just hard because Keesha is my girl ..like on a personal level and I don't want to see her go but if this house is deciding to let her go.. I don't want to be the only one.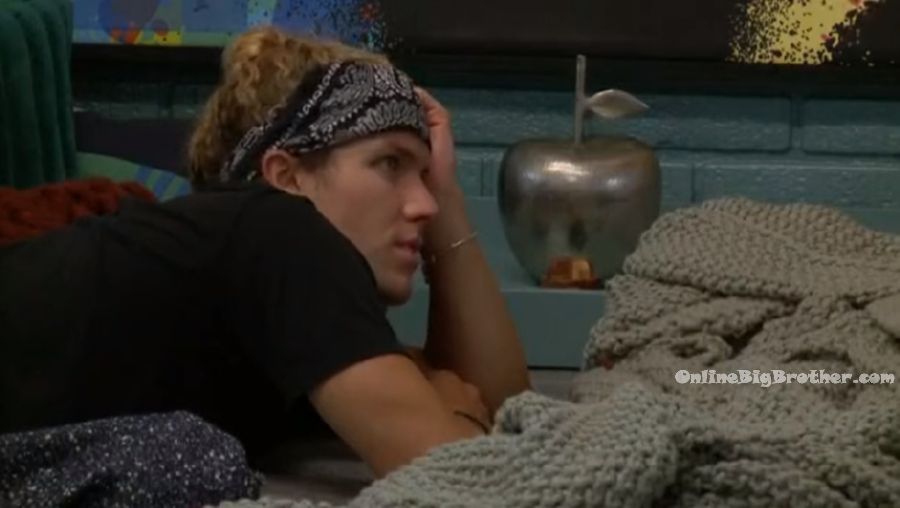 7:45pm HOH room. Tyler and Bay are talking.
Bay – I feel a lot better. You know how I was when I felt everyone hates me. It makes me feel so much better. Tyler – I'm sorry. Bay – what if you came back to me and said yeah I am not going to lie .. I had malicious intent. That could be bad. You know what I mean. Tyler – thank you. I'm glad you feel that way. Bay – I am not trying to make you feel bad. This is good. We're all-stars. This time its already better ..we already have the ultimate prize. Pre-jury or all the way I refuse to be sucked in.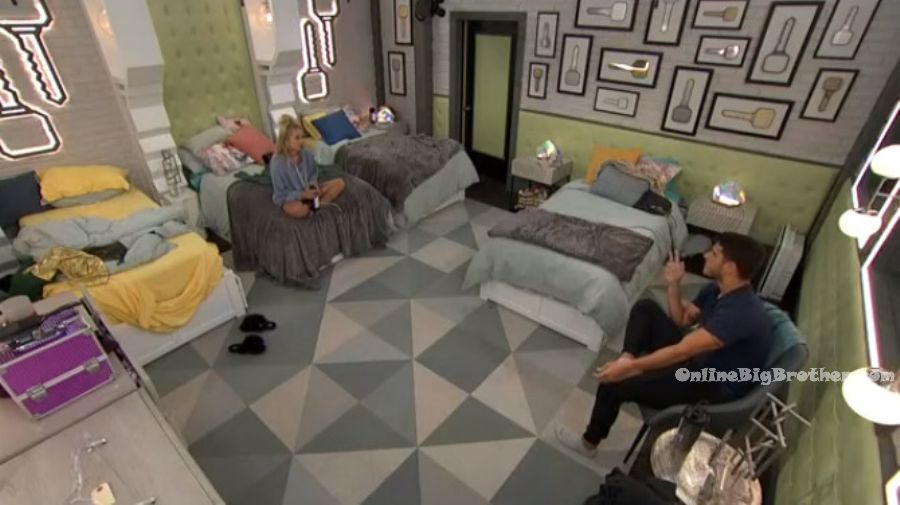 8:30pm Bedroom. NicoleF and Cody.
Cody – there is word that there is a girl thing forming and if a girl thing is really forming and they want Keesha to stay .. you, Dani and I are good.. and I am pretty tight with Bay. NicoleF – well Day came up to me a few days ago to say that. Cody – yeah and I think its her, Day, Bay. Nicole – Dani didn't tell me about it. Dani told me that Janelle doesn't trust me and then all of a sudden it flipped because I wanted her out. She doesn't want me to want her (Janelle) out. Cody – I say sh*t to Dani about being positive about Janelle .. like not like I am gunning for her purely because I know they're tighter than she tries to let on. Nicole – okay. Cody – so I don't say oh I want Janelle out to Dani because I know it will get back and it will cause sh*t with me. I bullsh*t Dani about how I feel about Janelle because I know. I am trying to figure out what I can say to her that might cause something. Nicole – I wanted to ask because you and I need a name. Cody – oh I know. Nicole – so come up with a name. I want to tweet. Cody – something like from where you're from and I'm from.. that's my part so you figure it out. Nicole – okay. Cody – I like Christmas and I trust Christmas more than I like Janelle. Nicole – yeah I am tight with Christmas. Ian said he perceived me as sweet. I am in trouble because I think Christmas wants me to save her and Ian wants me to save him. I think me saving Ian will make me more of a target. Cody – you liked to another winner ..that will make you a target because that conversation is already happening.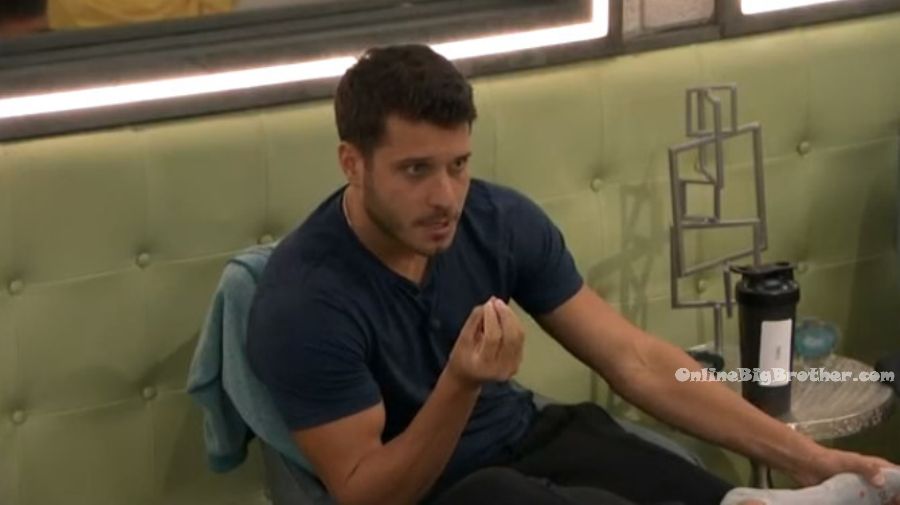 8:57pm Bedroom. Janelle, Tyler, Dani, Enzo and NicoleF.
Dani – we were just saying do you think someone is going to come back pre-jury or jury? Janelle – pre-jury. Tyler – that would be much better if it was jury because you're already there. You're already stuck. Dani – that was my thought .. they're already suck here anyway. Janelle – but if they're already paying us our guarantee .. they're going to want to make us.. Its not going to happen. No way. Dani – what I was going to say Janelle is .. imagine going back to one of those dumb houses for four weeks. Janelle Its definitely pre-jury.. I asked.. I said if I am done week 1 or 2 do I go home to my family. Tyler – and they said? Janelle – no. They said we go back mid-September. Dani – they straight up said that? Big Brother switches the feed.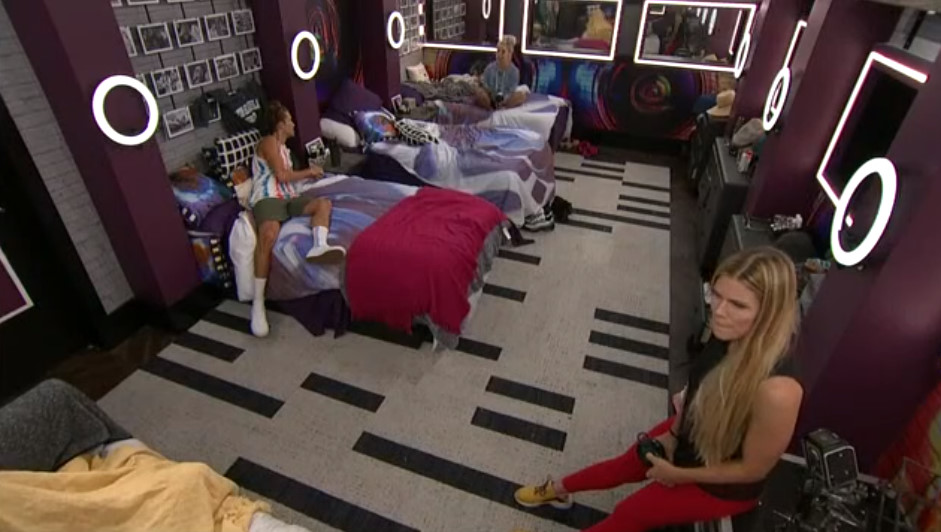 9pm Bathroom. Bay and Day.
Day – I just want to make it to where none of them know about the four. Bay – yes. Bay – what happened with you trying to work Ian? Day – That sh*t is not happening. He will not crack. Bay – One thing I will say.. I am not letting NicoleF get close to her second win. Day – hell no! Bay – and the relationship that I'm building with Tyler .. I don't want to be in the position where I put him up and it looks like I played him. Bay – I think he feels bad and I know that's how NicoleF feels about me… so I think we can work those two angles. Bay – and they will both be grateful to be brought in. Day – I think we need to set a time to talk to them two .. to talk about those name. See how they feel about those names. Cody keeps bringing up Christmas stuff. Bay – we will give him a reason why that is a no. I genuinely really do like her but within the group she will clash. Day – I can't play with someone that wants to be the only girl standing. Bay – that is actually really solid. Day – I think David will be someone we will continue to have to tell him its not a good idea. Less information is better. Bay – just protect him but not bring him into the fold.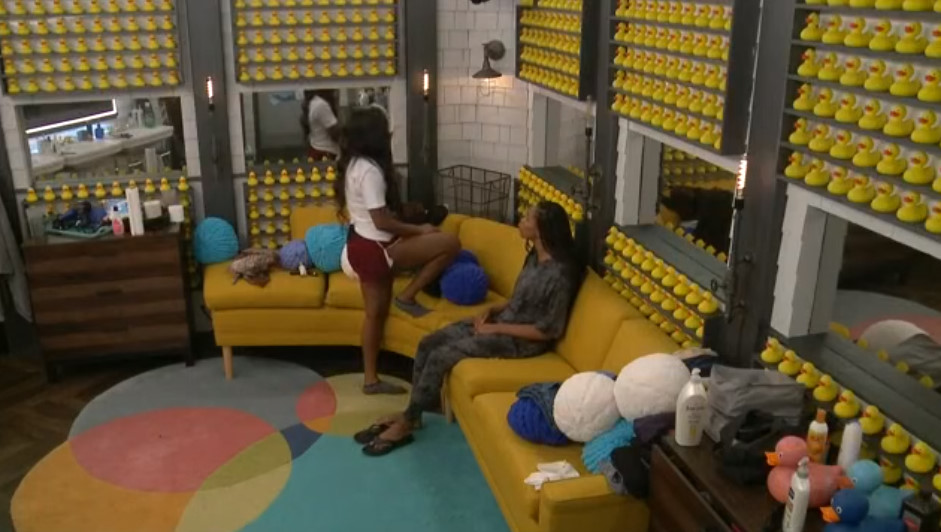 9:15pm Havenot room. There's a new girl in the house.. Talk of showing the others Kevin's alter ego. Nicole – keep it in mind that it might affect people's decision tomorrow. I would like to think it won't .. but it could..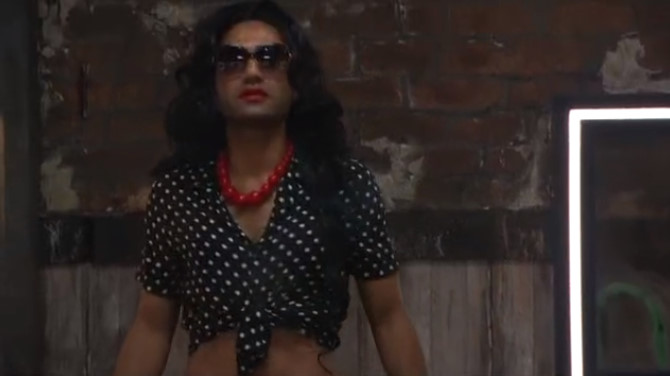 9:30pm – 9:40pm Havenot room. NicoleA, Kevin and Day.
Nicole – I think it was Janelle in the storage room yesterday that told me that .. no offense but he doesn't really have anybody. Kevin – yes, that was a talking point that I gave Janelle. Day – she is acting like a fish out of water. She is acting like she doesn't know sh*t. Kevin – she is not .. she is sophisticated as f**k! She is linked up with Cody and Tyler and I can bet my entire game on it. She was trying to get a majority but couldn't get it to happen. I told her that I have Enzo on my side. And then I went to tell Enzo I told her. And he was like I got you! And Ian pulled me aside and told me that he is going to vote for me and said he doesn't care if he is in the minority. Cody and Memphis talk all the time. Nicole – Cody, Tyler, David, Nicole.. that's a four.. and they have their side people of course. Kevin – how are you (Day) going to back out because Keesha is going to be telling Janelle and them that you're voting for her. Day – I think I will just tell Keesha right before .. like hey you don't have the votes and I can't stick out like a sore thumb. That will have to be Thursday right before so that she doesn't have a chance to talk to anyone. Nicole – I told her I would vote for her too. I'm going to tell her that I am shifting now.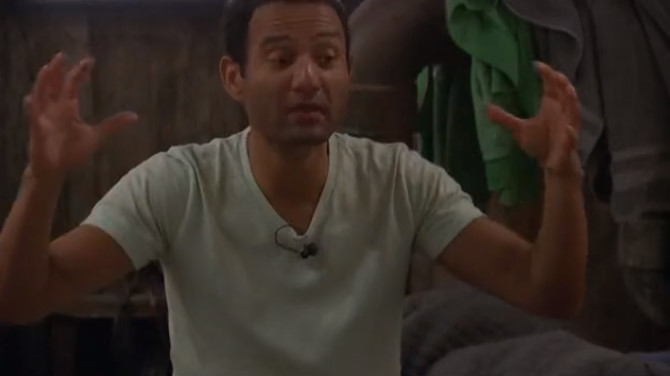 9:40pm – 10am HOH room. Menphis and Cody.
Memphis – I don't think she will get the votes. Cody – she won't. Memphis – I just want to make it be the right position .. like is he a better position. Cody – its like people saying that I'm close with NicoleF.. it couldn't be further from the truth. If I go up next to NicoleF .. she is going home. Who would vote out a non-winner over a winner!? If Kevin stays .. he is going to love me. Memphis – I know definitely for a fact that Janelle is pushing for Keesha to say. Cody – NicoleA told me that she thinks it would be better for me to keep Kevin. You know what I am hearing ..that people are linking Tyler and I together. Memphis – that is good for us.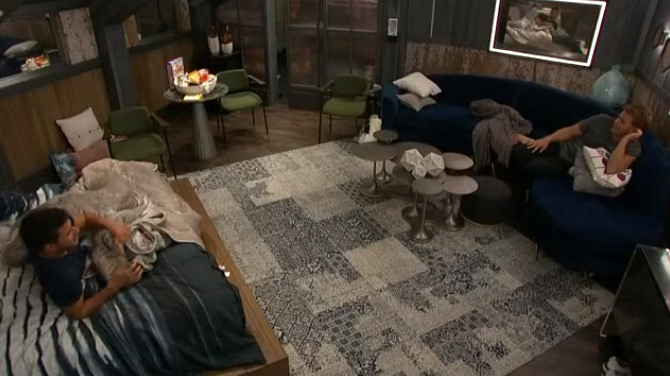 10:40pm Lounge room. Cody and Kevin.
Cody – I just had a conversation with Keesha and I kind of told her that I was just holding back and not saying anything to anybody but I am .. if people actually say anything to anybody it could bite me in the a$$ because I am saying you. I had a conversation with NicoleA and she said yeah I really like Kevin and I think it would really benefit you if you kept Kevin. Kevin – If it does happen and I stay .. I will definitely follow through with my promise. I will not put you up if I win HOH, backdoor or any of that situation. And I do like the idea of paying you back with a plus one if need it. Cody – Its just the first week and you're feeling each other out.. you're definitely getting close to people but when is stuff actually going to be happening. If you don't stay then people directly lied to me because they've said I feel good about Kevin. Kevin – if I do stay I do want to pay you back because you did influence it. Cody tells Kevin that if Kevin were to play in the safety suite to try and win it to use the plus one on Cody it would put a target on them. Kevin – but I would want to pay you back. Cody – it would be justifiable you wanting to repay me. We would just have to know it wasn't looked as the other way.