Head of Household Winner – Cody
Have nots – Ian, Kevin, Memphis, NicoleA
Nominations -Keesha and Kevin
Power of Veto Players are – Cody, Kevin, Keesha, Enzo, Kaysar, Ian
Power of Veto holder -Enzo
Power of Veto Ceremony – Enzo doesn't use it. Nominations stay the same.
Safety Suite – Kaysar & Janelle
Live feeds —-> Grab your Live feeds here. Try it free.
Rank the houseguests —-> Big Brother 22 Ranking
Kevin is staying as of 4:30 pm.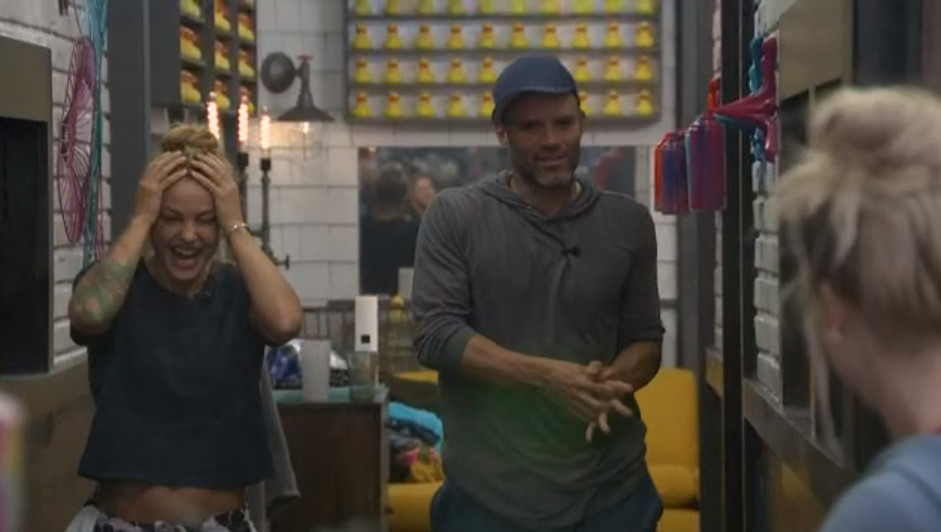 HOH room. Enzo and Day.
Enzo – Memphis is walking around like .. YO you going home too YO! Stop it! Kaysar keep cooking your carrot f**king top cake. You're going home too YO! F**k That! I want to win this sh*t tomorrow YO! I want to go back to back. I want to win this tomorrow. So bad I want to win! Day – yeah I want to see my kids. Enzo – Yo D! I don't give a f**k .. on my season I was scared to win HOHs and do good in the house. Now its all star season .. YO! F**k that! There is a good chance all of us are going to go.. only one of us wins. So might as well just play! I like you Day. I like Dani too. Day – I like her a lot. That's what I want to talk to ya'll about. Enzo – I think at one point we're going to have to merge people in. Not right now.. just keep everyone close that we trust and then at one point we just merge. And then I'll come up with that name so they won't know that me and you were in something. Trust me YO! Work with me Yo! Day – how do you feel about Tyler? Enzo – I think he likes me .. he sleeps right next to me. Day – people are talking about him being with Janelle. I don't know .. but I do like Dani. I always talk Janelle up when I see her .. because I know you about to win some sh*t BRO! Janelle you the superstar! Everyone loves you in this house. This might be it! Your forth try. This might be it! Two decades later! This might be it! This might be the story yo! Stars have aligned. Yo I am just silly this season. I am like whatever Yo! Day sees on the spy cam and says – Memphis, NicoleF and Ian just went into the havenot room.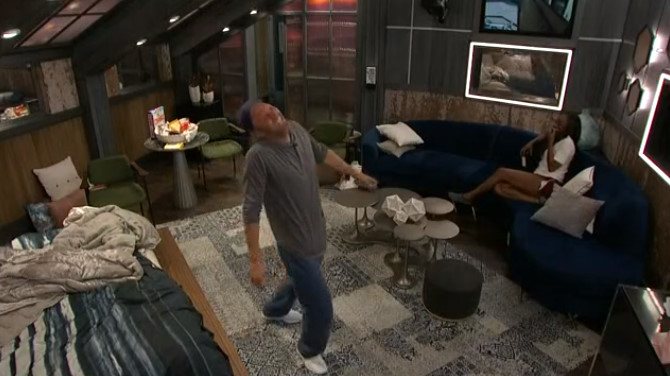 11:30pm Storage room. Janelle and Day.
Janelle – I asked Kevin and he said I have five votes. I don't want to stick out. If that girl (Keesha) comes off the block tomorrow she is putting up to guys. Day – and that protects all of us. But if its me, you, Bay will vote with us. Janelle – I think NicoleA would vote with us. Day – if all of us girls vote for her .. then we're all sitting ducks and Kevin is still here. Janelle – Christmas came to me tonight and side she would vote for us. Then we wouldn't need Ian.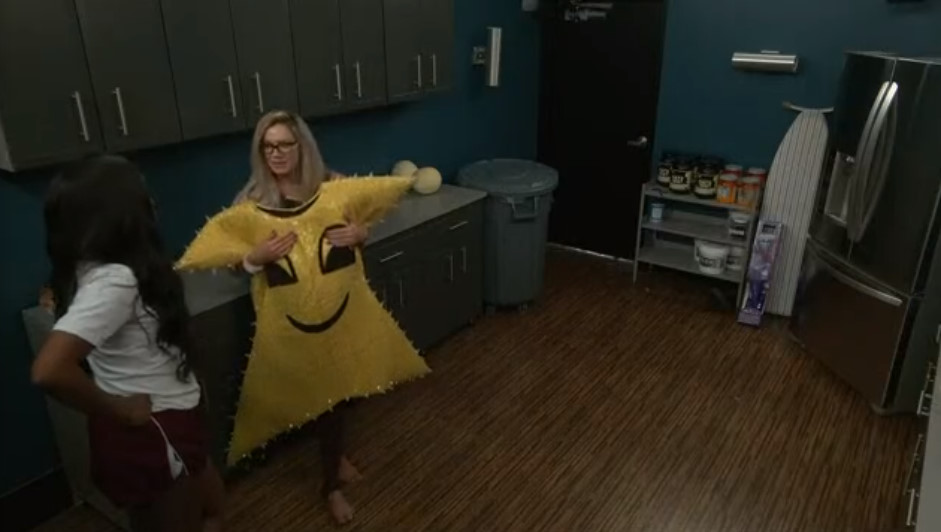 11:52pm Bedroom. Christmas and Janelle.
Janelle – its weird that it totally switched to Keesha staying. Christmas – where did that come from? Janelle – from you.. telling me that DaVonne said it. (LOL) Christmas – right after I talked to Kevin .. I heard about like how they favored him because of his advance .. like him being ahead of Keesha in the veto and she is connected to very few people. Janelle – so is Kevin. Christmas – but he is definitely trying and I thought that Keesha was going to come talk to me after she got nominated. And like tonight is really last minute. Its so weird I didn't get to ask DaVonne where she heard that. Janelle – she said she heard that in the house. Christmas – she said IF Keesha had the votes. Janelle – and like why is Bay in the HOH room with Cody? Honestly Christmas, either one is fine to me.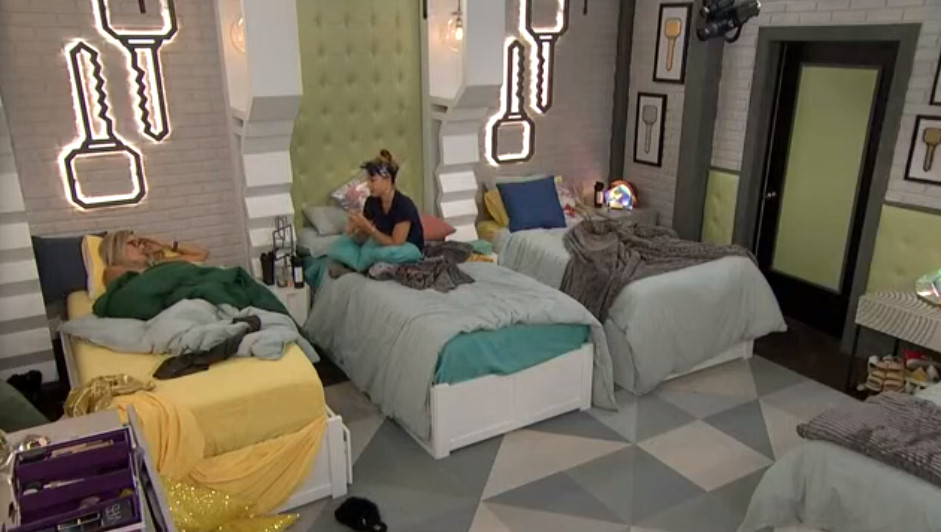 12:15am HOH room. Cody and Bay.
Bay – tell me about the whole Dani thing? Cody – Dani is going to come in and join our four so it will be five of us. Bay – so she won't know about the original four? Cody – I hope not. Bay – I don't want anyone to know about the four. Bay – I wanted it to be us four and then add in people. And then we can be like oh its a totally different .. this is our alliance. Cody – Day is smooth as f**k so she is probably going to do this anyways. Day joins them. Cody – so I know Janelle is going to come talk to me. If she gets blindsided .. she is going to raise hell. When do we let her know? Bay – I can let her know right before. And if she doesn't listen to me .. then that is on her. I will be like I am trying to warn you. Day – no offense to you but why do people keep asking you.. your job is done!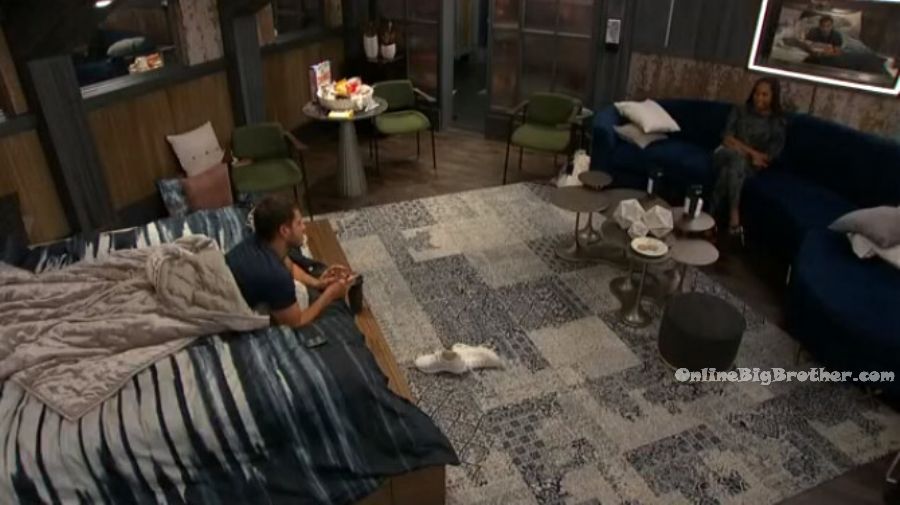 12:50am – 1:10am HOH room. Ian and Cody.
Cody – not that we're one on one .. what are you thinking? Ian – as to? Cody – who's staying and who's going. Who would you go with your heart? Who would you go with your gut? Who would you go with your head? Ian – I think that Kevin is going to stay. Cody – I think so too.. I think that's where the numbers are. Ian – I think Kevin is staying .. it just seems to be the vibe around. They chat a bit and then Ian leaves.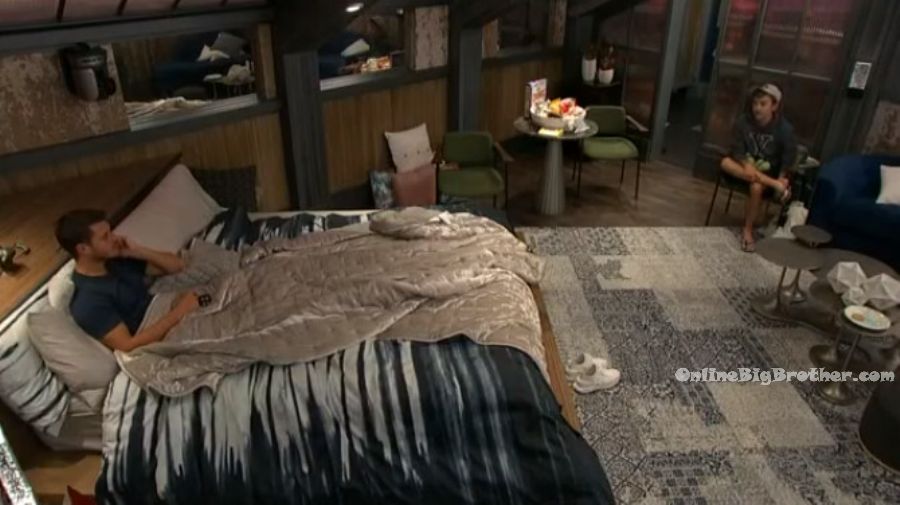 4am All the house guests are sleeping..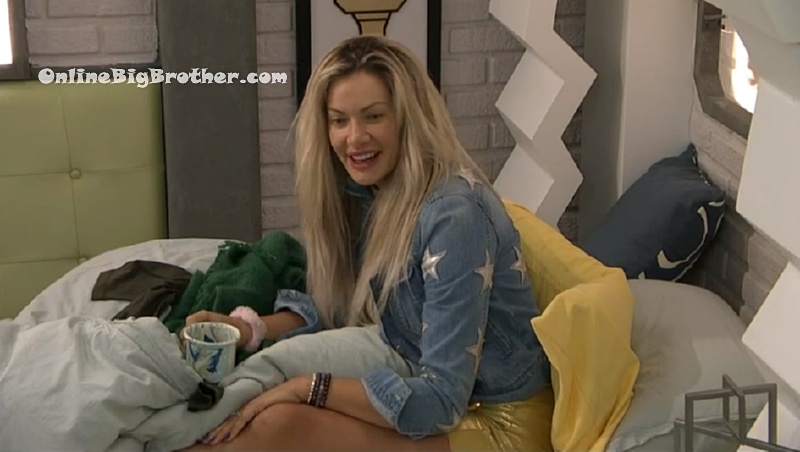 9:21 am houseguests up Janelle and Keesha chatting
Talking about how Funny Dan is.
J – I wish he was on this season
Keesha – I do and I don't.. he's so good though
Keesha – he looked a little different the last time I saw a picture of him compare to the last time I saw him
Janelle – people are like she looks different.. it's been 15 years..
Keesha – it's been a long time 12 years..
They talk about negative people on the internet "that's how they get their energy" (I'm powered up)
Keesha – today they name more have note right
After some feed showing pound puppies we're back to Janelle and Keesha
11:28 am
J – I'm like so tired
Keesha says she asked Ian and he said it's up in the air
Keesha says Ian told her he's heard both of their names (both noms)
Janelle asks her to not say she talked to Janelle because it makes Janelle a target
J – I should probably go talk to people to see where the vote is at
Keesha says she's prepared to be leaving today.