Head of Household Winner – Memphis
Have nots – Kaysar, NicoleF, Christmas, David
Nominations –
Power of Veto Players are –
Power of Veto holder –
Power of Veto Ceremony –
Safety Suite –
Live feeds —-> Grab your Live feeds here. Try it free.
Rank the houseguests —-> Big Brother 22 Ranking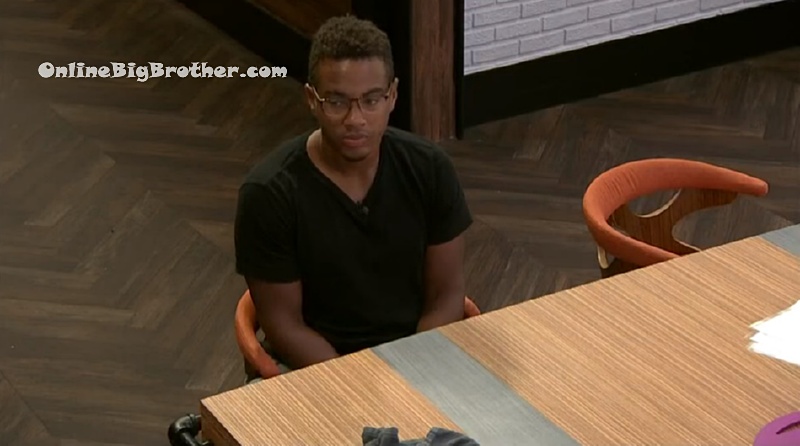 7:56 am David
David – I feel like my game is at risk right now
David – these players are good … My social game I don't think I played it right
D – just need to survive this week and see if some people in my alliance will keep me safe either safety suite or veto but I have to make sure I'm not put up on the block with someone else in my alliance. I don't know if I should talk to Memphis or not I wish I would have watched the show.
David – People you don't feel comfortable with and how do you go about having a conversation
David -I've never had to talk to the HOH before that I wasn't cool with. What's the point of talking if you know? Can I talk my way out of it?. No
David says all Memphis will want is information and if he gives information he won't have an alliance anymore
(ohh dear)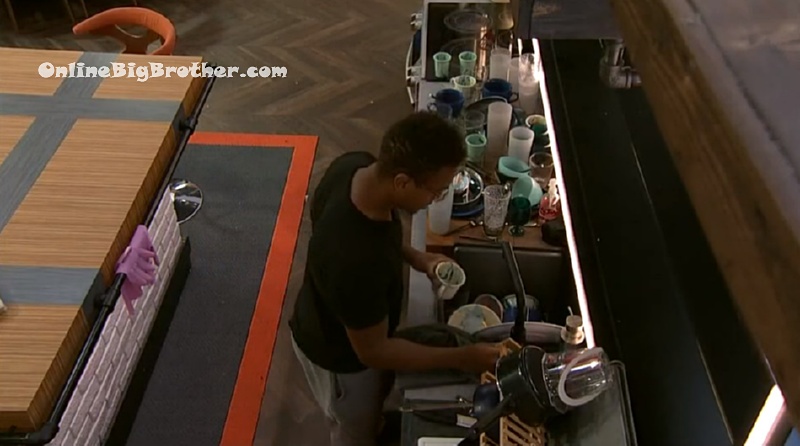 David – one thing I'm not doing is the dishes.. Jesus Christ. I want to. I want to be nice and do them but…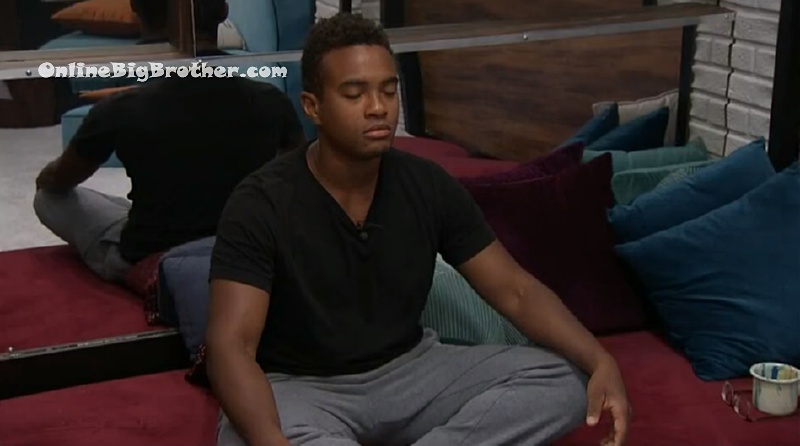 8:14 am David Meditating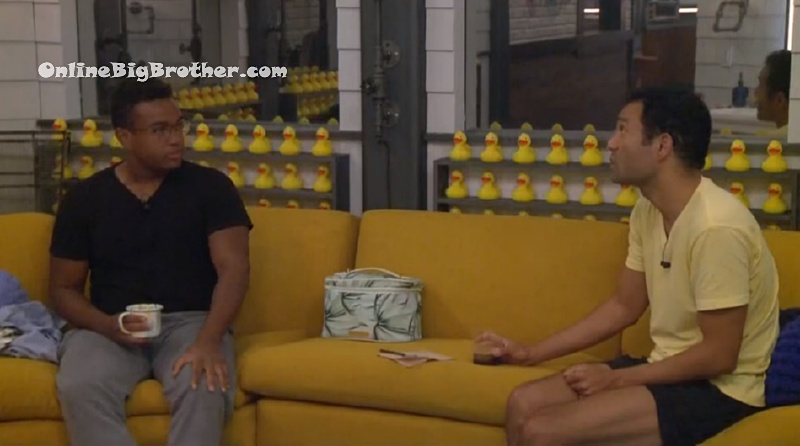 8:40 am Kevin and David
K – have you talked to Memphis yet?
Kevin says David being have not gives him the advantage because he has to walk by the HOH room on his way up. Points out that last week he noticed Memphis would hang out on the sky bridge on one of the two seats waiting for Cody.
K – I'm a have not I'm hanging out over theere and you can catch him
D – I just, I dont' want to give him something if it's inevitable
K – what do you mean
D – I feel like ..
K – what is this inevitable crap
David says based on Memphis not really talking to him, and how last week went and how "my dumb a$$ said I wanted to experience the game" David thinks he's going up "To save him (Cody) the blood"
David – just reading the situation., I don't want to go up there and give promises I need to play differently. I want to do that believe me.
David says he has tried to break the ice with Memphis but it doesn't go anywhere
Kevin – same here
David – that being said they're people that want me to be here
Kevin – this season has 3 ways to save yourself, Play HOH, Safety suite .. wait there's four ways.
K – HOH, Safety Suite, Veto and the last one is votes.
Kevin says David has to be careful that Memphis doesn't put him up with someone that is a guaranteed vote for him. He'll try to split it.
David – if I am going up against someone I like that is in the same circle.. that will be tough choices.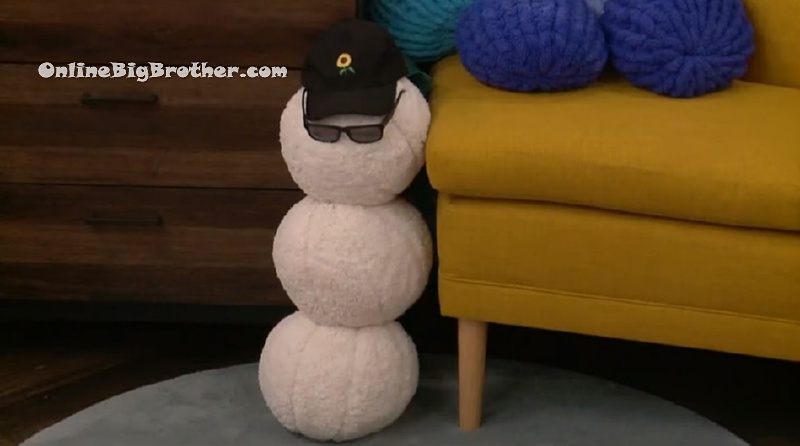 Kevin puts Ian's sunglasses on the bathroom snowman.
They talk about Memphis having a "little grump" in him
Kevin says he feels like he's on a delay in the game of about 5 days.
D – I trust you
K – You are in my circle in the bullseye
D – we got blood together. it's different. Me Da'Vonne and Bayleigh are all like Kevin's got to stay that was from the very beginning.
D – I don't want to be put up on the block with you, Bayleigh or Da'Vonne that's my fear.
David – I feel like I am going up
Kevin – don't put that energy out there
Kevin says he's playing in the safety Suite he can't risk going on the block this week.
K – that guy (memphis) is smart.. he's always to find a real angle.
K – Janelle nad Kaysar acted like they weren't going to play up until the last second
David – the game is getting fun. I'm not going nowhere hell no.
Kevin – A person of colour does have a shot this season.. it's an even playing field
Kevin doesn't think there's anyone problematic with race this year
David agrees
David – the nature of the country and our training leading up to walking into the house definitely. It's hard to .. at least for me being in the same place where it was going down.
David – It was a year ago, I'm here and someone was doing the monkey dance in the top room. That happened and I was oblivious to it.
Kevin – In reference to you
D – yeah
K – Ohh I didn't know that
D – that was disgusting. And I was nice walking around the house like a dumb a$$. I don't want to feel that way again
D – I want history to be made that is really what I want.
K – Has a black person?
D – never won
K – Danielle Reyes was the closest
D – that's the reason I did it last year. I looked up all the winners and was like perfect.
D – I wasn't really nice to Lemi last year. She dealt with the same thing on a greater scale.
K – How did she feel about the whole situation
D – She doesn't talk to me she just talks to NicoleA and Ovi I think
D – me and her we don't talk we've reached a better place. Me and Da'Vonne had a conversation about that. It was tough
K – I didn't anticipate our previous experiences in the house trigger us in here..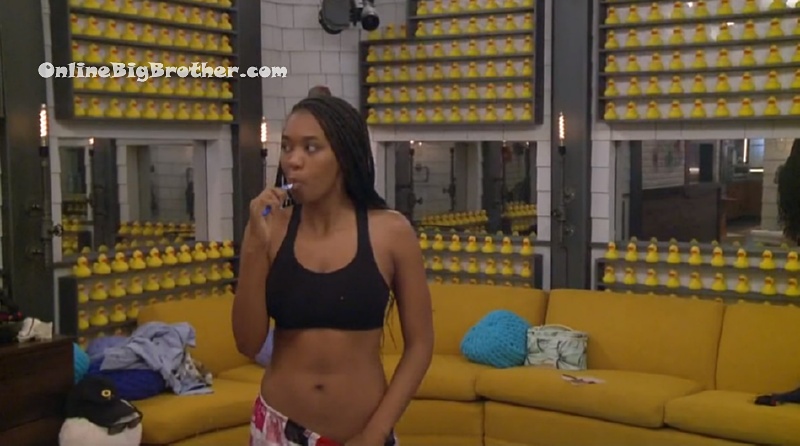 9:15 am
Houseguests getting up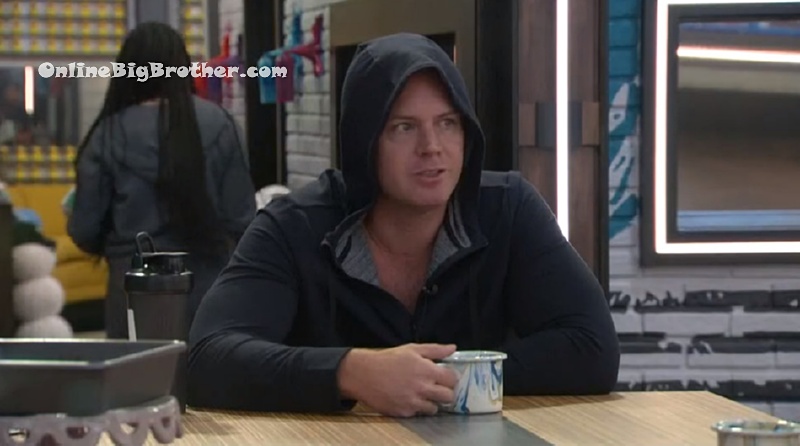 9:23 am Emperor Palpatine is up enjoying his coffee but soon gets called to the Diary room.
9:29 am Feeds are on stars someone must have mentioned evil Dick's name.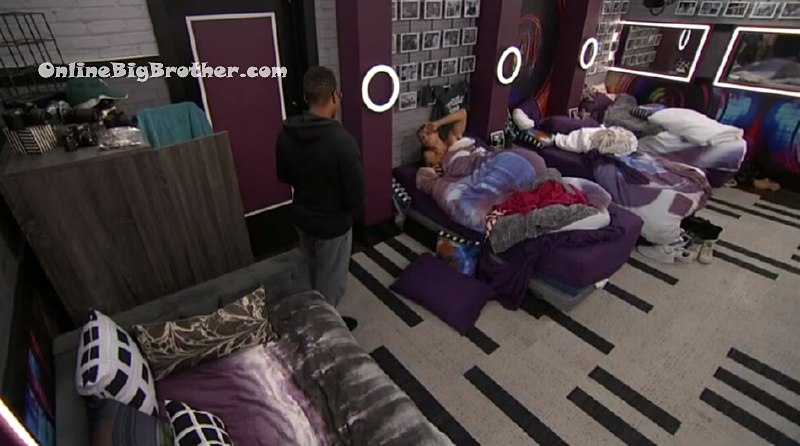 9:31 am Tyler and David
Tyler says he'll save David with the safety suite if he wins it.
Tyler – or talk Memphis out of putting you up. It'll be easy for him he already kinda pissed you off. I haven't talked to him so I don't know where his head is ay
David doesn't want to be on the block with Enzo or Tyler that would make it tough.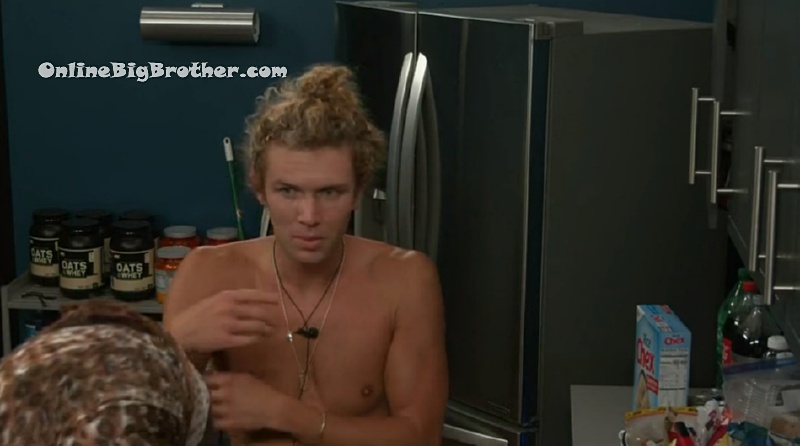 9:34 am Tyler and Kevin
Kevin says he's playing in the safety suite "if my mom was HOH I would play"
Kevin leaves. Da'Vonne comes in
Tyler – yo about to play today
Da – yeah
Tyler – I think Memphis is trying to scare the f** out of everybody so and not say anything so to get as many people to play as possible make it easy next week.. It's working.
Tyler – it's pissing me off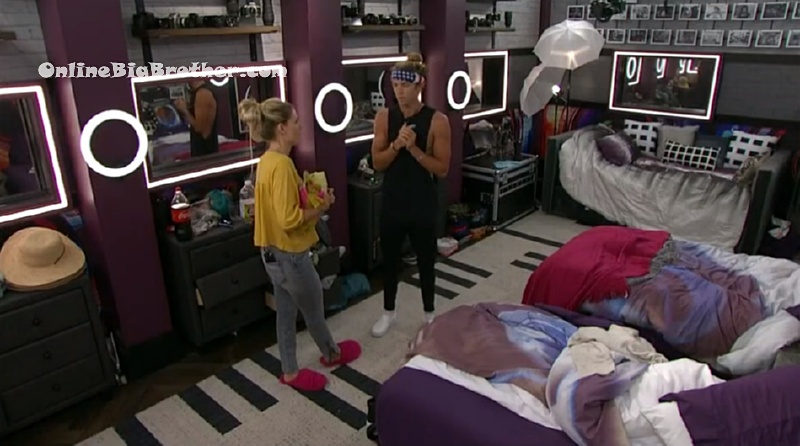 9:45 pm Tyler and Danielle
Tyler says Cody and Christmas are playing
Tyler – if David doesn't there's something weird going on
Dani – I wonder what he wants to do it sounds like he doesn't want to touch KAysar and Janelle at all, Nobody does.
Tyler – our six is five
Dani – our Enzo six
Dani – Enzo is cool too .. I don't want him to go and if David goes up we shouldn't vote him out he's cool with us
They wonder who possible nominations would be. Da'Vonne, NicoleA, David…
Dani says David is a vote for them week after week
Dani says they are supposed to be in an alliance with Memphis and he doesn't shoot out any scenarios with them "He told me why bother talking about it until someone wins HOH"
Dani – and now that he did he's saying he doesn't want to talk about it until after the safety Suite thing.. It's weird right
Tyler says Memphis is playing both sides. He's playing Janelle and Kaysar. He slipped up when he told us that.
Dani – I don't even care about that like you (Memphis) are the one that came to us about the alliance. It's weird to me
10:07 am Feeds down for safety suite?
11:34 am Feeds still down
12:39 pm Feeds still down
1:27 pm Feeds still down
3:00 pm Feeds still down YO