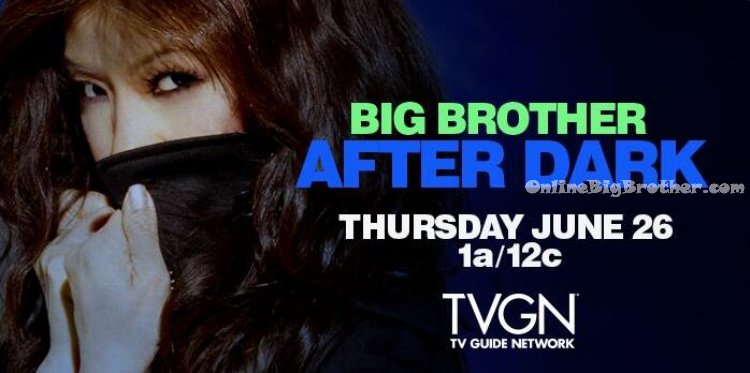 The TWO-Night première of Big Brother 16 starts on Wednesday, June 25th at 8pm with the second première episode on Thursday, June 26th at 9pm. Big Brother After Dark will première on Thursday at 1a/12c on TVGN!
The nightly big brother after dark segments used to air on the Showtime network, where any content on the live feeds was fair game and viewers got the same unedited / uncensored experience. Since CBS moved After Dark to the TVGN network in 2013 the aired live feed segments have been censored due to it being a family channel. This change upsets fans as they appreciate being able to watch it uncensored to see the Big Brother house guests as they really are, unlike the 3 weekly edited episodes. TVGN just aired a commercial that highlights all the words that you're not going to hear because they're going to bleep them out.
"Now a list of words you won't hear on Big Brother After Dark! F@#%! S#@*! C&%# S%#@&$! M@%$#& F&#@%&! P#$$ and T#&$! Everything else is cool! Big Brother After Dark Season premiere Thursday, June 26th 1a/12c! Commercial FREE only on TVGN! TVGN to Find your channel go to TVGN.tv, F%$# YEAH!"
As if you needed another reason to Subscribe to the Big Brother 16 Live Feeds
, but this is just one reason you can't deny. The best part of the Live Feeds
is that you get a chance to see the house guests how they actually are AND see things the way they really happen days before it airs on the edited television episodes. The other benefits of getting the live feeds is that you decide which camera view / conversations you want to watch, flashback to re-watch great moments, live chat with other fans and vote on things that will impact the game. The live feeds are so cheap at only $23.99 to watch the ENTIRE season of Big Brother! That's less than 30 cents a day making it the cheapest summer entertainment you will ever find! In addition, by signing up to the live feeds through any of the Live Feeds ads
on OBB, you help support all the live feed updates we provide at no extra cost to you. Simon and I will be posting up-to-the-minute live feed updates so you can flashback to all the moments you want to watch while you enjoy your summer.
Recently released Big Brother 16 news:
When will the Big Brother Live Feeds begin?
The Big Brother Live Feeds Season 16 will start on June 26, 2014 at 10:00 pm (PT).
Big Brother After Dark will start June 26th @ 1am (NT).
DON'T FORGET there is less than a week left save 20% off the Live Feeds!
Save 20% if you sign up for the Big Brother Live Feeds before June 26th!
Stay connected and interact with other Big Brother Fans on our Facebook page.
And Follow: @BigBspoilers and @Dawgsbigbrother on Twitter for the most up to date spoilers.