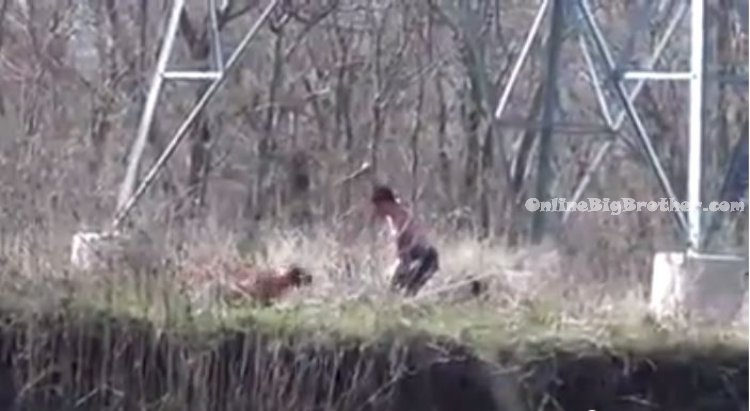 Want more Big Brother? Live Feeds are available now with 20% savings offer!
The all new cast of Big Brother 16 was just released yesterday and as usual there is a lot of information surfacing about each one of the new house guests. One of the house guests, Caleb Reynolds who grew up in Texas and now lives in Hopkinsville, Kentucky is an avid outdoors man and hunter. He lists his favorite activities as horseback riding, rock climbing, going to the gym, riding bikes, hunting and fishing. Given that he's an avid hunter, it comes as no surprise that a video surfaced showing him kill a wild boar with a stick. In the video he is with his dogs and a friend on the side of a river bank. The dogs on the other side of the river bank have a wild boar cornered, so Caleb dives into the river and swims across to the other side. When he reaches the other side he yells back to his friend that he forgot to bring a knife. He then walks over to the wild boar, picks up a stick and drags the animal out into the open at which point he drives the stick through the wild boars heart killing it. His friend says "That's how it goes extreme style! He's driving a stake through its heart! That's how we do it here in Texas! Improvise!"

Another video entitled – "Hunting brothers sing song funny – Cole and Caleb being ret*rded in the truck killing time."

Caleb holding and joking around with a frozen dead coyote:
Recently released Big Brother 16 news:
When will the Big Brother Live Feeds begin?
The Big Brother Live Feeds Season 16 will start on June 26, 2014 at 10:00 pm (PT).
Big Brother After Dark will start June 26th @ 1am (NT).
DON'T FORGET there is less than a week left save 20% off the Live Feeds!
Save 20% if you sign up for the Big Brother Live Feeds before June 26th!
Stay connected and interact with other Big Brother Fans on our Facebook page.
And Follow: @BigBspoilers and @Dawgsbigbrother on Twitter for the most up to date spoilers.