The big brother 16 cast of new house guests were released a few days ago and already there is a lot of information (good & bad) surfacing about each of them. The latest information to surface about Caleb Reynolds is not good and it can't help remind us of the controversy that happened during Big Brother 15. Caleb's profession is a being an "Adventure Hunting Guide" and as we saw from an earlier post we did he is willing and able to kill a wild boar with a stick. He also served in the military as a prison guard in Iraq which he stated in his interview with Rachel Reilly that he didn't enjoy it due to being taunted by the prisoners.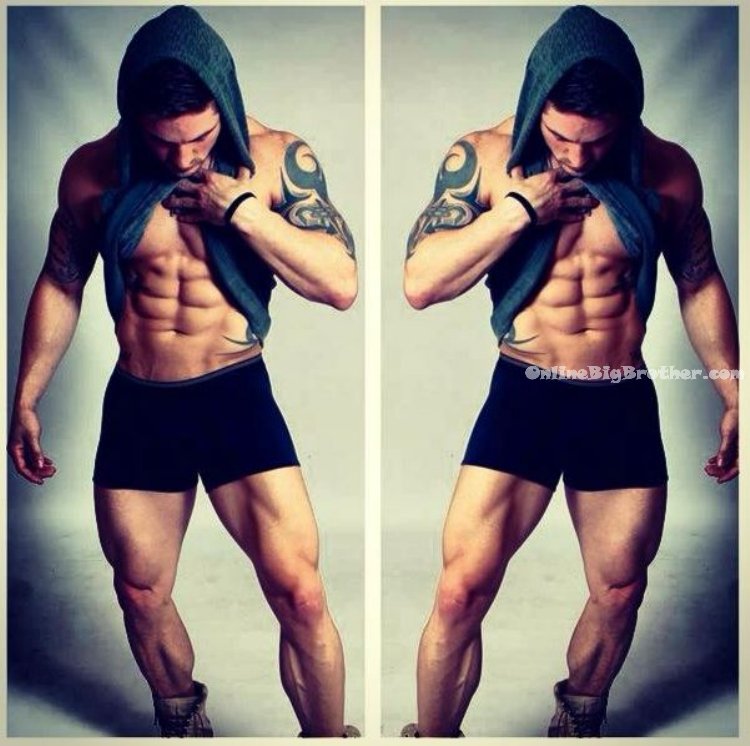 On Celeb's Instagram account "insain_physique" about 20 months ago he made some extremely disturbing comments. When these comments surfaced whoever is managing his account deleted his account in an attempt to destroy the evidence. His Instagram profile read "Caleb Reynolds 100% natural, Personal Trainer, fitness is my passion, GOD is my strength, heaven is my goal."
The comments made were in reference to a post that read:
"YEAH FOR OBAMA HE GETS TO SHRED THIS COUNTRY APART ANOTHER 4 YEARS ONLY GOD CAN HELP US NOW!!"
Caleb's comments below were in response to Instagram user "lockhar12" who said:
"Rediculous person out of office who CLEARLY doesn't have any of the American peoples' interests in mind. I wish it were easier to cite sources on here because I could easily destroy any feeble argument you could attempt to make. Anyway, enjoy the next 4 years! 🙂
Caleb Reynold "insain_physique" comments said:
"You believe in murder? You agree with fags? I guess so but I don't agree with murdering A innocent baby which he clearly doesn't mind. Nothin has changed in these last four years. You know it. Your just a democrat that wants that Muslim monkey in office. I'm done with you, your dismissed…

Also if you could see straight and wasn't color blind the map if the US is completely red, thank god he only gets 4 more years. You and the other democrats will wish you never voted for him soon. Good job."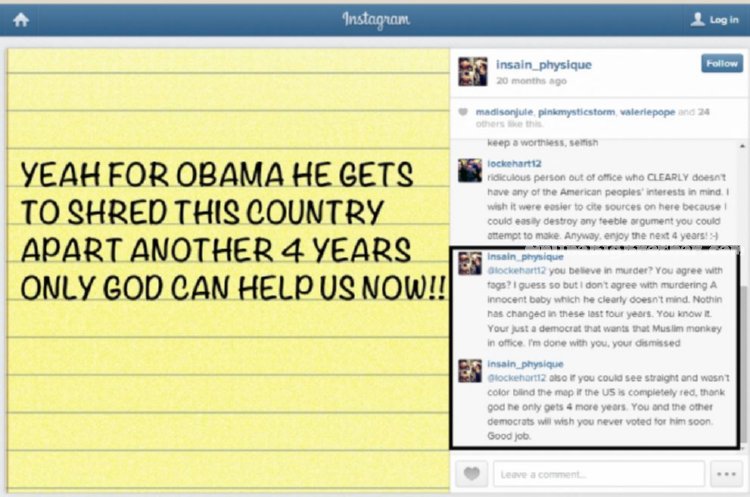 Just for the record, I said I was team Caleb strictly from the fact that he is a Texan. This is the first I've heard of the controversy.

— Aaryn Gries (@AarynElizaGries) June 21, 2014
Here's a youtube video Caleb singing a Brad Paisley song:

Screen capture source: ontdbb
Photo source: survivorsucks
A special thanks to OBB commenter "Name" for bring the story to our attention!
Check out the NEW OBB Forum https://forum.onlinebigbrother.com/
Stay connected and interact with other Big Brother Fans on our Facebook page.
And Follow: @BigBspoilers and @Dawgsbigbrother on Twitter for the most up to date spoilers.