POV Holder:
McCrae
Next POV
June 27
POV Used
Yes
POV Ceremony
June 29th
HOH Winner:
McRae
Next HOH:
Wed July 3rd
MVP:
Elissa
Original Nominations:
Candice, David, Jessie
Current Nominations:
Jessie, Elissa and David
Last Evicted Houseguest
?
Have Nots
Andy, Elissa, Jessie, Howard, Helen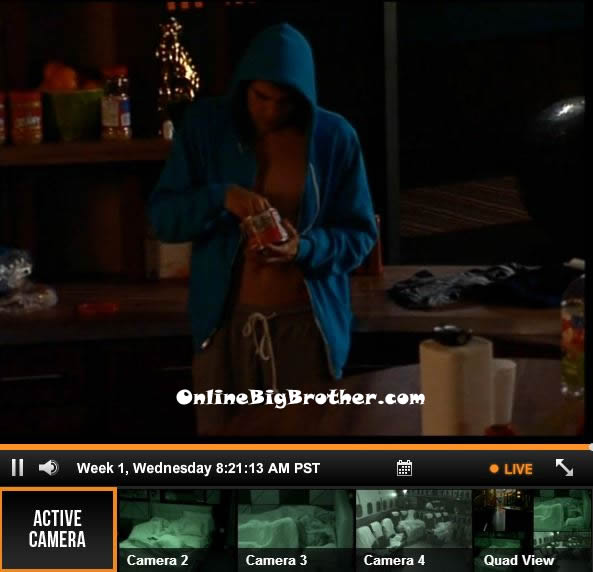 9am Big Brother starts blasting music in the BB house and then shortly after they switch the live feeds to the we'll be right back screen. When the live feeds return – Jessie, Helen and Kaitlin are in the bathroom. Jessie comments that she went to Dubai in her dreams. Kaitlin says I went on a weird, weird date with someone from Dubai and I do not suggest anyone ever doing it. Helen says I don't think I have ever met anyone from Dubai. Kaitlins says I couldn't understand a word he was saying. He wouldn't keep his hands off me. I would not suggest dating anyone from Dubai. She says they are actually super intelligent though.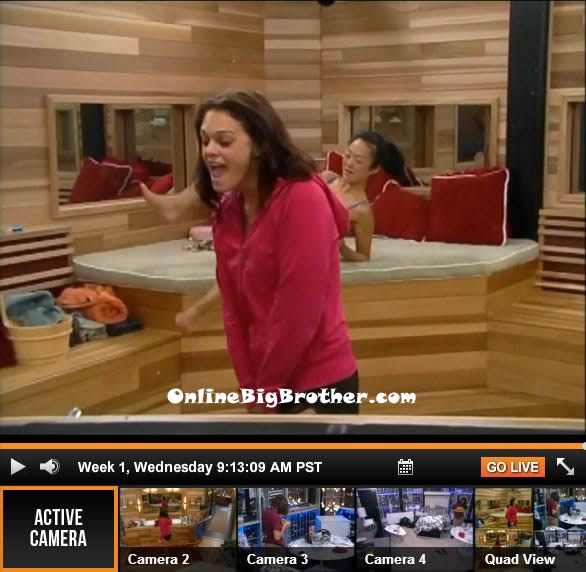 9:30am In the kitchen – Elissa is asking David about different areas of California. She asks him how far way from Palm Springs he is. He says 3 hours. Amanda says its the gay people and old people capital of California. Elissa asks what time do we have to be up in the HOH? Amanda tells her 10:45am. Elissa says that she wanted to make egg but says maybe I don't have time. Amanda laughs and asks what kind of eggs are you making? You have an hour and a half.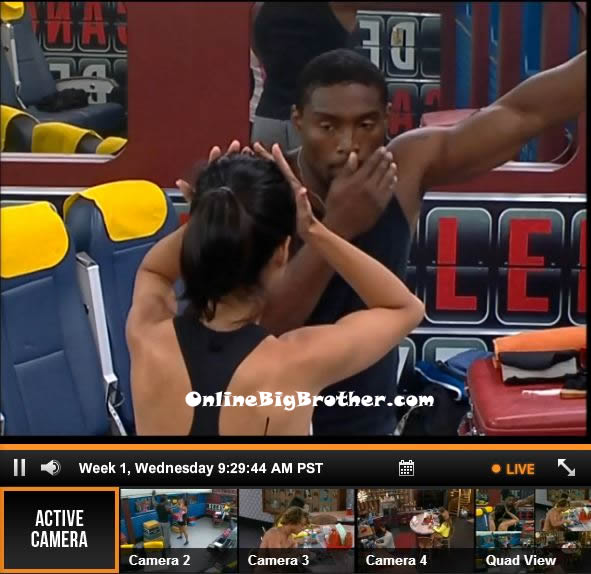 9:40am In the havenot room – Howard and Helen are talking about Candice. Howard tells Helen they can't tell Candice any information she is too emotional and a blabber mouth. Helen says that she feels like Candice is attaching herself to me. Howard says that he has heard all sorts of things. I've heard racial slurs and all kinds of things and I have to keep me mouth shut. You need to keep an even keel with your emotions. These young people are only thinking about money and will do and say anything for it. Our group needs to stay on the low. Helen asks how she should handle someone coming at her and yelling at her. Howard says less is more and people, especially women, hate when you ignore them. Howard says that people can say what they want to say but no one can put their hands on you. The one thing about this house is if it comes to physicality, someone is going home. Ask them if you can pray for them. Howard says hit them back with something that makes them look even uglier. That's what I am going to do. Helen thanks Howard. Howard leaves the room. Helen says to herself, this house is hard!


10am – In the kitchen – Elissa says I am trying to think about what to say in my speech. Someone asks her if she will say fu*k you all. Elissa jokingly says actually I have nothing at all to say to you all, especially you McCrae. Meanwhile in the bathroom – Andy, Amanda, Jessie and Kaitlin are talking about yeast infections. Amanda and Jessie talk about how much they hate them and Kaitlin says she's never had one before.
10:10am In the havenot room Helen discusses with Andy about not telling Candice what's happening and how they need to not share information with her. Andy says we need to be really careful about what information we say to make sure we don't expose our alliance. Helen says I think we will have to not be seen together after tonight. Up in the HOH room – Amanada is showering and yelling at McCrae telling him that if the live feeders want boobs then she will give them boobs. She says and if they want Mcrae-bod they will get it! Like-a da little pizza, good to meet-ya! McCrae asks her if she is alright?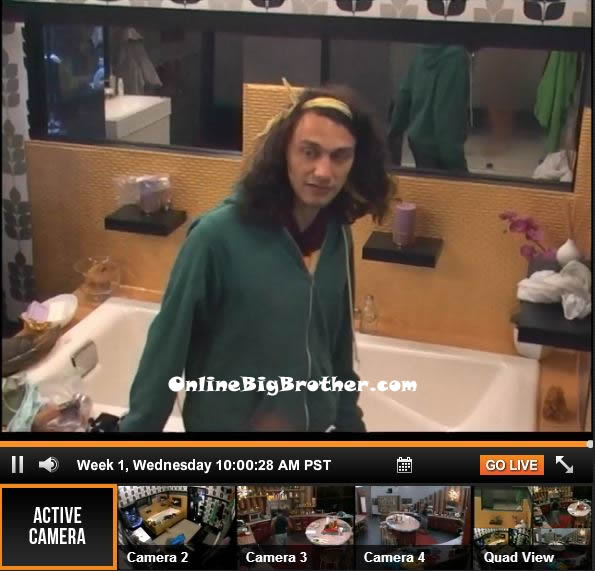 10:30am Up in the HOH room – Amanda and McCrae are talking about who they nominated if Elissa wins MVP. Amanda says Nick or Aaryn. McCrae tells Amanda that if someone from Bieber fever wins HOH then she has to listen to what he says. Amanda asks is there something you aren't telling me? McCrae says I am being paranoid but I thinks that the other side will come after us. McCrae comments that he doesn't like how he's had to play this one and says that we betrayed everyone on our team. Amanda says it won't come back to you. What do you think I am going to yell "McCrae did it!" Amanda says we can just blame it on Jessei. McCrae says Jessie doesn't vote. Amanda says oh yeah. Well they won't blame you, you can't vote either. McCrae says that he's worried about the HOH competition too. McCrae says every fu*king person on our team is going to throw the HOH competition except for Helen or Elissa. McCrae tells Amanda if someone on the other side wins HOH, you have to listen to what I say. Amanda thinks the other side won't come after her. She thinks they would put up Helen and Elissa. McCrae says you are a social threat and I am competition threat. Amanda says let MOMMA take care of this. McCrae says no let DADDA, MacDaddy take care of this. Jeremy joins them to "poop". Kaitlin comes up soon after and Amanda tells her that her husband is "pooping". Kaitlin says don't call him my husband. Amanda asks Jeremy if he has both ears pierced. Jeremy talks about how he got one ear pierced in grade 9 and thought "this looks so gay" so I got the other one done. Amanda asks Jeremy if Kaitlin would mind if you were in my basket. McCrae starts rhyming – gravy gravy, I am in the navy. Jeremy says Gravy gravy I am in the navy, I carry slave-ies.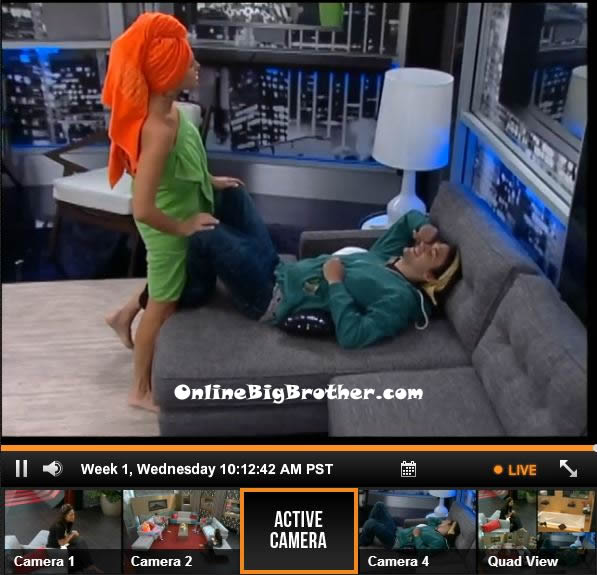 10:40am – 10:45amThe other house guests come up to the HOH room for the lock down.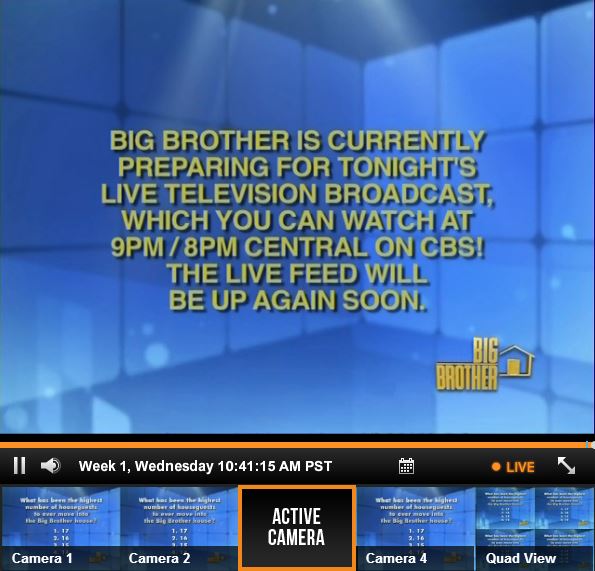 12:20pm – 12:50pm The Big Brother live feeds return – The girls – Candice, Amanda and Aaryn are in the bathroom doing their hair and makeup. Meanwhile in the bedroom – Andy, Jeremy, kaitlin and Judd are hanging out talking about random things like what the perfect date would be. In the living room – Spencer and Nick are talking about relationships. Nick brings up how he loves a ex named Megan. Spencer talks about his girlfriend Marilyn.
12:52pm – 1pm In the bedroom – Judd, David, Kaitlin and Jeremy are talking about the HOH competition tonight. Kaitlin tells Jeremy that either he or her have to win it, or they are going up for sure. Jeremy talks about how there have been other blow-ups since his and says that he and Helen are good now. Kaitlin says well lets take a nap and then study. Kaitlin says that she has never had a one night stand. Spencer says he has. Jeremy tells Kaitlin that her not having any is really good. Jeremy asks Spencer how many girls he's been with. Spencer says like 40 – 45. Kaitlin says wow! Jeremy says well I guess you have a few years on me. McCrae joins them. He is wearing Amanda's jeans and talking about how tight there are in the "ball sack area". He sticks his hands down his pants and adjusts.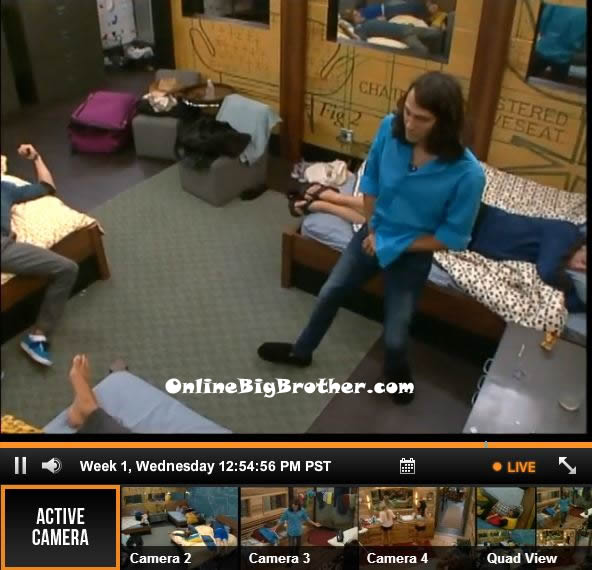 1:35pm In the lounge room – Spencer and Jeremy are talking. Jeremy comments on how it made him nervous how he was being asked to vote to keep Elissa. He says it felt like something was going down that I wasn't a part of. Spencer say oh no, no .. its just to make sure the votes go where there supposed to. Jeremy says that he hopes Kaitlin makes it to the sequester house because she won't fu*k me here. He says but she almost did last night. Spencer says yeah I heard. Jeremy talks about smoothing things over with Elissa.
1:50pm – 2:15pm In the bathroom – Amanda is doing McCrae's hair. Aaryn and Candice are still getting ready doing their makeup and hair. Meanwhile, outside the HOH room – Howard and Helen are playing a game of chess. Jeremy, Andy, Kaitlin and David move into the lounge room and talk about random things. Everyone is waiting around for the live show to start. The Big Brother switches the live feeds to the TRIVIA screen again…
Stay connected and interact with other Big Brother Fans on our Facebook page.
And Follow: @BigBspoilers and @Dawgsbigbrother on Twitter for the most up to date spoilers.
[polldaddy poll=7218240]