POV Holder:
McCrae
Next POV
June 27
POV Used
Yes
POV Ceremony
June 29th
HOH Winner:
McRae
Next HOH:
Wed July 3rd
MVP:
Elissa
Original Nominations:
Candice, David, Jessie
Current Nominations:
Jessie, Elissa and David
Last Evicted Houseguest
?
Have Nots
Andy, Elissa, Jessie, Howard, Helen
9:00pm Cam 3-4 HOH Gina and Howard
Howard breaks down the sleeping arrangement drama.
H: "Aaryn came to Elissa.. said well the bed you and helen slept in last time we want it back"
G: "And Elissa was like Thats my bed.. which is bullshit because nobody has a bed"
H: "Ya"
G: "Jess has been sleeping by herself for a whole week because Nick came to sleep with me"
H: "Ya"
G: "we sleep good together he's on one side i'm on the other.. we don't even touch each other there is a little pillow between us.. you know"
H: "Ya"
G: "Her bed is made for three people you know how I know.. If you count the squares on the bed that Nick and I sleep in has 7 squares wide.. her bed has 8 .. that means it's an extra 7 inches wider"
G:L "It's meant for three people.. "
Gigi was telling Elissa that lets leave the beds tonight so in case it is Davids last night he can spend it alone with Aaryn.
They go over sleeping arrangements. Howard doesn't mind sleeping with another guy with a girl in a middle. He says worry about that sh!t is "Petty"
9:12pm Cam 3-4 Lounge Elissa and Nick
Elissa: "You know David and them are in a teeny bopper showmance alliance.. you told me If i got MVP and didn't put you up that you wouldn't put me up if you got MVP"
Nick: "Ya.. 100%"
E: "out of respect for me honouring my word I think it would be nice for you to not vote to evict me"
Andy, Gina roll in
E: "CAN I ASK him something real quick"
They leave
E: 'I don't think there is going to be a even vote.. I think it would be nice for you to not vote me out"
N: "I didn't get MVP so I couldn't honor anything .. umm this whole week I'm going with the house.. and everybody said this is what the house is doing.. I didn't want to be on the bad side of the house.. cause if I was the person that went rogue then next week i'll get Bent order"
E: "Have you talked to Amanda and McCrae tonight"
N: 'well.. I've talked to everyone.. "
E: "And they say they're voting me out"
N: 'I don't want to say cause I don't want to start this game.. "
E: "if they didn't vote me out and you are voting with Anthony and them"
N: "Whose Anthony"
E: 'I mean Jeremy.. oh my god I forgot his name" (LOL f***)
N: 'I'm literally voting with the entire house.. i've asked every single individual in this house and i'm going with the majority"
E: "Have you talked to Helen and Spencer"
N:" Ya at one point in time i've talked to everybody"
Ginamarie is listening from the door..
Here's a pic from 6:55 Cam 3 Jeremy wipes his A$$ with someones hat
FYI you can re-watch ever second on the feeds using their flashback feature.. It's super easy to use Big Brother Live Feeds
HUGE improvement over last year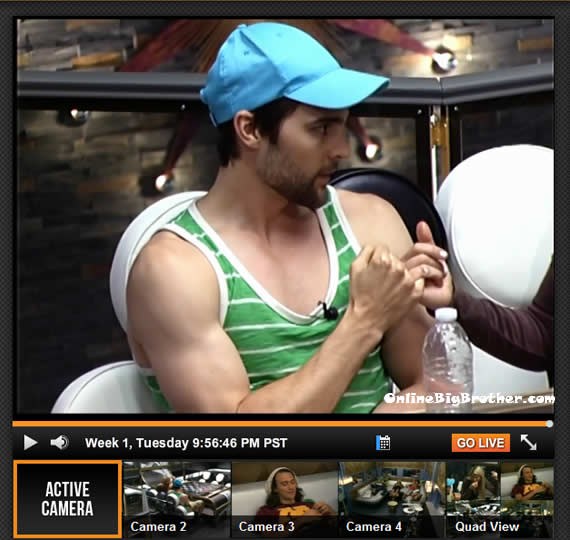 9:43pm Bedroom Cam 1-2 Nick, Aaryn and Gina
Gina says she's going to have to have a "POW WOW" with Judd. Aaryn mentions he's been looking kinda sad
Aaryn jokes : "he's a shady f****"
Gina thinks Judd's is unhappy sitting in the lounge with the other houseguests. Gina wants to go get him so she can talk.
Nick: "Don't put him on the spot.. wait until it's one on one"
Gina: "You like the one on one time"
Nick: "I do.. look it's getting weird.. it just has to be cool"
Gina: "It is cool"
Nick: 'This game is not about getting people riled up.. it's about being cool"
Gina: "Dude"
Nick: "This game is about cool.. about being mad chill and if there is bad air you just clear it asap"
9:54pm cam 1-2 Chessboard Gina and Nick
Gina: "So basically I think you are a really cool kid.. I know you are not looking to F**** around with girls in here cause you want to keep a cool head"
Gina: "I know you are smart and everybody likes you.. and I'm not going to get jealous i'm not going to go app sh!t"
Gina says she does like him but she feel the same way she doesn't want to "Hook up" with any guys.
G: "If you need to be all like YO G cut the f**** sh!t cause you're messing my game I'll understand"
Feeds go to fish for about 15 seconds
N: "I really appreciate that and I respect that more than anything else you've said"
G: I know you are not going to clean me out.. pretend you like me when you don't"
Nick and Gina pinky swear.. he tells her they are solid.
Gina: "You are the only person I will f*** protect and do s!!t for I swear on my life".. I don;'t lie about bullshit and I won't lie to your fucking face.. i'm a strong a$$ person"
She tells him that the six of them have to stay together they are strong.
G: "I got your f**** back"
Nick: "There is a reason i'm talking to Jessie"
G: "I know"
Gina leaves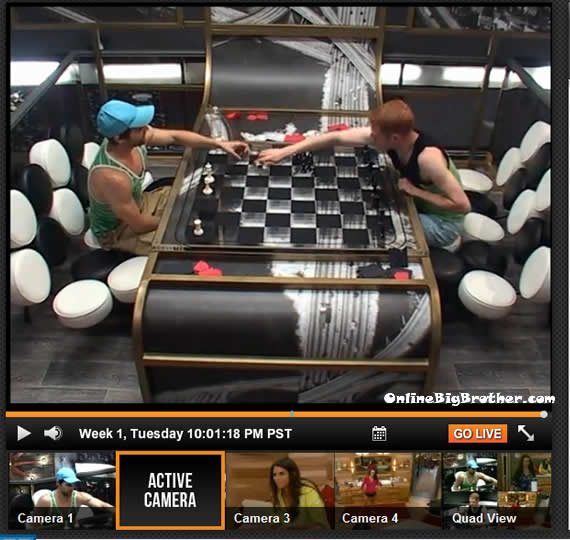 10:02pm Cam 1-2 Andy and Nick
Nick tells him Andy is cool if he wins HOH tomorrow.
Andy says same with him, "I promise you"
[polldaddy poll=7218240]