POV Holder:
Kaitlin
Next POV
July 20th
POV Used
YES
POV Ceremony
July 15
HOH Winner:
Helen
Next HOH:
July 18
MVP:
Elissa
Original Nominations:
Kaitlin, Aaryn, Spencer (MVP)
Current Nominations:
Jeremy, Aaryn, Spencer (MVP)
Last Evicted Houseguest
David, Nick
Have Nots
Judd, Jessie, McCrea, Amanda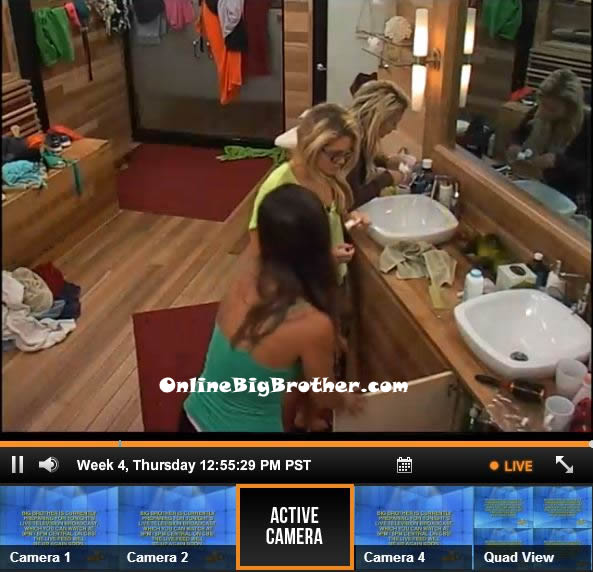 12:50pm Big Brother switched the live feeds to the TRIVIA screen for the HOH lock down. When the feeds return, the girls are in the bathroom getting ready. Jessie is mad and complaining about how someone took her hairspray and she can't find it. She says she doesn't care, just ask! Candice tells her to look behind the baskets. Jessie finds it. Candice says are my cigarettes back there? Andy comes out of the lounge and says I heard you found it? Jessie says yes. Andy says so mystery solved, you were playing the blame game. Jessie says well someone definitely used it because it is half empty. McCrae comes in and says he is wearing the bear shirt tonight. Candice says that shirt gets around, its a wh*re! Amanda says like me! They talk about being havenots. Amanda thinks because they didn't end havenots last night they will have a have/havenot competition tomorrow. Andy says he hopes it's a fun competition.
Meanwhile in the havenot room – Helen and Kaitlin are talking. Helen tells Kaitlin that she thought about her proposal to keep Jeremy here but that it's just not what the house wants. Helen says that she is going to tell Jeremy so that he isn't blind sided. Kaitlin says oh he won't think he is blind sided, he know's he's going. Helen says that if the votes were going to be more like 5 – 4, then I would consider keeping Jeremy because that would mean that someone is lying to me. Kaitlin says okay. Kaitlin and Helen hug. Helen tells Kaitlin to win it tonight. Kaitlin says that she is going to! Kaitlin tells Helen that if she does win, she is going after Howard and Spencer. Helen says okay good. The end their conversation and leave the room.
1:10pm In the kitchen – Elissa asks Jessie if she thinks Judd is a Stud. Jessie says Ah DUH! Elissa and Jessie talk about how other people are using there things. Elissa says that someone used her prescription face wash and she will need to get her mom to get her more. Elissa says is heated, wouldn't you be.
Big Brother 15 Live Feeds: FREE 2 DAY TRIAL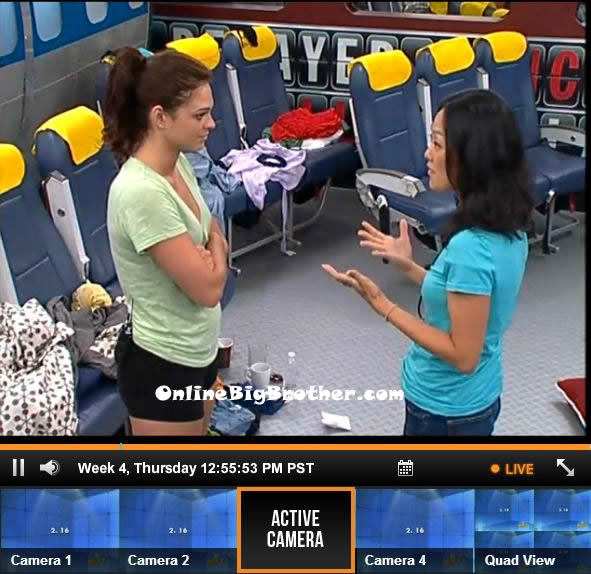 1:15pm Jeremy is in the bedroom talking to Spencer he says that he can't find his deoderant and toothbrush. He says I bet Jessie threw it out because she hates me. Jeremy says it sucks that we don't get our 13 G's of stipend until the end at the finale because I would love to go get my sleeve tattoo. I will probably go lay some concrete. Spencer says just make smart decisions, don't get anyone pregnant. It will not ruin your dreams but stifle it. Jeremy says nope, I am not looking to do that. I am being selfish right now. I have had a number of girls try that.
1:20pm – 1:30pm In the bedroom – Spencer tells Howard it sucks because Jeremy is a good dude. Howard agrees. Howard says I will pull him aside in a bit. Howard tells Spencer to just focus on winning HOH. Spencer says he is going to win it. McCrae joins Spencer in the bedroom. They talk about how Jeremy already knows he is going home. Spencer laughs and says wouldn't it be funny if in 3 weeks Jessie was just as crazy about Judd. McCrae hopes he wins HOH. Spencer says he thinks he is good and says it would be pretty crazy if they pulled to wool over his eyes. They wonder what the HOH competition will be tonight. Judd says he thinks it will be a double eviction tonight. Howard says majority HOH. (He's right)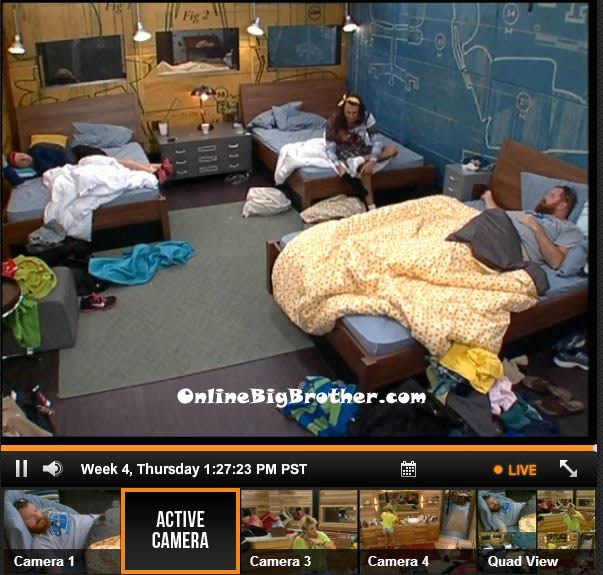 1:30pm – 1:40pm Howard to Jeremy in the Havenot room. He tells him if he had been able to get a few more votes and if the house hadn't flipped Jeremy would staying. Jeremy says he know and he is okay with it. Howard tells Jeremy that everything happens for a reason and he will see Jeremy again soon on tv or somewhere. The hug and leave the room. The head into the other bedroom where McCrae, Judd and Spencer are talking about comic book heros.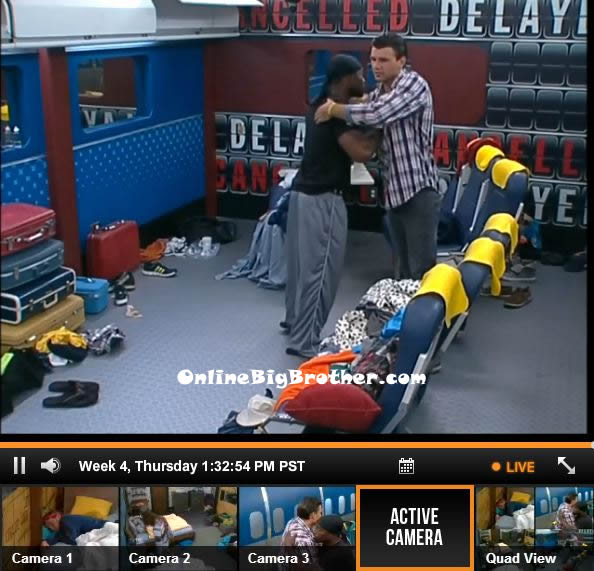 McCrae says he's wearing the bear shirt! Candice says that shirt gets around its a whore! Amanda says like me! #BB15 pic.twitter.com/ksCtS7UlxO

— Dawg (@DawgsBigBrother) July 18, 2013
1:45pm – 1:50pm In the bathroom – Kaitlin laughs at how on the HOH lock down Jeremy recited a poem to her. She says that no one has ever done that for her before and she had to try so hard to not laugh. Kaitlin says that she was glad Aaryn was there to witness it. Aaryn says she was thinking what is happening right now. They both laugh about the poem.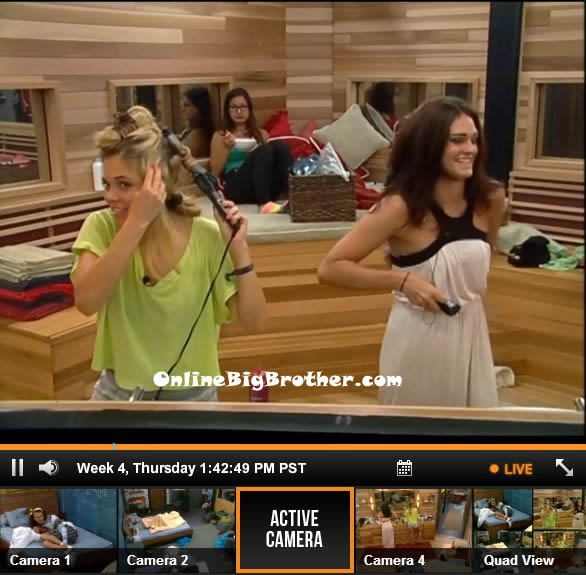 2pm – 2:20pm All of the house guests are still getting ready for tonight's Live Eviction / HOH. Amanda says that Andy looks like an angry gay 2 Pac! Big Brother tells the house guests that the storage room is now open. Andy runs in and says OH MY GOD OUTFITS! (He's joking) Andy heads into the other bedroom with Ginamarie, Candice, Howard and Judd. Andy tells Gina fu*k you for never being a havenot! Gina is laying in her bed holding Nick's hat. Judd asks Gina if she ever shares needles? Gina says what? I've never used needles! Judd says WEIRD! Judd leaves the bedroom.
2:25pm – 2:40pm In the bathroom – Candice is trimming Judd's hair. Spencer says he's got to look got for mama tonight. I am gonna be on TV! Spencer is next to get his hair trimmed by Candice. Candice messes up in the back and starts laughing. She tries to hide it. She says sorry. Judd walks by and puts his socks on his chin and asks can you shave this? McCrae comments on Spencers hair and tells Candice she might as well just shave a name in it now. Judd asks did you all hear them up stairs – Gina says if she gets HOH she is going to get a letter from Nick. Judd says I am going to take a cold shower and don't none of you try and stop me. Spencer says don't you use all the cold water now! Judd says I will try not to, but I can't make any promises! Candice says maybe I will open up a all girls barber shop. Spencer says don't ask me to be in any commercials. Candice says hey! Judd says good luck tonight if its a double. Double eviction that is. That's what I am scared of. Good luck on the HOH too. They are some clever peps.
2:45pm – 3pm In the bedroom – Gina tells Helen and Elissa that she isn't going to vote for Jeremy to stay. It isn't going to make a difference any ways. Helen says I think that is a smart decision. Elissa tells Gina that she thinks Gina needs to start thinking for herself and whats best for her. Gina says that she is over Nick now. Judd asks Gina if he can sleep with her in her bed tonight. Judd tells her he is going to wear that Nick's hat too.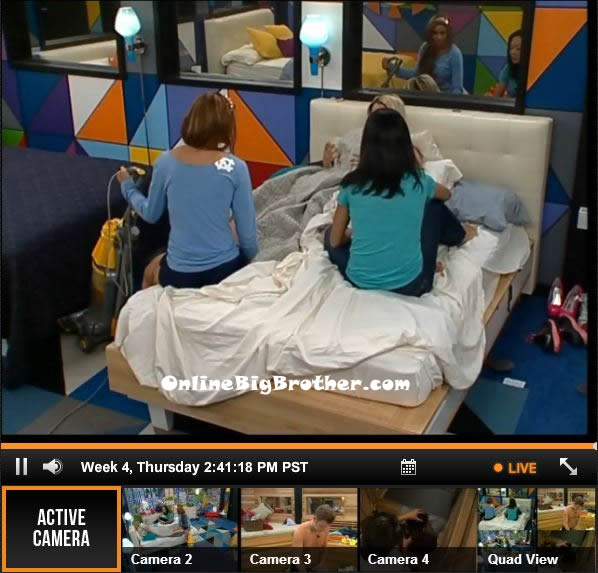 In the storage room – Helen tells Jeremy that her offer of if he can get at least a 5-4 vote confirmation she will keep him. Helen tells him that she is sad to see him go. She says that she is very proud of the way he has acted in the last 48 hours and says if he continues it throughout his life he will be a very successful young man. Jeremy says thank you.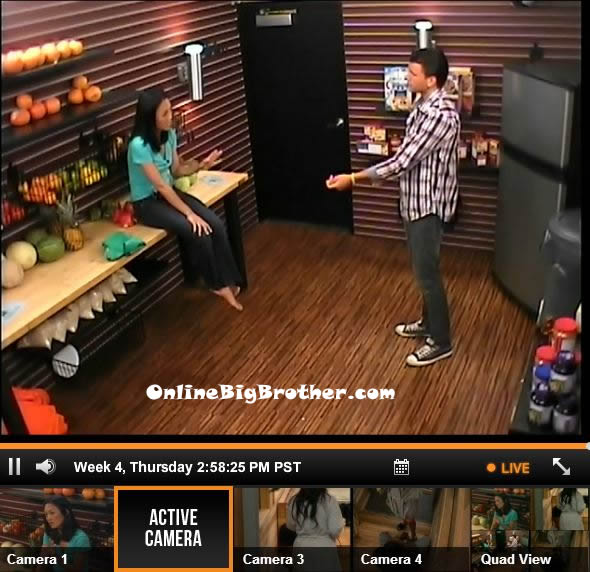 3pm – 3:05pm Jeremy leaves and heads into the lounge room to ask McCrae if he and Amanda can give him their vote. Jeremy says Helen will keep me if I can get the vote to 5-4. I will do anything to be here. Jeremy says that Judd will vote for me too if I can get the votes. Jeremy promises McCrae his vote at the end if he keeps him here. McCrae says I dunno man..I will talk to Amanda right before and see. McCrae says if it does go south ..is there anything you want me to do here? Jeremy says take out Howard and Spencer because they Jewed us. McCrae says he will and that he will look out for Kaitlin too. McCrae asks Jeremy to tell Kaitlin that he will look out for her. Jeremy says he will. Jeremy asks McCrae to let him know his decision before.. even if it is a no. McCrae says he will.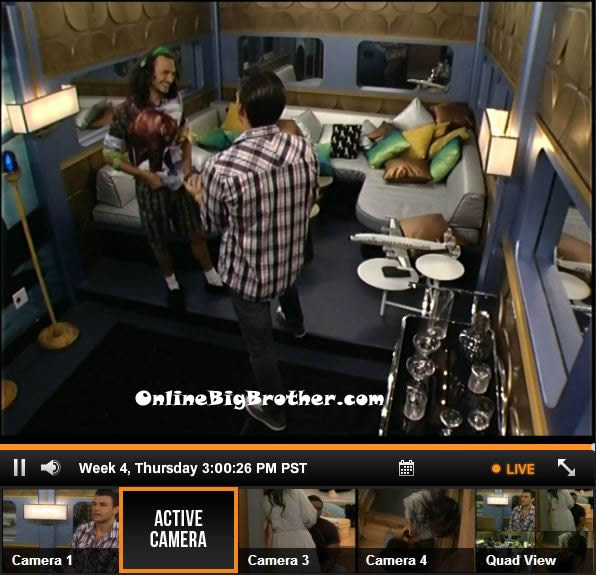 3:12pm The live feeds switch to TRIVIA..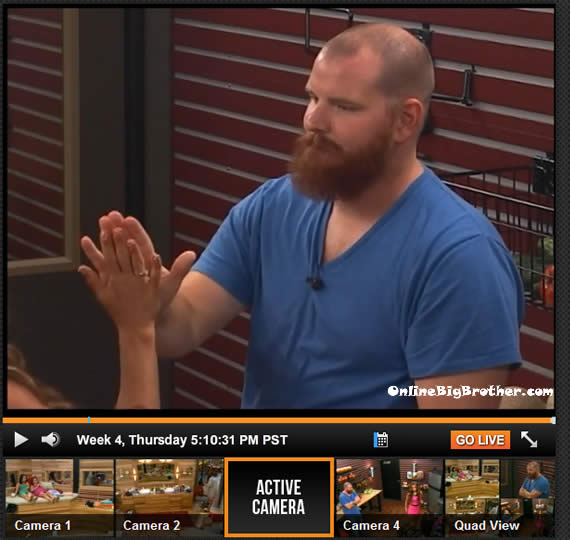 5:09pm Storage room Spencer and Elissa
Spencer saying he never voted for her to leave the house he always voted for her opponent.
Elissa: 'You're so sweet"
Spencer: 'We'll I try to be"
Spencer says he has Elissa's back, "I mean it for sure"
5:27pm JUDD and Spencer JUDD tells him he's safe today. If the vote isn't 9-1 or 8-2 they are both fine but if it's 6-4 or 5-5 they are in trouble because it means they are very much out of the loop.
[polldaddy poll=7256699]
Stay connected and interact with other Big Brother Fans on our Facebook page.
And Follow: @BigBspoilers and @Dawgsbigbrother on Twitter for the most up to date spoilers.