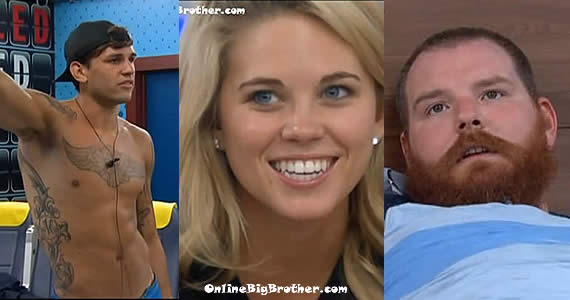 Who is going home?
Jeremy pissed the majority of the house off and was back doored. You can't steam roll through the house being an A$$ to the one player that gets special powers every week. Jeremy was a douche to many people and a big threat no surprise he's nominated. Once the Power of Veto was played last Saturday it become more or less a given Jeremy was going up on the block and going home. A last ditch effort in the wee hours gave Helen and Elissa a convincing argument for keeping Jeremy but in the end it was turned down. Helen and Elissa know they don't need Jeremy in the game to win HOH for them. They have Elissa winning MVP, which is much better.
The MVP Twist the seasons biggest groan
I was excited about the MVP twist at first, the anticipation of who will get it and the crazy powershifts that will happen every week coupled with this dynamic cast made me declare THIS IS THE BEST SEASON (since 12 lol) … Sadly the exact opposite happened for some reason CBS thinks it's best to give the Most valuable player power to one of the most un-valuable players in the game. I'm not hating on Elissa so before you toss some cats at me give it a thought. If she never had the MVP power Elissa would be as influential as Jessie is; she's a vote nothing more nothing less.
Still this is only week 3 so no need to get too caught up with this stupid twist, as Big Brother fans we've been in tougher spots before. There are plenty of powerhouse players left in the game that are fully capable of changing it up and giving us some excitement. Howard and Amanda that was your cue, go get'em!
My Predictions
Jeremy goes home with all the votes against him, except for Kaitlin's. She will vote for Spencer.
Who wins HOH.. Hmmm.. does it really matter? Other than safety HOH isn't as powerful any more. The Head of Household Competition will be an America Votes Majority Questions Competition, so it could be anybody's game.
Confirmed Eviction and HOH results
Jessie votes to evict Jeremy
Howard votes to evict Jeremy
Kaitlin votes to evict Spencer
JUDD votes to evict Jeremy
Amanda votes to evict Jeremy
McCrae votes to evict Jeremy
Candace votes to evict Jeremy
GianMaria votes to evict Jeremy
Andy votes to evict Jeremy
Elissa votes to evict Jeremy
Evicted house guest is Jeremy
Your the MVP now America who do you think should be nominated? (I wouldn't stress about this one Aaryn will be nominated)
HOH winner is JUDD?
Get your Live feeds FREE TRIAL OFFER!!
Here's the scoop. OnlineBigBrother gets a percentage of the money when you purchase the feeds using a link on this site. If you like the spoilers that Dawg and I spend all day pumping out please consider trying the feeds. It's FREE to try!
—- > Subscribe to the Big Brother Live Feeds
< ----- Seriously though, the live feeds moving to CBS.com have been great, the whole product is MUCH improved. It's fast reliable and fun. The Flashback feature means you can re-watch every moment of the feeds. It lets you cue up right to the minute allowing you to use OnlineBigBrother to know when the good conversation happen and then you just flashback to see it for yourself. Pay just $26.99 to watch the entire season or $9.99 for per month. Getting the live feeds allows you to re-watch all the fights, nip slips, game talk and even Howard flashing his dong.. Ladies it's worth it right there.. ;)
Share it YO!!
Tweet