POV Holder:
Kaitlin
Next POV
July 20th
POV Used
YES
POV Ceremony
July 15
HOH Winner:
Helen
Next HOH:
July 18
MVP:
Elissa
Original Nominations:
Kaitlin, Aaryn, Spencer (MVP)
Current Nominations:
Jeremy, Aaryn, Spencer (MVP)
Last Evicted Houseguest
David, Nick
Have Nots
Judd, Jessie, McCrea, Amanda
1:50pm – 2:05pm On the backyard couch – Jessie is telling Helen about how she meet Lance Armstrong and Matthew McConaughey when she was out with her sister. She says that they all went back to Lance's house and had a slumber party. Helen says that is so crazy its hard to believe. Meanwhile on the backyard couch Candice tells Aaryn – I hope you know I was just trying to protect her from the guys alliance. Candice says that she was the first person to figure it out. Candice tells her that each of the boys were supposed to control their girls. Jeremy was supposed to control you and Kaitlin, McCrae was supposed to control Amanda and Howard was supposed to control me. Aaryn says to be honest I kind of already knew that Jeremy voted out David. But in my heart I wanted to move past it and I knew Jeremy would protect me. Candice says that she thinks all of the girls have beautiful qualities and I would hate it for the guys to make it to the end. I want us girls to come together and make it to the end. Aaryn says that she has been working on talking to Elissa more. Aaryn tell Candice that she appreciates her saying that. Judd comes out and joins Jessie, Aaryn and Candice on the couch. Candice starts going off again about how Jeremy called Howard a coward. McCrae joins them. The asks each other what would be more fun the BB house or the playboy mansion. Aaryn comments that in here you can't run away from people. Aaryn says that in here you need to be able to mend things and forgive. Candice says that there are people that forgive someone on death row for killing their loved one so we can have forgiveness for someone flipping your mattress.
Big Brother 15 Live Feeds: FREE Trial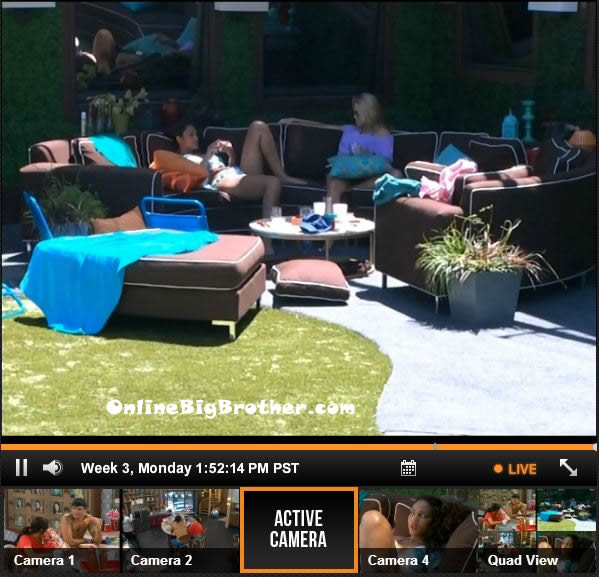 2:10pm McCrae and Candice talk on the backyard couch. They figure a double eviction is coming soon and that someone might be coming back. McCrae says there is also the question if there are 9 jury members or 7. Helen and Judd join them on the couch. Candice comments that Jeremy told her she should be careful because he might come back. Helen says we need good people to win. We need to turn this house around from being a wh*re house! Helen talks about how Jeremy made her cry. Those were real tears! That was verbal abuse! Candice joins them. McCrae says he can't stand inconsiderate people. Helen says her too and that she didn't realize it until she met him. Helen says she is going to say in her goodbye message "Have a great time sailing around Australia with your never not pass." Helen tells Judd and McCrae not to worry, you two are safe we are just picking off the a$$holes. This week is going to be fun, I don't want to be yelled at and abused. Helen says we are good people that don't deserve to be abused.
TEST out the Live Feeds for FREE Two DAY TRIAL!:
Subscribe NOW!
2:30pm Judd, McCrae and Amanda talk about the "quack pack" alliance from last season. They talk about making up an allinace name – McCrae says what about the "goof troop" (McCrae, Amanda, Andy and Judd) for us but we will call it the "knockouts" with Helen and Elissa. Amanda says Andy made it clear that he was okay if Helen made it to the final four but was fine with her going. Amanda says that it would be better to get rid of her sooner than later before the MVP twist runs out. Judd tells Amanda that Helen wanted him to promise not to vote out Kaitlin next week if I won HOH but I told her I couldn't promise that. Amanda agrees. Judd talks about wanting to put up Howard and Jessie. Judd says that is why I don't want to do the showmantic thing with Jessie because I don't want someone to put us up for that.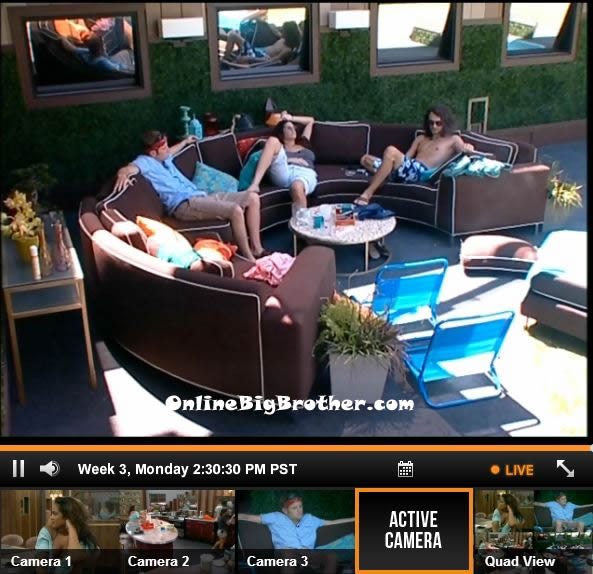 2:40pm – 2:55pm In the bedroom – Candice is talking to Elissa and Andy about the confrontation she had with Jeremy out in the backyard. Andy says god, I miss everything! Elissa says she wishes they didn't still have 4 more days of this with him. Elissa asks did he say anything else. Candice says he said I was going next. Andy laughs about how all three of them were like fu*k the moving company. The moving company forgot about the social aspect of the game. Jeremy didn't know how to treat people. Nick never had a personal connection with people. And McCrae, Howard and Spencer created connections with people that were on opposite sides of the house. Andy tells Gina I totally think Nick had something special with you. Big Brother tells the house guests this is a lock down please go inside and close the sliding glass door. Their conversation turns to talking about Kim Kardashian. Gina says you know who is "worser" …is that a word? Paris Hilton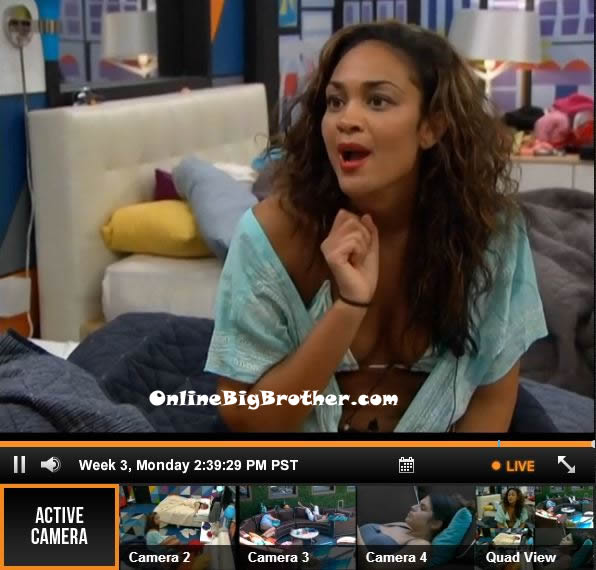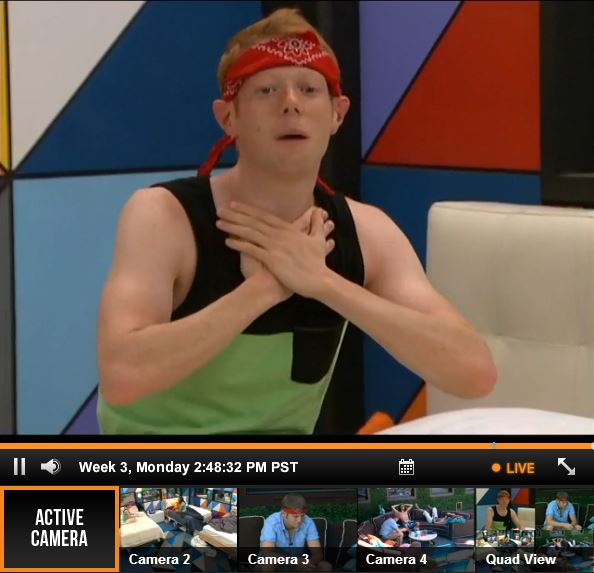 3pm – 3:20pm The talk of the moving company continues in the bedroom. Aaryn says we should have made an alliance call the "Vag-tasitc voyage" Aaryn starts talking about her zumba classes. She says her instructor stretches her back and forth in places she has never been stretched … and now I don't pay for classes any more.
3:25pm – 3:45pm In the lounge room – Amanda asks McCrae so do you regret not saying you don't want to be on slop. McCrae says yeah. Amanda says I think I am handling it better than you are. Andy joins them. They tell him about their new alliance name "The goof troop". Andy likes it. Judd joins then and they tell him. They talk about Candice's blow up. Andy talks about how annoyed he is that he missed it. Andy says that Judd and him have a thing that when in doubt blame Candice. Amanda says that Candice will defend Howard to the end. They are hooking up now and I think he actually kinda likes her. Andy comments that Kaitlin wants Howard out. Amanda says good. Spencer, Howard, Aaryn and Candice join them and they all talk about the past events of the house that were funny. Gina joins them and they tell her they are pointing out all the funny moments about each other in the house.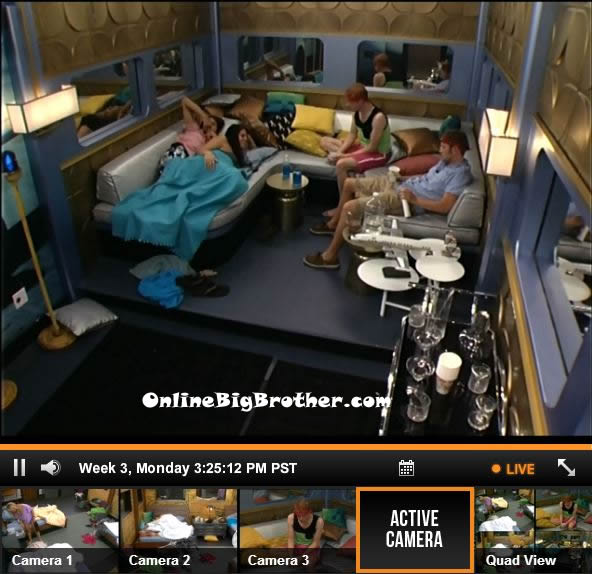 3:50pm Bath time in the HOH room. Elissa joins them and they talk about who of them they think would waste the money if they won it. They think Spencer, Jeremy, Kaitlin and Aaryn would all waste it.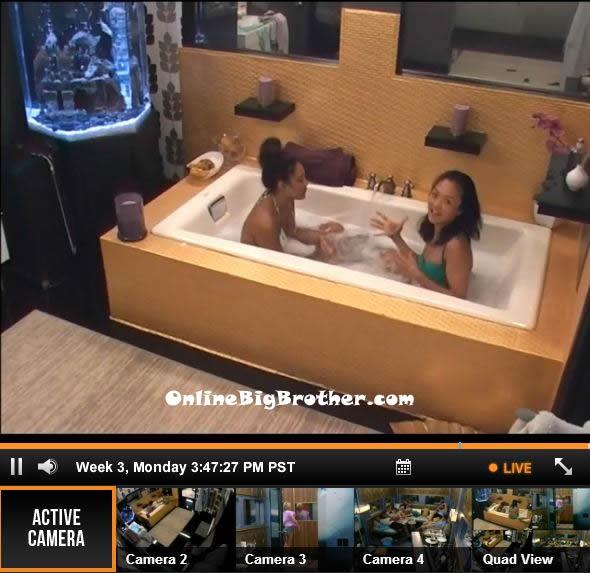 4pm In the downstairs bathroom – Aaryn talks to Gina about how much different things would have been if Jeremy hadn't turned on David. Think about it .. and it will be our downfall. Aaryn says that if David was still here he and Nick would have been votes for Jeremy to stay.
[polldaddy poll=7248812]
Stay connected and interact with other Big Brother Fans on our Facebook page.
And Follow: @BigBspoilers and @Dawgsbigbrother on Twitter for the most up to date spoilers.