POV Holder:
Kaitlin
Next POV
July 20th
POV Used
YES
POV Ceremony
July 22
HOH Winner:
Helen
Next HOH:
July 18
MVP:
Elissa
Original Nominations:
Kaitlin, Aaryn, Spencer (MVP)
Current Nominations:
Jeremy, Aaryn, Spencer (MVP)
Last Evicted Houseguest
David, Nick
Have Nots
Judd, Jessie, McCrea, Amanda
4:08pm CAm 1-2 Judd, McCrea and Amanda backyard
Amanda: "I think we need to get Elissa out of here soon"
McCrea isn't excited about that plan tells her to just hold tight.
Amanda: "Something is up"
McCrea: "Why"
Amanda: "Can't talk about it"
McCrea: "Production has strategy?"
Amanda: "Can't talk about it"
Amanda thinks Elissa is going to protect Howard for awhile. Judd asks if Amanda is meaning they get rid of Elissa before the MVP twist is over
Amanda says no and leaves
Judd doesn't think Howard will need to get backdoored he doubts Howard will win the Power of Veto.
MCrea: "I hate when she says shit like that makes me worried"
Judd: "She's just being a bit paranoid"
Judd brings up how Elissa was telling them she's done everything for their games and they have done nothing for her, Judd: 'F-**** you"
McCrea points out that they kept her safe last week
McCrea is really bothered that Elissa didn't put Howard up with the MVP.
Judd: "we did help her she wouldn't be around if it wasn't for us.. we protected her.. she helped us to i'm grateful for that don't get me wrong"
MCrea: "She would have been gone both weeks if it wasn't for us"
McCrea doesn't know what they should do with Elissa. Judd thinks they need to just chill and see what happens they don't want to overthink it and scramble like Howard does.
Judd asks if Gina is the only one throwing his name out there. McCrea tells him he hasn't heard anything yet. Judd is just worried that Gina will start planting seeds.
McCrea: "I don't think she understands how to plan seeds"
Amanda comes back says if Howard is gone it doesn't matter about Elissa anymore.
Amanda: "As long as we get out Candace or Howard next week we'll be fine"
They chat about getting Howard and Candace put up next week and Elissa will us the MVP to put up Aaryn.
McCrea says that Aaryn is a compulsive liar he's not going to give her any information.
Judd leaves.. Amanda tells McCrea she would want him to win over her.. (BS)
You can re-watch ever second on the feeds using their flashback feature.. It's super easy to use click this link for a free trial —> Subscribe to the Big Brother Live Feeds
The CBS feeds are a HUGE improvement over the super pass feeds and they are 30% cheaper with no subscription to cancel.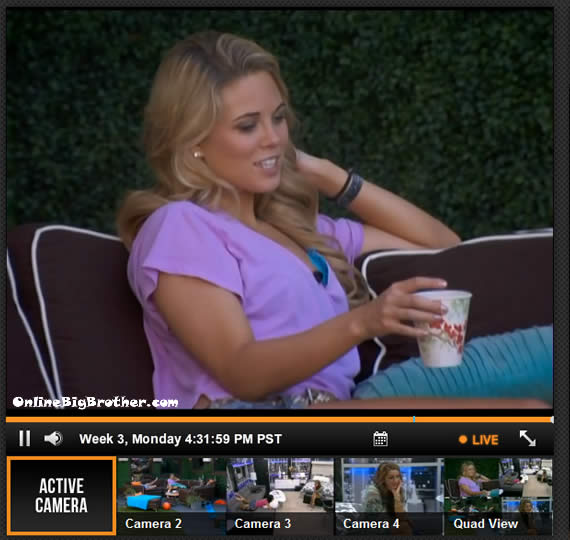 4:27pm Cam Aaryn and McCrea
Aaryn says that Candace came out and gave her a "Free Pass" it kinda freaked her out at first. Aaryn wonders why she wants to make amends with her she doesn't have any numbers or power.
McCrea: "Maybe she wants to use you"
Aaryn :"And Elissa is talking to me today.. we actually have sentences"
McCrea: "They want to use you for something"
Aaryn: "I'm totally behind being used as long as they keep me here"
Aaryn wonders why Jeremy did what he did earlier in the day (Thge fight with Candace) McCrea has no clue says he's going home it was good for Aaryn that it happened. MCrea says he really wants KAitlin and Aaryn to win HOH
Aaryn wants it bad says of course McCrae wants her and Kaitlin to win HOH because they love McCrea and Amanda.
Gina rolls into the backyard with Judd following her jokingly says 'F**** you judd'. Judd goes to the couch to chat with Aaryn and MCrea. They talk about the casting process. Andy and Candace join them..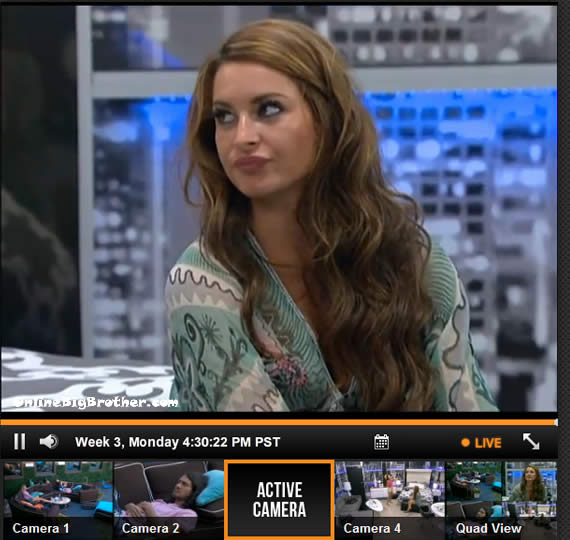 4:30pm HOH Elissa and Helen
Talking about Aaryn being immature and they are mature women with children.
Helen brings up that Jeremy has pitbulls and he lives on a boat. She doesn't think pit bulls should be on a boat. she actually thinks pit bulls should not be around period. SHe brings up a story about someone she knew that was attacked and killed by one. Helen adds that she got chased once by a pitbull and she ran into a cornfield to get away. They head downstairs to enjoy the sun.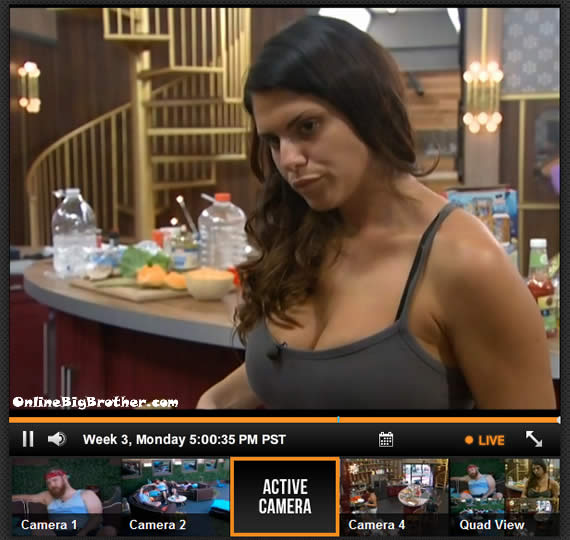 4:54pm Kitchen Amanda and Aaryn
Amanda tells her to stop calling people Shady because it's not good for her game. She singles out Judd as someone "Don't try to clarify it.. Just know that and leave it alone.."
Amanda: 'Is Jeremy still trying to campaign .. cause it's a lost cause"
Aaryn hasn't heard anything.
Amanda: "Honestly this boys alliance couldn't have worked better for us.. in essence they betrayed everybody.. "
Aaryn: "ya"
Amanda: "Jeremy is leaving.. Spencer and Howard are next"
Amanda: 'I'm helping you now and if you f*** me you're dead"
Aaryn wants to know why she's so worried, Aaryn is working with Amanda now. Amanda says she's not really worried it's McCrea that is.
Amanda tells her there are so many more people that can go before Aaryn.
Aaryn gets called into the Diary room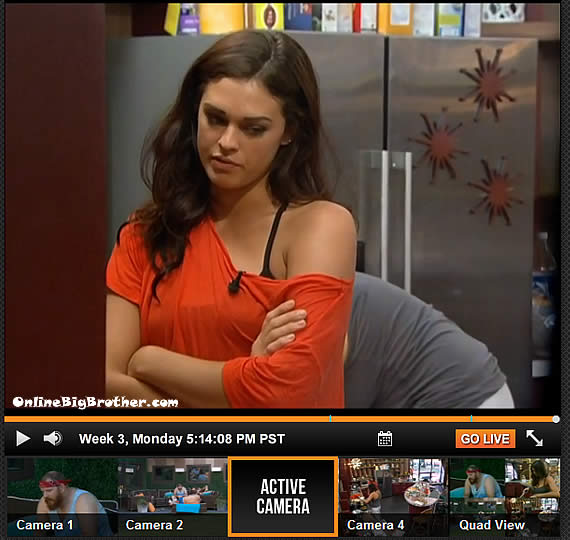 5:05pm Kitchen Amanda and Kaitlin
Talking about Howard. Amanda says that he very manipulative, he has power over Elissa and Candace.
Kaitlin mentions that Howard Swore on the bible that he didn't vote David out, "What good is his word"
Amanda: 'Yup"
Kaitlin: "Trust me honey.. I came up with all these points to tell Helen so she wouldn't backdoor Jeremy.. she wanted nothing of it"
Amanda whispering "He uses Race on Candace.. I say that to i'm not hiding that.. It;s the truth " (funny because she was whispering when she said it)
Kaitlin: 'He's got Candace wrapped around his little finger"
Amanda: 'Around his d!ck"
Amanda asks if Kaitlin trusts her. Kaitlin says yes.. "I trust you as much as I can" Amanda thinks Kaitlin trust McCrea more Kaitlin disagrees.
Kaitlin says after the last vote she doesn't trust anyone left in the house.
Amanda and KAitlin both say they have nothing against each other.
Amanda tells her that they put serious thought into keeping Jeremy in the house but it's not possible.
Kaitlin says the way Helen and Elissa went about getting rid of Jeremy wasn't "a awesome way to go about it" She would never have done it like that.
Amanda: "I thought you offered yourself up as a pawn"
KAitlin: 'Ya well if I was a pawn and didn't use the veto on myself then I should have stayed a pawn"
Kaitlin: 'they really strong armed me and I think it was unfair.. it's a game I get it"
Amanda: 'You seemed like you were expecting it.. "
Jeremy comes in "Hey baby cakes"
5:23pm cockpit Aaryn and JUDD
Aaryn says she doesn't think he's shady says he's a good guy even after he lied to her twice. She asks him if she's being targeted. JUDD doesn't think so.
JUDD thinks that Kaitlin would be a target over Aaryn. Aaryn: "Elissa, Helen and Andy told her though if she did this they would protect her forever" (if she used the VETO)
JUDD: "Well… "
Aaryn says she would not vote against JUDD. JUDD says he wouldn't vote against Aaryn or put her up. Aaryn points out that Gina is digging a hole for herself.
JUDD says he cannot handle hearing the Nick stuff anymore, "I'm done with it"
[polldaddy poll=7248812]