POV Holder:
?
Next POV
July 13th
POV Used
?
POV Ceremony
July 15
HOH Winner:
Helen
Next HOH:
July 18
MVP:
?
Original Nominations:
Current Nominations:
Last Evicted Houseguest
David, Nick
Have Nots
Tonight is going to be awesome on the feeds. Now is a good time to Give the live feeds a try they are cheaper this year and the quality of the flashback and video player has been greatly improved. Subscribing to the feeds using our link helps support this site.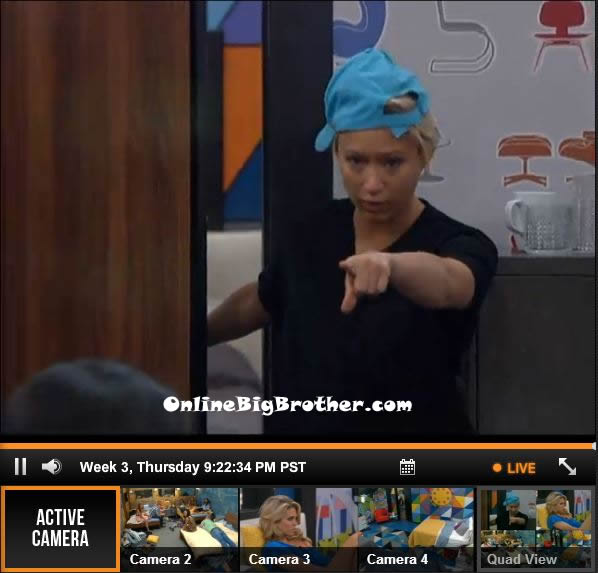 9:20pm – 9:35pm In the bedroom – Gina is talking to Kaitlin and Jeremy about missing Nick.
Jeremy tells her that he tried to keep him here.
Jessie tells Gina that is sorry about what happened.
Gina flips out and tells her no you're not you are responsible for what happened.
She says that she doesn't want to look her in the face when she lied to her.
Jessie leaves and comes out the other bedroom and says that she just got yelled at by 4 people.
Gina comes out and starts crying and going off on them.
She says that she doesn't respect someone who goes back on their word.
Gina goes and points at each of them and tells them the nice things she has said about them or what she thinks of them.
Gina then starts going on about how she and Nick had a connection that no one else saw.
She says that they had a connection where they didn't have to show everyone what they had.
She tells that they can put her up if they want, I will play games and compete.
Gina says good luck and to all of ya'll and I will see you.
Gina leaves the room. jessie tells the others what happened in the room.
Helen tells her that they are all on her side. Helen says that America loves our side.
Elissa says that this is big brother, it isn't usually like this, people don't attack each other.
The others stop Elissa and say that's not true.
Big Brother 15 Live Feeds: FREE TRIAL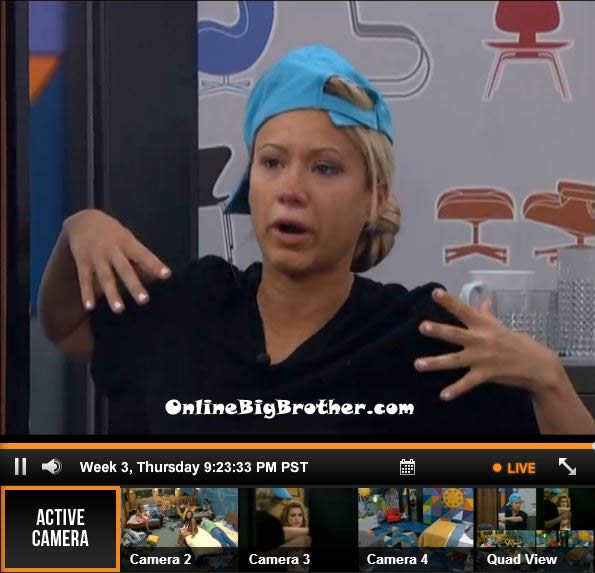 9:35pm – 9:45pm In the bedroom – Gina, Kaitlin, Jeremy talk. They tell Gina about how great Nick's speech was and how it showed how much he liked her. Gina starts smiling. Gina tells them all what the hand gesture Nick did meant. She says that they did that for each other to tell one another you are awesome. Gina then starts showing them how Nick and her would hold pinkies. Aaryn says she can't hear that story again! You guys disgust me. I can't talk it. Aaryn tells them that Gina and Nick would hold pinkies and kiss each others thumbs. Gina gets called to the diary room. Aayrn laughs at how Gina is still wearing half her outfit. Gina lifts up her dress and shows her matching underwear. Aaryn tells Jeremy and Kaitlin that the Triangle of Thrust SUCKS! Kaitlin comments on how Candice said the Cockroaches are scattering… but none of us were leaving the room. Aayrn says I was, I didn't want to be around them.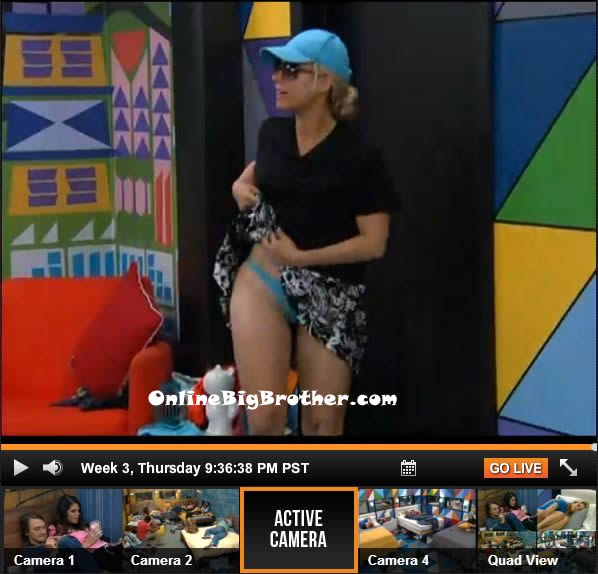 9:50pm – 10:15pm In the lounge room – Andy, Judd, McCrae and Amanda are talking. They talk about how Spencer and Howard didn't vote together and how they know it wasn't Jessie. Judd goes off and says when in the history of Big Brother have you ever heard of someone making an alliance with someone on the block!!! They all laugh and wonder what the hell Spencer was thinking. They say that Spencer and Howard are slime balls throwing Amanda under the bus and for trying to play both sides. Amanda says that she doesn't get why Howard and Spencer didn't vote with us when we have the majority and the MVP! It doesn't make any sense! Andy says they are stupid! They don't understand how to play the game! Amanda talks about how Gina is a loyal person that unfortunately aligned herself with the wrong people. She is a follower and not a leader, she follows Aaryn around which is sad because she is 32 years old and Aaryn is 22.The conversation turns to talking about how well Jeremy handled tonight. Amanda says she thinks its because he had a realization that he is going home and isn't going to win this.
WATCH the ENTIRE season of Big Brother 15 for only 23.99!
Try it FREE for 2 DAYS: Subscribe TODAY!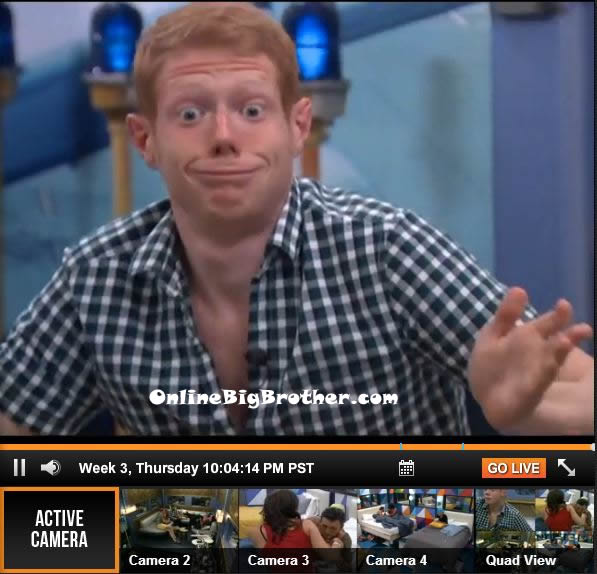 10:10pm – 10:35pm In the bedroom Aaryn, Kaitlin and Jeremy are talking. Jessie comes in and Kaitlin and Aaryn start attacking Jessie confronting her why she didn't vote with them. Jessie says that the other side treats her with respect. Jessie says that she was at the bottom of their group why would she want to be with them. Jessie tells Jeremy and Kaitlin that they are in her bed. Judd comes in to protect her. Kaitlin yells at Jessie telling her to GET THE FU*K OUT JUDD! Judd protects Jessie and they hold hands and leave the room. Kaitlin and Aaryn comment on how they want to self-evict now. Kaitlin says I just got sucked into this catty bullsh*t. Kaitlin says that Jessie has tried to get with all the guys and now Judd is her 5th chance at a showmance. They call Jessie a slutty bit*ch! Kaitlin and Aayrn talk about how the others are acting and treating them. Aaryn says that we treated them with respect when we were HOH. kaitlin says they wouldn't be acting this way if I was HOH that is for damn sure. Jeremy comments on how Judd picked that right side. Kaitlin says that is a mean comment. Jeremy says well it's true he picked the winning side.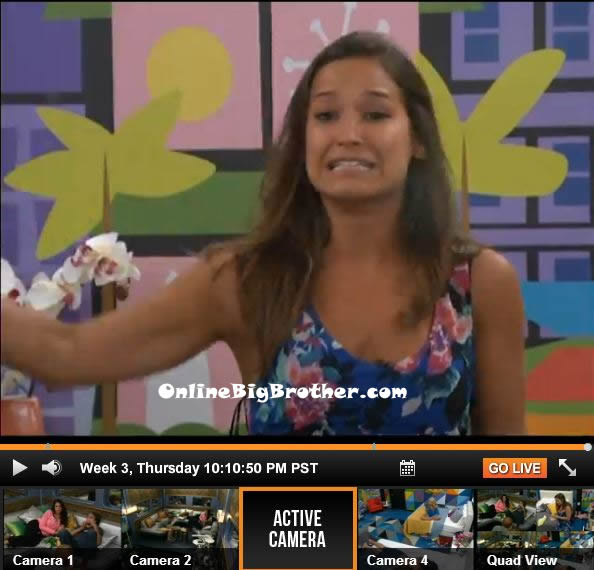 10:40pm In the bedroom with Candice, Jessie, McCrae, Amanda and Elissa are going off about how they will go off on the others. Candice says that she will go Evel Dick on their a$$es with pots and pans. Candice brings up how if Aaryn had to share a bed with Howard she wouldn't because of the racist comments she's made. Helen comes out of the diary room and yells WHO WANTS TO SEE MY HOH ROOM!!!! Everyone runs up to the HOH room (even the triangle of thrust). They all look at her photos and and comment on them. Helen then reads her letter out loud. After she finishes Some of the house guests head back down stairs.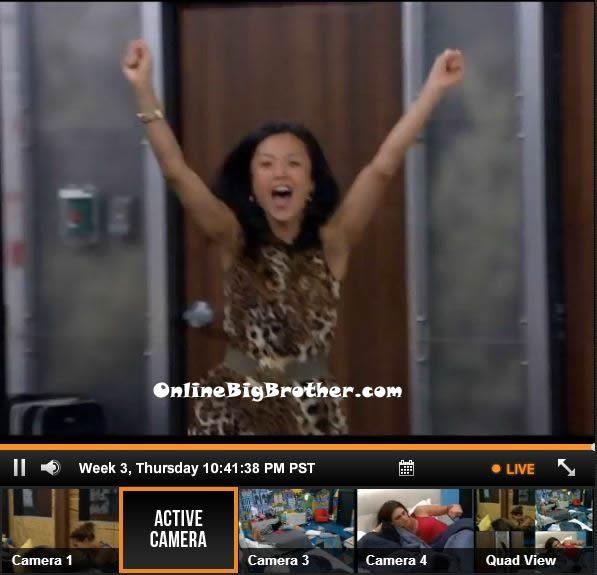 Jessie goes back to the bedroom and claims her bed back. Kaitlin then comes down and asks Jessie if she wants company. Jessie says no, I am sleeping here with Judd. Kaitlin then lays on the end of Jessie's bed and tells Jessie that she is being immature. Jessie tells kaitlin to get out of her bed. Kaitlin gets up and moves to Gina's bed. Candice comes in and asks what's going on. Candice asks why her mattress is flipped. She asks for Howard. Jeremy lays on Jessie's bed. Aaryn starts yelling at Candice and tells her that she will flip her bed again. Aaryn asks Candice if she is going to get all black on her. Gina starts a fight with Candice when Candice told her to go fu*k herself. Howard comes in gets between Gina and Candice. Howard then picks up Candice and takes her out of the room.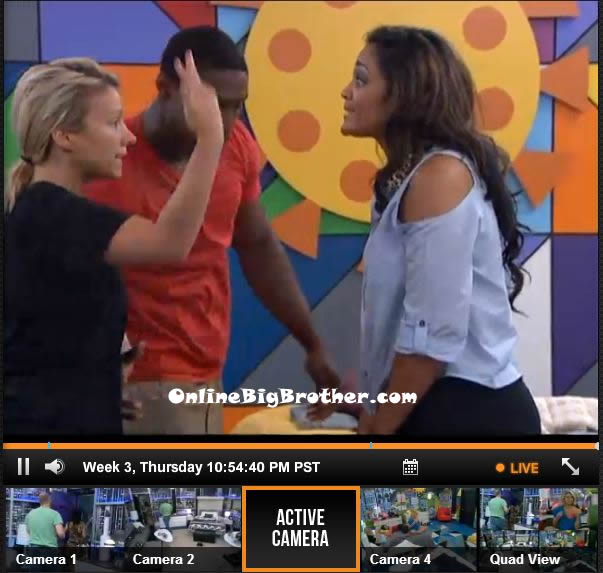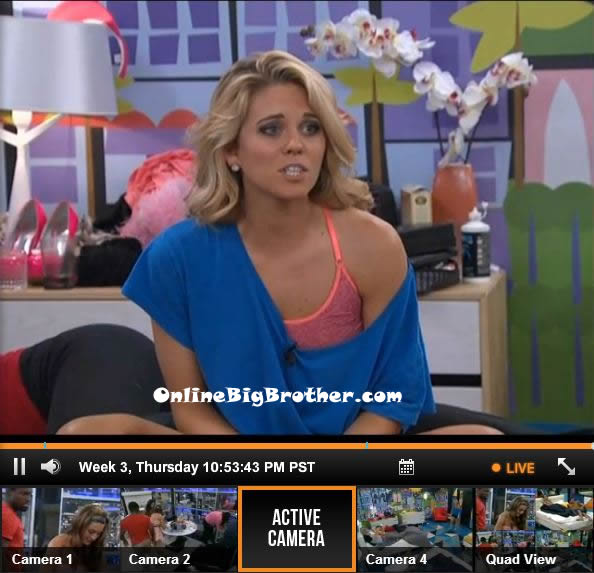 11pm – 11:15pm In the havenot room – Howard and Candice are talking. Howard is trying to calm Candice down. She tells him that they were throwing a lot of racial surls at her and she just can't take it any more. Howard doesn't want her to sleep in there because he knows they will get into it again. Candice asks Howard why they can let them win when they are saying all these racial attacks at her. Howard says that he has been subject to the same racial slurs and attacks. We are bigger than that. Let them look ugly on TV we aren't going to be like that! All of America will see what they are like. Candice doesn't want to give up the bed. Howard tells her please just not tonight! We will sleep in another bed. If we sleep in there, they are going to say something and I am going to flip the fu*k out! Howard says just take this route, it will be better. I will get your stuff, I won't let anyone mess with your stuff. Candice says if I move my stuff Helen is only HOH for a week. Howard says that they asked him one question and about his temper and he says that he had all his friends lie about it. Howard says that he can keep his temper in line only because he has the bible. Howard says that she is her sexy queen. I don't care who at home sees me curl up in bed with you at night. I don't do it because you are sexy I do it because I know you are all alone in here. Howard asks her if she can just go upstairs and he will get her stuff. Candice says I will never get my bed back. Howard says let them have it. I am going home tonight if I sleep in there. Candice says okay I will listen to you. Howard says go up there and chill out.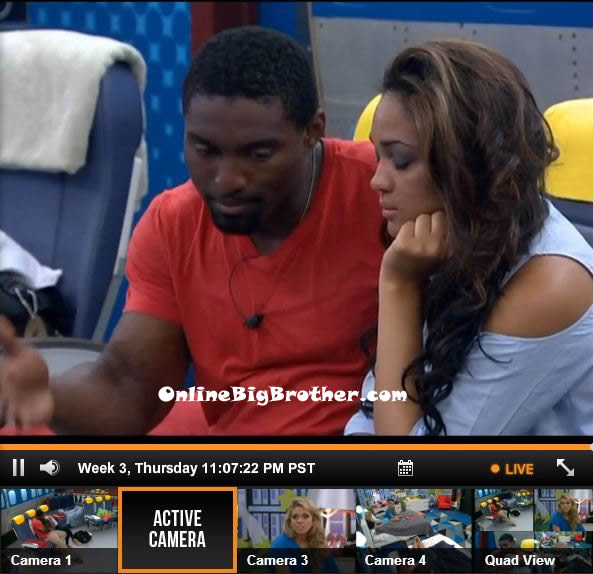 Stay connected and interact with other Big Brother Fans on our Facebook page.
And Follow: @BigBspoilers and @Dawgsbigbrother on Twitter for the most up to date spoilers.