POV Holder:
?
Next POV
July 13th
POV Used
?
POV Ceremony
July 15
HOH Winner:
Helen
Next HOH:
July 18
MVP:
?
Original Nominations:
Current Nominations:
Last Evicted Houseguest
David, Nick
Have Nots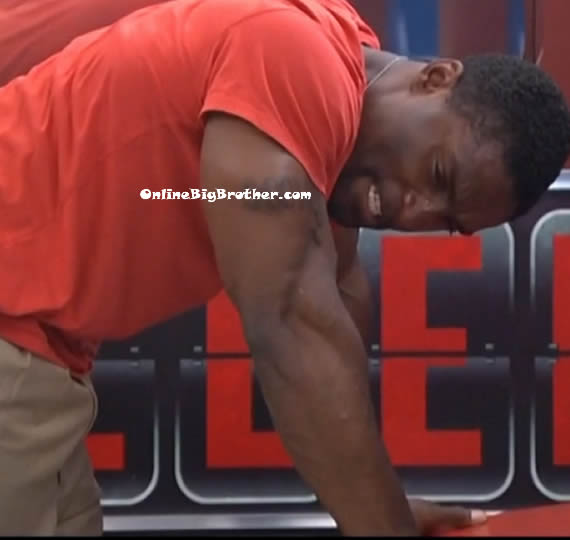 11:26pm Have nots Howard freaking out grunting and crying he's feeling like he's losing control.
Someone opens the door, "Is howard here"
Howard grunts out "GET OUT"
Howard: "Help me lord.. I can't do it by myself help me lord help me.. help me lord.. I can't do it by myself"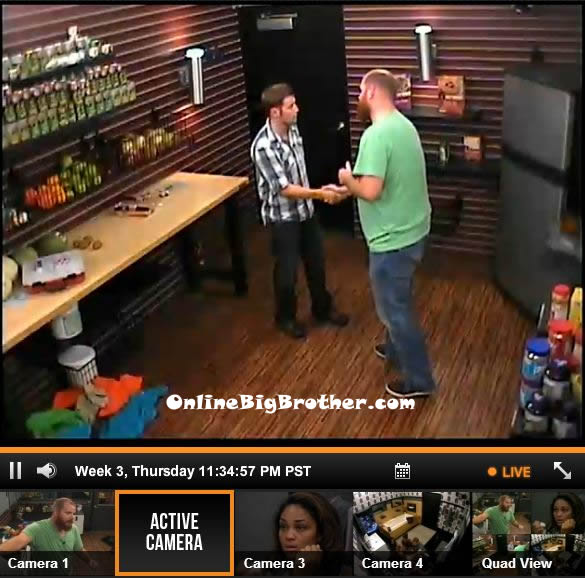 11:35pm Spencer and Judd are in the storage room talking. Spencer asks Judd if he can put in a good word for him and to tell Helen that I am solid. Judd says yeah sure. Judd and Spencer shake hands. Spencer leaves the room. In the bedroom – Spencer asks Howard if he is okay. Howard says that he is good. Howard is moving his and Candice's stuff out of the other bedroom. Spencer offers Howard his and Judd's drawer. Howard and Spencer head into the havenot room. Howard is visibly upset and looks like he is about to lose it. Spencer asks what happened. Howard talks about how a lot of racial comments have been made and Candice feels like we are being weak by giving up our bed …which we are but.. if we stay in there I am going to lose my temper. Howard says that he can't let that happen. Spencer offers Candice and Howard his bed and says that he will sleep in the havenot room. Howard says that its okay. Spencer tells him that if there is anything he needs to just ask. Spencer tells him he will give him some space to collect his thoughts and leaves the room.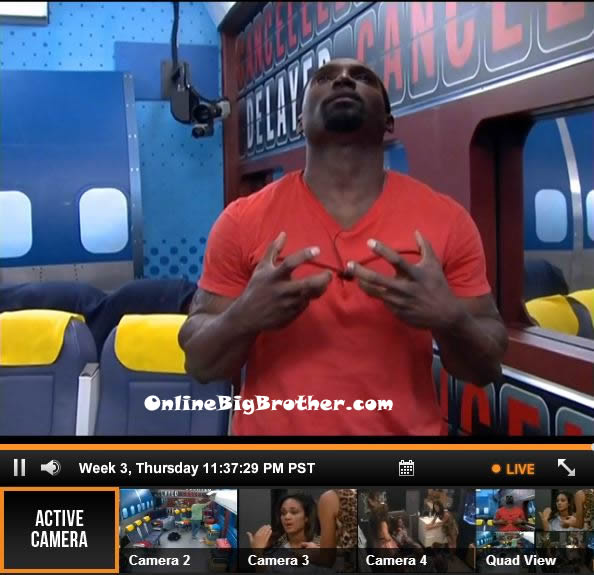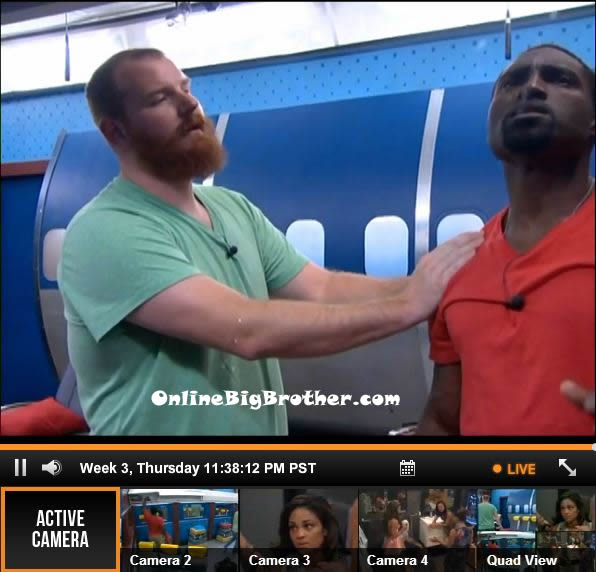 11:45pm In the lounge room – Jeremy talks to McCrae, Amanda and Judd. Jeremy talks to them about how he doesn't agree with what Aayrn and Kaitlin did. He says that they shouldn't have blown up like that and he doesn't think they handled it right. Jeremy leaves and heads back to the bedroom. Kaitlin comes in that tells him that she sat there and listened to the whole conversation where he threw her under the bus. Jeremy says that he didn't throw her under the bus he just said that he didn't agree with the way they reacted. He tells her that they are not handling this right, this is a game. The odds are stacked against you but you can't act like that. Jeremy says when you were doing that I just put my head into my pillow and wondered why. Jeremy talks to Kaitlin and Aaryn that they can't always be on the top. He says that their blow up didn't help things but that they can fix it just like how he did when he blew up that one night.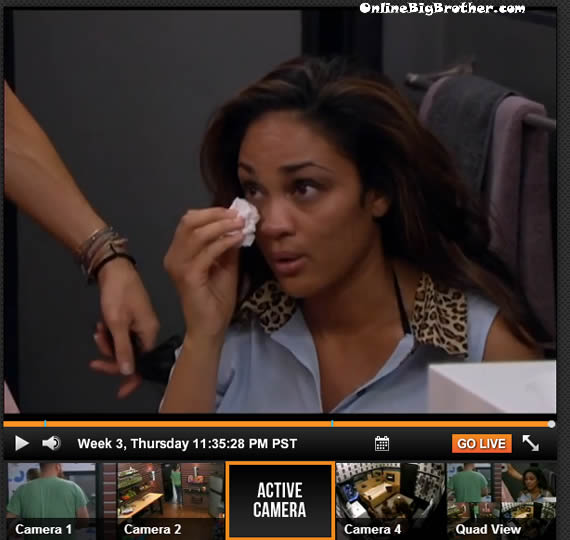 11:32pm HOH Bedroom Candace, Helen, Elissa, Andy, Jessie
Candice tells them that Aaryn flipped her mattress knocking off her clothes and pillows, "thats disrespectful especially coming from the girl that said racial slurs.. what is she doing knocking over the black peoples bed"
Candace says that she told Aaryn if she finds her bed flipped one more time it's going to get serious, "It'll be like Evel dick in her banging pots and pans"
Candace says Aaryn was "Talking all black" to her and called her shanequa. She is in shocked that she has to deal with this in the Big Brother House.
Candace: "Who flips a mattress"
Helen: "America is watching"
Candace: "Whoever Is Aaryn's Parents did a horrible job of raising her and if you are racist like her it's 2013"
Helen: "You and Jessie sleep up here where it's save.. Aaryn's days are numbered she knows it"
Andy and Helen keep reiterating they have we votes we have the votes.. Andy says they are on the winning side so let the other side do whatever they want in a couple weeks everything will be peaceful again. (LOL omg Amanda is going to mess this friendship alliance up you just wait)
Jessie says Aaryn got in trouble for flipping the mattress.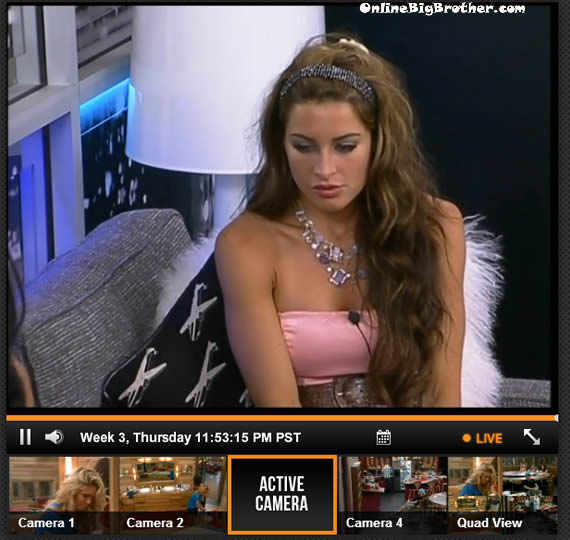 11:45pm HOH Helen, Jessie and Candace
Helen saying the behaviour from Aaryn is uncalled for. Flipping the mattress etc.. Jessie: "They are like Jessie you know how you are being portrayed even Julie is making fun of you.. the whole house laughed at you.. you tried 5 different showmances and none of them worked"
Helen: "All of America thinks you are a genius for joining our side.. so shut that up.. OK"
Judd points out that Julie highlighted to Aaryn "Do you know the cameras are around"
Helen pacing around says she's putting up Aaryn and Kaitlin and if POV is played Jeremy goes up.
Helen says Gina was lied to today she lost nick they got to cut her some slack.
Elissa joins them makes a comment about how Gina is crying so much
Helen didn't think Nick played a very good game. He didn't talk game to anyone. Helen thinks Nick strategy was to hangout with Gina who was close to Jeremy who was going to be his ticket to the end
12:06:20 Elissa: "Nick was definitely in an alliance with them.. When I did my thing (Diary Room) they were always like How does it feel to get another ……. Feeds cut" (Diary room does it again)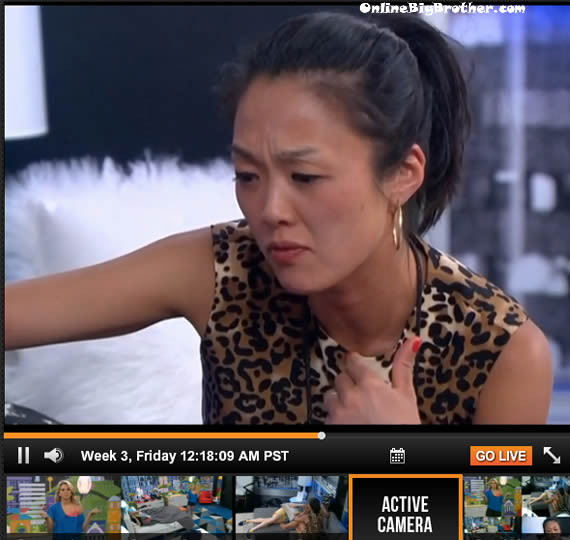 12:16AM HOH Andy and Helen
Andy: "The five of us need to talk before Helen starts talking to Jeremy"
Helen says she won't talk any game until they have that meeting.
Andy says he knows it in his gut that Spencer and Howard dropped a vote onto Elissa so they could blame it on Jessie. Andy says Jessie is 100 times more trustworthy than Spencer or Howard, "I know it I know it Helen"
Andy explains that Spencer and Howard were going to flip to the other side then they saw they had the power so they came back.
Andy : "I was watching them all day today.. They were meeting with nick with Jeremy and with each other.. I'm 100% positive they are rats"
Andy: 'Here's the thing when you have a rat like that and it's close you need to lure it in and kill it"
Helen that is so disappointing about Howard. Andy mentions how they totally over sold it after the vote happened, "cheering we did it we did it"
They both agree that Jeremy has played a really straight forward game so far.
Andy: "Spencer and Howard are Rats.. Howard swore on the Bible that he didn't vote David out.. anybody that does that we can't trust a word Howard says"
Andy says he can barely talk to Spencer any more he so full of sh!t. Helen thinks it's Spencer doing it all and Howard is just following them along.
Helen says If Jeremy for some reason magically saves himself from eviction because he wins a Power of Veto Spencer is going up . Andy agrees fully.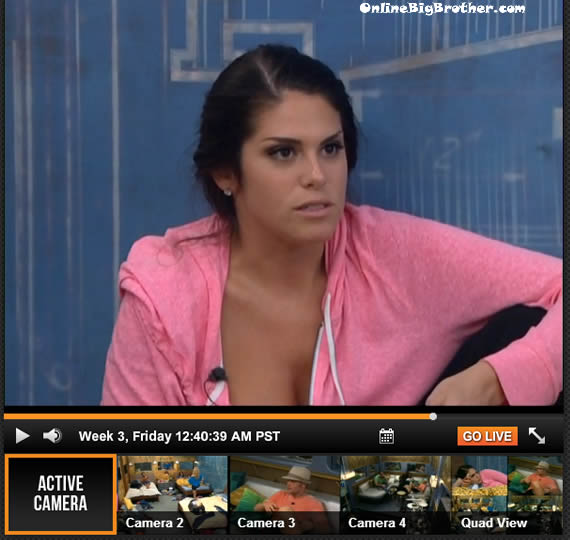 12:42AM Bedroom Andy, McCrea, Amanda, Kaitlin, Aaryn
Amanda is telling her the actions she chooses right now is making is bad game play and are the reasons why David and Nick are home. Amanda: 'You decided to get Elissa against you guys that is why Nick and David are home right now"
Andy jumps in saying they all had the opportunity to use the twist. Amanda: "You didn't use it correctly"
Amanda says from a game perspective keeping Elissa was the best move for their game, Sure it's not fair that Elissa gets MVP every week but it's working for them.
Amanda says Jeremy is the only smart one out of you all he's laying low while Aaryn rampages. Amanda points out that Flipping a mattress is stupid when you might need their vote down the line. Aaryn says she'll never get Candace's vote. McCrea: "That is why you suck at this game.. you have to suck it up sometimes and take it on the chin"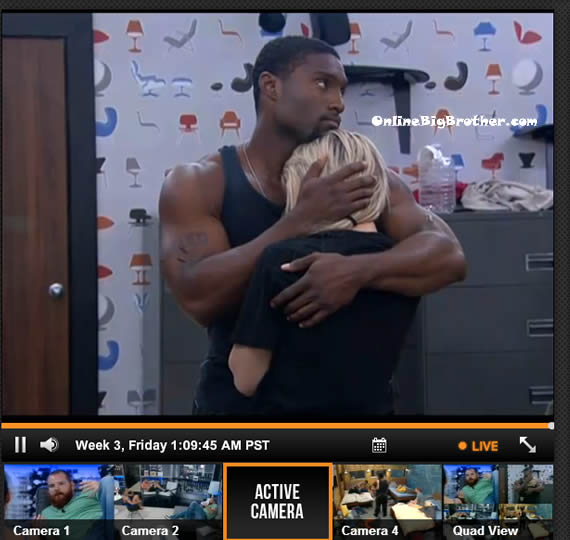 1:05Am Bedroom Gina, KAitlin, Jeremy, Andy and Amanda
Jeremy mentions to them some of them really need this money it will make a difference. Adds that Elissa doesn't need this money shouldn't be in the house. Amanda says Elissa doesn't want to stay that long. Andy: "She's helping us get the people targeting us out"
Jeremy: "I don't think David and Nick was coming after y'all … good game moves though you kept her safe for two weeks"
Amanda: "There may be targets other than you guys"
Jeremy: "But that's not who is going up"
Howard comes in hugs Gina she starts sobbing.. everyone else except for Kaitlin leave.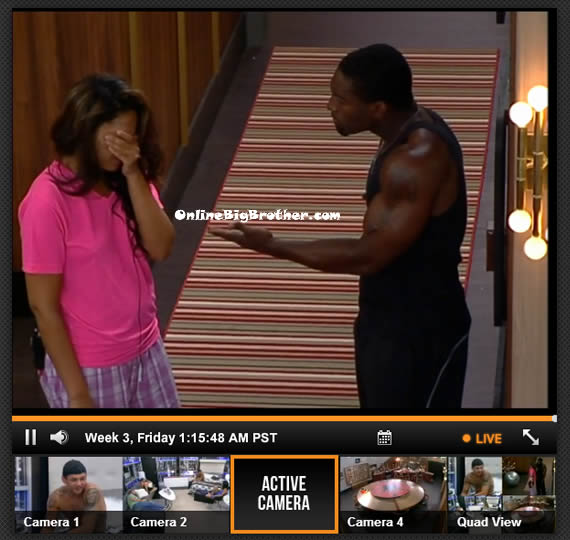 1:16Am Howard and Candace Howard pleading with her to sleep in the bed and he'll sleep in the have nots just for tonight. Howard has to keep his cool he need's to be alone. Candace doesn't want to sleep in the bed because "they" will start messing with her again. After some persuasion Candace agrees to sleep in the bed.
Gina is crying so loud you can hear her throughout the house. Kaitlin and Candace are holding her as she howls
1:26AM McCrea and Amanda
McCrea tells her there was a boys alliance called the Moving Company. Day two of his HOH They came up and pitched the alliance to him.
McCrea: 'I didn't want to be with them at all"
McCrea says that Spencer was spearheading the Alliance. They really wanted to get rid of Amanda which wasn't cool for him, "you're my queen."
McCrea: "It was me, Howard, Nick, Spencer and Jeremy"
McCrea says Nick was actually good at the game but the rest of them were f***ing dumb. McCrea: "They f*** suck and I didn't want to be part of their sucky alliance.. who do we tell"
Amanda: "Don't tell anybody nobody trusts Spencer and howard.
Andy joins them. .
They tell him about the Moving Company. Andy says he knew it. McCrea is worried Howard and Spencer will use it against him.
McCrea "I don't want Sh1t pig Jeremy to make it"
McCrea says the moving company sucked, Howard, Spencer and Jeremy are all crappy at this game he never wanted to be part of the alliance. McCrea discloses the last weeks scheming says he was never going to vote Elissa out he just told them. Points out how paranoid Spencer and Howard were. McCrea says he was doing reconnaissance for them. McCrae says they have to keep this a secret and start cutting down Howard, Spencer and Jeremy
McCrea tells them that Nick would always say He was going to cut Gina loose and he couldn't stand her found her annoying. McCrea adds that Jeremy would say the same thing about Kaitlin.
1:40AM Feeds flip to Aaryn Apologizing to Candace. Candace accepts the apology
Stay connected and interact with other Big Brother Fans on our Facebook page.
And Follow: @BigBspoilers and @Dawgsbigbrother on Twitter for the most up to date spoilers.