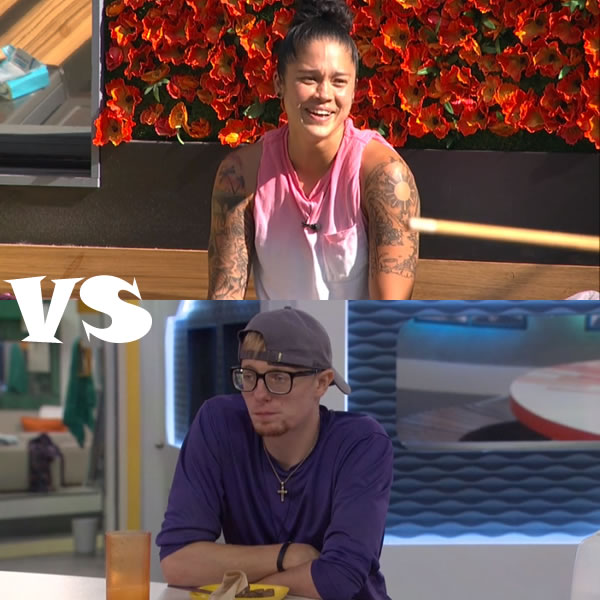 Where does one start with a week like this.. Given how successful Haleigh's HOH was the week prior I assumed Fes' week will be as much or greater a shit show.. When Fes won the grueling 14 minute endurance I tweeted something to the effect, "so does this mean Haleigh gets evicted" well I was almost there. Fes is going to evict the only other person left in the Foutte alliance. go Fes!
Posts of the week
Part 1: Catch Up From the previous Week + any new powers
Rockstar finally left the house last week. Fes won the Head of Household and no new powers were introduced. Tyler's power is still in effect.
Part 2: Nominations
Fes nominates Scottie and Brett. His reasons are. He's sick of people flipping their votes and he wants a straight up battle with competitors. Interesting enough he did whisper to haleigh early in the week that if Veto is played he would have backdoored Tyler (which he should have done). Of course in Fes' own words "I'm played this game good".  Fes decided to make a deal with Angela and Tyler. Pretty much standard "i'm the HOh and scared to be put up next week" deal. They pushed to put Sam up to make it an easy week.
Part 3 Power of Veto
Veto players are: Fes, Brett, Scottie, Haleigh, Tyler, Angela.  Brett wins the Power of Veto. Scottie makes a play to get Haleigh nominated than makes a play to get Sam nominated. Even Sam makes a play to get Haleigh nominated. It's all a mess.
Part 4 Power of Veto Ceremony
Brett uses the veto on himself. Fes nominates Kaycee in his place. There really isn't a whole lot of game played at this point as Scottie knows he's toast.
Part 5 Pre eviction
Scottie didn't do much to stay as he blew through most of his capital trying to get Fes to put up Haleigh/Sam.  He starts thinking that Fes is either really stupid or has been flipping the vote all along and is a genius. Everyone he talks to tends to lean towards the stupid. There's no intention for Angela and Tyler to follow through with the deal they made with Fes. Of course if Halegih wins HOH tonight they'll be 100% down but if she doesn't.. Fes and Haleigh are most likely rockstaring that block.
Where does this leave us?
Scottie goes home.
Sam's corner
A new feature for the week summary post to replace the Twitter outrage section. I call it Sam's corner. All the crazy a$$ things Sam does will be included.
1) Tells Brett about her  imaginary love life with him that "ROCKSTAR" made up asks him if it's true
2) tries to form an alliance of 3 with JC and Brett
3) Demands Fes puts up Haleigh (showmance Haleigh)
4) tells everyone she's not going to speak for 24 hours then speaks after 3
5) has Declared to stop smoking starting Wednesday morning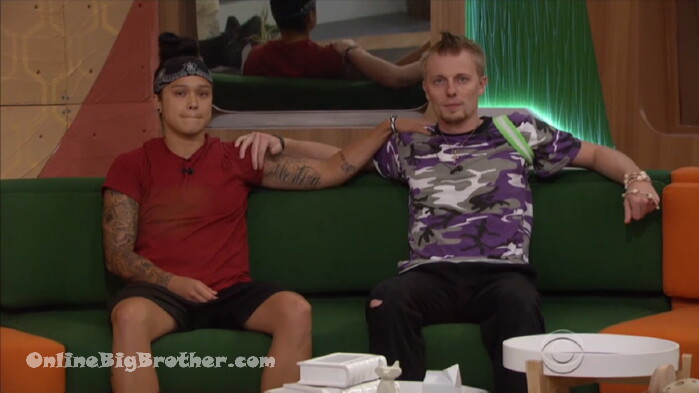 Head of Household and Eviction results
Kaycee – Wud up world it's me again… it's a crazy experience.. Scottie you are the weirdest kid I have ever met I love you so much
Scottie – suck being on the block this week because I did not see it coming I acted like a fool and I panicked and it's not acceptable I apologize for my immaturity
Angela votes to evict – Scottie
JC votes to evict – Scottie
Sam votes to evict – Scottie
Brett votes to evict – Scottie
Tyler votes to evict – Scottie
Haleigh votes to evict – Scottie
Scottie evicted.. good work Fes..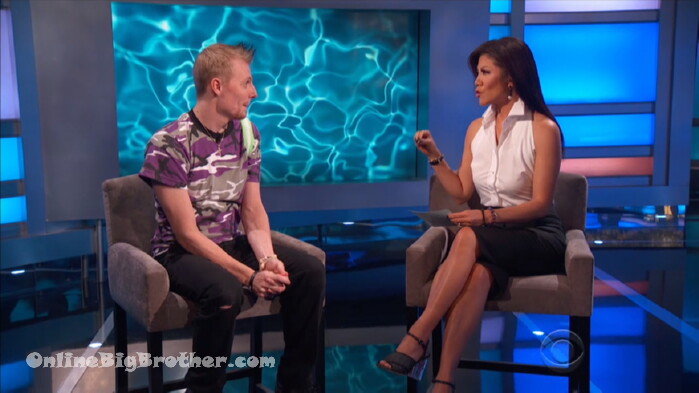 Head of household competition
There will be a jury battle back next week.. (I hate you grod)
A real easy way to support the site if you are an amazon shopper is to make your purchases through our link. You pay the exact same thing but we get a small % commission. It doesn't cost you anything and helps us out.
Amazon Canada
Amazon USA
Rank the houseguests!
Easiest way to Rank the house guests use link below