| | | | |
| --- | --- | --- | --- |
| POV: | Brett | Next POV: | Aug 18th |
| POV Used | YES | POV Ceremony | Aug 20th |
| HOH: | FES | Next HOH: | Aug 23th |
| Noms: | Brett Kaycee & Scottie | Have Nots | |
Big Brother Spoilers It's been slow.. not very much happening to post on.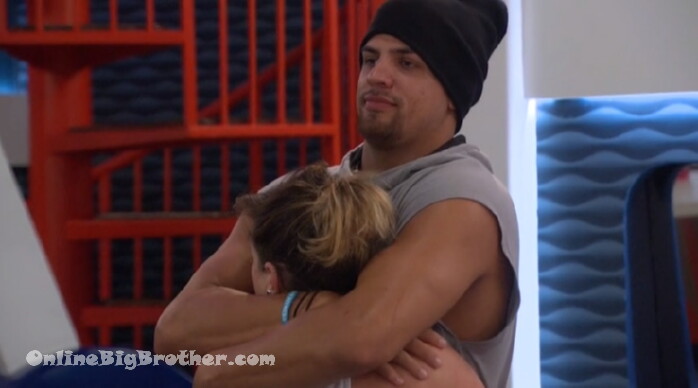 12:41pm JC, Sam and Fes
JC – what did you do to SCottie that made him want you on the block
Sam – I don't know
JC – you have to stop playing with the guys feelings.. you can't tell them you are going to marry them than not marry them
Sam – oh my god JC.. that's the exact opposite and you know it..
Sam says she's talked to SCottie, "I just told him I was sorry.. about what is has happened.. I told him I felt bad for him and I know he's a person and he has a family and feelings.. and I would never change the way I feel about him"
JC mentions Scottie throwing her name out
Sam says she doesn't care about that that's part of the game
JC thought that She told SCottie she loves him but that they can't make it work in the Big Brother house and that is why he's mad and said "you broke my heart"
Sam – JC that is the most afar fetched thing..
Sam – are you just making a joke
JC – yeah
Sam – ok.. NO that is the exact opposite of everything I've stood up for I can't talk to anybody I'm just going to be quiet.. I'm going to be mute now.. I'm a mine.. I'm going to lock it up..
Sam – just take the voice right out of my mouth I'm done no more speaking.. No stop Signing, Stop Speaking.. stop breathing .. I'm going to cease to exist here
JC – why
Sam – because I can't .. I refuse.. I'm not… I refuse
Sam – and now I'm just going to get the cold shoulder with everybody.. I was so happy..
Tyler interrupts jumps in and Scares JC..
Sam – I don't speak because I am mute..
Sam – starting at 1:30 I'm not going to speak until tomorrow at noon.. we're going to play the quiet game..
Sam – i'm sick of all this sh1t so I'm going to quit .. not a word not a sniffle not a sneeze
JC – is it because you miss ROck
Sam – it's not for any reason.. I'm going on strike I'm protesting..
JC asks her why but Sam won't tell him other than she's just going on mute.
JC says Sam is like a Hillary support she's going on strike for nothing..
Sam has left.. Fes and Brett are with JC now in the kitchen,.
JC says he wants Brett to say to SAm 'HAve you taken your meds sweetie"
Fes -That's f*ed up
Brett – you can't say that
Fes – why are you calling her crazy what has she done that's super crazy
JC laughs "what do you mean"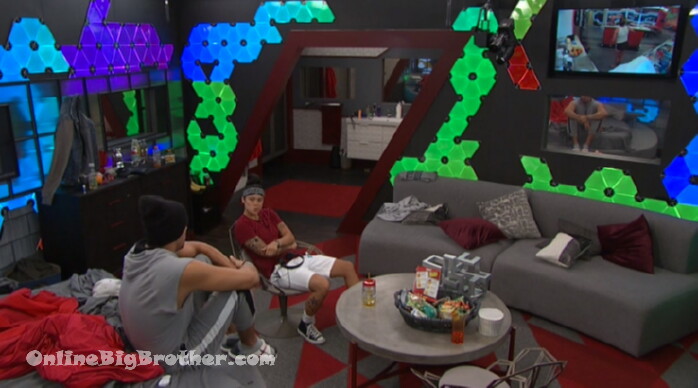 12:45pm Fes and Kaycee HOH
Fes says Sam still might vote for Scottie he did call her out and Sam is acting all crazy. Brings up Scottie throwing Haleigh under the bus last night and pitching for him to put up Sam.
Fes – hardcore.. I was like.. thinking about it.
Fes asked SCottie who hhe would got after if he won HOH and he said Brett, What has Brett done to you.. "
Fes thought Scottie and Brett were working together now , "Brett that doesn't make sense.. I asked him why and he said finish what I started" Fes told this to Brett
FEs – I don't even think he has Brett's vote now
Kaycee is certain Scottie knows he's going home. Fes wonders if Scottie will just roll over and Accept it or go crazy, "What can he pitch to individual people without throwing the other people under the bus and we relay the message.. "
Fes – I could have put up Sam Scottie would still have went but what if Sam left and Now we have Scottie that's a problem
Fes says Scottie through Sam under the bus during his veto speech "She's been playing the whole house"
Kaycee reassures him it will be a smooth week.
1:17pm Tyler and Fes
Fes thinks Tyler threw the momma mia competition. (during Scotties HOH .. LOL)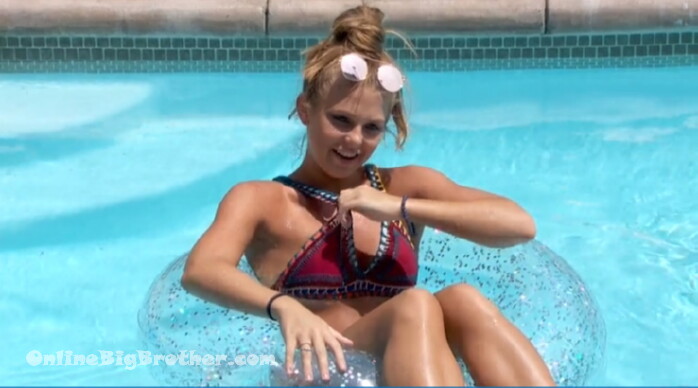 1:18pm Haleigh and Angela
Haleigh brings up Sam saying she's not talking after 1:30 today. Halegi calls her "our mute"
They start complaining about Sam calling her actions weird.. listing all the things she does that lead them to think she's America's player
2:00pm Sam isn't talking for 24 hours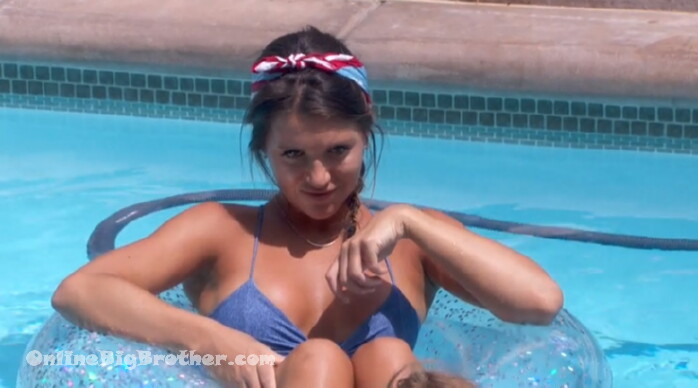 2:09pm Angela and Haleigh
Angela says without naming names she's getting the feeling everyone wants the same person out next week.
Haleigh goes on about how they can have a easy smooth couple weeks if they get rid of SCottie and Sam . She warns Angela that this Thursday will be most likely a double eviction.
Haleigh talking about Sam being insecure and that is why she's always talking sh1t about them.
Angela says she's been nothing but fair to Sam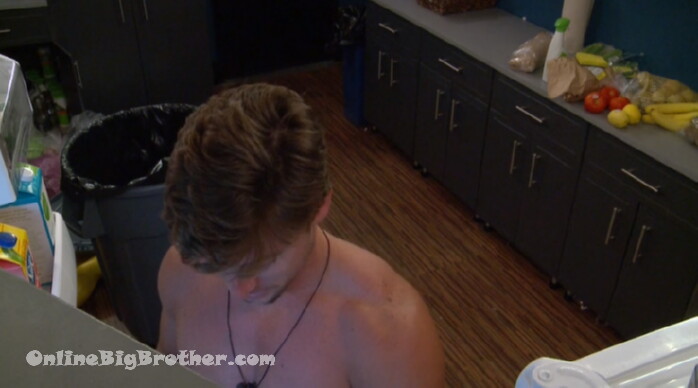 2:23pm Tyler and Brett
Tyler – we need to get together and come up with a plan just in case it's a double on Thuirsday
Tyler- other than that we don't have shit to do
Brett – Kinda scary
T – yup
2:30pm Haleigh eats her hands
3:21pm cooking and chit chat.. Everyone keeps telling each other it'll be an easy week.
Everyone who eats Brett's meal said it was very good one of the best he's made.
4:00pm Sam getting comfortable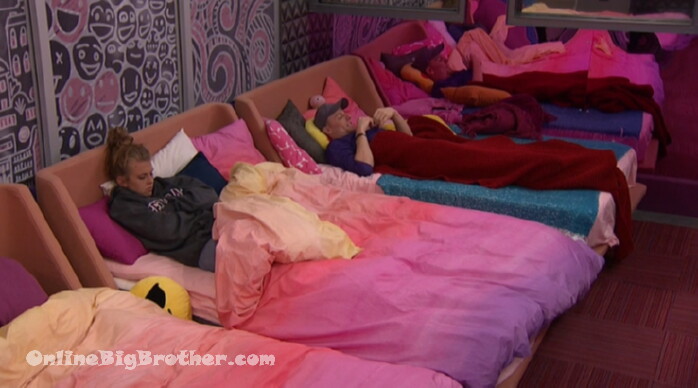 4:38pm haleigh and Scottie
Haleigh says she's thinking of strategy
Scottie says his only strategy is to pray for a battle back
Scottie – thought of anything good?
Haleigh – still working on it?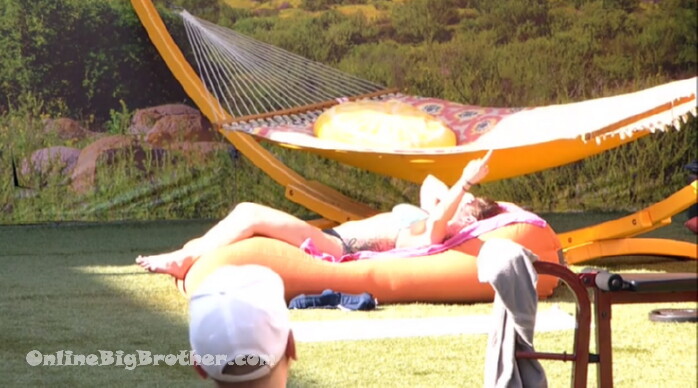 4:45:45pm Sam speaks…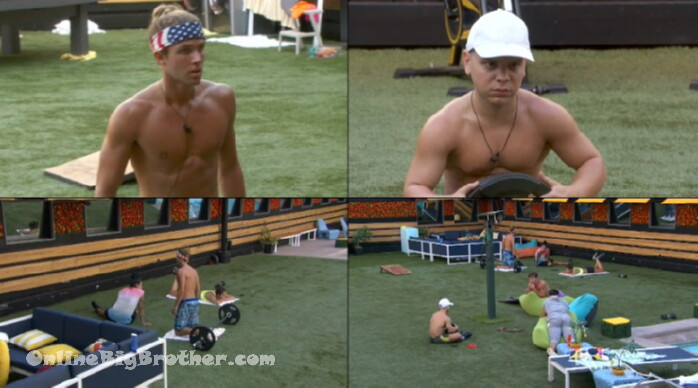 5:43pm Chit chat…
They talk about Kaitlyn saying she has feelings for fes, brett and Tyler.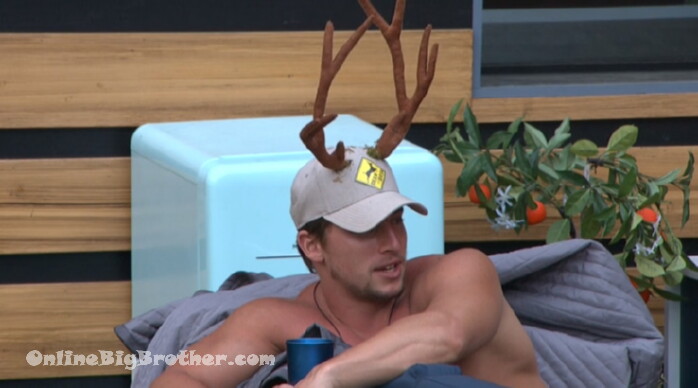 6:30pm
Brett – there's a lot of bugs out today..
random chit chat about carbon dating. Tyler says he doesn't believe in carbon dating. JC chimes in asks Tyler if he believes that god made them and Adam and eve..
They decide not to have that conversation. Tyler still doesn't believe in carbon dating.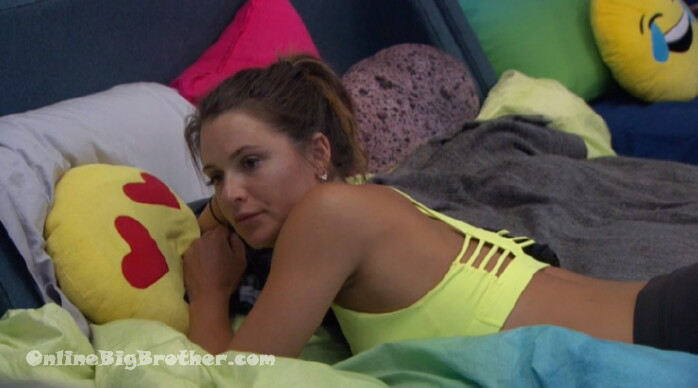 6:58pm
Angela – it would be better for Brett to get Fes out than one of us
Kaycee – we have to talk about the double..
Angela – yeah, I have an idea what I want to do
Angela says Fes and Haleigh should be the nominations for Brett if she's the HOH during the DE she would put Haleigh and Sam up and tell HAleigh she's a pawn.
they discuss some of Sam's oddities.. bringing up how she was going on about ankles and how Tyler had really nice thin ankles and his ankle bracelet accentuated them.
THey Sam is a "very interesting human being"
Angela mentions how haleigh has been really latching onto her and She knows Sam is seeing this. Anegla doesn't wan Sam to think Haleigh has joined their side.
7:20pm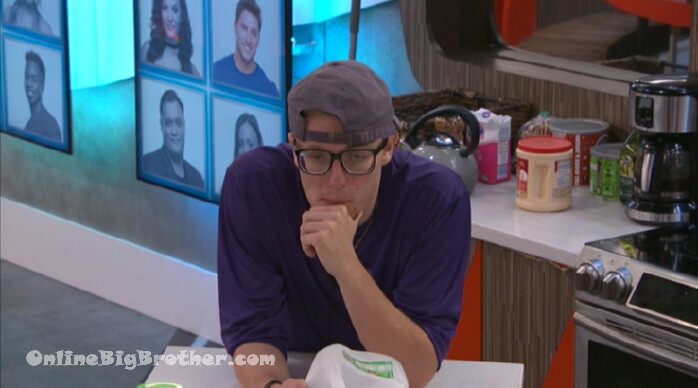 7:30pm Scottie and Tyler
Scottie says Fes is either stupid or he was the flip vote
Tyler- from?
S – every time.. he's either ridiculously stupid or the flip vote
T – that hasn't crossed my mind for some reason
S – I'm the one getting blamed for it for some reason
T – now I'm worried you shot yourself in the foot with Haleigh and Sam.. you think you can bring i back to life
S – no
S – what do you think are the odds are he's the hacker last week..
Tyler laughs
S – he's either a genius or a f*ing idiot by bet is he's a idiot
T – what was are you going to approach it this week
S – ohh I'm done, what votes could I possibly get
Scottie says the only way he can stay is if he makes himself so big of a target people will keep him
T – I don't know dude..
S – no way Brett votes for me.. he's the one that framed me this week he's the reason I'm on the block
S – Fes is the flip vote and Brett is working with him (sigh)
S – JC will do whatever Fes wants
Scottie says Tyler and Angela's vote this week is up in the air, He could probably get Haleigh's vote but doesn't think he would get Sams, '3 – 3 he breaks the tie"
Tyler nods..
T – unless somebody else wants fes out so bad they will keep someone around to go after him
Scottie says the only voters he knows he could get is Tyler and Haleigh.. "after that I don't know"
A real easy way to support the site if you are an amazon shopper is to make your purchases through our link. You pay the exact same thing but we get a small % commission. It doesn't cost you anything and helps us out.
Amazon Canada
Amazon USA