| | | | |
| --- | --- | --- | --- |
| POV: | Brett | Next POV: | Aug 18th |
| POV Used | YES | POV Ceremony | Aug 20th |
| HOH: | FES | Next HOH: | Aug 23th |
| Noms: | Brett Kaycee & Scottie | Have Nots | |
Big Brother Spoilers SCottie is going.. not a real big Spoiler there. Most people are jockeying for next week thinking that Thursday is a double. Sam's going to quit Smoking so that should get interesting.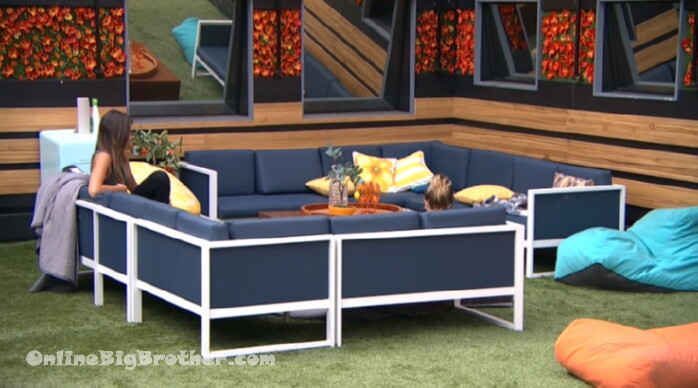 10:25am Sam and Angela
Sam – Scottie I just felt like we were friends and I was a comfort to him and so I wanted to console him in some way and be like when we leave here I know that your 2 nieces and you know.. you got a life and bills and you are playing the game..
Sam says she's now worried who is going to be there to console her afterwards .. "I'm here and have all of you or here and have none of you.. I'm again here in the darkj in a confused state I am perpetually stuck in"
Angela tells her to not let what Scottie said about her yesterday get to her. That is not what the house'es opinion of her is. He did that to try and save himself. Everyone was looking at him like he's getting crazier than before.
Sam – alright.. I'll let it go
Angela – just let it go pretend it didn't happen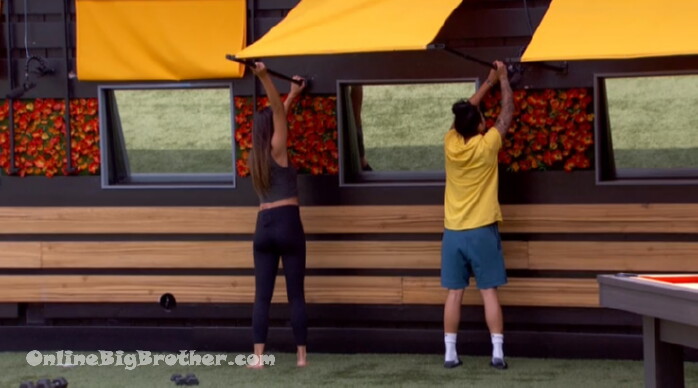 10:32am Angela and Kaycee
Planning their workouts for the day.
Kaycee – i'm starting to think this is just my life.. I'm getting use to it
Angela – me too.. if we can just keep these people we're good no more no less..
Kaycee – it doesn't cross my mind when we get out of here it'll be a whole new world..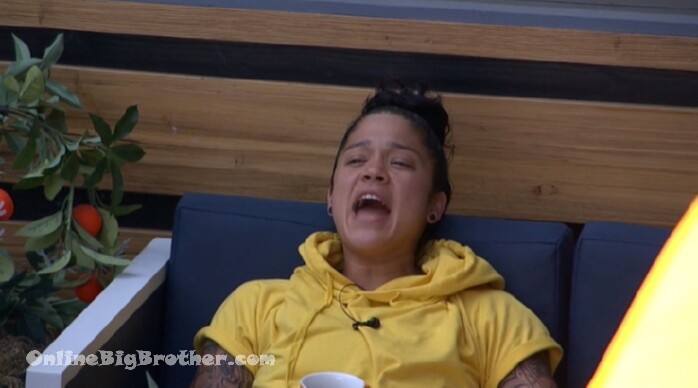 10:55am you can hear someone screaming over the walls..
Production comes over the speakers telling all houseguests to go inside . Kaycee yells back at them ensuring I can't hear what they said.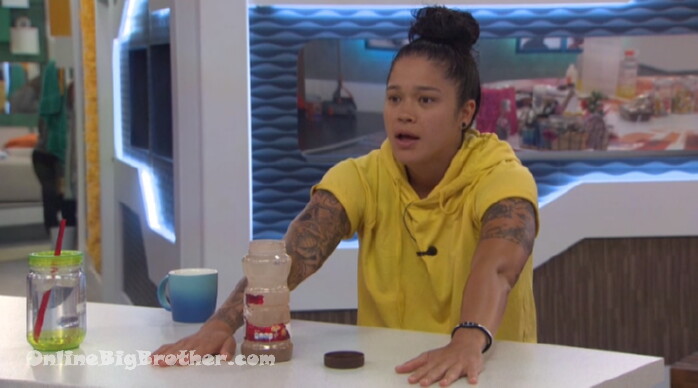 11:15am Sam and kaycee
Sam – Kaycee, can you keep a secret .. it has nothing to do with anything it's just me personally
KAycee – of course
Sam – I've already commit to it.. tonight will probably be the lock down. I'm going to turn in all my cigarettes and then tomorrow morning they are going to put a patch on me.. I'm going to quit smoking..
K – oh my gosh
S – I'm really scared but I committed to it.. this will force me
K – dude that's f*ing awesome
S – i'm going to bag them all up and put them in the shortage room
K – I will be there for support and to cheer you on I will be your number 1 fan and supporter..
S – this will force me to do this working out thing.. one of the reasons I've been scarfed to quit, you are going to gain weight.. I'm like I've aready done that so
S – I could be the next person leaving and then what have I accomplished being here..
(Sam off smokes is going to take us into next level sh1t.. )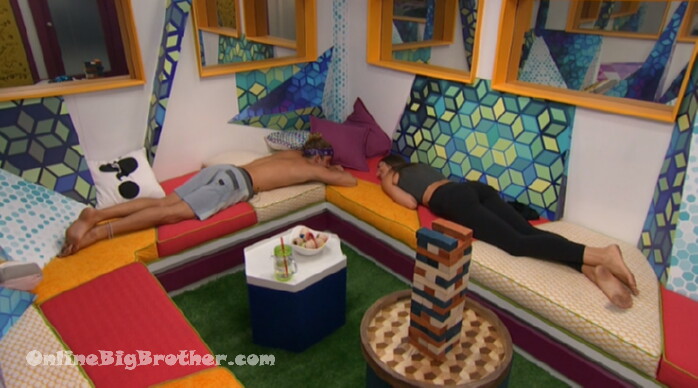 11:37am Tyler and Angela
Angela – stupid game
Tyler- I hate this game everything about it
they laugh
Tyler says Scottie's pitch is to make himself the biggest target and to make it known he's going after Fes, "He also said.. I'm f*ing done"
They talk about nothing to do all day today, tomorrow and Thursday
Angela – you think it'll be a double eviction
T – yeah
A – we need to figure out a plan
T – mmmhhmmm, you have any ideas
A – kinda
Angela says it would be a bad idea to take FEs and Haleigh up on their plan for a week or 2
Tyler – exactly
A – put Sam up next to Haleigh and be like Haleigh you got to trust me on this like everyone is on board you are the only person I can put up without it looking too suspicious.. you put me up so I can use that as a justification
A – everyone is going for Sam everyone knows she's gone this week
T – who would then go (between H and Sam)
A – Sam
T – you think
A – I don't know
T – doesn't really matter
A – it's best to keep H right now and have one of JC, Kaycee or Brett get her out
T – me too
T – it's probably not great if you or I win HOH
A – that's what I'm thinking
T – we gotta try but if we don't we'll be OK, Everyone will target sam
A – Same.. I think so to
They agree best if Brett won so he can take out Fes.
A – I wonder what JC will do? Sam? Sam and Haleigh
Tyler says apparently Sam approached JC and Brett and tried to make an alliance (good grief a pox on the person who spilled this)
T – JC told me.. I was going to wait for Brett to say something.. JC said it's not legit.. (GRRRRR)
A – Sam would put up Haleigh and Brett but not Brett now
T – after this week it's 5 votes, we just need three
They now think that maybe Fes and Haleigh would be who Sam puts up
T – what if in the double you put up Haleigh and Sam and Sam wins the veto put up fes?
A – yeah, backdoor fes and say sorry. It'll f* us up for Jury but whatever
T – 61 days and now they coming to us literally to save themselves because they know they have no numbers anymore their dumb asses got out their own numbers
They laugh
A – I would rather keep them because they are keeping us for now
T – exactly
A – we need Brett to get Fes out or Kaycee (to get Fes out)
T – at the same time we don't want them to get us out before we get them.
A – yeah don't want to look stupid
Tyler mentions Brett saying that Fes wanted to win the veto to take on of them down and put up Tyler.
A – I think FEs said that so Brett didn't become offended that he put him up
T – I know.. it does make sense.. he was never going to take him down
A – sometimes I think that Fes is really stupid
Tyler mentions Scottie saying Fes is either the swing vote every week and a genius or a idiot .
Tyler knowing the swings every week says "nope a idiot"
Angela says she misses Rachel a bit. Tells Tyler about the final 2 rachel tried to make called it the Vixens. Angela – DR asked me about it and I said.. don't worry about it… not part of it"
They worried Brett might start figuring out he's the odd man out.
A – I kinda feel like he already has
T – I know for sure
A – after Scottie's gone..
Tyler wants them to keep all their groups going as long as they can. They don't want Brett going to Fes and Haleigh.
Angela says she brought up the deal with Fes and Haleigh to kaycee saying for them to get Sam out during double eviction.
THey think the FEs/Haleigh group would put up Sam and Brett
Tyler – it's going to start getting tricky..
Angela – it's going to start sucking like really bad
T – we got to keep telling Brett.. dude we need you in here.. stuff like that, like last time with Winston. We don't want him to feel left out.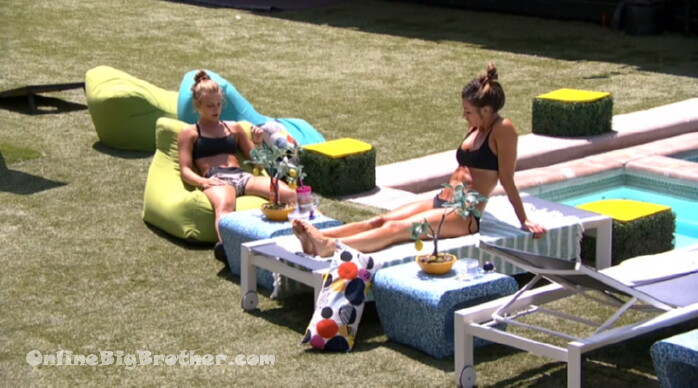 1:00pm Suntanning, working out
Haleigh is talking about putting up a "real" player and how you won't know where people will vote when putting "real Players" on the block
They talk about how the double eviction
Haleigh – that is why I'm glad about the unified commitment.
Haleigh can't think of anyone who would be sad for Sam leaving then they will go on after that
Haleigh goes on about how it's annoying that Sam doesn't do anything
Angela says it's such a weak strategy to sit back and watch the show, "if that's your game you won't win"
they talk about people that try to pit two sides against each other.
Haleigh – you make it to the end and you've played like that you're not winning..
Haleigh – I think that is what Rockstar was doing.. the whole time it was this side is coming after us looking back at it now was that a figment of our imaginations
Just minor grumbling about Sam
Kaycee comes out.. Haleigh says she sees people on the wall calls them "Watch people" they are trying to see who is screaming.
Feeds cut..
1:44pm Suntanning and crafting
A real easy way to support the site if you are an amazon shopper is to make your purchases through our link. You pay the exact same thing but we get a small % commission. It doesn't cost you anything and helps us out.
Amazon Canada
Amazon USA