| | | | |
| --- | --- | --- | --- |
| POV: | Brett | Next POV: | Aug 18th |
| POV Used | ? | POV Ceremony | Aug 20th |
| HOH: | FES | Next HOH: | Aug 23th |
| Noms: | Brett & Scottie | Have Nots | |
A real easy way to support the site if you are an amazon shopper is to make your purchases through our link. You pay the exact same thing but we get a small % commission. It doesn't cost you anything and helps us out.
Amazon Canada
Amazon USA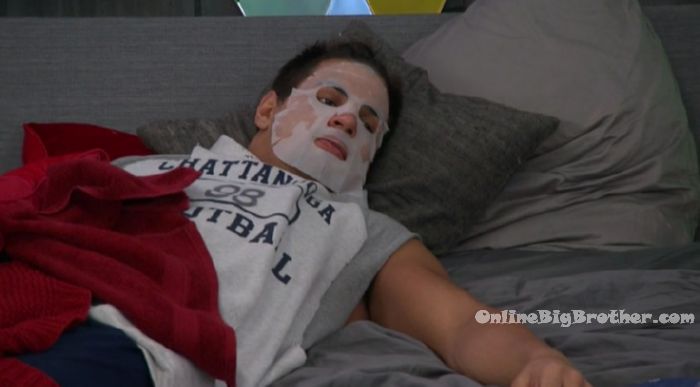 8:05pm HOH Room. Fes and Haleigh. Haleigh – what face mask do you have on? Fes – what? You left it up here for 3 days! Haleigh – No you did not! You suck! Fes – what is it supposed to do? Haleigh – make your face look revived and soft. Fes – feels like I have a wet paper towel on my face. You look like a s#xy power ranger. Haleigh has a shower and then joins Fes on the bed. Haleigh – I am so mad you found mine. Fes – me too! Haleigh – so now what? Fes – Tyler came up here. I could put him up and he wouldn't go home. I am working a deal with him and Angela for you and me. Do you agree? Haleigh – yeah. What did you say? Fes – I told him I only have 4 options. The only other person I am cool with is you and who does she feel is coming after her. You and Angela. So it would be a smart basic move to put one of you up but I told y'all I am a man of my word and if I do this .. if I don't put you up. The only reason why I think Haleigh up you up is because you had won 5 comps and it was something to do in the moment. I said us working as a four could clean out the 3 middle people. The only thing is I don't know how Angela feels about Kaycee. Kaycee would have to go up and she would stay. Haleigh – wait.. why wouldn't you put Sam up? Fes – because Sam is such a f**king wildcard. Kaycee would for sure have Angela and JC's vote for sure. And Tyler is going to vote with Angela and he said he would vote how I want so it looks like the plan would go forward. I don't dislike Scottie at all but its about moving forward in this game.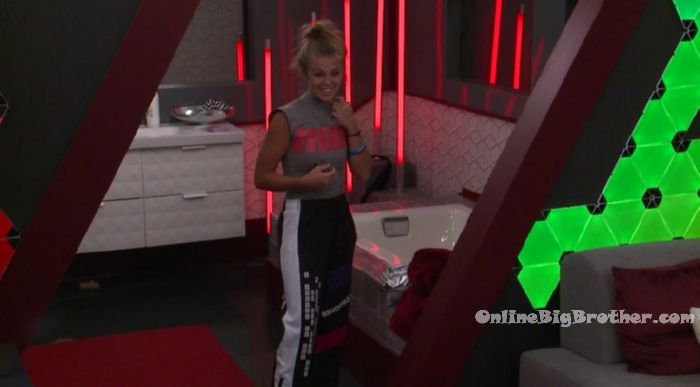 Watch the NEXT WEEK of the Live Feeds for FREE! Click here for your: 1 Week Trial

Fes – I said for the most part I trust Haleigh. Haleigh – why couldn't you just say I trust Haleigh?! Fes – because I thought it sounded better. Haleigh – no it doesn't! For the most part?! Fes – I thought that you would like that I said it like that. Haleigh – this is all great for you… Fes – I am trying to do it for us! What's wrong now? This isn't great for you!? Haleigh – no its not!! For the most part you trust me? There is a small part that I don't trust about her! Fes – I don't know if I said it like that.. It was something similar to that. I was sticking up for you. I thought that was the right thing to say it like that. Haleigh – and what exactly did he say? Fes – that you have to squash stuff to move forward. He has like no animosity .. which is weird. Haleigh – I don't know if Angela could be on board. I need to talk to her. Fes – its the people in the middle that are counting on us to attack each other and they are going to skate on by to top five. How about we get on the same page and make it there.. Haleigh – and then attack each other at the end. (Yes go to the end with with strongest competitors, good plan.) Fes – let the best man win at the end. Haleigh – them being here is not good for my game. Fes – nobody here is. Haleigh – if it works that's great and I will literally worship the floor you walk on but I have a gut feeling its not going to.

Fes – the other scenario is I put Tyler or Angela up and they are both coming after us. So lets make it work and spice up the word play. I need to talk to Kaycee tomorrow too. Haleigh – you're going to pawn out Kaycee? We need to get the votes together and get them in a room. Haleigh – this is good for you but not for me. I put him (Tyler) up and then announced to the whole house why we should get him out. I don't think you understand .. you believe everything someone says to your face. One of them win next week and put us up next to each other. Fes – I don't think they would do it .. especially not next week. Haleigh – it will be double eviction. Fes – especially if its fresh of a deal and Scottie goes home. Its doing Angela a favor too. Taking out one of her nominees that would put her up. Haleigh – Why don't you just play this game for Angela. Why don't you find out what is most beneficial for her.. and then do that move. That's what I want you to do Fessie! Fes – are you done!?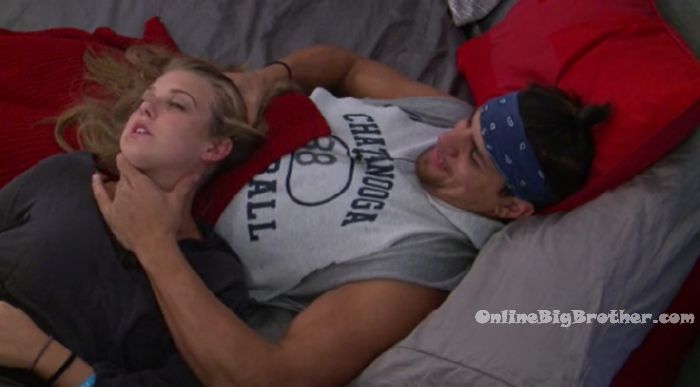 9:08pm – 9:18pm HOH room. Sam and Fes. Sam reads Fes's HOH letter and start to cry. That's excellent, that makes me very proud. Fes – No one has talked to me but I have a feeling that people are going to pitch to me for you to be the replacement nom. You know that right? Sam – no why? Fes – I just have a feeling. Just don't freak out. I am not going to touch you. I already told you that like 30 days ago. Sam – okay, I trust you. Fes – with that said the numbers are getting small and if someone wins HOH .. someone has to go up .. meaning I know you're cool with a lot of people in the house (I thought people were going to pitch for her to go up?). Sam – If I win HOH, I won't put you up.
9:30pm Kitchen. Haleigh making fajitas and Scottie still cleaning. Meanwhile in the bedroom. Brett is still clutching his veto. Angela – the replacement would probably be Kaycee or Sam. Brett – I think it would be Sam because they want to guarantee Scottie goes home. Its the least amount of blood on their hands. I think they know that Scottie is going to go so why would they piss off another good competitor? Angela agrees. Brett – I mean I hope he does but… Angela that would be perfect. Brett – I need to stop. I'm being so obnoxious. Dude if I go and win HOH next. Tyler – its your turn! Brett – I am a sore loser but man am I a sore winner. I can't believe we got to see Zingbot today. My friends are going to be like you got called a DOUCHE! Dude we are making good tv!
9:35pm Brett, Tyler and Angela. Brett – She (Sam) is f**king losing it. I have to tell you what she told me the other day. She is convinced that Rockstar and I have been communicating through telling stories each other stories in front of everyone where like .. Sam and Rockstar were in the hot tub one night and I was working out. And she based that on the way were were communicating .. and convinced that we've been in an alliance since day 1.. that everything has been staged .. whole 9 yards. And that Rockstar and I have been sending signals that I am madly in love with Sam. Angela – wait!? Brett – like through the stories that we tell out loud we drop subtle hints to each other. Angela – are you serious?! This is like craziness on another level! When they dropped that line I was like (see photo below). Tyler – she told you that?! Brett – yes. Angela – are you joking!? Brett – no. Tyler – I want to learn how to do that. Its all your (Tyler does Brett's chewbacca noise)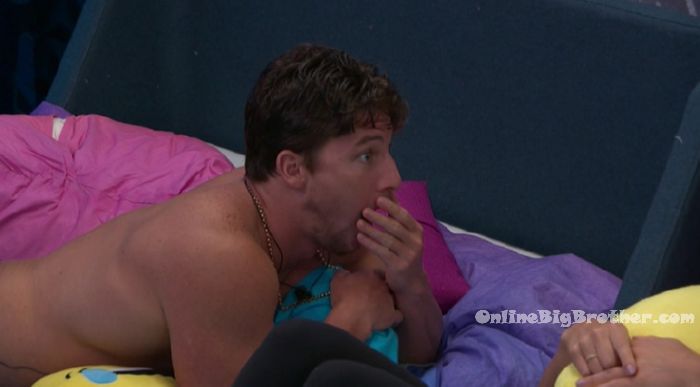 10pm Haleigh is still cooking..
10:28pm Kitchen. Haleigh – I was pissed.. when I came in I saw chocolate milk for DAYS! Someone took the sugar and poured it everywhere! I was like what the f**k are you guys doing!? Scottie – Fes did the sugar. Haleigh – he said I just saw the coffee and milk and thought that's what we were doing. My question is were y'all not looking for things?! Scottie – I dropped the stuff for a reason. Number 1 – I though that him (Tyler), Brett and Fess strategy was to go as quick as possible. Number 2 – I poured a bunch of milk over there because I didn't think anyone would want to get down on the ground over there. I dumped gallons, gallons and gallons. And I took all the oils from over here. Kaycee – oils?! Wait hold on.. oils!? Haleigh – that's why I fell. Kaycee – you are really trying to kill somebody! Kaycee – I didn't you do vegetable oil. That makes sense I didn't understand why milk was so slippery.
10:57pm – 11:20pm HOH room. Fes tells Haleigh about his conversation with Sam. Haleigh – it pisses me off that she just came up here and said don't put me up and then you say okay I'm not going to put you up. Fes – she did say if I get put up I want a chance at the veto. Haleigh – I want her gone Fessie! I want her gone! Fes – okay, if I do this Scottie move.. Haleigh – Sam will probably leave if she goes up. Fes – I know and then Scottie will be gunning for me. If I put up Kaycee .. there is no way she goes home. Haleigh – I didn't like you saying today in the veto .. not to get your thing.. don't get my thing… like do you really f**king think you needed to tell me that?! Fes – well look what happened. I ended up getting your thing. Fes – look how Sam is acting now. Wait until the numbers get small .. she is going go to evict herself. Kaycee was so smooth last week. I will cut off my nuts if JC doesn't (vote Scottie out). Tyler is going to vote with Angela. Haleigh is going to vote which ever way I tell her to. That's four. I break a tie with three. Haleigh – I am going to vote however you tell me to? You can tell me things and then I will do what I want .. You're not telling me to do anything. You're about to piss me off. Fes talks about the final four deal (Fes, Haleigh, Tyler, Angela) they're going to set up. Haleigh – we need to go over days. Fes – we could do it .. we just need to win.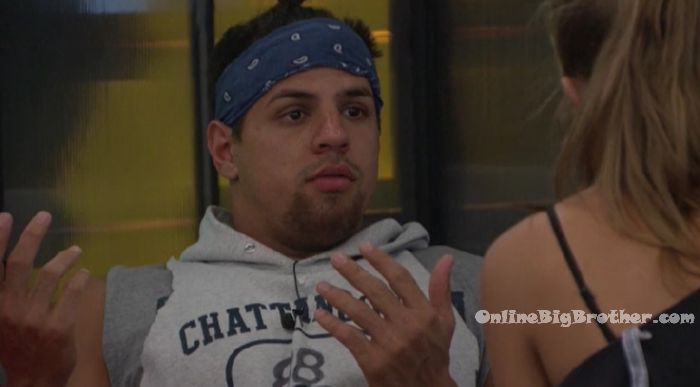 11:55pm HOH bed. Fes and Haleigh kissing..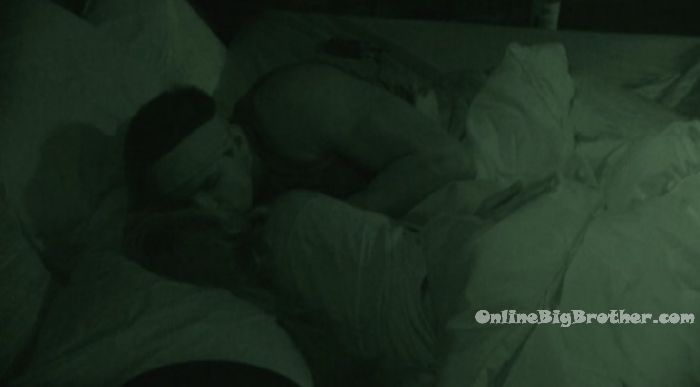 11:30pm – 12am Backyard. Sam and Scottie. Sam suggests Scottie try to get Brett to use the veto on him. Scottie – That has only happened once. Its such a extremely rare occurrence. Sam – he might. Scottie – He doesn't want to go through another eviction. Sam – why not, his speeches are epic! Sam – what are you going to do if he does take you down. Scottie – I would be so surprised I wouldn't know what to do. I still can't believe he (Fes) put me up. I was legitimately on his team. If he did that even though he lied to get me up here in the first place.. I would ridiculously owe him. Sam – why not pitch to him use the veto on me and we'll work together. Scottie – I could try that.
Sam – I felt real bad for not cleaning but I was just real angry. I thought it was awful and disrespectful. But I know for y'all its a part of the thing just like OTEV. You guys were so pumped to get roasted (by zingbot) this morning and I was like this is terrible. What is the purpose of this! This is just dumb. This is the perfect opportunity to f**k someone over. I don't know what I was expecting but that was awful. The whole thing I thought was stupid. When I came in I was filled with rage.. that's why I had to go sit down. Scottie – that's why as I was a big part of making that mess .. it was my responsibility to clean up as much as I could.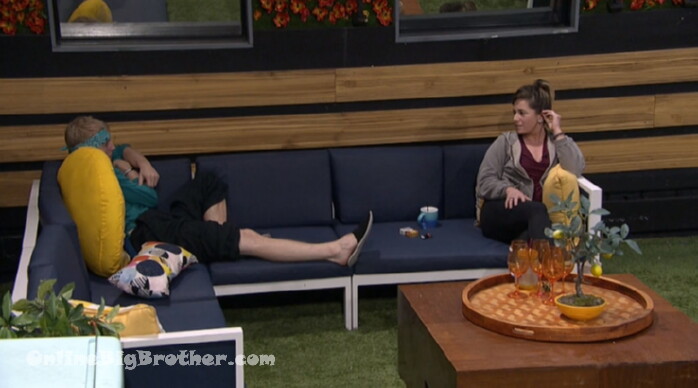 12:25am Sam and Scottie
Sam – I'm real but I'm real f*ing Crazy
Sam jokes that zing bot isn't areal robot like the sam bot calls zingbot a "poser"
Sam asks if Haleigh intended to send Rockstar home? Scottie thinks she didn't the plan was for Kaycee to go. Sam wonders why Haleigh wasn't more tore up over Rockstar going.
Sam – I loved Rockstar.,. it was explained to me many times what I did with Bayleigh was emotional.. and not to do it
Sam – I refused to let Bayleigh walk out on a unanimous vote. F* that
Socttie – I was the one that made sure ROckstar didn't go out on a unanimous vote
Sam – or were you
SCottie – No I definitely was, I was told by both Haleigh and Rock that you promised to keep rock
Sam – I never promised anything I never do that because I never break a pinky promise so I am very careful what I promise
Sam says she loves Rockstar and they have pinky promises outside of the house that she intends to keep, "I have something with her that I don't have with anyone else in this house.. I'm sad it came late.. I know how much she loved this game and she's so gammy.. she wanted me to play"
Sam – it would be in her honour if I stayed and played but I don't know how at this point
Scottie thinks he's going home.
Sam doesn't think that is the plan but says she's going to be coerced into voting with the house, "you and I both know that"
Scottie – that is what I htought I was doing last week
Sam – you are smarter than that you creep all over this house you hear everything you see everything
Scottie- I wish
Sam – you are doing something far beyond me
Scottie – you are going to go back and watch this and be like that guys a idiot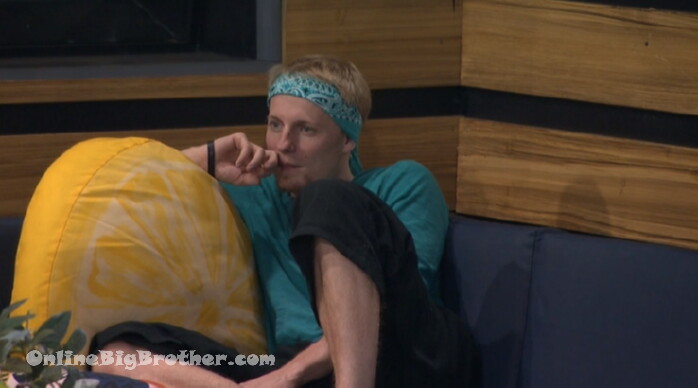 12:33am Brett, Sam and Scottie
Scottie – the person I thought was on my team f*ing put me up
Brett – could have said I saw that coming
Scottie – I did not
Scottie says Fes told him to do that when they were in the HOH and he asked that question .(Wow voted rockstar)
SCottie – this whole game I've been nothing but honest..
Brett – to be honest I think Fes has been looking for a reason to take a shot at me and you this entire game we're the only other people that I guess are friends with Haleigh
Brett – you far more than I am
They agree Fes wanted them out because of haleigh.
Scottie – I don't understand why he is so far up my a$$ about the swaggy thing.. number 1, it's not really a flip up because he's going home regardless. 2, the week before he promised to take Steve down if he won the veto, him and swaggy both said they're a$$es won the veto Steve stayed on the block.
Brett – what you are not getting.. he doesn't give a sh1t
Scottie – I'm starting to realize that
Brett – Him and Haleigh are actually in a full blown showmance.. she sleeps up there..
Scottie – I've been told that she is playing me
Brett – I don't know that
SCottie – I didn't really want to believe it but when I picked her to play in the veto today she looked like she didn't' want no part in it..
Scottie – she HAD thave known i was going up and I asked her right before, I was like I have this weird feeling am I going up and she was like I don't know
Brett – so that wasn't a planned argument .. you didn't know
Scottie – no I didn't f*ing know .. that was just me being confused..
Brett – he also looked at me square in the face and said I promise to never put you on the block not even as the pawn..
SCottie brings up Fes telling him that BRett would put him and Scottie up, "He was trying to convince me it was me and him against you"
Brett – he's been doing that the whole game assuming with Tyler..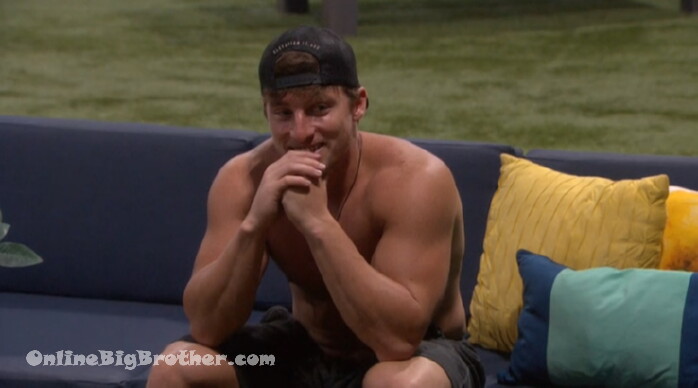 Brett says he's using the veto on himself..( LOL )
Scottie suspects Fes knows the truth but is just using all this vote flipping bullshit as an excuse to get him out
Scottie brings up that Brett even said "f* it" when he raised his hand and said he voted to keep rocks
they laugh
Brett – I had to get it out there..
They laugh some more
Scottie – that was so funny to me..
Brett – what do you think he's going to do as the replacement
Brett – did he tells you he would take you down
Scottie – no he said maybe and I said don't bother and I told him I was going to kick his a$$ in the veto
Brett – you did
SCottie – I keep finishing second in everything
Brett – dude the same I finally won one
SCottie – 6 in the last 7 competitions I've finished second based on what I know
SCottie assumes Fes will put up Tyler
Brett – that's a alot of blood.. a lot of F*ing blood..
Scottie – how is him putting up someone that assumed he's on his team with him not a lot of f*ing blood (yeah fes is dumber than rocks)
Brett – he already has a lot of blood
Scottie – he's telling me he doesn't have any… (LOL of course)
Scottie – how does he not think if I manage to stay and I win Head of household his a$$ isn't going to be sitting there .. how is that not even a simple thought in his head..
Scottie – there's no way Haleigh doesn't know.. I picked her because I wanted to see the look on her f*ing face and I can beat her in a physical comp easy
Sam walks in "Have you figured out how to make it Haleigh yet" (BOOMO)
Brett – that's one thing I can tell you for sure..
Sam – you can make it about me how she's send her best friends home.. Bayleigh was because of her, Rockstar was because of her Fes is next.. pull back that all girls alliance thing she was ready to get rid of you …
SCottie – In my eviction speech.. Haleigh approached me about an all girls alliance .. (HAHAHAHAHAHAHAHAAAAAAAAA)
they laugh.. .
Sam – just say that..
SCottie – there is no way he's going to put her up ..
They list off a bunch of goofy things to tell Fes to get Haleigh on the block
Sam – Haleigh told me she's going to get rid of Fes and Scottie
Brett – she gave you a H**** J**
Sam – that too which I'm sure she did (BLAMO)
Brett – listen man pop that cherry in the HOH room.. ok that;s bad that's bad.. I mean your cherry because she kissed you and you haven't kissed anyone
Sam – and because you were the HOH.. NO don't do that.. somehow make it about how the all girls alliance is in the jury house now
Scottie says there is no way haleigh goes on the block this week
Sam – Why
Scottie – they are so close.. she's spent every night in teh HOH
Sam – she was also bossing him around and sassing him whatever a couple weeks ago.. Treating him like a dog (sounded like Dawwwwwg)
Brett – yeah
Sam – it comes back to my HOH and he saved her.. I could be like PAY ME BACK
Sam – I let him do whatever he wantted to do
They hear a noise from over the fence
SCottie – is that a wookie
Brett – sounded like a cat
Sam continues to strategize on how to get haleigh on teh block. Brett and Scottie tell her that it's not going to happen.
Scottie – he's not putting Angela up .. he's obsessed with her
Sam – she rejected him week 1
Scottie – he denies that
Sam – whatever
Brett – day 1 ..
Sam – Fes is precious.. I got to know real fes before y'all did
Sam thinks maybe Tyler will be the replacement ..
Scottie says he doesn't think he has the votes against Tyler.
Brett mentions that Fes was saying if Rockstar goes JC is the new house pawn.
Scottie and Sam tell him JC is very close with Fes/Haleigh now
Brett – we're running out of F* people.. to be honest you two know more than I f*ing know in regards to what he's doing.
Scottie- I didn't know I was going up.. and apparently I'm getting f*ing played
Brett – Same I was told straight to my face I promise I won't put you up as a pawn
Sam – Ok, I could still be going up against you Scottie
Scottie – you could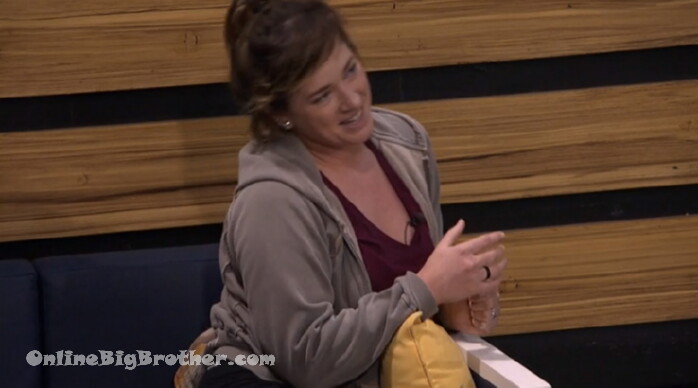 12:54am
Scottie thinks Fes will put up Tyler.
Sam tells them about the pitches for the all girls alliance
SCottie though it was all a ruse
Sam says it wasn't goes on to explain " they were going to throw you (Fes/Scottie) all under the bus in a hot minute"
Brett – who was pitching..
Scottie – let me guess.. was the H silent..
(Bayleigh, Haleigh and Rockstar)
Sam says Rockstar and Haleigh were like those two girls on talladega nights we are sky. Sam says she could never figure out which on of the two were the brains. Sam says Rocks was determined to talk game to her and went through all these steps to do it.
Sam laughs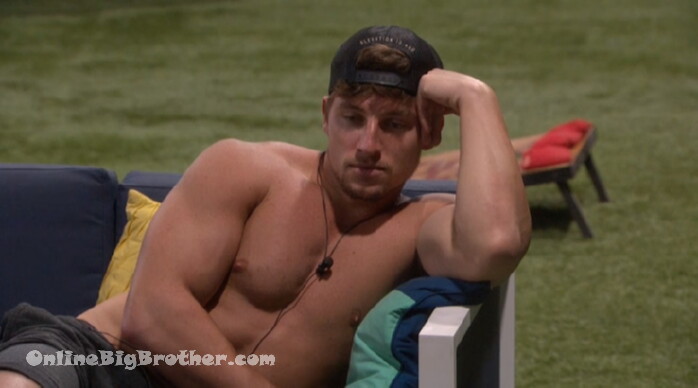 2:30am Sam and Brett
Sam says Rachel liked Winston when she first came into the house. She spend the first day with him than something happened and she started liking Brett.
Brett says Rachel's not the right girl for him.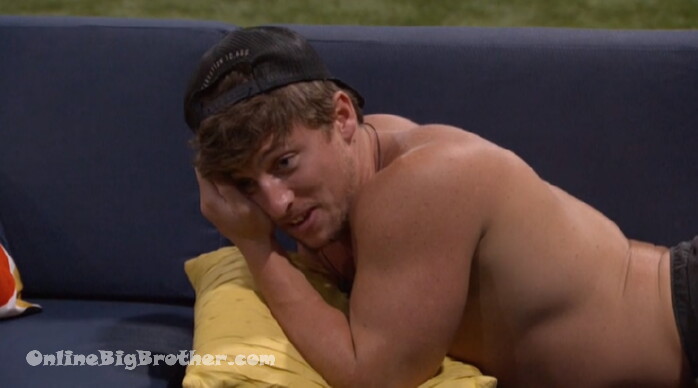 2:50am Brent and Sam one on one + giggles..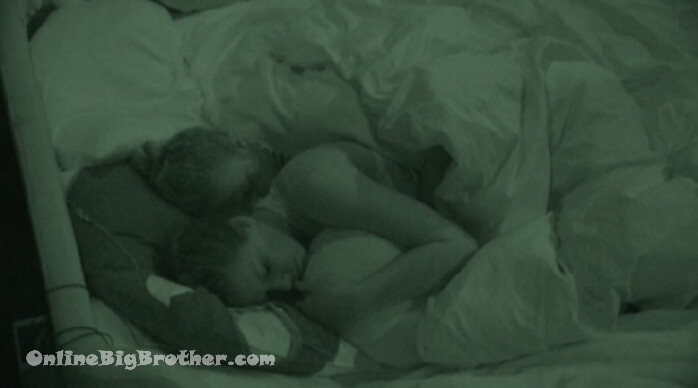 3:43am Angela and Tyler…
8:48am zzzzzzz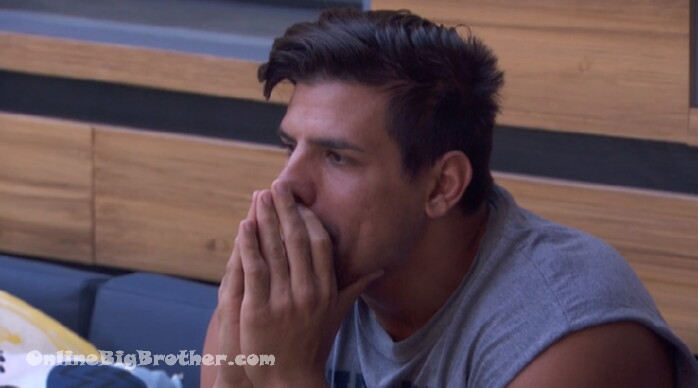 10:14am Sam and Fes (WOW buckle up)
Sam – I need you to start playing and I need to start playing I am going to make a very strong recommendation
Sam – if you put Haleigh up as the replacement nominees I'll quit smoking if she goes home.. haleigh is coming for me she's always bossing you and Sassing you..
Fes – you think haleigh is coming for you
Sam – she is..
Sam – put Haleigh up and if she goes home I'll quit smoking on national TV..
Sam – you want to play with me
Fes – I don't play a lot of game with you
Fes says they haven't really talked game in 61 days she's asking him to jump ship on people now?
Sam – FEs moving forward haleigh has done all sorts of crazy things
Sam – god forbid she gets a power she'll throw you up ..
Sam – She's looking at you as a tool.. she takes the most from the house and contributes the least.. you really goign to give her a free ride so she can throw you away.. like a used tissues.. if you move forward you got to move forward on your own two feet.. she's a dead weight
Fes – I didn't see this one coming..
Sam – do you want to save my life.. If I make you a pinky promise.. do you want to push me over to sammy 2.0 ..
FEs – I didn't see this offer coming
Sam – jsut say yes
Fes says he hasn't talked game with Sam but she's asking hm to jump ship on Haleigh
Sam – I'm not going to throw you away like some piece of trash..
Sam – we'll load up all my cigarettes we'll go to the storage room right after haleigh leaves.. wouldn't that be great.. if you don't do that no hard feelings I am not going to hate you.. I'm just suggesting band I thin kit would be fun
Sam – I'm freaking out now that I'm starting to play.. it's exciting
Sam – nobody is tied to haleigh except for you and you can redeem yourself with SCottie.. then when the next HOH rolls around nobody is coming after you
Sam – Scottie cleaned this whole house what does haleigh do.. her HOH was wacked.. .Rockstar went home what the f* that was her person of so she said
Sam – do it fess.. do it for me..
Sam – Fes do it.. do it.. do it for me ..
Sam – you got me weather you knew it or not.. (lol Sam has a husband, kids and entire life with Brett and he never knew it)
Sam – will you please do that
Fes – I have to think it Sam
Sam – I don't think you should think of it just promise and do it .. Haleigh will be tickled that you did something so gamey .. she's crazy like that and she would do it to you
Sam demands a promise tells him he'll have a stress free Sunday
Sam – she wants your clothes and your wins and then she'll throw you away.. f* that..
sam says it would be great for the girls in the jury house to all be together and see Haleigh .
Sam – they thought they could use and abuse people..
Sam – it's a hell of a deal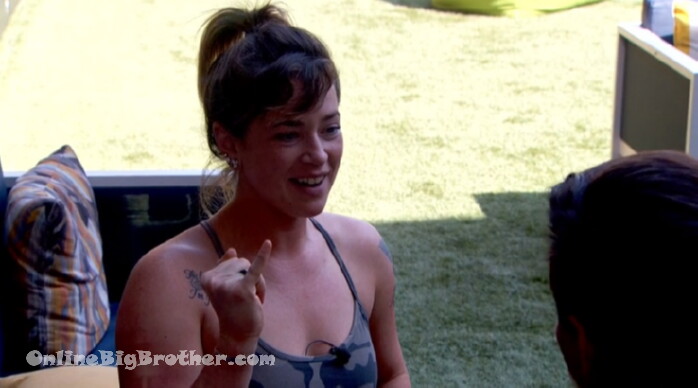 Sam puts up the Pinky… says if she stays she'll still have Fes' back and if she goes she'll have his back and stop smoking..
Fes says he's already Pinky promised with Sam last night .. "Cmon Sam this is my game too you got think about it you can't just put me on the spot like that"
Sam – who are you putting up
Fes – I haven't thought of that
Sam – now you don't have to decision done..
out of the blue.. .
sam – there's my little bird.. my white bellied bird.. so cute.. I love that little bird..
Sam – pinky promise me Fes.. and I'll pinky promise you that I'll quit smoking.. I'm serious don't over think it.. Free yourself from the deicsion and free yourslef from that dead waight you've been dragging.. clinging to you .. ..
Fes – what kind of bird is that
Sam – I don't know just a cutie.. I don't know
SFes – Sam wow.. that's a good offer
Sam – i know it's great lets do it it'll be fun all day awe'll have our little secret..
Sam – tomorrow you put her up it's like you blow up a ballon and let it go… she;ll go home
Sam – pinky promise me now and you don't have to think about it anymore.. I've thought about it
Sam – fes she's about to climb so far up yopur a$$ she'll know what you have for breakfeast .. Fes.. pinky swear me now..
Sam says she cannot believe fes woke up early "thank you jesus"
Sam – give me that Pinky.. Fes.. lets do it…
Fes says if he takes haleigh out is that good for his game.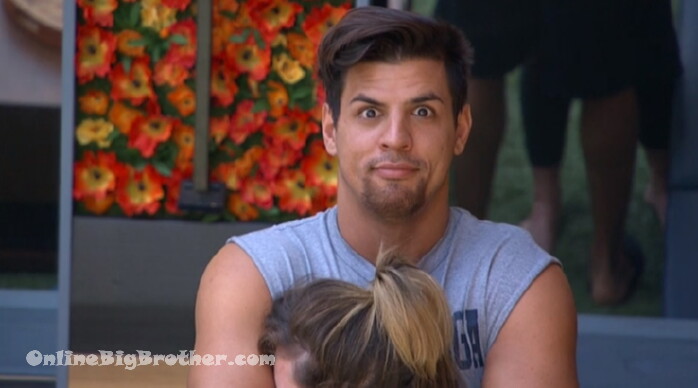 Sam – fes so help me god don't think about it DO IT .. I see it in your heart you want to pinky promise..
Sam – do it.. give me that pinky
Fes tells her she'll know if he's taking her up on her offer. he needs time to think about it.
they hug it out..
After Sam's pitch #BB20 @DawgsBigBrother pic.twitter.com/7IKfUwDq6R

— OnlineBigBrother.com (@bigbspoilers) August 19, 2018
Sam's campaigning to get FEs to put Haleigh up as the replacement #BB20 @DawgsBigBrother https://t.co/aXdHEa8ey1 pic.twitter.com/8E3nrBu0fa

— OnlineBigBrother.com (@bigbspoilers) August 19, 2018
Donations Really do help keep this site keep running
Rank the houseguests!
Easiest way to Rank the house guests use link below