| | | | |
| --- | --- | --- | --- |
| POV: | ? | Next POV: | Aug 18th |
| POV Used | ? | POV Ceremony | Aug 20th |
| HOH: | FES | Next HOH: | Aug 23th |
| Noms: | | Have Nots | |
Big Brother Spoilers Sam has created a showmance final 2 and a 3 person alliance. She's created a husband and a happy life for herself when the show is over. LOVE IT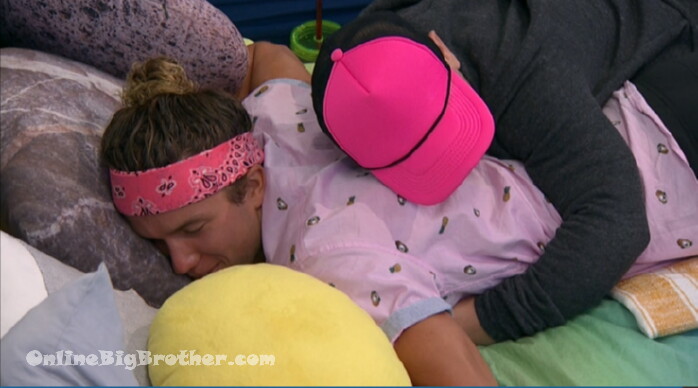 1:03pm JC and Tyler (hang on folks)
JC – he told me Brett and Scottie
Tyler- he told me he wasn't putting me up or backdooring
JC – I know because I told him.. he wants you to be good with Haleigh
JC points out yesterday it was Brett and KAycee BAckdoor SCottie.
JC – my thing is what if Scottie wins the veto
T – he told me he's not going to backdoor me so….
JC – you have to be careful
JC – be quiet until MOnday
Tyler – you should go up there
JC – i'm going to go up there right now
JC – should I convince him to backdoor Scottie
T – no
JC – you want Scottie to play (in veto)
T – I think I can beat him
JC – what if Scottie wins HOH next week..
T – he's not going to win either
Tyler says he's going to get Brett to pick him for Veto
T – SCottie beat me in 1 veto and I didn't need to win that veto
JC – you are too confident right now
Tyler tells him not to convince Fes to to backdoor SCottie. What if Scottie wins the veto anyways and doesn't use it.
Tyler doesn't want JC to convince Fes not to put Scottie up and fes puts Tyler up instead
Tyler says Fes just thinks him and Angela are close that's not the worst thing.
They are glad Brett spoke up about being the one vote that was the best move because now it tosses Scottie in as a possible target. .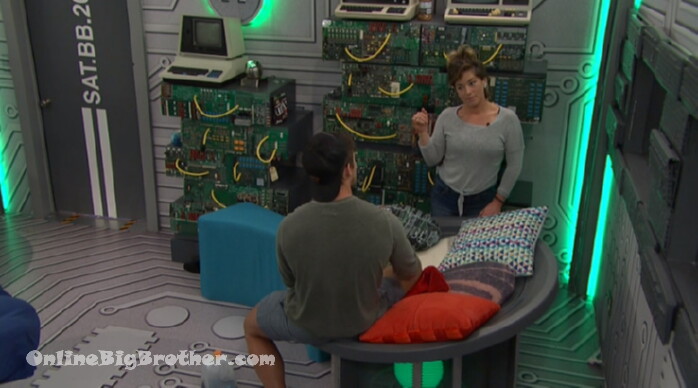 1:54pm Brett and Sam
Brett – they think we have a final 2.. they've thought they had one from the start,.. Rockstar was the one that originally said it..
SAm – Really, I had it in my head that you had a final 2 with me you just didn't tell me about it .. without my consent..
Sam giggles…
Sam brings up Rockstar having Stories about her and BRett having a final 2 and Brett was secretly involve with her (ZOMG)
SAm – Like I'm your dream girl and outside of all this one day you are going to walk up to me and be like I'm completely in love with you
Brett – Scottie and I had a running joke that every time me Scottie would talk to me, Rockstar Haleigh and Fes would interrogate the f* out of him
Brett says every time Scottie would say he was just trying to get to the bottom him Brett's and Sam's final 2
Sam – oh my god
Brett – I feel bad I am positioned this way against Scottie .. Scottie is one of the only people I really clicked in the house and we've been on opposite sides this entire game.
Sam – so all of that that was made up in my head correct
Brett – the rockstar stuff..
Sam – yeah
BRett – yeah
Sam – you are not secretly in love with me
Brett – I'm not secretly in love with you
Sam – you don't think I am super amazing
Brett – no I think you are super amazing
Sam – ok, well that was kinda disappointing (brett have a showmance with teh crazy girl C'mon bro)
Sam – I thought we were about to get married and fall in love just now
Brett – oh stop it
Sam – don't touch me .. I even talked to them about it (DR) and now I am extremely embarrassed..
Brett – don't be
Sam – I feel so extremely conceited
Brett says the Big Brother house is "F***ing evil" and the last place he started a relationship it was from a place that was "F***ing evil" and the relationship failed. That place was college
Brett – as careful as you are ion this place you can never be sure of what people's ulterior motives are
Brett isn't looking for finding someone inside the big brother house "Keep it in your pants for 100 days" (OMG that's what my mom told me when I left for university)
Sam – I'll never tell you a lie I will always tell you the truth
Sam tells him if anyone tells him something that she said he better come to her and double check. She'll be truthful to him.
Sam – they are more than likely to lie but I will always tell you the truth
Sam – for the time being let's pretend that you do love me
Brett – I do love you
Sam says they are now playing this game as one
Brett – because if i'm not making I want you to make it
Sam – deal
Sam – we need to pinky promise.. this is very important for me.. you don't break a pinky swear
Sam – I will leave here and I will fuck my own life up before I fuck your life up..
Sam – you basically just go t a body double
Brett – ok that's fine ..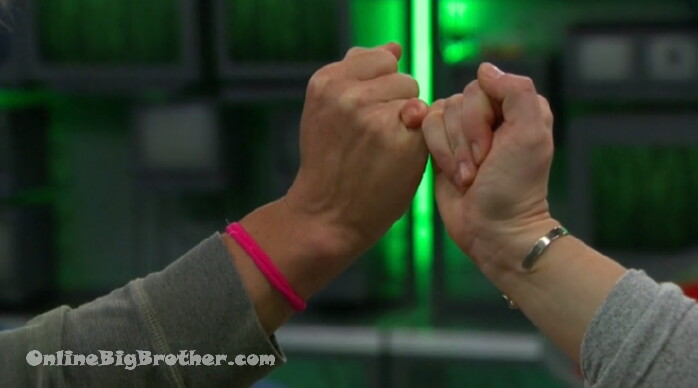 They pinky promise..
"so now you are stuck with me and I'm going to follow you around like Rockstar did " #BB20 @DawgsBigBrother pic.twitter.com/wLgE8Cuz6Q

— OnlineBigBrother.com (@bigbspoilers) August 17, 2018
Brett – so now you are stuck with me and I'm going to follow you around like Rockstar did
Sam giggle says just being the person she is she's won these people over she thinks Brett has done the same thing
Brett – I don't think I've won them over everyone hates me (you've won us over)
Sam – this is a perfect couple thing lets just keep on with that (i'm all in for the brett SAm showmance final 2 ALL IN)

Sam takes a deep breath.. "I have this final 2 thing secret but it's not public nobody knows about it"
Brett – I even haven't made a final 2 at day f*ing 59
Sam – Winston
Sam – whats the thing with you and Haleigh
Brett – theres literally..
Sam – I walked in on you in the HOH your face was beet red her head was between your legs..
Brett – no no no no
Sam – no like that you were just playing with her hair but you jumped up quick and had to fix your shorts (BAM)
Brett – NO there's nothing like that
Sam – there was a lot of heavy petty and cuddling
Brett – I'm 95% positive that her and fes are in a showmance and just don't want anyone to know
Sam – ok
Sam – would you put Haleigh on the block
Brett – yes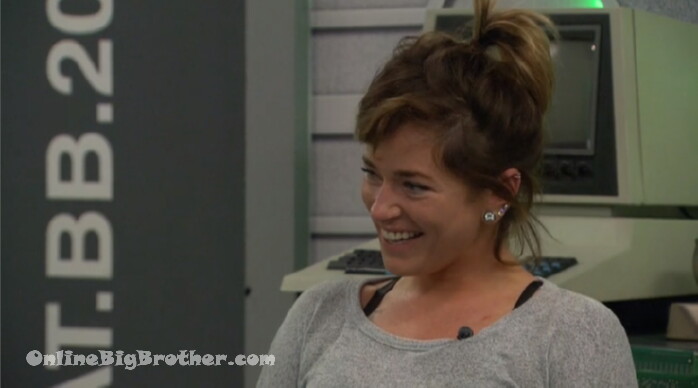 Sam – would you put Angela on the block
Brett – yes, whatever you want me to do
Sam – that's all I need to hear .. F* everybody but me you don't have anything else
Bret t- I don't anything in this f*ing house.. OH MU GOD
Brett – I'm the worlds biggest loser here.. I'm not working with shit.. I had Winston
they laugh
Sam – what about Angela .. you had her in stitches on the hammock and you had her half naked and putty in your hand in this bed (damn)
Brett – Putty in my hands? Ohh the back massage.. that's what you mean
Brett – I know what you are doing you clean the house..
Sam – you are not attaching yourself to me because everyone likes me
B – no, I'm attaching myself to you because nobody else will attached themselves to me
S – whats wrong with you
B – I don't know.. it's the most ridiculous thing
S – so If I'm your number one who is your number 2
B – I don't even have a number 2 I would say it was honestly ..
S – was rockstar
B – I would have Rockstar.. (LOL love bb20()(
B – I really like JC but he's all over the place.
S – he's behind a lot of the things that happen he lines up stuff..
Sam – ideally who wins the next HOH
Brett – me.. 100P
Sam – YES, or JC
Sam – who is in JC's corner
Brett – he's really close to Fes I don't know..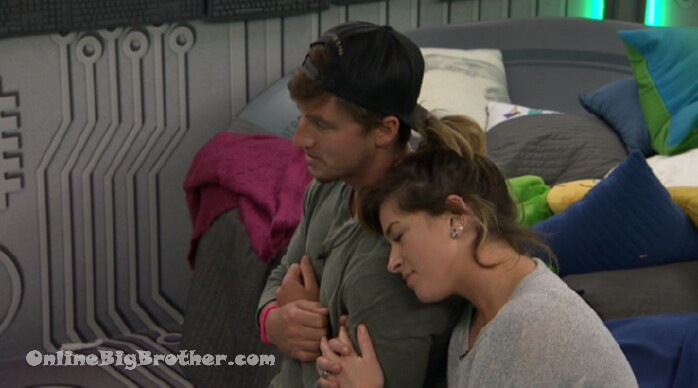 2:30pm JC comes in..
Sam – we want you to be part of our thing
JC – that's cute, it's been a really stressful day
Sam – you and me we're in the middle I don't have anybody you don't have anybody and now that Rock is gone I really don't have anybody
Sam – I've always hung out with you, you've been in my corner since day one.. I love yo more than anything..
JC – ok
Sam – I don't want you to think that I would pick Brett over you
JC leaves.. Brett tells her he doesn't think JC liked that she said "we should work together"
Sam – he doesn't care..
Brett – this is going to be so awkward when I get nominated again
Brett wonders who he goes up next to
sam – Tyler
Brett – no he promised.. .
Sam – Angela ..
Brett – I think if I'm going up he'll put me next to Scottie or maybe Kaycee.. because of what happened last night
Sam – that was staged..
B – oh it was staged ..
Sam – I take back what I said about don't touch me I like to touch you
Brett – do you think based on what you've heard who is Fes' target
Sam – Angela or Tyler
Brett – really
Sam – for sure
Brett – for sure, I'm just surprised if I go up he hasn't come to me like hey man you are a pawn
Sam – what do we do about Scottie .. we can't keep Scottie?
Brett – we have to see what nomination's
Sam – he'll be all alone..
BNrett – if it is me and Scottie up there it means Scottie is working with Fes.. I am not opposed to Scottie I just want to know the nominations because that will determine how we go about it
Sam – so should our thing still be a secret.. I mean I just told JC but should it still be a secret
Brett nods
Sam – ohh ok.. (C'mon Brett make it a full public showmance)
Brett – you do a really good job when you say shut up Brett.. a lot of people think you don't like me at all
Sam – I dont'… in reality I do like you
Sam – are you still going to sleep in here or can you sleep out there, Please
Brett – we'll see how today goes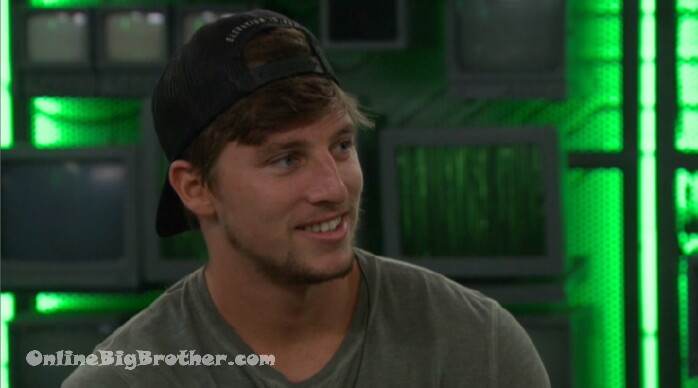 Sam – I like seeing you in the middle of the night and I like listening to you ruslte around over there
Brett – do I? I don't notice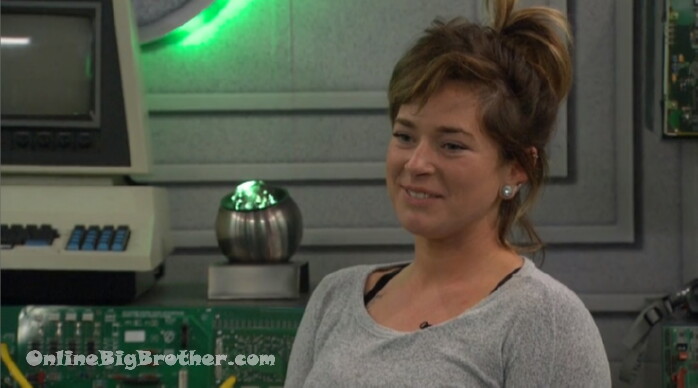 Sam – you snuggle in your blankets at night
Sam – deep breaths
Brett laughs..
Sam – sometimes I see you pop up
Sam says she was having a nightmare and he was going to protect her.
Brett brings up JC taking all that benedryl and how he cannot.
Sam – I've never taken Benedryl
they agree they've taken it before but not in the house.
Brett says it make him feel like he's fighting sleep
Sam says when she came here she really missed her brother "I'm so lonely" She says that Brett and Winston had this thing and she felt Rachel and Angela suited Brett better. she felt like an outcast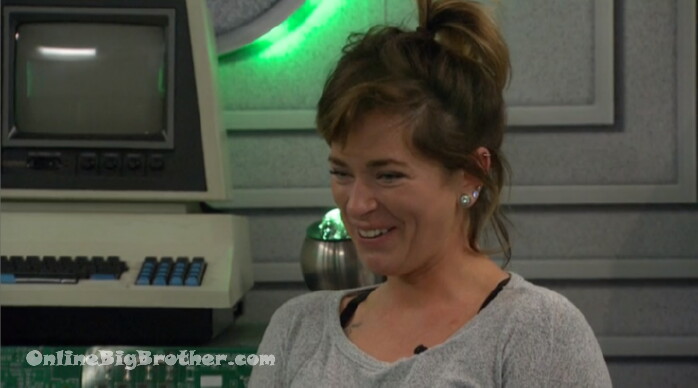 Brett – alright Sammy you're the best
Sam – you're the best
Sam now saying she wants to go to the jury house as soon as possible because she "F*ING hates it in here" adds that she would rather hang out with bayeligh and Rockstar (Ouch)
Sam – I'm not here to win but I can be here for you to win
Sam – at any point if it's looking bleak I will go instead of you
Brett – OK sammy I would never ask that of you
Sam – I know but I would and I would be happy to
Brett tells her if she's ever feeling down to under the weather for her to just get him
Sam – I just need you to hold me, Fes does sometimes I really thought Fes was gay
They hug it out ..
Sam says him and JC are her best 2 Sam says being in the big brother gives her confidence makes her feel like she should do something with herself.
Sam wants him to be her team mate
Brett – I gotcha
Sam – can you do that
Brett- I can do taht.. I will do my best
Sam – ok and in exchange I will give you 500 thousand dollars.
(wow this season never fails to disappoint)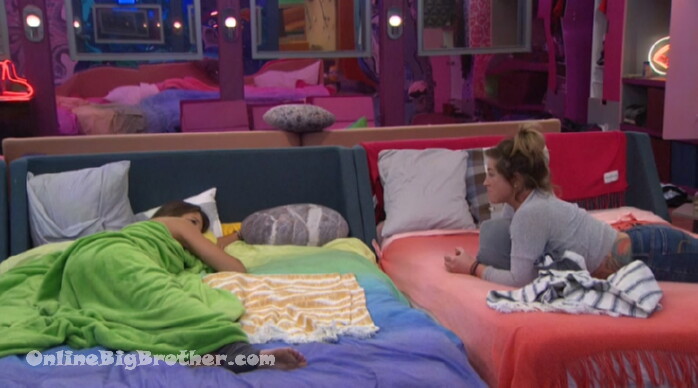 3:00pm Angela telling Sam about pole vaulting
3:01pm They find a giant spider.. everyone but Sam is scared of it.
JC calls for them to kill it
Sam – it's a house spider.. it's like a silverfish (yeah kill that it's no tspider)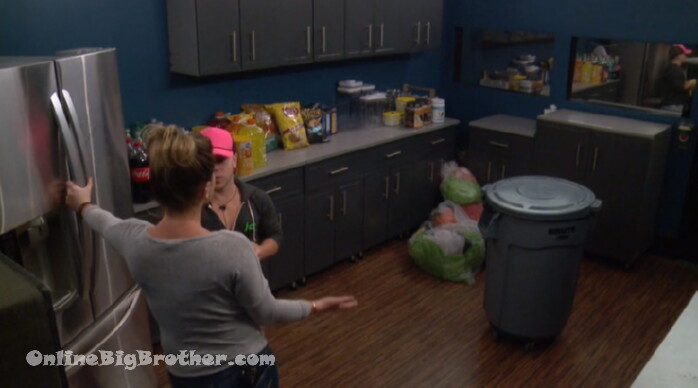 3:35pm JC and Sam Storage room
Sam asks him if its bad that she was trying to form something "I'm not making it a big thing "
JC – no.. it's good..
Sam – I don't know what I am doing
JC – it's good for him because if he goes on teh block which I think he will he has our vote
Sam – that sounds good I like that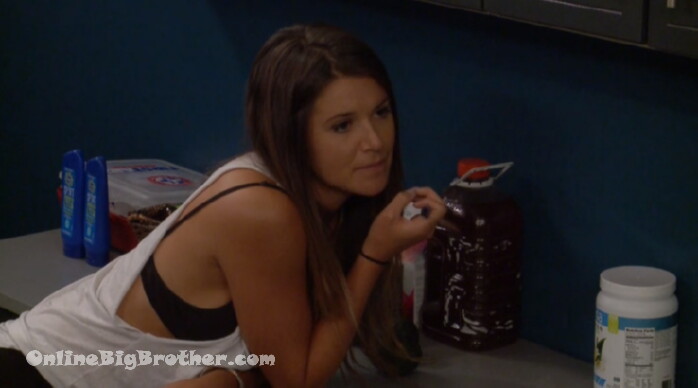 3:50pm Sam and Angela
Sam is trying to talk game with people.. she ends up talking about Enzo from BB12 and how she feels like him. (grenades)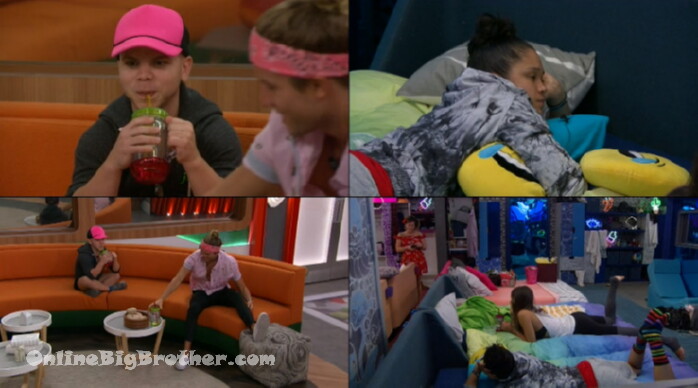 4:26pm We got chit chat…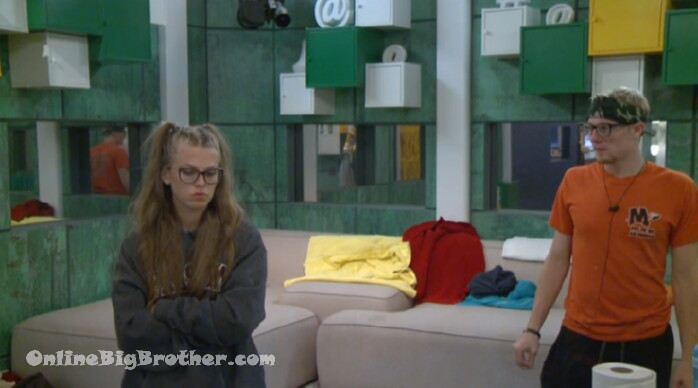 4:30pm Scottie and Haleigh
Scottie says the other side used Haleigh's week to get someone not in their alliance out and they are now trying to do it with Fes' week ( correct)
H – by getting him to take create for it
S – no, what did he say..
H – f* it I did it (Brett voted to keep the rock)
S – he said after waiting 60 seconds ..
Scottie says every time he tried to talk to her and him KAycee would talk she would let him talk to her.
Scottie says Kaycee has been deflecting for Brett last night.
Scottie – I told Fes I trust hinm
h – you need to go talk to him another time.. he doesn't know where his head's at..
S- oh boy
S – he says he doesn't want to talk game..
S – there's not a chance he's putting me up
H – no, you need to go talk to him.. he really pissed about the whole situation ..
Scottie says he thought the plan was for him to say he voted to keep Rocks which he did and then they would see who was going to try and claim they did. (LOL Scottie you think you are dealing with rational people)
4:36pm Fes and Scottie
FEs is going on about how people are scared to be on the wrong side of the vote they get scared
Scottie says Brett voted Rockstar out.
Fes – what do you think was up with Brett and Rockstar do you think they had a side thing
Scottie – that went back and forth.. if they did I don't understand it
fes – What I'm trying to understand with this past vote..
Fes says he doesn't talk any game with sam
Scottie – she gets sketcher every week, "She talked a lot of game with Rockstar
Fes – and she voted Rockstar out.. this game sucks..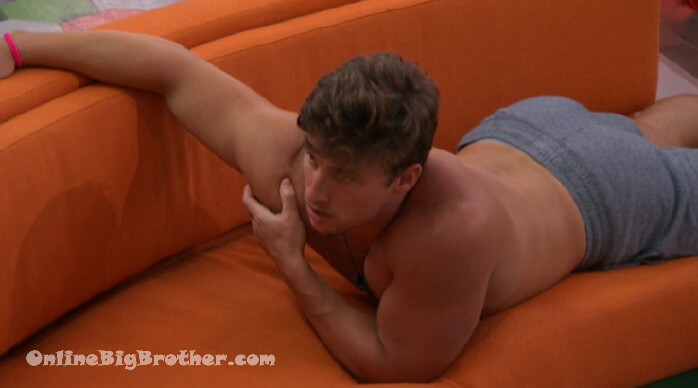 4:50pm JC and Brett
Brett thinks Fes wants him out. JC doesn't think it's him.
JC brings up the alliance with Sam ,"Sure, what am I going to say no.. "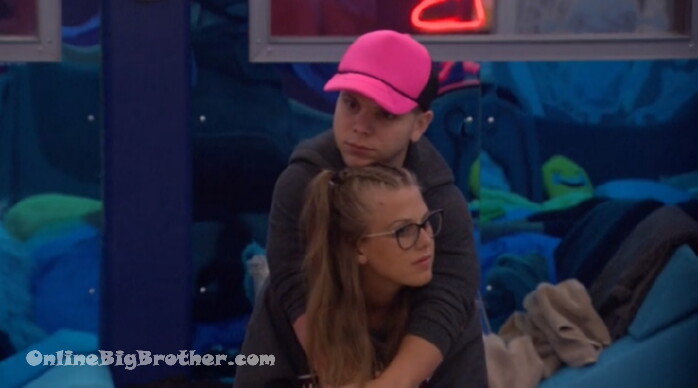 5:15pm Big Brother blocks the feeds for the nomination ceremony.
6:15pm Still blocked..
A real easy way to support the site if you are an amazon shopper is to make your purchases through our link. You pay the exact same thing but we get a small % commission. It doesn't cost you anything and helps us out.
Amazon Canada
Amazon USA