| | | | |
| --- | --- | --- | --- |
| POV: | ? | Next POV: | Aug 25th |
| POV Used | ? | POV Ceremony | Aug 27th |
| HOH: | ANGELA | Next HOH: | Aug 30th |
| Noms: | ? & ? | Have Not | ? |
A real easy way to support the site if you are an amazon shopper is to make your purchases through our link. You pay the exact same thing but we get a small % commission. It doesn't cost you anything and helps us out.
Amazon Canada
Amazon USA
HOH WINNER: Angela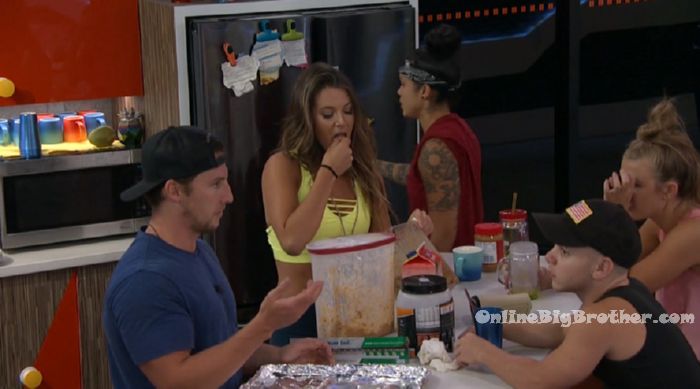 9pm Kitchen. Brett, JC, Angela, Fes and Haleigh and Kaycee. Angela – that was another all luck. All luck! Haleigh – no it wasn't that was skill. Brett – are you a carnie? The bearded lady. That was hands down the funnest I've had in a competition. Haleigh – Scottie would have won that. Brett – the best was climbing on JC. Angela – I think my letter will be from my best friend. I wanted to just chill this week. Fes – 72 days guys! 72 days! Guaranteed until next week. JC – there has to be another twist.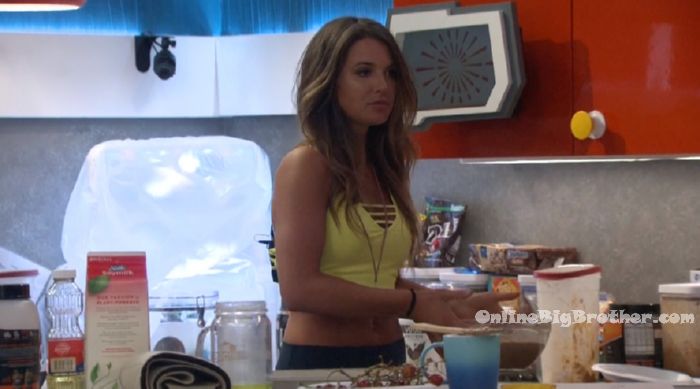 9:15pm Tyler and Kaycee hug in the storage room. TYLER "LETS GO! LETS GO!!" Kaycee – lets go! I don't have to go on the block next week. Tyler – we deserved this one. Kaycee – love you. Tyler love you.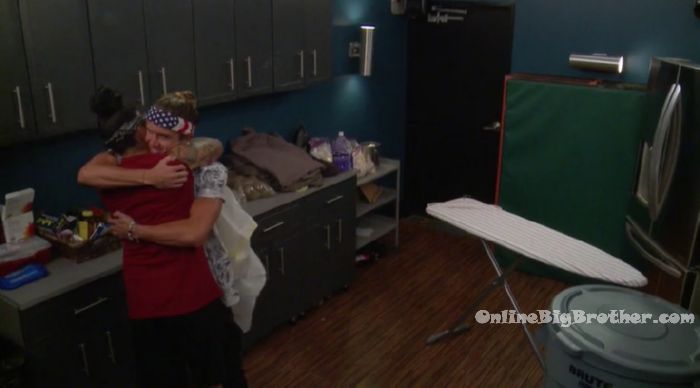 9:08pm Bedroom. Fes and Haleigh. Haleigh – I walked in there and Brett, Tyler and Kaycee were celebrating. Fes – Angela is not stupid. Haleigh – if I left she would only piss you off. Fes – she is good with me. She is not putting you up. Haleigh – she is putting my picture up. Fes – there is no way. You can't put two big targets up. You have to pick a target and a pawn. Haleigh – She will put me next to Sam. Fes – no she won't. Haliegh – Fessie I am going up. Fes – no you're not. If she puts you up and I win the veto then we're both gunning for her. She is going to put Sam and a pawn up. Its better to have two good people on your side.

Haleigh – Why was Brett celebrating with them? Fes – because he thinks she isn't going to put him up. Angela is not dumb. What does Brett offer her in the game? What can Brett offer Angela? Nothing. I'm not saying put up Brett. She is going to have to put up Sam and JC. And hope they don't win the veto and Sam goes. Haleigh – I am her target, Sam is not. Fes – why do you say that? Haleigh – I put her up! Fes – who cares, I squashed that last week. Haleigh – she didn't celebrate with us! Fes – who cares. She is smarter than that. Haleigh – its not a dumb move to put me up.. you're the only person mad at her.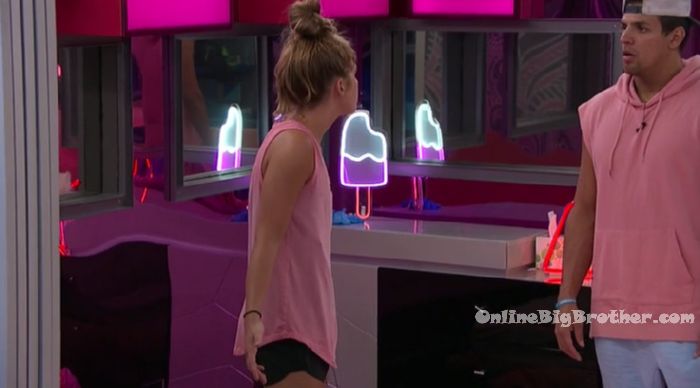 9:25pm – 9:55pm Bedroom. Angela, Kaycee, Tyler and JC. Kaycee – second HOH .. like a BOSS! They talk about how Scottie went out classy. They head to the kitchen. They're sitting around eating and chatting.
10pm – 10:15pm Kaycee, Angela, Tyler. Angela – guess what guys? TOP 7! Kaycee – guess what I'm not going on the … wait are you putting me up? They laugh. Angela – we've officially made it to day 79! Tyler – She is good! Angela – I hate that I won. I really didn't want to win. It was Kaycee's turn to win. Tyler – Kaycee will win the veto. Kaycee – yeah. Now we can breath!
10:20pm Sam is in the storage room moping the floor and cleaning the fridge.
10:30pm Bathroom. Kaycee – this is perfect! Stress free week! Brett – I look like a loser! She's gotten two (HOH's) before I've even gotten one.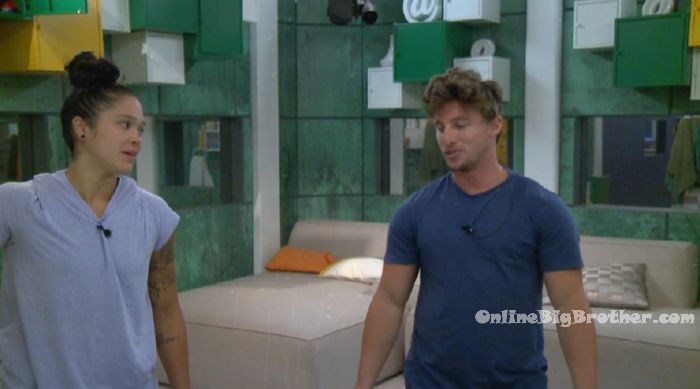 10:45pm – 10:55pm Fes comes out of the storage room with 2 beers and a bottle of wine. He says TOP 8!!!! He runs to the kitchen and everyone chases after him. Fes – we made it to top 8 and all we get are two beer and one bottle of wine. Tyler and JC
2 Beers & a Bottle of Wine @bigbspoilers #BB20 pic.twitter.com/C6NkGd2ENf

— Dawg (@DawgsBigBrother) August 24, 2018
11:10pm – 11:40pm Kitchen. All the house guests are standing around the island laughing and chatting about past events of the season. Sam is watching and laughing from the kitchen table.
Brett recalls when Sam called Rockstar – "BlockStar"@bigbspoilers #BB20 pic.twitter.com/dJq3T4j2ch

— Dawg (@DawgsBigBrother) August 24, 2018
12:05am Angela & Haleigh.
Angela – I asked Brett, If you win what would you do? Would you be okay with Sam going. He was like yeah. Haleigh – Have you decided who you're putting next to Sam? I know it makes sense for you to put me next to hr .. to justify it. It would suck but whatever you ant to. Angela – I've been thinking about it. I think everyone wants a smooth week.
Without your support this website wouldn't be possible. Please consider making a donation. Any amount is greatly appreciated. All donations go directly to paying the considerable costs associated with running this site.
Rank the houseguests!
Easiest way to Rank the house guests use link below