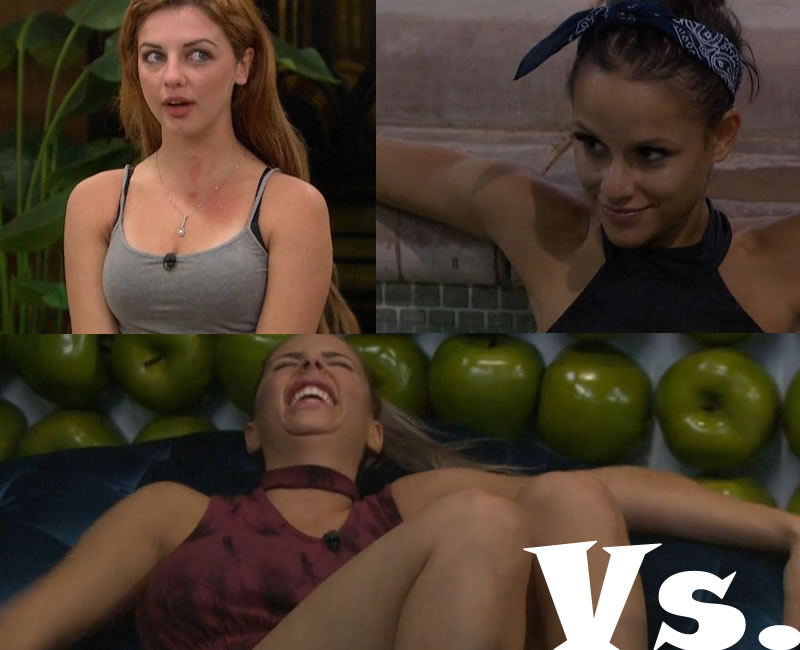 Week 5 ended with Jessica using her Hex to expire Paul's Head of Household, thus saving her and Cody from eviction. The following HOH was a crap shoot called Gravestone Golf. Josh pulls out the win. 
The temptation competition
Everyone but Christmas and Josh played in the week 6 Temptation competition called Strangest Things. Cody ends up winning, granting himself safety from nomination. Jessica comes in last meaning she is the third nominations that week.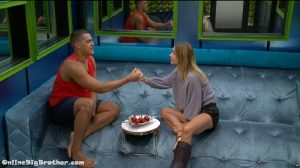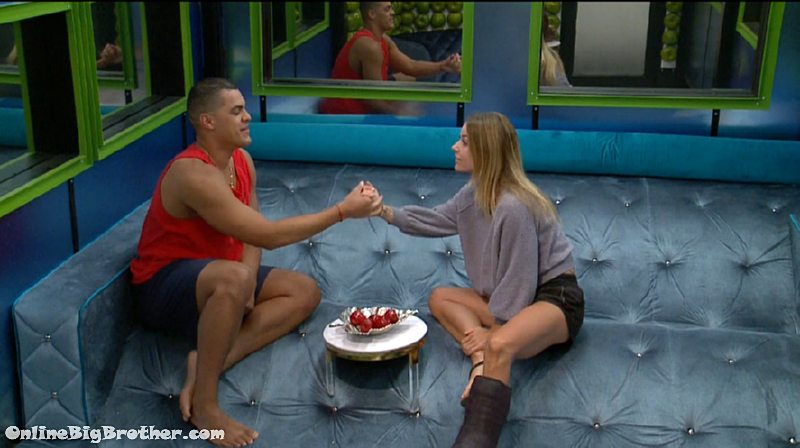 Josh shares his plan with Christmas
Early on in his HOH Josh tells Christmas that he wants Elena gone this week. This is a big shift from "what the house wants". He knows Paul really wants Jessica out, but josh claims for his game Elena is the better target. Josh lists off a bunch of reasons of reasons why Elena is the better target.. and for a minute gave us hope he broke free of Paul's spell. Christmas listens to josh through this.. "it's your HOH I'm just playing devil's advocate" Xmas points out that Elena isn't "activated" at this moment. She's not after them she might be in the future but not right now. Jessica and Cody are after Josh Right now! Josh still seemed set to get Elena out. Christmas keeps Josh plan a secret only hinting it to Kevin. Sadly nothing comes of this. later in the week during one of Josh's meatball chats he tells us he wants a final 3 with Christmas and Paul..

Paul's Nominations
Josh nominates Mark and Elena along with the temptation competition loser, Jessica. Paul approved these nomination and  as a prize Josh gets to sleep in the HOH bed with Paul. Josh also got to use the bathtub but no in private he had to share the room and bathroom with Raven and Matt at the time. (no joke)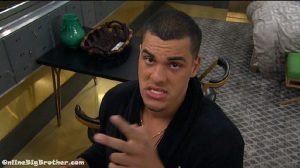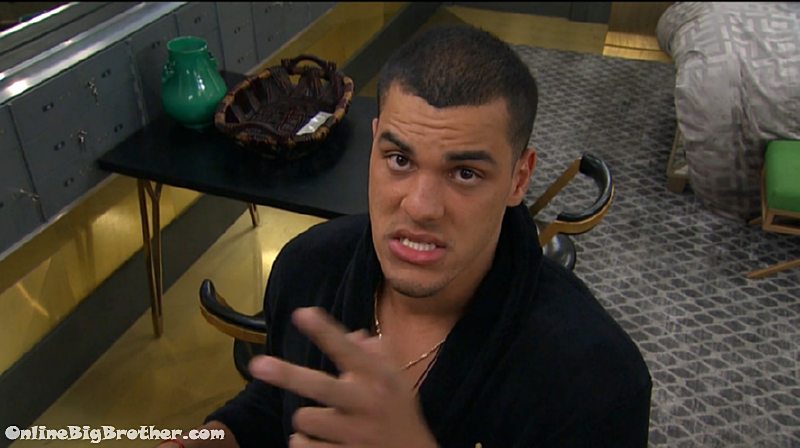 OTEV Power of Veto
The power of veto Players were picked. Christmas who still had a The Ring of Replacement from way back. (Who the f* would vote her for The Ring of Replacement? KRAKEN! ) The rules for the ring state: The HouseGuest will have the power to swap with one of the randomly drawn players in the Power of Veto competition and take their place and have the power to participate in any veto competition. This temptation can only be used once
Christmas took Cody off and replaced with herself, she couldn't compete in the veto because it was OTEV. This was a win for Paul who now has flushed the last temptation out of the game.  During the POV player picks Mark picks Alex. During the Veto it's suspected that Alex threw the comp to Mark. Either way Josh is very suspicious of this. Mark wins the Power of Veto.
Josh's plan for a replacement Nomination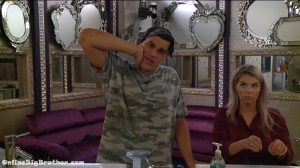 By Monday morning Josh was more or less talked out of taking a shot at Elena. It's obvious for us that Mark will use the veto but for some players like Christmas, Raven, Matt, and Josh they were annoyed by this.  It was cut from the CBS show but these houseguests actually used this as a angle to slander Mark's name. He's not allowed to use the veto on himself he's safe on the block. Mark is making Josh pick a replacement what a selfish person (Doesn't he care about Paul's game) . He must not be loyal to them if he doesn't trust them to vote out Jessica right? Josh's plan was to put Raven on the block. Xmas wanted to go up instead. That way they can save Raven as a Pawn until later in the season, and just get her out. Josh refuses to do this stating that xmas is his closest person in the house. In the end Josh nominates Raven. Raven is happy because now she can spread gastroparesis awareness month to the masses on the live show.
Tuesday Morning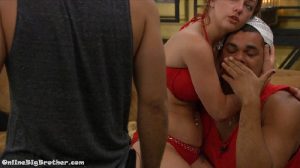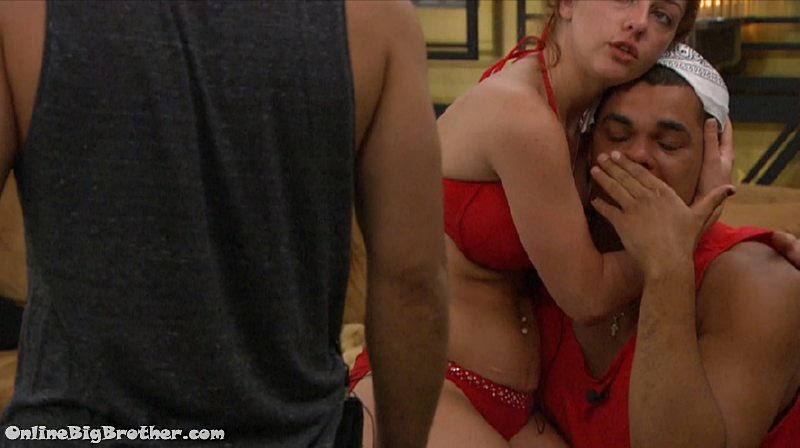 There was a WHIFF.. The  slightest of WHIFFs.. The house could  flip to get out Raven through some vote splitting f* up but a fight between Cody/Jess and Josh changed that. Jessica asks Josh if he could spell the word "Drought" Josh of course can. (Josh's intelligence and his speaking intelligence do not line up this is why people like Matt/Jess/Cody/Kevin pretty much EVERYONE has referred to him as a moron, dummy or blob)  
Josh, Jessica, and Cody get in a shouting match. COdy says some personal remarks against JOsh's weight, looks, etc. Jessica goes in with some pots and pan banging of her own. Josh finishes up with some personal remarks against Cody's personalty and looks. In the end Josh is upstairs crying to the house for what Cody said. Christmas and Paul call for a restraining order against Cody. 
Below is a collection of quotes from the fight on Tuesday Afternoon so you get an idea of what was said.
Cody – you f*ing waddle around here with your fat f*ing body acting like you are f*ing tough, you know it's only because we can't f*ing do sh1t in here
josh – ok
Cody – you want to f*ing try this sh1t on the outside go for it, I f*ing dare you
Josh – ok, you guys are making it real personal
Cody – it is personal josh

Cody – wait until you see the sh1t I say about you I f*ing destroy you Josh.. I'm going to destroy you on the outside I don't give a f* about you
Josh – Nice anything else
Cody – I'm going to rip you the f* apart on the outside (verbally), I swear I will make them all know how much of a piece of sh1t you are

Cody – you waddle around here with your pudgy a$$
Josh – your face is disgusting look at you is disgusting.. you demeanor sucks like it really f*ing sucks
Jess- have you looked in the mirror
45 minutes later Josh is banging pots and pans at Cody. Cody charges Josh. Productions finally steps in and tells everyone the pots and pans must stop. This rivalry  between JOsh and Cody has been simmering for a long time.. Egged on by Paul, Christmas etc..  It's finally reached the point where production had to stop it.
Paul questioning  Mark backfires.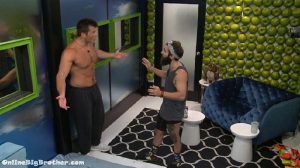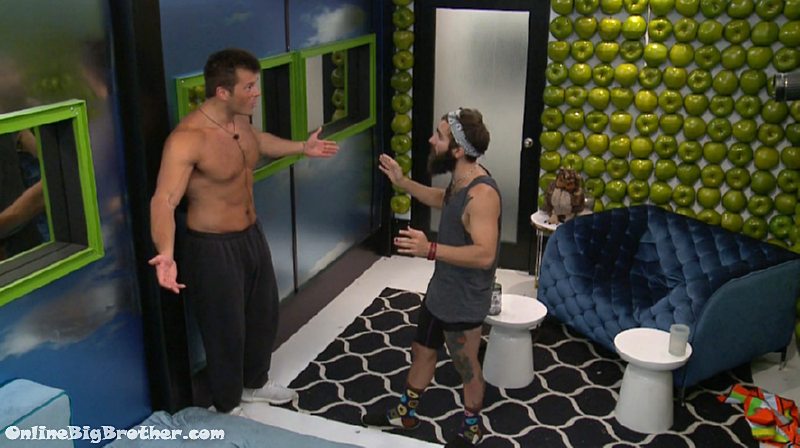 Paul tries to single Mark out, saying that Mark didn't do enough to stick up for Josh when he was being called fat a$$. This matters with them becuase Mark has a history of getting bullied for his weight when he was a youth. Mark puts Paul in his place in one of the only instances of this happening in BB19 so far.. I posted the conversations word for word here.I recommend you give it a look because Paul will continue this narrative of attacking Mark unless Mark wins HOH.

Below is a collection of Quotes from Mark FINALLY putting Paul in his place.
mark – now of all a sudden someone a little meaner wants to use words .. whats the f*ing difference
Paul – there's totally a difference dude and you know there is a difference
Mark – NO, when he was doing pots and pans and sh1t with me that brought me back to when I was bullied
Mark – he could have said anything.. it's that harassment aspect.. I'm defensive I have not control.. that's the bully aspect that is what he's doing

Mark – it's comical, you guys are acting like Josh is the f*ing victim here
Paul – when someone hurts you with words you're a victim
Mark – So if I push you and you knock me the f* out I'm the victim
Paul – no.. but this is a game this isn't real life..

Mark – people are just looking at isolated incidents, they just want to be with the group they just don't want a target on their back and it happens every season of Big Brother and it's a joke because it is a game and I know you don't want to be on the outside
Mark – this is pathetic how this game has got
Mark – you're crying about how somebody treated you but let me go antagonize them some more.. when you really get hurt by somebody you don't keep antagonizing them you leave them the f* alone
After the blow up
I want to say the game is starting to open up and that Paul's iron grip on everyone's mind is finally loosening. It all just depends on the HOH win this week. It's still a house filled with pathetic followers. I hope we see Paul or someone in his  inner circle have their game implode to help open things up. It's not a Kraken season yet I'm loving the fights every other day and hot damn those Jason/Kevin stories are the best. Once those are gone.. I hope you all like watching people eat cereal while worshiping Paul. .
Results from the Live Show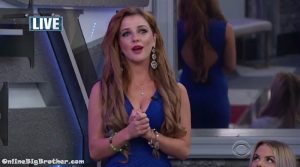 Raven
Hi Mom.. it's been an amazing summer.. thank you for accepting my disease gastroparesis and it's gastroparesis month.. gastroparesis gastroparesis gastroparesis gastroparesis gastroparesis gastroparesis gastroparesis gastroparesis gastroparesis gastroparesis gastroparesis gastroparesis gastroparesis gastroparesis gastroparesis gastroparesis gastroparesis gastroparesis gastroparesis gastroparesis money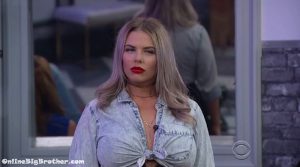 Elena
It's never easy to witness to a false fact… blah blah blah blah..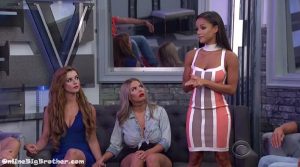 Jessica
Thank everyone at CBS.. being here is a dream.. COdy.. everyone said you ruined my game but all honestly you made this all worth it.. She ends with telling them Paul is the ultimate target and they are all fools for leaving him in teh game.. Paul performs for them.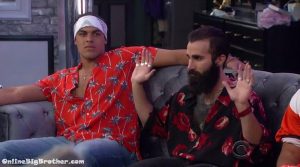 Alex Votes to Evict Jessica
Xmas Votes to Evict Jessica
Cody Votes to evict Raven
Kevin Votes to Evict Jessica
Paul Votes to Evict Jessica
Mark Votes to Evict Jessica
Matt Votes to Evict Jessica
Jason Votes to Evict Jessica
Jessica is evicted.
Josh starts singing his awesome circus song as Jessica is evicted..
Josh tosses every dig he can after Jessica is evicted.
Julie Chen "do you love him"
Jessica – of course I do
Hocus Focus
Question 1 All true
Q2 False – Jason, Kevin, Mark, Paul all out
Q3 False –
Next performance
Q4 False – Christmas out
Q5 false – Cody, Elena, Matt out
Just Raven and Alex.. Raven asks Alex to throw it..
Q5 True – Alex is the HOH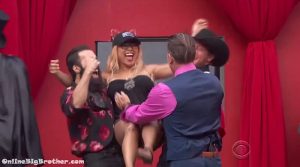 They've made it to Jury.. everyone is happy. Matt feels like he's won the game.
No Jury Battle Back Once you're out you're out
Double Eviction next week
Next Friday it's a special bonus episode.
Links to the ranking system
Rank your house guests here
For those of you that like Statistics here are some expanded reports.