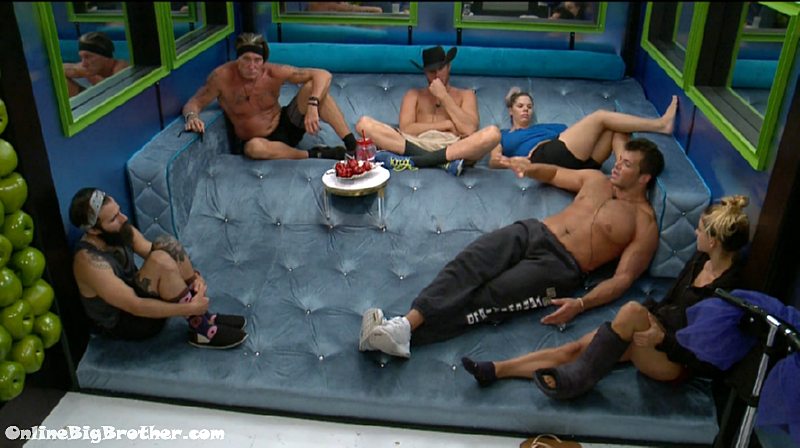 2:16pm APSR Mark, Paul, Xmas, Elena, Jason, Kevin
Paul – Mark how come you didn't say anything..
Mark – to what
Paul – to Josh being personally attacked by his weight
mark – I was not there
Paul – you were sitting at the couch bro
Mark – I didn't hear what was said I was talking to Elena and Raven about wildlife sh1t
Kevin – I wasn't there when he was saying personal stuff
Paul – Cody and Jessica were calling him fat a$$ a fat f*
Paul – as somebody that has personally gone through that why didn't you stand up.. that's my question
Mark asks Elena if she heard those things
elena – no
mark –  so why
Paul – just asking dude
Mark – no no no you're clearly pissed off
Paul – I am
mark – so why wouldn't you just ask me other than assuming
mark – You asked my why I didn't step in .. you did ask me if i F*** heard it
paul – ya .. but you just told me you didn't hear it you don't have to get defensive.. (WTF paul)
Mark – you could have approached me by saying did you hear what Cody said
Paul – Clearly you heard because we've been talking about.. you had a different approach when we were attacking Cody and Jessica, When we were attacking Cody and Jessica you said you don't stand up for things like that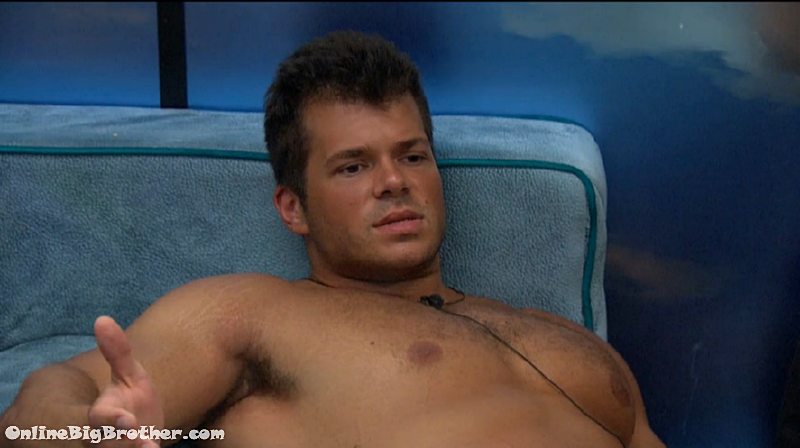 Paul – why didn't you feel that way when Josh was being attacked
mark – cause I didn't hear those words
Paul – no that it's being said how come you have nothing to say about it when you have personal experience
Mark – josh attacked me not game level when you call somebody a bully or attack their personality..
Mark – not a single person said anything to me about it
Paul – what do you mean
mark – this happened twice .. in the hot tub and in the kitchen .. Josh came to me.. I'm a bad person, I'm a bully, that I have a shitty personality, that I'm not a good person twice.. I'm not expecting people to stand up for me
Mark – But did anyone take my side
Paul – I know personally you've been through this that is why I'm asking how you feel about it
Paul says he's upset because he's seen people deal with weight issues in his family with his sister.
Mark says he didn't know who started what
Paul – Cody attack his weight
Mark – Josh was attacking Cody's looks.. whatever is on his face makes him puke is disgusting..
Paul – oh so you heard that
mark – Cody wasn't screaming at him, Cody got in his face..
Paul – I dunno.. none of us said anything..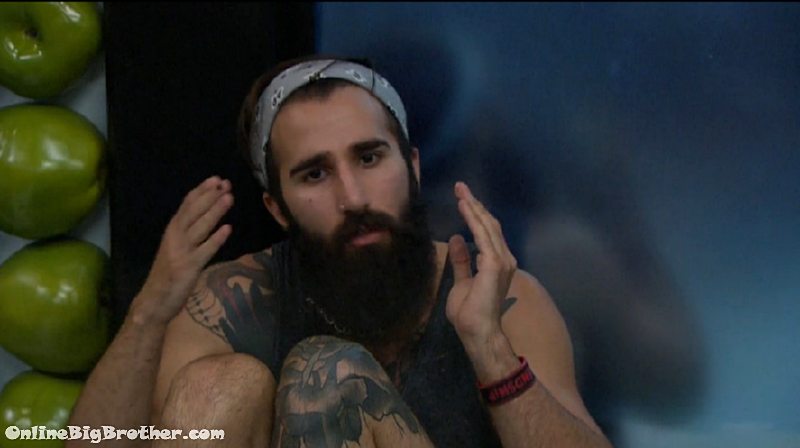 Paul starts calling mark out for making a big deal when they attacked Jessica and Cody but now when the rods, Fat, Puddgy are being used he's quiet.
Mark – I didn't hear any of those words.. again
Paul – you heard them now.. I'm asking you what are you feeling I'm not trying to single you out I'm just asking a question
Mark – it's wrong to say those words
Paul – vocalize it .. you've been through it and it hurts
Mark – so you came to me with the pots and pans.. where was everybody else..
Feed subscription lets you go back and re-watch everything we post here CBS All Access Live Feeds with a FREE 7 DAY trial.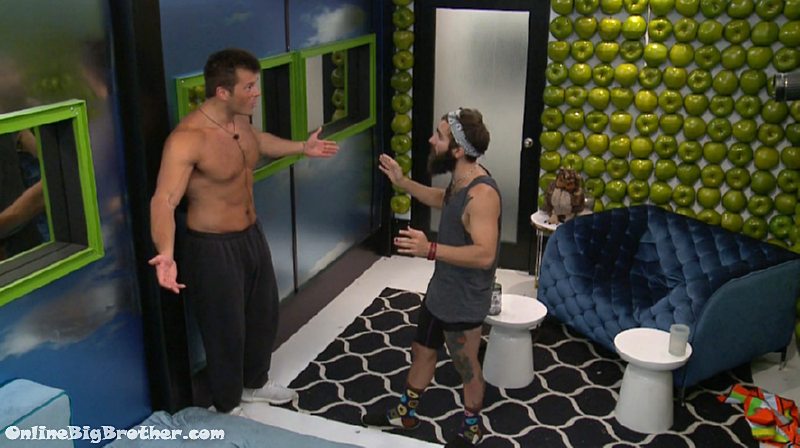 2:30pm Paul and Mark APSR
Mark – me and Josh have been bullied, I learned something from it..
Mark – regardless if this is personal or strategy i wouldn't continue to harass people..
Mark – people don't think it's bullying they think it's strategy because it doesn't use words. that's not harassment?
Paul- it is harassment
Mark – Thursday morning there was harassment on me .. the Thursday I thought he was going home he followed me around with pots and pans
Mark – nobody was saying anything.. just because he wasn't using any words it's ok?
Paul – no
Mark – ohh
Paul – his game strategy was I'm going to get under Mark's skin
mark – Who was there for me .. Cody
Mark – everybody is egging it on because it's funny
mark – now of all a sudden someone a little meaner wants to use words .. whats the f*ing difference
Paul – there's totally a difference dude and you know there is a difference
Mark – NO, when he was doing pots and pans and sh1t with me that brought me back to when I was bullied
Mark – he could have said anything.. it's that harassment aspect.. I'm defensive I have not control.. that's the bully aspect that is what he's doing
Paul- Okay point made I understand
Mark – because we have a legit tough guy in the house that doesn't see it as just a game and wants to make it personal .. I don't care..
Paul says the only reason he brought it up to Mark is because of the wording that Cody used and he knows Mark went through Weight challenges.
Mark – when people call me those names I'm not f*ing antagonizing them.. I'm not going back and forth with them .
Paul – it's still not Ok dude
Mark says he didn't hear any fat comments from Cody because he was in the other room.
Mark – it's comical, you guys are acting like Josh is the f*ing victim here
Paul – when someone hurts you with words you're a victim
Mark – So if I push you and you knock me the f* out I'm the victim
Paul – no.. but this is a game this isn't real life..
Mark says it's hard to separate game and life when it's personal.
Paul says that is the game they signed up for the pressure cooker aspect is a big part
mark – so I signed up to get bullied
Paul – no
Mark – but I got bullied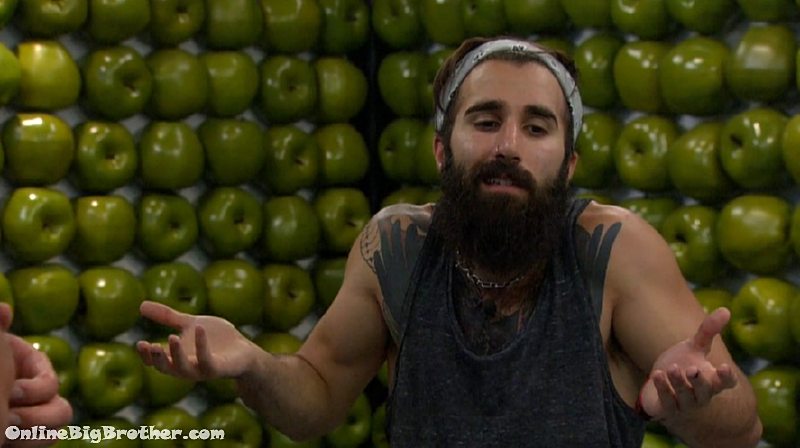 Paul – had Josh come to you and called you a fat a$$ and a Fat F* you better believe I would have said sh1t to him to or be having this conversation with him
Mark – well here is the beautiful thing I don't f*ing know because clearly people heard it and didn't say a f*ing word
Paul – heard what
Mark – I dunnno if you were one of them but people clearly heard what cody said to josh (fat comments)
Paul – right (paul being 1 of them)
Mark – who said something
Paul – nobody
Mark – they want to wait until after to react.. how f*ing pathetic is that
Paul – absolutely pathetic .. I was just asking because you personally went through that.
mark – all these people want to act like it so F*ing bad what Cody says
Paul – and said nothing but Josh was standing up for himself
Paul says that Josh told them not to get involved unless COdy got in his face.
Paul says Josh was crying in the HOH after hearing what Cody said to him, "It broke my heart seeing him sobbing because of words I have seen my sister in that state"
Mark – does your sister antagonize someone like that
Paul – no
Mark – if you antagonize someone enough they are going to say something
Paul – of course
Mark – truthful I can't handle it that is why you don't see me antagonize people
Mark – the way Josh is acting is comical..
Paul says the things Cody is doing is Way over the line
Mark – than somebody needs to say something
Paul – we have.. to Cody..
Mark – nobody said anything in the moment..
Mark – But Paul are you really worried Cody is going to hit someone in this game..
Paul – yes.. absolutely.. if he gets to a point where I get pushed to a certain limit I might not be able to control myself
Mark – dude, who is he going to hit..
Paul says Cody might cross someones line and cause a violent reaction
Mark – everybody acts like the shit Josh did to me was deserved because of the drink
Paul – never
Mark – ok, then they think it's because i'm just the bigger guy and can just walk away
Paul – no f*ing way
Mark – I'm not hearing people behind closed doors saying that sh1t was f*ing wrong.. i'm not understanding this at all
Paul – voice it dude
Paul says the reason why he laughed when Josh was "bullying" Mark it's because he felt uncomfortable.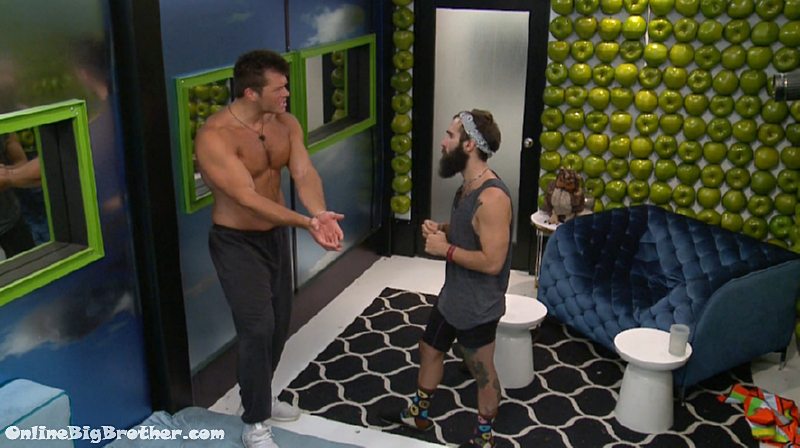 Mark says it's pretty stupid if Cody actually hits Josh it's all recorded.. he'll go to Jail.
Paul says what if Cody hurts someone before he goes to Jail ..
Mark – do you think if he says it or not that will change the kid..
Paul – why is that behavior in here..
Mark – you go into someones room and hit pots and pans you follow them around hit pots and pans keep talking non stop..
Paul – it is harassment
mark – that's f*ing harassment.. I'm sorry I don't have sympathy and voicing concern because of words that were said to that individual
Mark points out that Christmas has a very strong point of view and said nothing during the whole thing "that's a coward"
Mark points out that after Paul and Cody got into it. Josh and Cody did (last week) and during that fight Josh made personal remarks against Cody not game related.
Mark – I told Josh to sht the f* up and that is why he attacked me and everyone just enjoyed the show
Mark – people are just looking at isolated incidents, they just want to be with the group they just don't want a target on their back and it happens every season of Big Brother and it's a joke because it is a game and I know you don't want to be on the outside
Mark – this is pathetic how this game has got

Mark – you're crying about how somebody treated you but let me go antagonize them some more.. when you really get hurt by somebody you don't keep antagonizing them you leave them the f* alone
Paul says Josh is a child sometimes adds that Josh is reacting emotionally that is how he is.
Paul says he's very upset with the fat comments because his sister suffered from anorexia
Paul – I've had it with Cody. I'm done..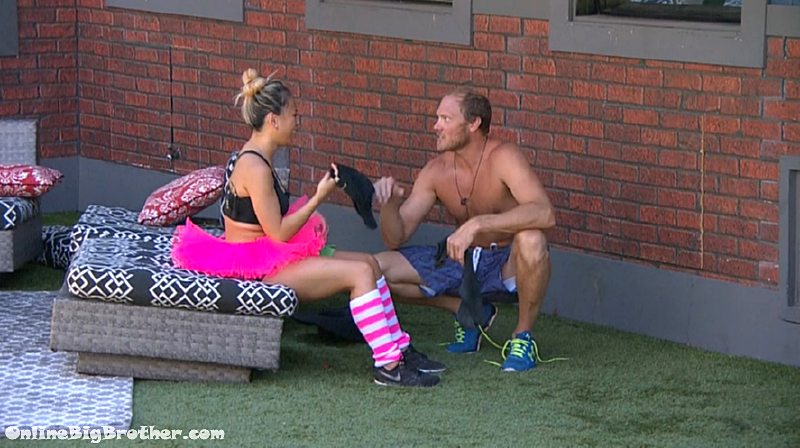 2:48pm Jason and Alex
Jason is pointing how Matt and raven are acting like Jason never had Alex's back.
Jason – I'm not going to jump in and whip Cody's a$$
Alex – at least hold him down while I punch him..
Jason – in the outside world I'll hold fools for a hundred days and let you cheap shot the piss outta them.. but in here..
Alex – he ran into the house and tried to jump Josh, nobody stepped in, Matt didn't step in, Raven didn't step in
Jason – they don't want to get f*ing ejected
Alex – raven is trying to say that she hit her hand trying to pull me out of the way..
Alex – I'm like don't worry about me I'm ok
Jason – they (Matt/Raven) know they are f*ed
Jason – if I win HOH I'm putting the pair of them up
Alex – If it comes down to you and me i'll throw it to you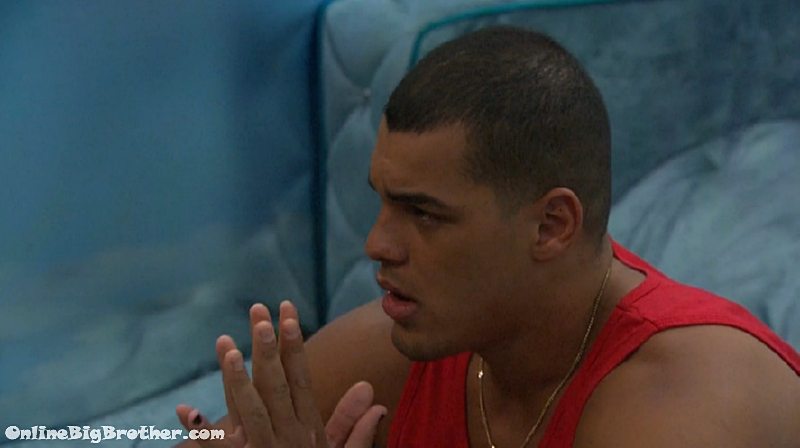 3:13pm Josh and Mark APSR
Mark clears up that he wasn't in the room when Cody, Jessica and Josh were arguing. If he heard the weight comments first hand he would have said something.
Josh says he blacked doesn't remember who he say in the room.
Josh calls Jessica a name dropper and a loser.
Josh – no more pots and pans
Mark – was that your choice or theirs
Josh – theirs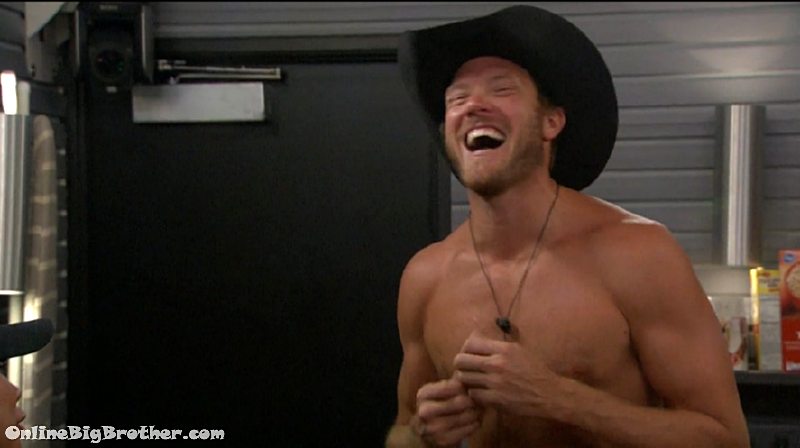 4:05pm Alex and Jason Storage room
Jason says Josh is scared of the backlash but he keeps doing it.
Alex says they were being a bully to Josh
Jason – everyone in this house is a bully when it works for them… expect for me..
Jason laughs..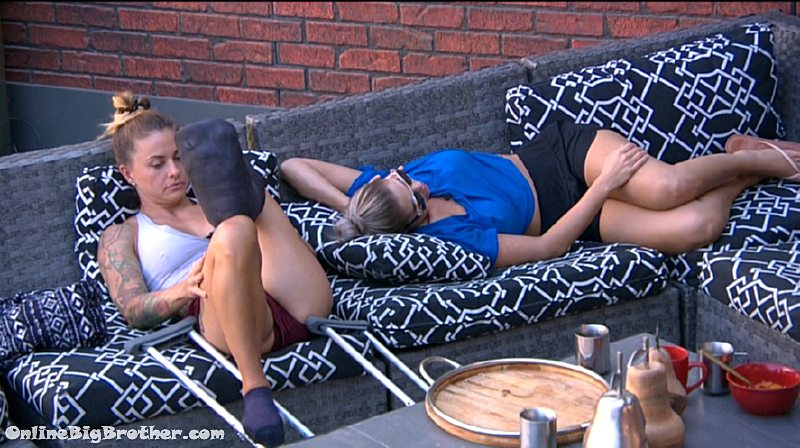 4:05pm Xmas says that CBS tried to contact her a couple years ago but the person she had answering her emails f*ed up..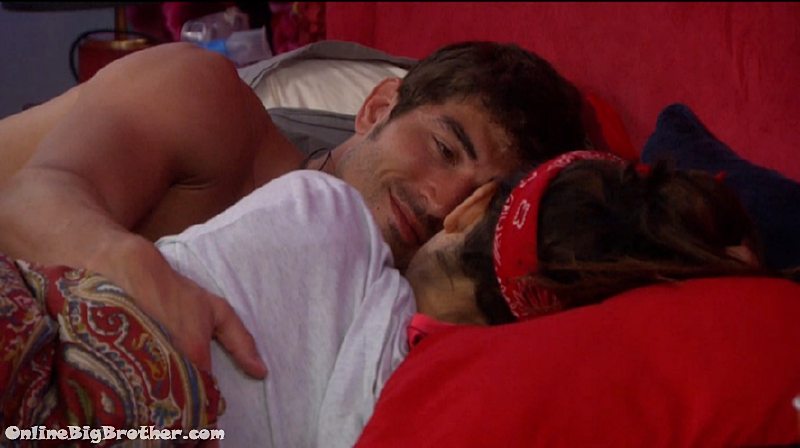 4:17pm Still in the game.
Links to the ranking system
Rank your house guests here
For those of you that like Statistics here are some expanded reports.