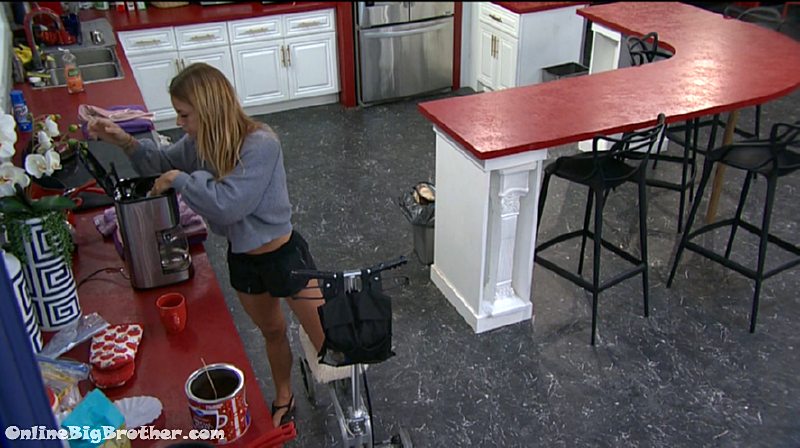 Feed subscription lets you go back and re-watch everything we post here CBS All Access Live Feeds with a FREE 7 DAY trial.

8:14am Houseguests getting up.. Christmas making Coffee..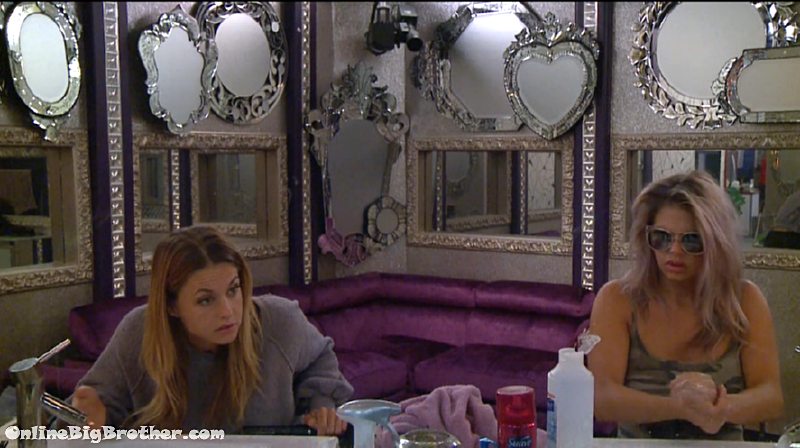 8:17am BREAKING.. Elena up before 5pm! Holy shit..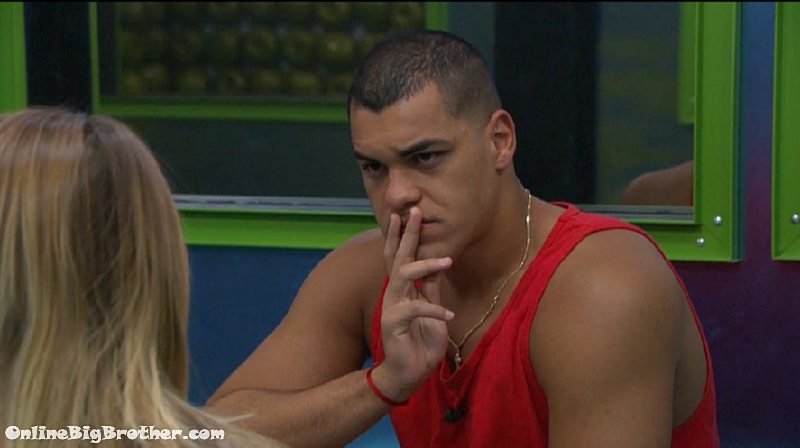 8:18am APSR Xmas and Josh
Xmas – how you doing
josh – Good
Josh – whatever me and you talk about is between me and you not Paul not nobody
Xmas – 100 I swear
Xmas – I trust Paul there's a group that I trust For sure..
Xmas – Paul has his own motives.. I'm looking out for your interests
Josh – I want Elena out..
Xmas – there's already people saying there's 2 HOH's.. I know he slept up there.. I'm not saying separate yourself..
Xmas – I just want to make sure you are treated the same way..
Xmas – let me hear what you want and Bounce it off me i'm not telling you what to do
Josh – I know.. you need to stop worrying about that it's not my concern we are working together..
JOsh – I've put 2 and 2 together.. that is why I want Paul out of this.. Jess and Cody are the obvious targets.. but I don't necessarily want them to go home this week.. If one them go home I'll be happy I don't give a sh1t but if one of them saves themselves Fine..
JOsh – Elena is worry the sh1t outta me
Josh – Elena is locked in with Jess/Cody/Mark, Elena is Locked in with Paul, Elena is locked in with Matt and Raven
Xmas – Raven maybe..
Josh – She's locked in with 7 people and she's a great liar and extremely persuasive, and she can defend her case.. she did it to me in the storage room I was shocked.. .. she goes around and puts you in a predicament and say this and this what would you do..
Josh – and she's a competitor..
Josh – I want her out.. we get rid of Elena.. Cody and Jess are still targets..
Josh – I want to Backdoor Elena.. I'm not going to tell Paul anything.. until the point I see..
Josh says he's not telling anyone but Christmas..
Josh – the second you game is threatened.. the disloyalty.. you drop your showmance.. you turn on Cody and Jess your closest friends and allies
Xmas doesn't think Elena and Mark are as separated as they say. Xmas thinks Elena just lost interest in Paul.
Josh – she voted against me and she campaigned heavily against me..
Josh points out that Elena is Shady and isn't coming clean with what she did whereas Cody and Jessica have.
Josh – I want Elena out..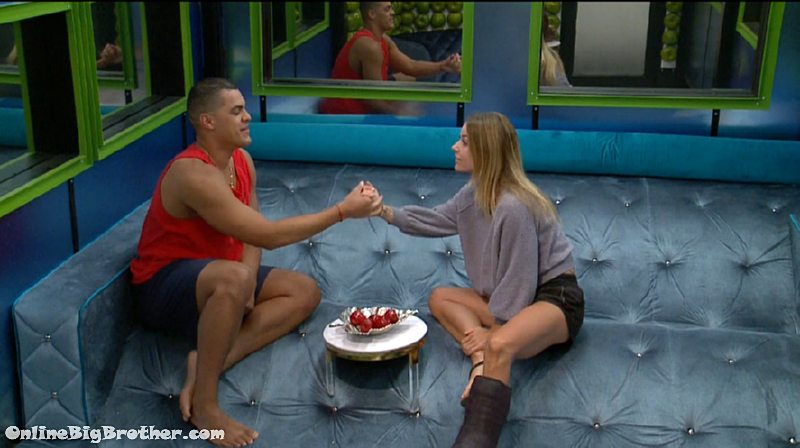 JOsh – a red Flag for me last night was he goes in my HOH room and says Oh go get us water.
JOsh – it was him and Elena up there..
JOsh says Paul was getting him out of the room so he can talk to Elena.
Xmas – he can't be kicking you out of the room.. nobody can..
Josh – it just conformed more that I wanted her out..
JOsh – WE get rid of Elena, Mark is by himself and Cody/Jessica are still house targets
Xmas – HUGE targets
Josh says if Jess/Cody win they won't come after them they'll go after Matt/Raven
Josh says getting rid of Elena pulls her away from Paul
Josh points out how fast Elena flipped on Mark, Jessica and Cody she'll flip on Paul too.
JOsh – She'll flip on everybody..
Josh says COdy has owned up to things whereas Elena hasn't he knows where Cody is coming from but Elena is shady.
Xmas – she's going to work the house.. she needs to be backdoored
Josh – She's going to be backdoored.. all we need is 5 votes right..
Xmas – COdy is a HUGE competitor.. I support you whatever you decide to do..
Xmas – the longer Elena is in this house the more potent she is
Xmas tells him don't confirm with Jess but have a conversation with her before nominations to express that Josh has a bigger plan. Present it in a way so Jessica can trust what you are doing.
Josh thinks if he does that she'll alarm Elena and if things don't work out with the plan then Jessica will throw that back in his face..
Josh is going to have a conversation with Jess to clear things up personally.
Josh says if Elena is safe he wants Cody out.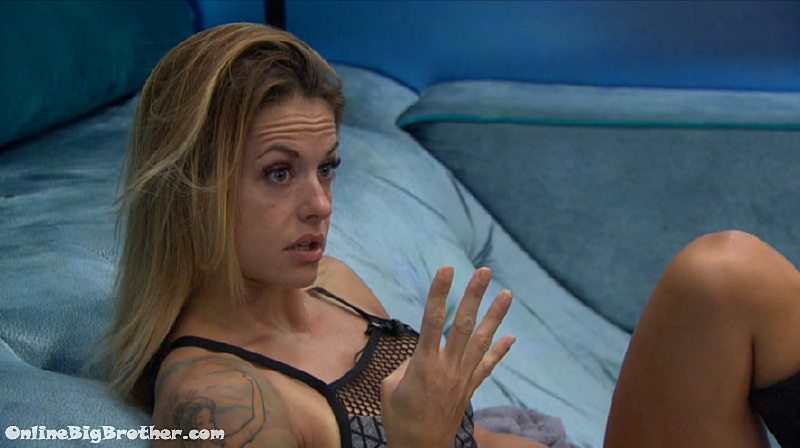 8:34am
Jason briefly comes in to chit chat.. Josh says he knows he has "their" support (meaning Jason, Kevin, Alex aka the meatballs)
They count the votes.
Xmas – that's 4 votes.. (Kevin, Christmas, Alex, Jason and either Jess/Cody)
Josh – I'll tell Paul, you trust me right? I went to bat for you
Xmas – you have a conversation with Jessica and tell her I have a plan I'm giving you what you and Cody want and letting you get to Jury.
Xmas – I want Cody bad too.. he's dangerous in the house BUT I think at some point you can have a conversation with Jessica.. i'm getting what you and Cody asked for to go to Jury I need you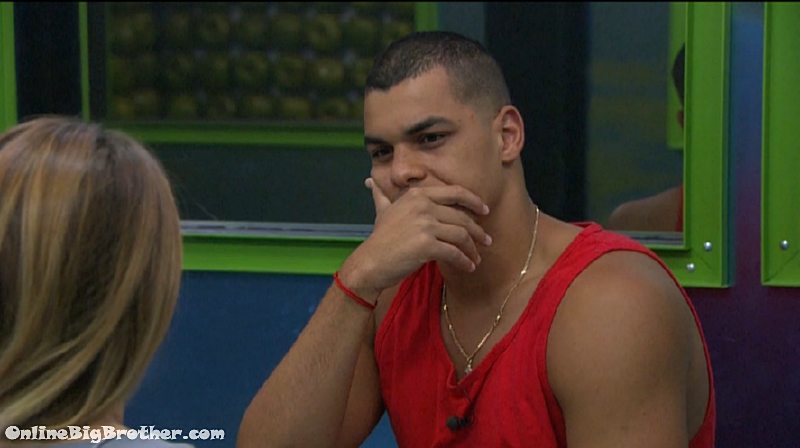 8:41am Xmas and JOsh
Xmas says right now Elena is on their side
Xmas – she's neutral.. she's not activated to come after you
Xmas – I wouldn't' put her up (yes backdoor)
Xmas – you can't take a shot at her unless you have the votes.. If Cody or Jessica are off the block you will have the votes..
Xmas – just be cautious..
Josh – let the week play out.. Jess and Cody got up they go home.. but if one of them pull themselves off… (Elena backdoor goes ahead)
Josh says on a personal level he wants Cody out of this house but on a game level he's seeing Elena "as the bulls eye"
JOSh – she dropped mark at a drop of a dime because her game is threaten.. disloyal as f**
9:08am Feeds on pound puppies..
10:10am Feeds back houseguests all up getting ready for the temptation competitions.
Looks like everybody but Josh/Christmas is competing.
10:29am Bunch of houseguests in the kitchen prepping for the competition. Everyone sharing fun conversation..
Alex – Jason did you have sugar today
Jason – yeah
Alex – Stop that.. (HAHAHAH)
They're talking about Mark's deadly farts.
Josh says Mark farted and it was so gross he had to take a shower at 3 in the morning to get the smell off him..
JOsh – we could die..
Jason – I feel like I'm getting dumber this very moment..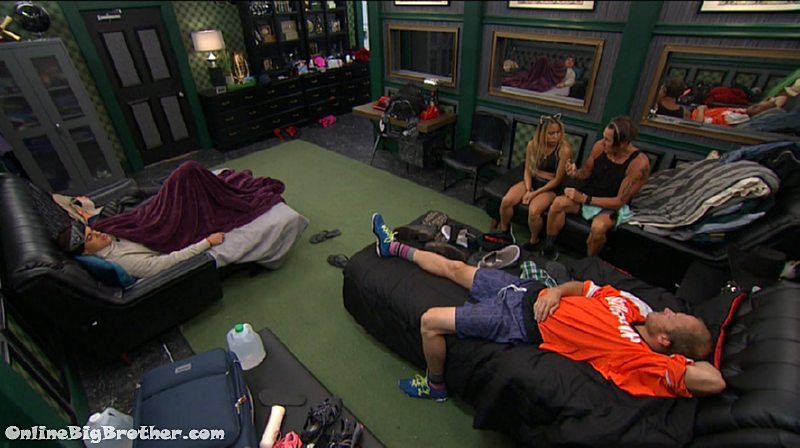 10:38am The Meatballs (Jason, Josh, Kevin and Alex)
Meatball chit chat..
JOsh talks about his tweets..
Josh – "hashtag MeatBallNation"
1:10pm Feeds on pound puppies
2:40pm NO FEEDS 4 U
3:51pm Pound puppies
6:21pm POUND
6:45pm Still nothing..
8pm No feeds for you..
If you plan on buying anything from Amazon. Use this link Amazon home
Doesn't cost you anything and we get a small cut.
Links to the ranking system
Rank your house guests here
For those of you that like Statistics here are some expanded reports.