POV Holder:
?
Next POV
July 13th
POV Used
?
POV Ceremony
July 15
HOH Winner:
Helen
Next HOH:
July 18
MVP:
?
Original Nominations:
Current Nominations:
Last Evicted Houseguest
David, Nick
Have Nots
? Judd, Jessie, McCrae, Amanda ?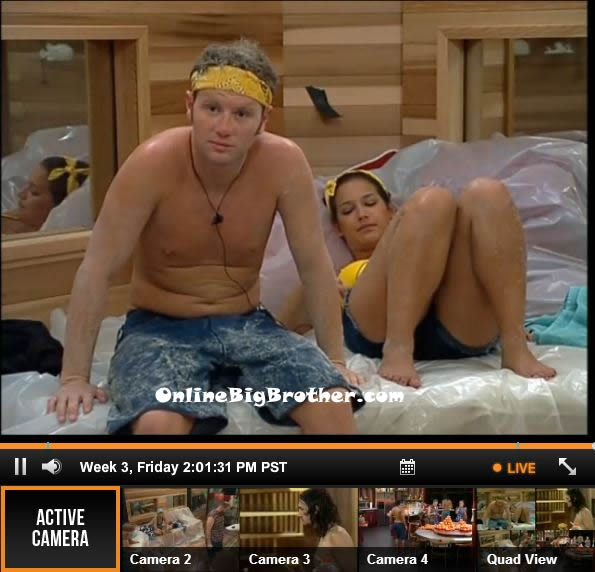 2pm When the live feeds return from showing TRIVIA during the have / havenot competition – Judd, Jessie, Gina, Spencer, Amanda and Aaryn are in the bathroom showering and talking. The bathroom is coverd in plastic to protect it from the mess. Jessie and Judd talk about how it was fun. Gina says I look like a Jew! Gina asks who do I look like? Amanda isn't sure. Gina says a Jew! Amanda says oh. Jessie comments that the living room tv says Nominations Today! (Not sure but I think the havenots are Jessie, Judd, Aaryn and Amanda)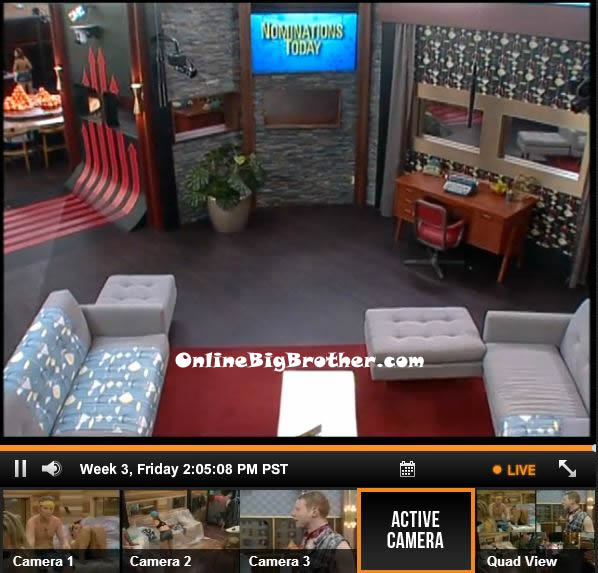 Up in the HOH room. Helen tells Candice that she can't trust Howard or Spencer. Candice asks what why?! Helen says she doesn't want to talk about. One of them is being back doored. I am bringing Jeremy over to our side! Helen says they are totally against us! Candice says that we can't bring Jeremy over. Helen says fine we can back door him. Candice asks can't we just scare Aaryn, one of the girls. Helen says okay we can do that! Helen looks at the spy screen and says I am on to you Howard and Spencer!! Andy joins them. Helen says that she wants to start talking to people, I want information and I want people to be honest with me. Candice asks again can you please just tell me what happened? Helen says no, not now. Andy says he dug his own grave. Candice says she wants to know why Aaryn yell out that Amanda and McCrae were in an alliance with them. Helen says that she is just trying to throw them under the bus but we trust McCrae. Helen says that she wants to put up Spencer as the pawn. Helen asks why not Howard. Helen says because he was trying to throw the competition. Candice says that she is on their side but she needs to know information to be on the same page with them. Elissa says that she is going to be using all of their have not guacamole. (Havenots have to eat Guacamole and Grapefruit.)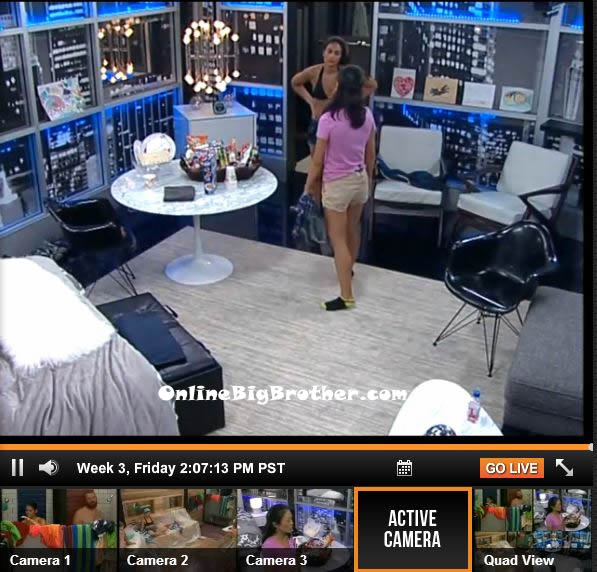 2:20pm – 2:30pm Helen asks Jeremy to come up to the HOH room. She says that this is like making a deal with the devil but if I keep you safe will you do the same in return. Jeremy says that he will keep her safe and not go after her for not just 1 week, 2 week, 3 weeks… but for as long as I can. Helen says you hear that America, You hear that Jeremy's mom! Helen says that she hates disloyalty and can't stand it! I know that there are people in the house on my side that are being disloyal to me. Jeremy says that he aligned with someone that is hurting his game and she is not helping his game. Helen says if you can be loyal to me I can be loyal to you! Jeremy says that he will be loyal to Helen. Helen asks if I put up Kaitlin how would you react? Jeremy says that it would suck but I understand it and I know everyone needs to go home. She is my cuddle buddy but I am here to play the game. Helen says I may put her up as the pawn, I have other bigger fish to fry but she may go up and I want to make sure you won't come after me for it. Helen tells Jeremy that they can help him and can use him because he is strong in competitions. Jeremy says that he wants to work with them. Jeremy heads down stairs. Helen goes into the HOH bathroom and talks to Candice who over heard the whole conversation. Candice heard about the guy alliance and tells Helen that she knew it!
FREE 2 DAY LIVE FEED TRIAL: Subscribe Today!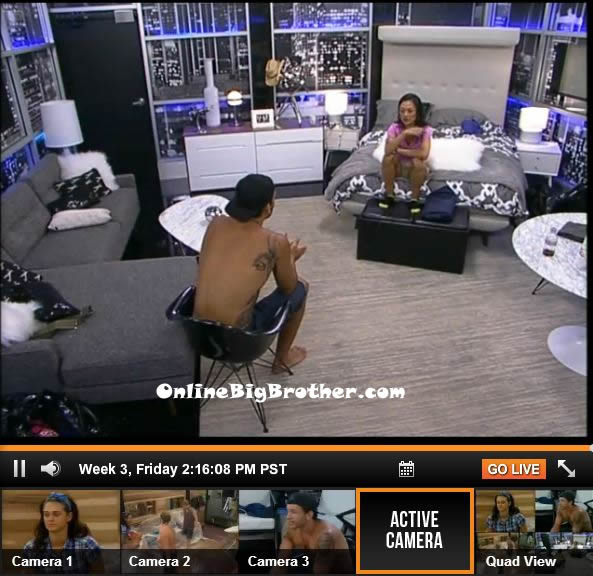 2:30pm McCrae comes up to the HOH room and talks to Helen about how he wanted to admit to her about the guys alliance. Helen says Amanda told me just in the nick of time. Its better that you and Amanda told me before he (Jeremy) did. McCrae says that he want's Jeremy gone, he walks around like he owns this place. McCrae tells Helen that the missing vote was either Howard or Spencer it was a conceited effort where one would vote with and one would vote against to then blame it on Jessie. Helen says that she knew it! They talk about them getting out Nick was the best thing that could happen. Helen says what do you think about me putting up Aaryn, Howard or Spencer up. And then we can back door Jeremy if we win the veto. McCrae says that sounds good to me. Helen asks who would be better to go up Howard or Spencer. McCrae says either or it doesn't matter.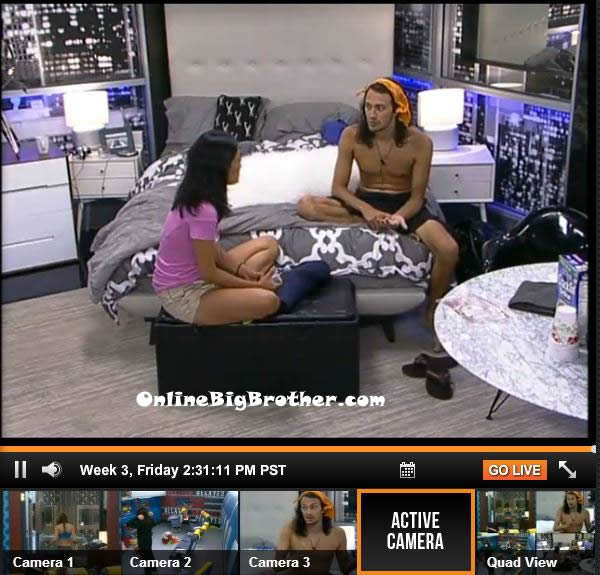 2:40pm – 2:47pm Kaitlin comes up to the HOH room. Helen says that she is going to be butt honest with her. Sit down! Kaitlin asks if she can talk first. Kaitlin says that she is upset that she aligned with Aaryn and doesn't want to be with her any more. She is the cause of all the problems and I don't want to be guilty by association. Helen tells kaitlin that she has seen glimpses of hope inside of Kaitlin. I was thinking of putting you up as the pawn but if you come over to our side I may not put you up. Helen says that Andy is your biggest supporter and if you don't go up then you can thank him. Helen asks if I protect you, can you protect me? Kaitlin says she doesn't know it might be better if you put me up as the pawn. Helen says that it would be better for Aaryn to go home. kaitlin says that Aaryn needs to go home. I love her but she is the root of all this. She is a child. Kaitlin says that she is way more mature than this, I don't want to be a part of it. Helen says that Aaryn needs to go after all the racial slurs and drama. Kaitlin admits that she knows she fell into a black hole of caddyness and doesn't want to be a part of it any more. Helen tells Kaitlin if she does go up, you are a total pawn .. you are not going home! Kaitlin says I trust you. They hug and Kaitlin leaves the room.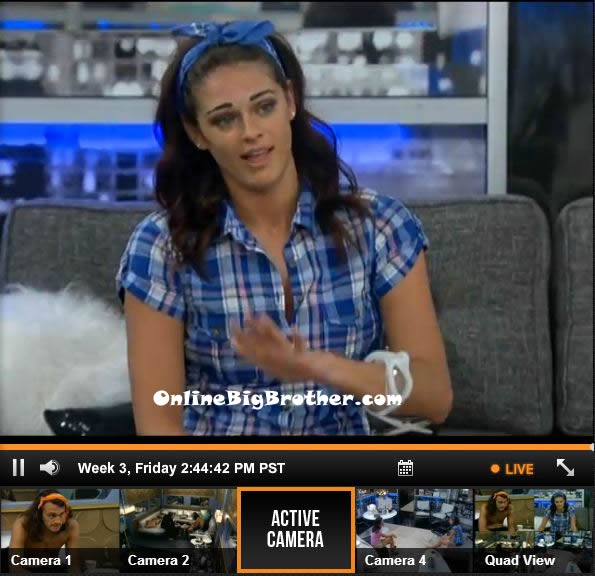 2:55pm – 3pm McCrae and Amanda come up and talk to Helen. They talk about how it was good that Amanda and McCrae admitted to the guys alliance before Jeremy just did. Amanda says that she just heard about it last night from McCrae. They talk about who to put up. Helen tells them that Kaitlin offered to go up as the pawn but isn't sure it is the best plan. Amanda says she should put up Spencer, Howard and Aaryn. They talk about how they will try to back door Jeremy. Amanda says if Jeremy wins the veto, then we get rid of Aaryn. It makes sense to put those three up on the block because they are the votes for Jeremy. Amanda and McCrae tell Helen to tell Spencer and Howard that you are putting up Kaitlin and Aaryn. They talk about how Helen will nominate Aaryn and Howard. Amanda says to tell Howard that he isn't the target, he is a pawn. But don't tell him you are putting him on the block because he will freak out. Helen says what if we don't get MVP we need to have Aaryn on the block. Helen says that she can't believe how deceitful Howard and Spencer have been. Helen says that she will tell Aaryn she is the pawn too. Amanda says don't tell her she is a pawn tell her she isn't the target. Helen says that she wants this to be as shocking as hell!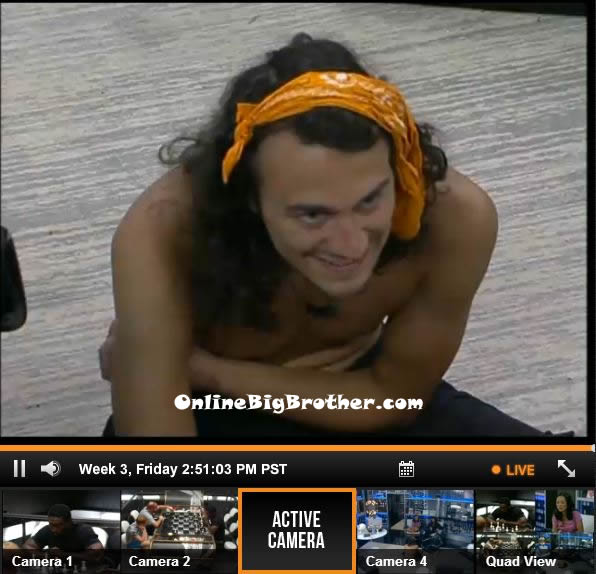 Stay connected and interact with other Big Brother Fans on our Facebook page.
And Follow: @BigBspoilers and @Dawgsbigbrother on Twitter for the most up to date spoilers.