POV Holder:
?
Next POV
July 13th
POV Used
?
POV Ceremony
July 15
HOH Winner:
Helen
Next HOH:
July 18
MVP:
?
Original Nominations:
Current Nominations:
Last Evicted Houseguest
David, Nick
Have Nots
? Judd, Jessie, McCrae, Amanda ?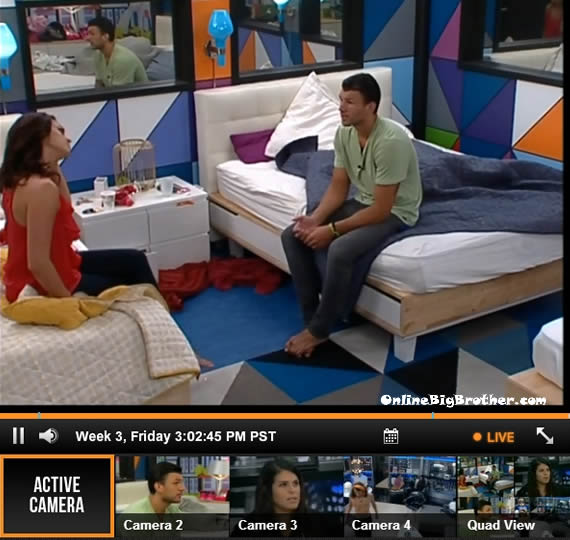 3:01pm Bedroom Kaitlin and Jeremy
He has to tell her something and hopes it doesn't piss her off.
Jeremy tells her that day 2 he made an alliance called The Moving Company "We were going to move them all out" The Alliance was with McCrea, Howard, Spencer and Nick. Jeremy adds that Spencer and McCrea voted out Nick last night and that is why Howard was so pissed. Jeremy explains that they had the votes to keep Nick it was going to a cakewalk for them but Spencer and McCrea jumped ship.
Spencer went upstairs and told Helen about the alliance because Spencer and McCrea turned on him. He told her that she was their target.
Kaitlin is worried that Jeremy is going to go up with her Aaryn and Howard. Jeremy thinks he is. Kaitlin starts to conspire about getting Aaryn out this week. They know one of them will be going home for sure and getting rid of Aaryn is the only way. Jeremy tells her to just wait and see, "Don't jump to conclusions"
Helen told Kaitlin that the only reason why Jeremy is not going up is because of Andy, Kaitlin "He really likes you.. Jeremy" Helen also told her that Aaryn wasn't going to be nominated but after the way Aaryn acted last night Helen wanted her out.
Helen told KAitlin that she's going up as a pawn 100%. Kaitlin tells him to stop being cocky and be extra nice.. Jeremy agrees and Leaves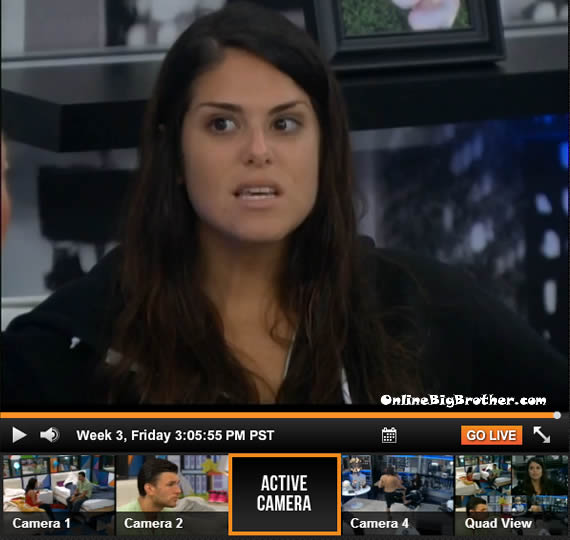 3:04pm McCrea, Helen and Amanda HOH
McCrea outs the Moving Company to Helen. (Helen already knew) Helen is really surprised about Spencer and Howard. The first week all she talked about in the Diary Room was how much she trusted Spencer and Howard. Amanda adds that Howard plays so low she wouldn't be surprised if he came up to the HOH and told Helen they should stick together because they are minorities
Amanda: "He will use anything he swore on his bible"
They're plan is to put Aaryn and Howard tell Aaryn she is the Pawn. This is so Howard thinks he's the target and fights like hell to win the Power of Veto. When he uses the POV they will put Jeremy up and get him out of the house. If POV isn't played then Aaryn goes home. They do not think Jeremy would use the POV to save Aaryn as that would mean Kaitlin goes up. They seem 100% confident that they will win MVP again.
Before they leave they all hug it out..
3:09pm HOh Howard and Helen
Helen wants him to be truthful but why did Spencer want her to put up Amanda as the replacement nominee for Jeremy
Howard doesn't know if it's out of fear. Howard honestly had no idea about Amanda and McCrea as a team.
Helen: "Nick was a strong player… I want you to tell me the truth why did Spencer want me to put up AManda" Howard fumbles his words
Helen says why should she have put up Amanda when the whole point of their group was to take out the other side, "I'm not stupid Howard"
Helen knows she is being lied to, She's going to talk to Spencer
Howard: "I don't know why.. maybe he was scared." he adds that Amanda and Spencer never got along and he thinks Spencer thought Amanda was coming after him on a personal level"
Helen: "Why did the vote go down 8-3"
Howard fumbles around says Judd was 50/50 and Jessie was really back and forth about it..
Helen asks him again…
Howard rambles on.. he does mention that Aaryn has some nasty stuff about him and he had to be the bigger person and step down and cry alone.
Howard says everyone is focusing on last week's vote and not on Aaryn, KAitlin, Gina and Jeremy. He thinks that 3 of them should go up on the block because they will start making deals again. Helen: 'Everyone knows the target is Jeremy at the end of the Day" Helen tells him that Gina is not going up on the block.
Helen: 'I'll tell you something.. you are not my target .. I may nominate you but you're not my target… I need you to trust me"
Howard: 'I trust you I need you to trust me"
Helen: "That vote is funny.. until someone fesses up to the vote… I can't talk to anybody"
Howard makes a play that Helen, Spencer, Elissa and Homself make a "Mature" person alliance.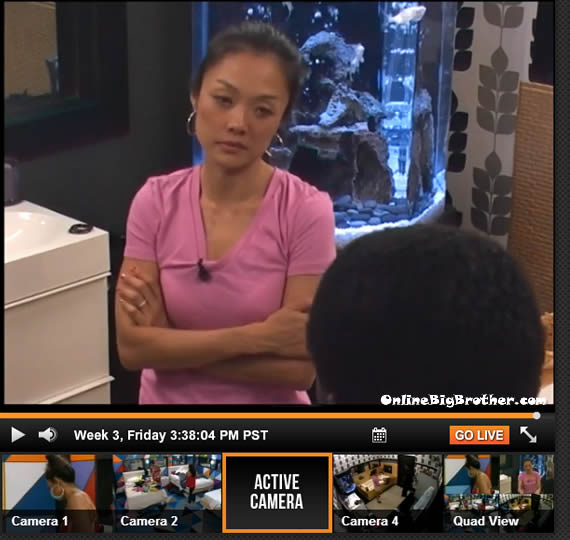 3:28pm
Howard in the bathroom
Howard: "This is the god's honest truth." Howard Explains that he voted Elissa out because he knew Nick was going home. Once he heard that Jessie, Judd, Spencer and Amanda were voting to Evict him he thought by voting to Keep Nick he might get in good with the next HOH to help their side.
Howard: "I feel that Amanda is after me.. I want to apologize.. I never lied to you other than that.. I will never lie to again"
Helen starts crying… "Thats a pretty big lie"
Howard: "please I don't want to go home I have nothing to go back to.. I knew Nick was going home"
Helen wants to know what Spencer had to do with it. Howard: "He had nothing to do with it.. I wanted this to be for me so I could use it against Amanda"
Helen: 'Were you working with Nick"
Howie: "No i'm working with nobody"
Helen: 'You need to promise you will never lie to me again"
Howard says "My soul won't let me lie again"
Helen: 'You Promise.. You want to tell me One more thing you've been involved in"
Howard:"Ok.. "
Helen: "There's one more thing"
Howard: "I ain't got nothing else to tell.. what have you heard"
Helen brings up the guys alliance called the Moving Company
Howard: "No I didn't mess with Nick he never talked game to me and I only talked to Jeremy because Spencer likes it
Howard: 'I wanted to do something with McCrea but I can't because of Amanda.. there can't be a guys alliance because none of the guys trust each other"
Howard about the guys alliance: 'I've heard about that that is funny"
Helen about the vote yesterday "Don't do that again Howard"
Howard: "I will never lie about anything else in the house"
Helen brings up the guys alliance and tries to make it sound that she doesn't think he was in it. Howard acts all surprised that McCrea, Howard, Jeremy and McCrea were in an alliance.
Howard goes back to saying he will never lie to Helen again the only time he lied to her was about the vote last night.. he had to come up here and tell her because it was eating him up inside.
(Howard denies being in the MC.. there no way on earth Helen is going to trust him he lied throughout this entire conversation.. insane!! The image above is the look on Helen's face when he denies being in teh MC)
You can re-watch ever second on the feeds using their flashback feature.. It's super easy to use click this link for a free trial —> Subscribe to the Big Brother Live Feeds
The CBS feeds are a HUGE improvement over the super pass feeds and they are 30% cheaper with no subscription to cancel. You pay a flat fee for the season.
3:51pm Cockpit Spencer and Howard Howard tells Spencer he was the odd vote to keep Nick this week. He wanted to use that to try and get out Amanda.
Howard says there is a rumor that Spencer will have to work on dispelling. Helen knows about a guys alliance, "You'll have to weasel your way out of that one" Spencer: "The way Jeremy's been acting he can't be saved"
Howard suspects that Jeremy told Helen all about the Moving Company. Spencer thinks they have to come clean about it. Howard doesn't want to. Spencer thinks they should tell people the allaince was Nick, DAve and Jeremy.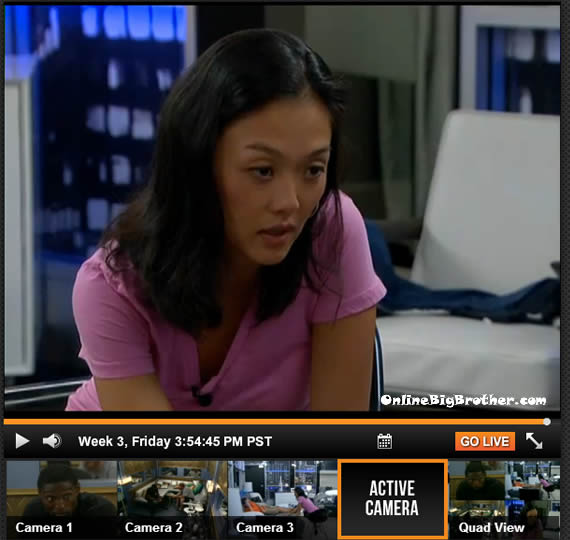 3:54pm HOH Judd and Helen
This is the plan
Aaryn and Howard go up if Elissa gets the MVP Kaitlin goes up. If POV is used Jeremy goes up. Jeremy is the primary target Aaryn is secondary. She wants to scare Howard. Judd is worried that will results in Spencer going to the other side.
Helen: 'There is no other side.. either Jeremy or Aaryn are going home this week"
They shake on it..
Helen says there was a guys Alliance but doesn't include Howard's name as one of the members.