POV Holder:
Shane
Next POV:
July 13 (Friday)
POV Used
?
POV Ceremony
July ???
HOH Winner:
Willie
Next HOH:
July 19 (Thurs)
Original Nominations:
??? and ???
Current Nominations:
Frank and Kara
Have Nots /Slop
Danielle, Shane, Ashley
Coach Competition Winner
Boogie, Ian is safe
Sign-up for the Big Brother Live Feeds and get the MOBILE Feeds for FREE!
3:00pm Storage Room Frank and Shane Shane is telling him that Him and Willie are going to over Frank something and if he's willing to take it they can go far. Frank is worried about Dan because he's been going around the house "Throwing Me under the Bus" Shane explains that if they can get Dan out that is one less Mentor playing in the coaches competition. Shane wants them to think long term, Shane knows Frank is a straight shooter and he wants the 3 of them (Willie, Frank and Shane) to work towards the same goal. Frank mentions that he really doesn't care to be on Boogies team and he hopes that there is a coaches trade.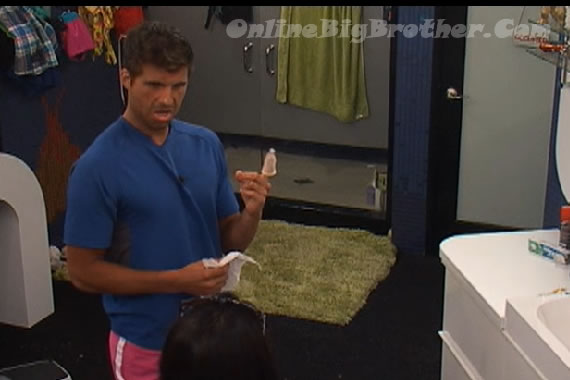 3:08pm Bathroom Shane, Ashley and JoJO They are setting up a prank. Shane opened up a condom and filled it fill of vaseline lotion and plant it somewhere in the house to blame the guys for j***king *ff. They started looking for something of Ian's so they could pin the "Dirty Condom" on him. As Shane is rummaging through Ian's stuff CBS Production tells them to stop. They both decide that they were taking it too far.
3:15pm Head Of Household Room Willie and Danielle Willie is complaining that Boogie screwed everything up for saving Ian. Willie wanted Ian to go home, it would of been a easy week for him but now he's got to make somebody made.
Danielle "If Kara walks out the door you are not my target"
Willie: "I was forced into the position" (the nomination he chose)
Danielle explains to him that if Kara is going home she is still voting Frank out and she doesn't want Willie pissed at her. Willie understands and he doesn't think the house will pissed at Danielle. Willie tells her if people mention her name she's going to try and steer them away from her name. Danielle is happy by this says she'll do the same.
Danielle more or less offers a final 3 deal with him saying that that they are "Good" and she won't nominate or vote him out until final 3
Willie doesn't agree just changes the topic, "well maybe final 5 or 6"
Willie is targeting Ian next week and he knows Ian is targeting him. He's not worried about Ian winning HOH he thinks that even if it's a mental competition it'll be a crap shoot like "america asks questions"
Danielle says if she wins HOH she's putting Ian up, Willie tells her to do whatever she needs to do. Danielle says she's not going to put any of them up on Willie's side.
Danielle starts working on him trying to explain to him that Kara can be trusted and he should know that her and Dan can be trusted. Willie says he doesn't know what is going to happen regardless of what goes down he wants to make sure that they are good. Danielle says they are still good she wants to tell him something but he has to promise not to repeat it. Danielle says if Kara stays she knows that Willie, Shane and JoJO are safe. Willie assures here he's going to keep everything secret.
Willie: "You know I really don't want to do this" (Apologizing for nominating Kara)
Danielle: "Oh don't worry everyone is going to have to do this sooner or later"
3:45pm Backyard Jenn, Kara, Wil and JOJO They are talking about Zombie and chemical weapons. Jenn thinks that there is chemical warfare and that people say that Zombies could be real. JoJO doesn't believe it, she doesn't think zombies are real. Jenn: "Ya but there's Chemical Warfare… they could set it off in a subway".. Talk drifts to True Blood.. Wil wonders what the last year they had America's Player in the game. JoJo thinks it's been awhile. Wil wonders if ian is America's Player, Jojo doens't have a clue. Jenn remembers that Eric was America's player in big brother 8.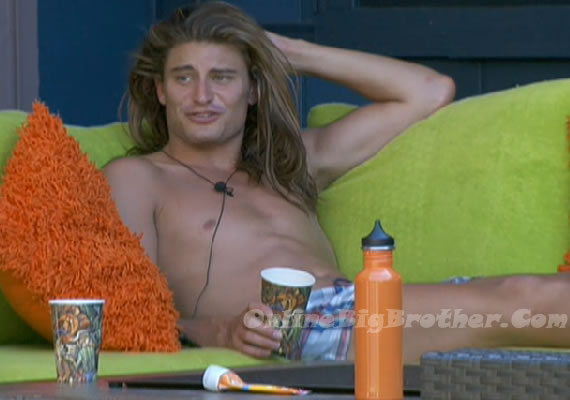 3:50pm Fabio and Kara backyard couch Chatting (the picture is epic though)
Sign-up for the Big Brother Live Feeds and get the MOBILE Feeds for FREE!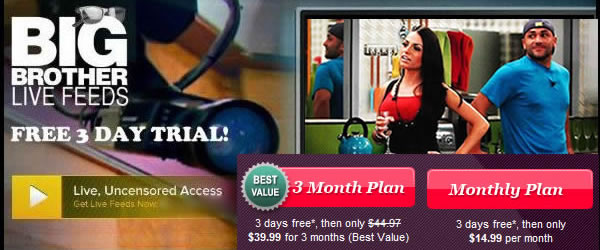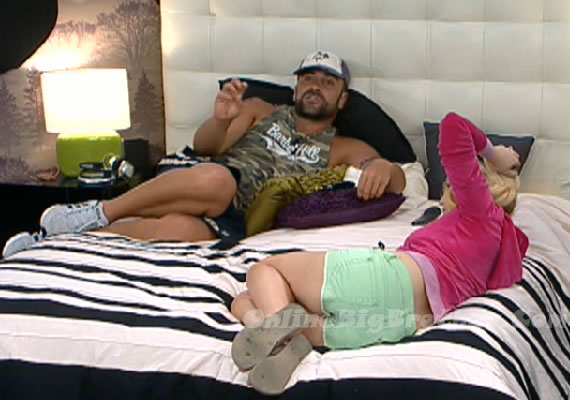 3:55pm HOH Room Willie and Britney Britney tells him that whatever he tells Danielle goes back to Dan. She wants him to not talk so much he's telling too much information.
Willie: "They are all making a mistake if they don't get me out next week" Britney is worried about Frank because she is a major player.
Britney doesn't trust frank will keep Willie safe she wants Frank to give him a more than 1 week safety. Willie thinks he's going to get the HOH next time he can play.
Britney: "Danielle annoys me.. she's a freaking robot.. She's a rbot that only listens to command from DAN"
Willie: "She always tells me she's smart"
Britney: "Serious Willie.. when someone tells you they are smart"
Willie says that Britney thinks more about the game than Janelle, Willie:"Janelle is more physical she's a BEAST"
Britney says that Janelle is smarter than her.
Britney scolds Willie for being to talkative, with the other players she says he's giving too much information when he doesn't need to. Willie defends himself says that he's sticking to the story. Britney shakes her head tells him when he talked to Frank last he did a horrible job of it. She wants Willie to be perceived as the village idiot in the Big BRother house.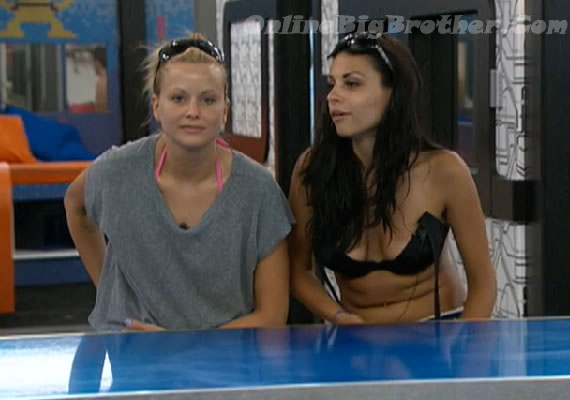 4:03pm The condom was found and someone cleaned it up. Everyone is trying to guess who it was. JoJO is trying to pin it on Ian. Frank says it was JoJO, JOJO denies it "I don't have a D*** how can i C**"?

Share it YO!!
Tweet