POV Holder:
Shane
Next POV:
July 13 (Friday)
POV Used
?
POV Ceremony
July ???
HOH Winner:
Willie
Next HOH:
July 19 (Thurs)
Original Nominations:
??? and ???
Current Nominations:
Frank and Kara
Have Nots /Slop
Danielle, Shane, Ashley
Coach Competition Winner
Boogie, Ian is safe
Sign-up for the Big Brother Live Feeds and get the MOBILE Feeds for FREE!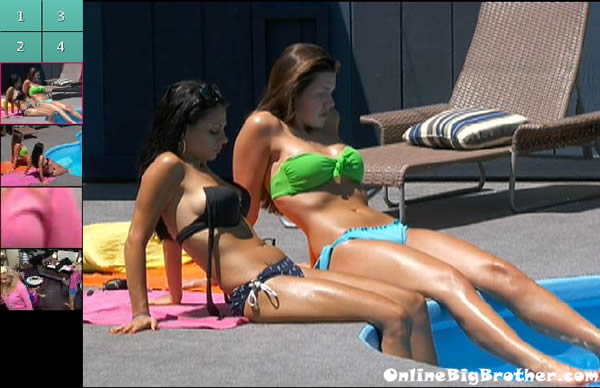 11:20am Danielle and Jojo get in their bikini's and head out by the pool to sun tan. Kara then joins then.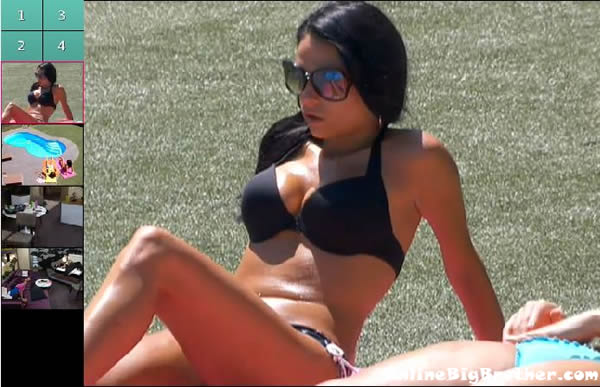 Willie, Shane, Britney, Janelle and Wil are up in the HOH room talking. Willie tells them that he wants them to all stick together. Willie and Janelle tell Shane and Wil that if it comes down to it …it might be good to throw a competition to Joe or Jojo because then it keeps the target off us. They talk about how they are in a tough situation ..that it would have been better week one to get out Jodi and Ian. They talk about how they will get all together to hash it out. Willie and Janelle talk about how Frank has a mind of his own, that he thinks for himself without Mike. They talk about how Wil will be perfect for endurance competitions. The conversation turns to talking about the Power of Veto competition. They start talking about Danielle and how they have no idea how she got on the show. Willie says that she comes in and interrupts their conversations in the HOH and makes things super awkward. Britney asks how does she not notice how awkward it gets.
11:45am Janelle goes down stairs to the backyard and tells Jojo, and Joe to come up to the HOH room to have a quick talk. Willie tells then that they just want to see what everyone is thinking. Joe says that he is against Frank because he can beat any one of us in the jury. Joe says we can all beat Kara down the road. Jojo says that she is scared of both of them. Wil says that he looks at it two ways an individual way and a team way. …Kara would be good individually and Frank would be good for the team. Joe brings up that this morning Frank didn't want to have anything to do with Boogie. They all think that Frank realized that Boogie hasn't been here for him. They talk about how if they get rid of Kara …Dan is down to one person then.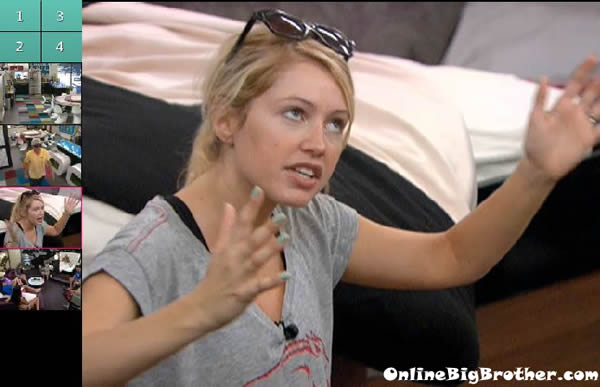 Superpass Live Feeds: 3 Day Trial!
12pm – 12:20pm
Britney starts talking about how great of a speaker Dan is that when he talks you see rainbows. Joe brings up the fact that Boogie knows people don't like him …so I bet he told Frank to distance himself from him. Joe says that the only way he will vote to keep Frank is if we know we can get him on our side. Willie says that what we need to do is get Frank to throw the next HOH competition to prove that his is working with us. And he has motivation to do it because it lowers the target on his back. Joe says that is perfect as long as we get him out before week 5. Willie says if he wins it ..then we know he lied to us. Britney says everyone just needs to think about all this and we will come back and talk about it. They decide not to tell Frank to throw the HOH until at least Tuesday because they figure he will go to Booige and they don't want to give him that chance. Shane says okay so at the power of veto ceremony I will not use it. They all disperse and leave the HOH room. Janelle brings up the fact that once Kara is gone, once Danielle is gone Dan walks out with her. Britney grabs the golden apple and tells them that who ever wants to talk has to be holding the apple because they were all talking at once. They decide as a selling point to Frank that they will tell him that when he throws the HOH they will go after Danielle. They break up and head back downstairs.
12:30pm – 12:50pm Ashley, Janelle and Wil are in the kitchen chatting. The others are out in and by the pool sun tanning and talking about random stuff. Britney and Wil start doing crazy workouts in the backyard. Willie asks them what they were doing and they rope him into doing one of the exercises. Mike and Dan are talking about Mikes restaurants and other businesses in the pool.

1:15pm – 1:30pm Jojo, Willie, and Janelle are in the kitchen talking about Boogie. They talk about how cocky Boogie is and how he acted after the competition. Janelle comments on how he rubbed it in her face that he beat her .. and she is like wow great job you beat a mother. Jojo and Janelle start talking about endurance competitions. Jojo then shows Janelle on a chair how strong her legs are and how she would hold onto something like the banana competition. Kara, Dan and Jenn join them in the kitchen and start making lunch.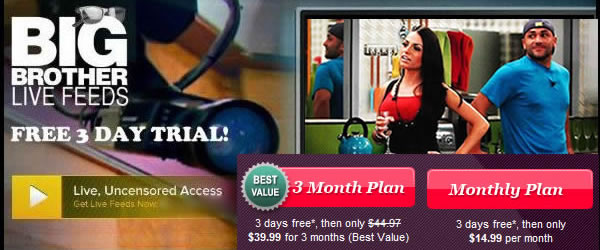 1:45pm Janelle, Willie and Britney are up in the HOH room talking. Willie discusses how he plans to let the others know who he is and who his brother is (Russell Hantz). Janelle agrees. Willie gets up and heads down stairs. Britney and Janelle start talking about Joe and Frank being smart and having good game sense. Britney then asks they are alone .. if Ian is hiding in a suit case. She says we always need to do a perimeter check. Britney says that we just need to keep pushing the idea that someone is coming back. Janelle says yeah, Shane totally believed that. They talk about wanting to keep Frank this week and get rid of him next week. Janelle says that we need to surprise Dan on Thursday by not letting him know we're evicting Kara. Britney says that we got so lucky that Dan picked such a bad team.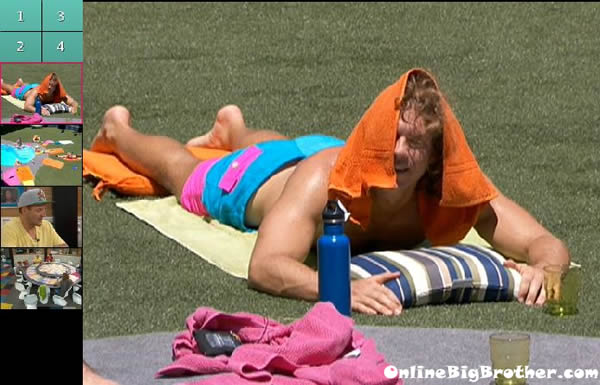 1:50pm – 2:20pm Out in the backyard, Willie comments how it sucks that he can't smoke over by the pool. Britney tells him that he has to go over to exile island to smoke. Joe and Britney talk about food and growing your own vegetables. Joe starts talking about how he misses his family. Britney tells him that winning HOH is good because you get the letter from home. Joe says you hear that Ian it's you and me we're going to win HOH next week. Britney tells them that it would be a waste to give it to Ian because he feels lucky just to be a in the have-not room. The conversation changes to talking about game shows. Meanwhile in the kitchen, Wil tells a story to Dan, Boogie and Kara about random stuff. Over by the couches Jojo tells Willie that she is looking out for him and Shane she swears on her grandmother's life.
2:45pm Boogie and Wil are talking about their home towns. In the kitchen, Willie, Shane, Ashley, Danielle, Jojo, Kara, and Dan are talking about celebrities. Out by the pool, Janelle Ian Jenn and Britney are talking about ID's and other random stuff. Joe comments on how the real drama will start when someone puts up someone from their own team.

Share it YO!
Tweet