POV Holder:
Shane
Next POV:
July 20 (Friday)
POV Used
No
POV Ceremony
July 15 (Sunday)
HOH Winner:
Willie
Next HOH:
July 19 (Thurs)
Original Nominations:
Frank and Kara
Current Nominations:
Frank and Kara
Have Nots /Slop
Danielle, Shane, Ashley, Ian
Coach Competition Winner
Boogie, Ian is safe
Next Coaches Competition
July 21 or 22
9:03pm Have Nots Room Janelle and Ashley Ian is telling them that the testing he had when he was a young. He knew the alphabet by the age of 3, so they started testing his IQ. Talk drifts to Janelle's past season. Janelle and Ian go over how Ivette could of won but she kept her word with Maggie.
Ian tells them he's not good at practical math because he's gotten so into Theoretical math he feels that he's gotten worse with practical math.
Janelle asks him if he does everything Boogie tells him. Ian say's he listens to Boogie but other than that he's his own player. Janelle tells him that her biggest mistake in big brother 7 was taking out the floaters first and leaving the strong players. Asks Ian if he agrees.
Ian fumbles..
Janelle: "Do you think that was a big mistake to keep strong physical players in the house"
Ian: (After a bit of thought) "You probably should of sent one of chilltown home.. but didn't Will save you a couple times"
Ashley: "How many times did you win HOH"
Janelle: "4"
Ashley: "WOW" (Looking total 4:20 it was awesome)
9:35pm Backyard Couch Joe, Jenn, Jojo Jojo says that she thinks that if there is a America's player than it could be Shane. Jojo reasoning is because Shane likes to do pranks with her and he's not the obvious choice like Ian is. Both Joe and Jenn are not even thinking about that.. it has no weight in there game strategy.
Get The Live Feeds for your iPhone or Android Phone! Comes with a regular subscription to the Live Feeds Subscription Link
9:40pm Hammock Wil and Janelle
Feeds keep cutting in and out. Wil is calling someone a little D!ck at the diary queen .
Wil thinks they just need to get through the next week then team up with Dan because he thinks they are being played. Janelle doesn't think Shane is screwing them but she thinks Willie is.
Janelle: "I caught Willie in a lie to"
Wil: "I trust Joe"
janelle: "I do to"
Wil: "He screwed himself in the end because he had 3 weeks of safety"
Janelle: "So stupid"
Janelle points out that no one talks to shane about Game. Wil: "We have aenough information that we could get Wilie out next week. Janelle: "umm no it will be stupid for us to break away right now" Wil: "oh oh ya but week three BOOM they're off"
janelle: "ya week 3 is going to be bad"
Wil: "Britney's team is more of a threat than we are.. to boogie"
Janelle: "Boogie's going to target my team because he wants me out"
Wil: "Do you think he is sick enough that he want to gt you to the end and screw you"
Janelle: "ya he would love that"
Wil: "Is this how it is the first next week?"
Janelle: "No it's not"
Wil: "I get the feeling that Willie game in here and tried a brigade type situation and it's blown up"
Alot of He's stupid, so stupid etc etc
Janelle warns him that if the other side gets the the
Janelle: 'I'm starting to think Willie is really stupid"
Wil: "I don't' think he is"
Janelle: "I try to talk sense into him.. Willie's so dumb and ego egotistical"
Wil: "We need to get in Franks good side"
Janelle thinks that will be a problem because Frank and Boogie are tight.
Wil thinks they should warn Willie
Wil: "I dunno JoJo already wants Kara out and Shane will probably do the same.. all we can do now is play along with it.. hopefully these decisions of his backfires on him"
Janelle: "This guy (Willie) he thinks he's such a beast in competitions"
Wil: "he's overweight and unintelligent"..
Janelle: "I'm sorry I would kick his a$$ if I could compete"
9:58pm HOH Room Ashley, Shane, Willie, Britney and Danielle Kara is with them at First but then gets called into the Diary Room. JoJo joins them to. Nothing but chit chat While this happens janelle is downstairs playing would you rather with Dan, Jenn and Ian. Dan asks her would you rather have the 500K or the Title of Big Brother Winner. Janelle says the cash.
10:30pm Backyard Dan, Boogie, Jenn and Joe Boogie has always wondered why CBS makes them beg for shit. Dan explains that they need to have complete control because once they are able to change anything int he house that could affect the game then production has lost their control of the game. Dan is telling Boogie that Big Brother isn't like one of those MTV shows where people get wasted, "I don't think the that's CBS' bag".. Feeds cut..
10:39pm Kitchen Dan and Janelle Dan asks Janelle why what Willie was talking about. janelle: "Have you ever banged a girl d*$$y style and h$r b**bs were so b!g that they hit you om the face"
Dan: "How is that even possible"
Janelle: "I dunno"
Boogie Walks in
Dan: "did you guys ever think you'll come back for a 3rd season"
Both of them say no, Janelle really likes the coaches concept. Dan thinks it takes a lot of pressure off them.
Dan says he thought there was a 50% chance he was going to come back but never thought it would be with Janelle.. He was super excited about it.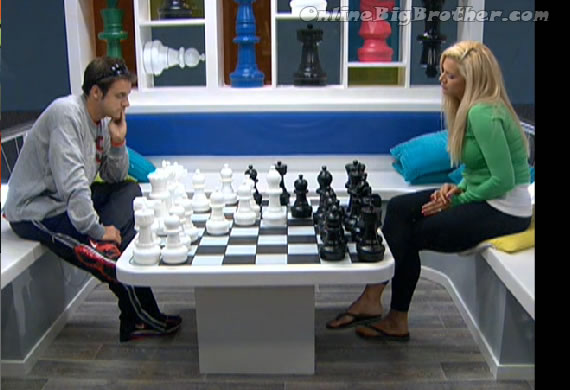 10:50pm Chess Board Dan and Janelle Janelle tells him that Willie wants Kara out. Janelle's team doesn't, they only have 3 votes. Janelle: "We won't get another chance to vote him out" Dan: "I just don't know what to do right now to save her". Janelle says that Britney Really push for frank to go out but he doesn't lesson. Dan, :"I'm going to have to try and get to him. I don't think he'll listen to me but I have to try.. you know if he won't listen to Britney.." Dan asks her if the decision to evict Kara happen today.. Janelle says yes. Britney joins them…
Big Brother Fast Forward / Double Eviction
Share it YO!!
Tweet