POV Holder:
Shane
Next POV:
July 20 (Friday)
POV Used
No
POV Ceremony
July 15 (Sunday)
HOH Winner:
Willie
Next HOH:
July 19 (Thurs)
Original Nominations:
Frank and Kara
Current Nominations:
Frank and Kara
Have Nots /Slop
Danielle, Shane, Ashley, Ian
Coach Competition Winner
Boogie, Ian is safe
Next Coaches Competition
July 21 or 22
7:00pm Ashley and Willie
Ashley gives him the run down of what is being said with Janelle's group. Pretty much they are concerned that Willie has a deal with Frank and he's starting up another Brigade. Willie swears that he has made no such think. Willie only wants to keep Frank around because Frank takes all the heat off Willie and he knows that Janelle and Dan will team up and take him out at the first chance they have. Ashley says that Janelle is made about the idea to split up the votes. Willie get angry says that in the beginning that was all Janelle's idea.
Willie explains to her that he's with her til the end, final 2.
Willie tells her that Janelle plans on keep their alliance together for 2 weeks TOP maybe 1 but in the meantime she's is setting up side alliances with Dan so that Wil and Kara make it to the final 2.
Willie: "your best interest is to keep me in the house because nobody is going to have your back like I do"
Ashley: "Wil is scared shitless because next week Kara is gone and that is the person he's been working hardest with"
They both agree that too many players in the house are making decision based on their "teams". He doesn't care what team you are on this is their game they are playing for the team that will get them 1/2 a million dollars. Willie: "I got you till the end.. I won't put you up.. when the time come sand I have to put you up I'll come up to you and tell you the time is now"
Ashley: "I will protect you forever"
Willie: "that means we gotta get married"
Ashley asks him who Frank will put up if he wins HOH, Willie: "He told me Danielle.. cause he wants to take out Dan's team"
AShley is worried that JoJO will find out that her and Willie are talking game and jojo is going to be pissed. Willie: "If this gets all hell will break out but I'll tell her straight up the truth she won't have a problem.. if you can work Ian I'll work Joe"
Willie: "We gotta build our alliance but nobody can find out about us"
Willie reiterate that Janelle is really upset about Kara leaving.
They think that Ian will be with them becuase he wants to be win the fame
Willie: "lets keep Joe and Ian and then cut them loose… maybe we'll take Jojo to final 3.. but i would MUCH rather be in this hose with you than with JoJo"
Ashley: "jojo is loyal"
Willie reiterates that Ashley is his final 2 for about 20 minutes,..
7:30pm Game talk marathon over people getting ready for dinner
Dan and Boogie were talking in the living room Boogie asks him in light of what happened if he could redo things would he have picked his players differently. Feeds switch (DAMN)
Get The Live Feeds for your iPhone or Android Phone! Comes with a regular subscription to the Live Feeds Subscription Link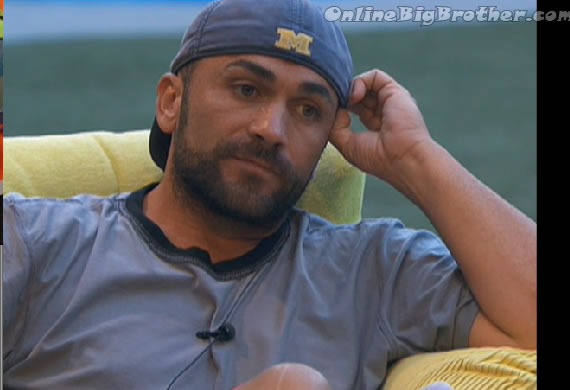 7:32pm Backyard Willie and Janelle Willie is asking her if they are still good. Janelle tells him everything is cool, "what makes you think I was upset?" Willie says she hasn't been herself around him.
Willie: "Whatever you guys want to do if you win HOH then i'm 100% behind you, I'm looking out for the team"
Janelle doesn't know what her players will do if they win HOH.. Ian maybe Danielle she says that each of her players will likely target a different person.
JoJO joins them
Willie: "We're winning this HOH"
Janelle: "Who do you want to leave next week?"
Willie: "Frank.. whatever yall want to do.. whatever you want to do i'm cool"
Janelle: "If we eliminate Kara this week than Danielle next we get rid of Dan before he can sway our players" Janelle is worried that Frank and Wille are forming a guys alliance.
Willie tells her he swear to god he's never gone up to Frank to start a all guys alliances..
Janelle: "but that is what Joe was saying Frank said"
Willie: "I want to do whatever you want to do.. whatever is best for the team… you want Frank gone I'm done with that.. you want Ian or Danielle I'm on-board"
Janelle says if Willie and Shane are taken out than then are screwed against frank in physical competitions. Willie agrees he points out that JoJO will be deadly at endurance. Janelle adds that Kara will be strong as well.
Willie tells them it doesn't matter, one of them is going to win HOH on Thursday. Janelle: "We need to worry about Frank because he has these leadership qualities"
Willie: "That's what i'm saying you put up Frank whoever you want"
Shane and Joe join them and talk moves to general game mechanics, HOH competitions, POV's what Janelle's seasons were like.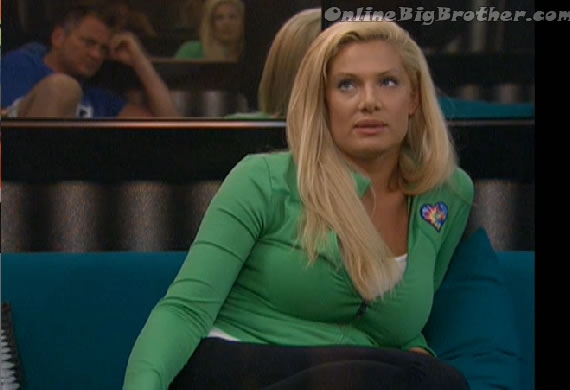 8:12pm Arcade Room Janelle and Joe They are talkign about Willie not being very smart.
Joe and Janelle both think taking Kara out is a bad idea.
Joe is saying that Willie is starting to
Janelle says she knew this was going to happen, "It's so frustrating people and their studiity"
Joe: "I know I had to go to my room I was so distraught"
Janelle: "You did tell him again about Frank's all guys alliance"
Joe:"ig Boogie pulls this off and gets Willie I'm goign to be pissed"
janelle: "that doesn't make sense"
Joe: "Boogie likes having the strongest men in the house"
Janelle keeps saying over and over again that she's played this game twice before she's not stupid she knows hoe to play this gamre.
Janelle: "He's stupid.. he only graduated the 8th grade.. that's probably why Boogie can manipulate him"
Joe: "you ever find out how long he was in prison.. feeds cut"
Janelle asks him if he thinks Ian would vote for Frank
Joe is sure that Ian will be a independent thinker but for right now he's a with Boogie 100%
(Janelle impersonates Willie)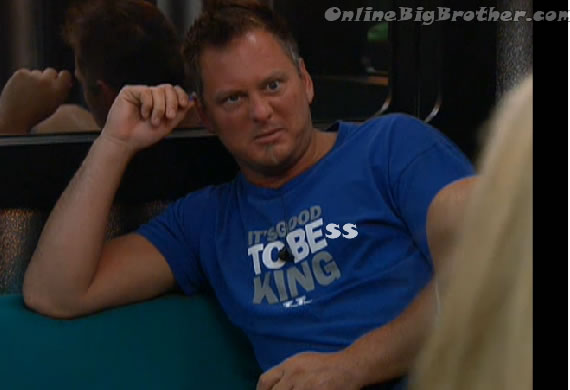 8:23pm – Joe asks her if all the information floating around true in her season. Janelle explains that it really depended on the source.
Janelle says they should have a conversation with Dan and Danielle.
Joe: "what would that conversation be"
Janelle: "We'll try to get the votes for him.. but it's not going to happen..ugh"
Joe: "That's a really smart idea.. we need Dan's help"
Janelle: "I don't 100% trust Dan but if his back is against the wall"
Joe thinks that they can grab JoJO if they really start pushing the whole guys alliance.
Wil joins them, Joe tells him that Kara is going home and Willie's side thinks that Wil has an alliance with Kara. Wil gets mad says he's disgusted, "Bullshit i'm pissed off.. .he should be on the block next Thursday for getting rid of nice… feeds cut"
Wil gets up say"that redneck piece of shit" and walks out
(Crazy Crazy feeds)
8:40pm Storage Room Willie and Wil Feeds cut in and out all we can really hear is that Willie wants what is best for the team and he's down with whatever they do if they win HOH.

Share it YO!
Tweet