POV Holder:
Shane
Next POV:
July 20 (Friday)
POV Used
No
POV Ceremony
July 15 (Sunday)
HOH Winner:
Willie
Next HOH:
July 19 (Thurs)
Original Nominations:
Frank and Kara
Current Nominations:
Frank and Kara
Have Nots /Slop
Danielle, Shane, Ashley, Ian
Coach Competition Winner
Boogie, Ian is safe
Next Coaches Competition
July 21 or 22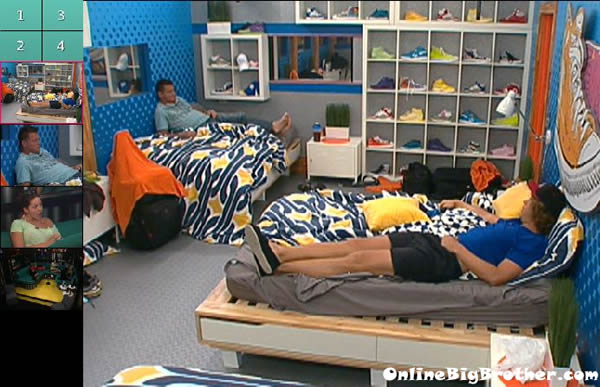 12:30pm In the Kicks room, Frank and Joe are talking. Frank tells Joe that he isn't sure he should tell him this, cuz I don't want you to run to Willie but I don't know if I can trust him. Joe says that he can't either. Frank says that he would rather go right after him next week, or maybe go after someone who is real close to him. Frank says that he really likes how you and I are have a getting along right now. Joe tells Frank that Willie told him that he is telling people that he wants the votes to be mixed so that that no one will know how the votes fell. Joe says that way you would have to come after us because you wouldn't know who voted you out, that way he is safe. Frank is pissed because Willie has been telling him it will be a clean sweep. Frank asks who do you think we can get to vote with us. Joe says Jenn, me, you, Wil and Ashley. Joe says if you fu*k around with Willie now after this then we are done. Frank says if we can get someone else on our team to win and get the blood on their hands. Joe says he will work on Wil and Ashley. Joe will work on Ian and Jenn. Frank says that we can't come out about the alliance until after Thursday. Joe says yeah I know.
12:45pm Britney and Ian are laying out on the loungers by the pool. Britney tells Ian that she just wants to sit back and not make any decisions. Ian tells her he thinks Boogie is doing the same thing, he told he to just do my own thing and he will tell me if I am fucking up. Ian says that Mike asked him a few times in the beginning if I had ADHD and if I was off my meds. Britney asked him if he was offended by that. Ian says yeah, a little.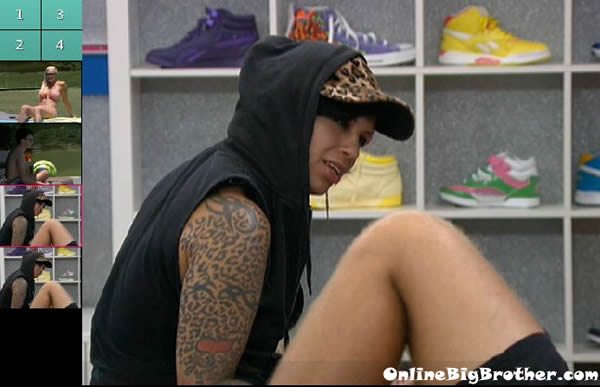 12:55pm Frank and Jenn are in the Kick's room. Frank tells Jenn that he really wants to nominate Shane and Willie next week. Frank tells Jenn that he trusts her and that she needs to keep their alliance a secret. Frank says that his number one goal is to go after Willie. He is trying to fu*k me. Frank says that Willie tells me that he is going after Wil and Joe. I can't trust him. Frank says that Willie wants to keep me this week, so that next week I am the target. Jenn comments how Willie said if people aren't talking to you then you're the pawn. Frank says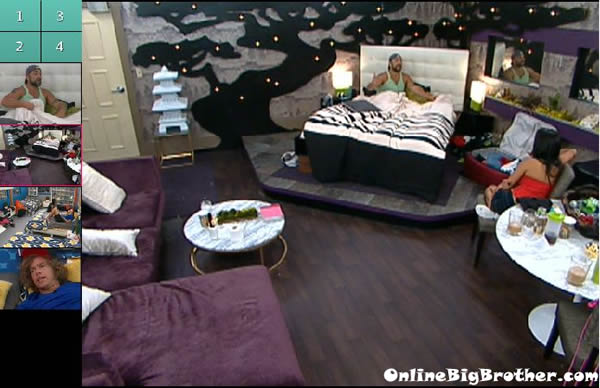 1pm
Up in the HOH room, Willie is talking to Jojo about how his main target right now is Joe. Willie talks about the votes saying that they have her, Shane, Ashley and Jojo. Meanwhile, Dan and Britney are talking out on the backyard couch. Britney tells Dan that she had nothing to do with meeting that Willie called this morning. Dan starts comparing Willie to his brother Russell saying that Russell was a great player that was so loyal. Dan says that Willie isn't, he was cut from a different cloth. Dan says that he guarantees that there is going to blow up in the next 24 hours.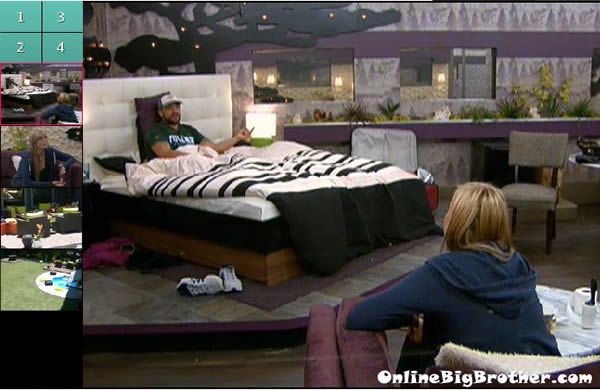 1:10pm – 1:30pm Kara goes up to the HOH room to talk to Willie. Willie says that right now he doesn't know where any one is right now with their votes. He says that he didn't want to play it like this, I just don't like how the coaches were playing. Willie says that someone is going to win that wouldn't win if not for the coaches. Willie says that some people in here are playing their coaches game because they have played before. They could be the best player that ever played this game but they don't even know because they aren't playing their game. Willie says that BB put us into groups, but we don't need to listen to them. I don't like people trying to control me. He says you don't need to be a genius to play this game, it's all about the numbers. I have no idea who is going home this week because the house is divided and not divided in teams. It's gonna be a close game. Willie brings up how he saw Dan and Janelle talking last night. Kara says that she now wants to know what they were talking about. Willie says that they could have been talking about Christmas for all I know, it just made me think. Willie says that at one point you were safe and at one point Frank was safe. Right now I don't know what's going to happen. Willie says go get as many votes as you can and I will tell Frank the same thing. I just wish I knew who I could trust. Kara says that she doesn't know either. Willie says I just wish these fu*king coaches weren't in here. Willie says that after the meeting there are now 2 boats, there were four and now there are only 2. They break up the conversation and head downstairs.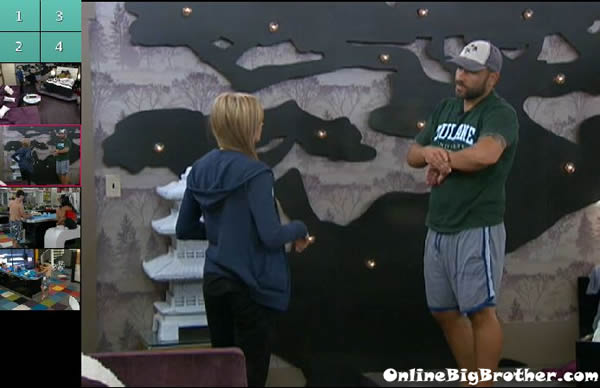 1:40pm Joe, Wil and Ashley are in the arcade room. Joe starts telling them that he has had it with Willie and wants him gone. Joe asks Ashley and Wil if they are with him. Joe says that they need to get Kara out and be in an alliance with Frank, Ian and Jenn. Ashley and Wil agree. Ashley adds that she is on board with the new idea "100%". They talk about how Janelle cannot know about this conversation going on between the three of them. They all agree. Joe says that with this alliance they would have two powerhouses (Frank & Wil). Joe says that they need to backdoor Willie next week. Joe says that if Willie attacks him, he will attack Willie right back. Joe apologizes to Ashley and Wil in advance for his actions towards Willie. Joe says the fu*king minute his HOH is over, I'm drawing a line. Wil says that he was so happy that you (Joe) stepped up in the meeting this morning, I was just going along with everything. Ashley says that it's hard to trusting people, let alone the coaches, only because of the Boogie thing.
Sign-up for the Big Brother Live Feeds and get the MOBILE Feeds for FREE!
1:50pm Ashley goes to talk to Joe in the kicks room. Ashley says that Willie keeps coming up to her whenever he sees her with you, Janelle or Wil to ask what we were talking about. Ashley and Joe talk about how paranoid Willie is now. Ashley says that she didn't tell him anything. Joe tells her good, just keep it that way don't tell him anything. Ashley says that the plan is still to keep Frank right. Joe says yeah that's the plan and then we'll win HOH this week and a line will be drawn.
2:15pm – 2:30pm Frank is up in the HOH room talking to Willie. Willie explains to Frank that he has 5 votes. Willie says you have Ian, You have Jenn… OH here comes Britney. Britney tells Willie that she is done talking about the game. Willie says Joe said that too, and since then I've seen him talk to 4 people. Britney says that she has seen him doing it too. Britney tells Frank that Janelle's team have been wanting you (Frank) out and Willie was up here for HOURS going over every angle why you should stay. Willie tells Frank that he isn't going to tell him they have a final 4 deal with him, right now I need you and you need me. Later on in the game if it comes down to it we will go at it then. They shake hands and Willie says good talk. Frank heads down stairs. Britney says that she is worried about Ashley. Willie says that she is good with us, she told me she would stay true to us. Willie says that he is going after Joe next week. Britney asks why what did he say? Willie says that Joe said he played too hard, too fast. Britney says that isn't a very good reason to get rid of someone. Britney says that Dan is mad at Willie now and saying that you lied to him saying that Kara was safe and then you shook his hand. Willie says that he is going to go confront him and ask him, because I never said she was safe, I said I would try and if she ends up being safe then we have a deal. Britney tells Willie not to go start fight with Dan, just leave it alone .. Kara is going home. Willie then heads downstairs to have a smoke.
2:40pm – 3pm Frank, Willie, Shane and Mike are talking about random things in the kitchen. They talk about Mike Tyson and then about movies. Meanwhile in the arcade room, Ashley and Jojo are talking about wanting to work together. Ashley says she wanted to work with you from the beginning. JoJo tells Ashley that she trusts Willie. Ashley says she does too.
Frank and Joe are talking in the kicks room talking. Frank tells Joe that he went up with Willie was all fake. Frank tells Joe that Willie wants you (Joe) and Ian to go up next week. He is so full of shit. Frank says that Joe opened his eyes to what Willie was trying to do and that Britney is full of sh*t too. Jenn joins then in the room and Joe hugs her. Frank says I will send one of her player's home next week, one of the strong ones too. Jenn tells them that Willie called her a snoop. Joe says if something happens today I will draw the line. Frank says that Willie isn't even on the block and he is losing it. Frank says this feels good. Jenn and Joe agree. Joe says when you tell lies you breed lies in your head. They all agree that Wil is good and they are all sorry that Kara has to go home this week. Joe says that we are the only group of real people. Frank says that Willie is living in Russell's shadow. Wil joins them. They all laugh and talk about how they are all together. Frank tells Wil that Willie was making fun of Wil. The talk about not coming out about their alliance but if it gets found out, then they draw the line.
Share it YO!
Tweet