POV Holder:
Shane
Next POV:
July 20 (Friday)
POV Used
No
POV Ceremony
July 15 (Sunday)
HOH Winner:
Willie
Next HOH:
July 19 (Thurs)
Original Nominations:
Frank and Kara
Current Nominations:
Frank and Kara
Have Nots /Slop
Danielle, Shane, Ashley, Ian
Coach Competition Winner
Boogie, Ian is safe
Next Coaches Competition
July 21 or 22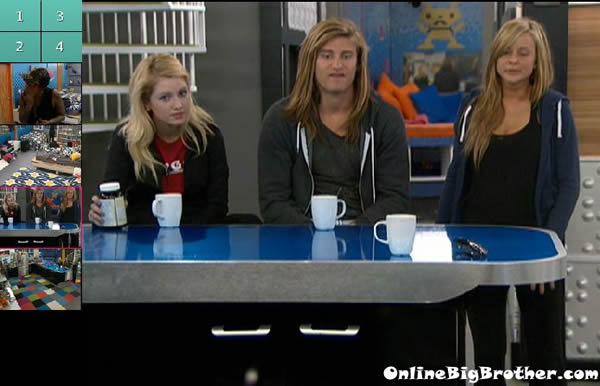 10am Britney heads up to the HOH room to talk to Willie. Britney tells Willie that he is making people uncomfortable. Willie says that he isn't. Willie and Britney go into the bathroom to talk. Britney tells Willie that she is not going down for this because people are going to think it came from me. Willie says that it didn't come from you, I walked in on Frank and Boogie talking about the numbers. Britney says why don't we just play the game that we know we have. Mike doesn't even think it's going to happen anyways even if it was now it won't because there is so much talk about it. Britney says that if someone comes up to me and asks me about it I will say that I heard it from you and you heard it from Frank. Willie says fine. Britney heads back down stairs.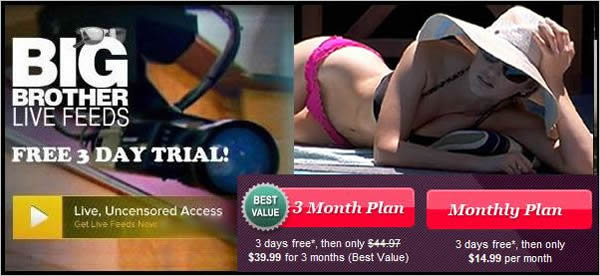 10:20am Britney and Wil are hanging out in the kitchen talking and goofing around. Britney asks Frank if he has a nickname. Like Frank the Tank, Frank the Skank. Willie says yeah I've been called that, and I called myself Frank the Skank. Meanwhile in the diary room, Dan and Joe have a conversation. Joe tells Dan that Willie is cracking. Joe tells Dan that Willie was cussing out Britney, telling her get out of his face.Dan tells Joe to just chill with his team, he is going to get the vote to save Kara.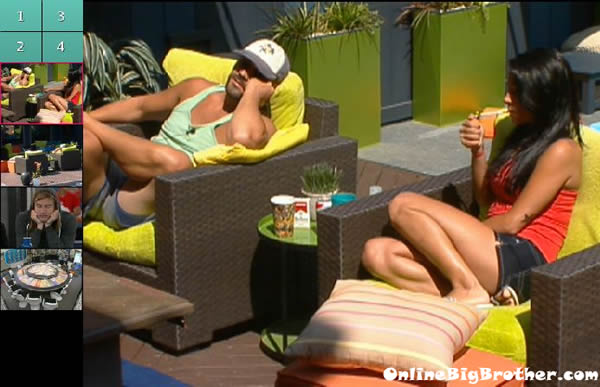 Superpass Live Feeds: 3 Day Trial!
10:40am Out in the backyard are Willie, Joe, Jojo, Frank and Dan. Willie say that later he is going to call a house meeting with just the people that are playing the game. Joe says do it. Willie says I will, I will just wait until Janelle gets up, maybe around 1 o'clock. Britney joins them outside.
10:45am Kara and Wil are in the arcade room talking. Wil tells her that Dan is going around saying he is going to flip the house. Kara says Dan is going to get me sent home. Wil says that Willie's reign is almost over. Kara says that she isn't gunning for Willie at all, Frank is. Kara says that yesterday I felt safe and now I don't. Wil says that Britney was talking about getting out Dan and it had nothing to do with you. Kara says its not even their game, its ours. Kara says that the only coach she wants out is Boogie, he doesn't even need the money. Kara saya that she wishes she didn't sleep in this morning. Wil says that it might be good because you stay out of the turmoil.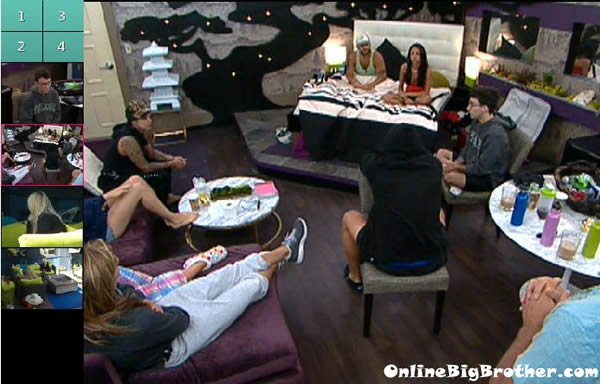 10:55am – 11:15am
Willie calls a house meeting for all of the newbies without the coaches. Willie tells them all that he thinks they are all being put against each other by the coaches. Willie says we could play like we don't have coaches in this game. Willie then tells them that those coaches could come back into this game, their slots by their names could just as easily have keys in them. Willie says that everyone is playing way too much game too early. Don't pay any attention to the coaches. Until they come into the game if they do, then we will play. And if it comes down to that we have a huge alliance to get them out. They are playing the game for themselves to shuffle this deck to what benefits them. When they talk game it is to get out the other coaches. The others agree. Willie says that this might be the down fall of me, and so have it. It makes no sense what is going on in here. If you have ever seen the newbies vs. all stars, the all stars run the house. If they flip it like that, then they are the enemy. Build your own alliance, but don't build their alliance. Frank says if you tell your coaches everything and then they come in the game …then they know everything. Kara says we need to stick together. Wil says that whoever leaves on Thursday has a possibility of coming back. Willie says we are still playing our game which is better than playing their game. Wil talks about hearing the coaches talking about who they need to get out. If we don't do it right now and we don't start playing our own game then at least we didn't get fooled. Joe thinks that Willie is playing too hard too fast and that you are guessing about too much. He thinks that we all need to have our coaches coach us but that we make the deals. By definition you are just a coach you do not play the game. Willie says exactly if they aren't talking to you, you are the pawn. Joe says big brother game them the name, I don't need a coach. Wil agrees he doesn't need a coach either. Willie says that the coaches are going to sleep thinking its like shooting fish in a barrel. If you haven't seen the coaches work yet, you are going to see them work now after this meeting. People are going to watch and say they got played. Wil says that he wants to take a 24 hour break from game talk. We are not teams that has been said many times in the diary room. Big Brother cuts the feeds to the we will be right back screen. They come in and out again a couple times. When the feeds come back Willie ends the meeting and says that he will go sit right in between the coaches and have a smoke.
Watch what happens AS it happens: Big Brother Live Feeds!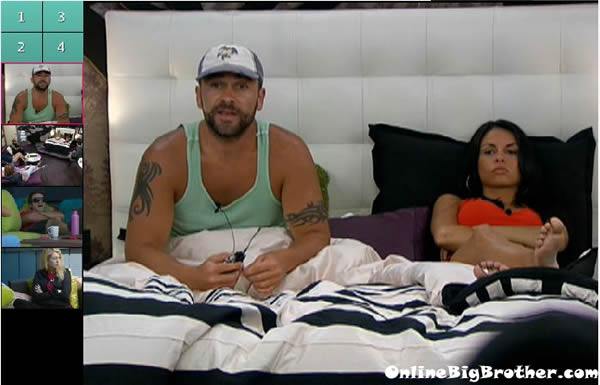 11:30am Joe and Janelle go into the arcade room to talk. Joe tells her that Willie told them that the coaches are trying to steal all out money and that we should drop them, don't talk to them don't do anything. Janelle says but the contract that I signed said that I there was no possibility of us coming back into the house. Janelle says that she doesn't see the coaches banding together.
Janelle says that the contract said in BOLD print that I will not be competing for the grand prize and that I don't go to the jury house.



11:45am Joe and Janelle say that it doesn't make sense the entire concept of the game is around the coaches. Joe says that they are going to be after me if it happens or even it doesn't because I told him his was playing too fast too hard. Janelle says that it doesn't make any sense to leave Frank in this game, it does not benefit you. Joe says that Willie wants Frank and Shane to get out you guys. Janelle asks what did Ashley say? Joe says she just said yeah, yeah. I don't know if they were all acting but they were all for it. Janelle says that he is paranoid; I wonder if that was what he was talking to Britney about last night. He is paranoid. Janelle asks I wonder what Mike Boogie thinks about all this.. Joe says he doesn't he was a sleep; he doesn't even know it happened. Joe says that we are supposed to tell you all what to do because we are your golden tickets. Janelle says that Britney was nervous this morning. Joe asks so you were never told that you might be dropped in this game? Janelle says no I signed a thing this thick that I was just a coach. Janelle says that this guy's power is over. Joe says he is counting on Shane to win this week. Janelle says that he has gone off the deep end. Joe says I think we need to send messages the other way and get him out. Janelle says his ass isn't on the block, we need to vote out Frank. Janelle say we need to get the votes to save Kara. Joe says it's a whole new ball game. They break up the conversation and leave the room.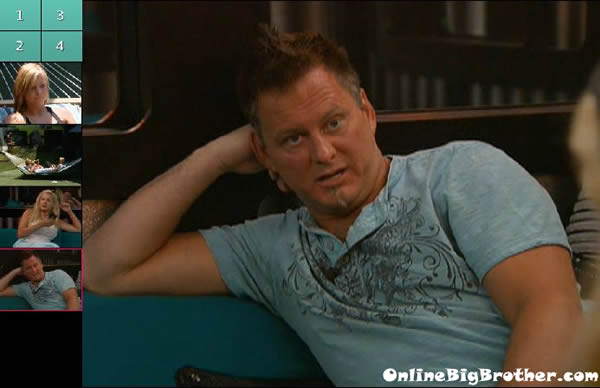 12pm – 12:15pm Willie and Shane are up in the HOH room talking. The go over the meeting and the possibility of the coaches coming into the game. Willie and Shane talk about how they have Frank, Ashley and Jojo. They talk about how want to work on Ian and how they can't trust Joe any more. Britney joins them and starts talking about how they whole house is going mad now and that Janelle and her whole team are sitting together outside talking now. Willie says that's fine let them. Britney says that Janelle team is all together right now. Britney says that Janelle jumped ship and going with Dan. She is protecting Kara. Britney says me and Boogie are the only ones not freaking out. Willie says there are a lot of things you are not of part of. Britney says that is fine I don't have to be involved. I am going to sit back and enjoy my summer and put it in your hands. They talk about needing to get rid of Joe. Willie tells Britney that Ian came up to him after the meeting and asked to talk to us, and I said yes you may. Britney says good talk to him, I am in good with him too. Shane says that he is too because we sleep in the have not room. Willie says that he feels way better after the meeting. Britney says that Janelle is the one that screwed up this whole game when she went to Dan. Willie says that Janelle is going to blow up on me, she does every season and she will on me. Britney says that she told Janelle and Dan that you (Willie) were being pissy with me this morning to make sure they didn't think I was a part of this whole meeting.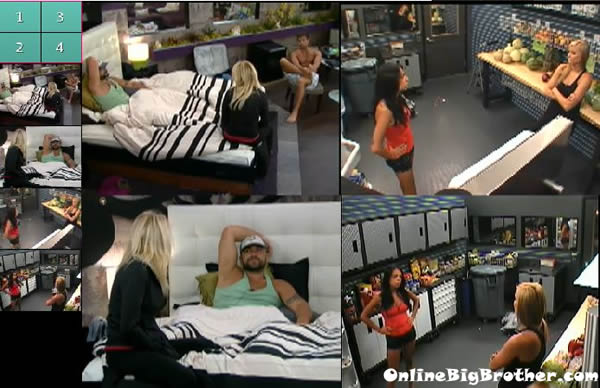 Share it YO!
Tweet