POV Holder:
Shane
Next POV:
July 20 (Friday)
POV Used
No
POV Ceremony
July 15 (Sunday)
HOH Winner:
Willie
Next HOH:
July 19 (Thurs)
Original Nominations:
Frank and Kara
Current Nominations:
Frank and Kara
Have Nots /Slop
Danielle, Shane, Ashley, Ian
Coach Competition Winner
Boogie, Ian is safe
Next Coaches Competition
July 21 or 22
9:25pm HOH Willie and Joe Willie explains to him that the vets always win in reality shows when they come back. He asks Joe why Janelle wants Frank out so bad because not too long ago they wanted Kara out. Joe thinks it's because he's the biggest threat in the house and now's the time to cut him loose.
Willie: "I just want to make sure you good with you"
Joe says he's good with Willie but today made him nervous.. Joe's not going to lie to Willie but today made him think twice about where he stands with him.
Willie: "If your people win a HOH then you have my vote.. I've never made a final 3 deal with Frank.. Dan can up here and gave me 1 week protection and so did Frank"
Willie: "Who will you put up when you win HOH"
Joe: "I'm thinking we'll put up Frank and and Danielle.."
Willie: "Yes sure whatever you want you have my vote"
Willie: "I never gave Frank a final 2 deal, I've never given
Joe says that starting tomorrow he's going to distance himself from Janelle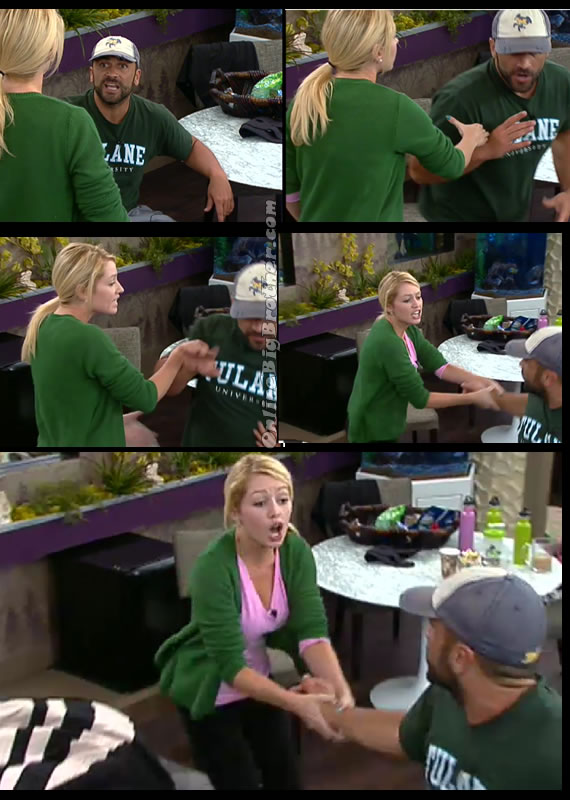 9:43pm HOH Ashley, Britney, Willie
Ashley: "this house is ridiculous.. Stories are getting twisted"
Britney: "This entire House is downstairs against you.. Frank was telling everyone that you were making fun of Wil's voice"
Who the fuck said that.. Britney: "Frank". Willie gets up to talk to Frank but Britney stops him.
Ashley: "Everyone is twisting words down there like crazy"
Britney: "The coaches are trying to get rid of you because they think you are casuung trouble"
Britney: "EVERYONE is downstairs talking about you and Frank is starting it all"
Willie: "He's gone this week"
JoJO joins them.. they start filling her in on Frank saying that Willie made a homophobic remark about Wil. Britney says it was all a lie because she was in the room when Willie said the alleged remark. Britney continues about how Frank confronted her about what he said and claimed he was only doing it for Votes. Britney: "It's like everyone is on a smear campaign against you.. and I'm sorry but what Frank said was wrong"
Willie tells JOJO to go rally the team, Britney laughs: "We're still a team"
JOJO runs off to get people but but brings back no one.
Willie: "I don't know right now.. one of you have to win HOH i'm telling you.. oh well I got 2 people" (Ashley and jojo)
Ian joins them
Willie: "I never said no nothing about a homosexual I never acted like a homosexual I think because I had that speech I'm run thought he mud right now"
Willie: "what do you think boss"
Ian: "It's not good i'll tell you that.. you didn't say?that"
Willie explains what he said about wil, Willie: "Wil had said he's taking 24 hours off game talk and now he's game talking .. that's what I said" Willie adds that somehow Frank is twisting that saying we was impersonating Wil in a derogatory way.
Britney: "Frank flat out said to me he's throwing his name threw mud just to get votes"
JOJO: "I don't understand he had the votes"
Britney: "I wasn't there for your speech but somehow you came out the villain"
Ian: "I don't know what the fuck is going on"
Willie points out that he was just in the have nots with Ian and Frank and he was saying that he wanted to keep Frank. How can he keep Frank now when Frank is f*cking him. Ian says he had a deal with Frank to vote for him to stay and he can't go back on that deal. Ian says something doesn't add up it doesn't make any sense.
Willie: "I must be the biggest dick there ever was"
Britney: "Willie you're a loyal good person"
Willie: "Ian you going to go back there and say to people I said that?"
Ian: "no I don't agree with it"
Ashley leaves
Ian warns Willie to stop using the word Retard it's making some people upset.
Willie says a hour ago he was fighting for Frank to stay and now Frank's making him look like the devil.
Willie: 'Thank goodness JOJO I have you and Brit"
Willie wants to bring in Frank to talk to him. Britney doesn't think it's a good idea.
10:17pm Backyard EVERYONE Use the Flashback to see this clip you can catch it on every camera the tiem was roughly 10:17pm
3 Day Trial
Willie wants to know why Frank is going around running his name through the mud when he's trying to get Frank the votes to stay, "I'm getting dragged down like i'm the biggest motherf*cking piece of shit"
Willie: "I hope you go home this week I hope everyone.. You're a piece of shit.. I was fighting for your votes"
Of Course Frank denies it, says he's never lied in the house
Willie: "Your telling everyone i'm saying a homophobic slurs "
Frank: "I never told them you said a homosexual slur"
Willie: "You're dragging me into the ditch"
Frank: "You ran yourself in the ditch"
Frank: 'You are saying to people that you wanted the vote to be close so that I would go after Janelle's players"
Willie: "Who told them that!"
Joe mentions he did.
Frank says tells everyone that Willie wanted the votes to be close so that I would pick off Janelle's players.
Willie: "Janelle, you were the one who brought that up earlier in the week.
Willie: "you see 2 people are now knocked out you (Frank)and me.. congratulations! and Kara I swear to god you stay in this game You're honest, Frank's not"
Willie: "you've lost 2 votes"
Boogie jumps in say "What are you talking about how do you control these players.. 2 Votes?"
Willie says something about Boogie trying to get some TV time Because Showcase After Dark is on.
Boogie: "Wait what.. so did you say that about Wil"
Willie: "No Britney was there"
Boogie: "We'll Britney has vested interests in you being in the game.. but did anyone else hear you"
Boogie leaves.
Frank tries to say something to Willie. Willie tells him to fuck off he doesn't want to speak to him anymore.
Frank: "There's going to be a lot OF Diary Room seasons"
Willie: "I'm not going to no f*cking DR"
Willie leaves.
Joe goes up to Frank says that Willie wants to chop Frank out next week He told him that in the HOH a hour ago.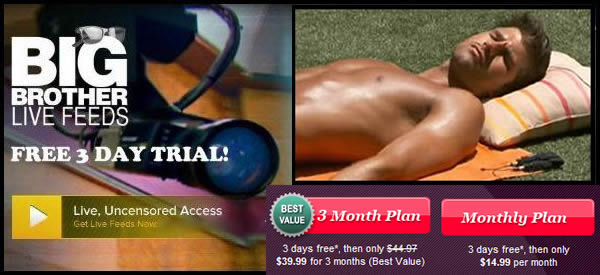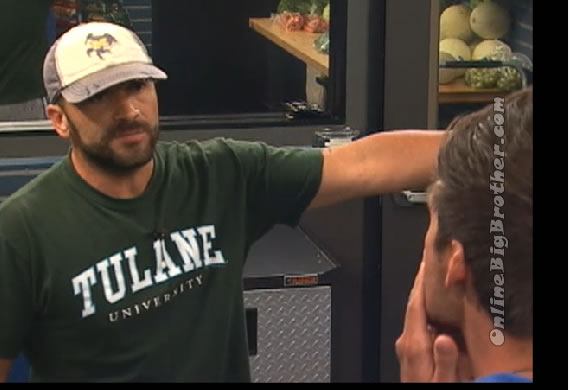 10:48pm Storage Room Willie and Shane
Willie saying all he's got left is JoJO and Shane. Shane can't believe
Shane: "If you and I can alternate back and forth .." (LOl if it was only that simple)
Get The Live Feeds for your iPhone or Android Phone! Comes with a regular subscription to the Live Feeds Subscription Link
10:55pm HOH Willie and JoJO
Willie tells her they have 3 people left competing in next weeks HOH. JoJO is worried that she's in trouble now because there is so much heat on Willie. Willie explains that he had to confront Frank. JoJO agrees but thinks he should of done it in private. Willie: "I had to do it out there I had to get the whole story out.. or I would of looked like a B!tche"
10:59pm britney and Frank Frank apologizes for all this he says that he was just looking after himself. Britney tells him that Willie was really trying hard to save Frank but she wasn't privy to everything Willie was doing. She reminds Frank that Willie is the one that wants everyone to not talk to heir coaches. Frank rings up the things joe said about Willie voting him out next week. Britney warns Frank about Joe saying a lot of stuff to a lot of people.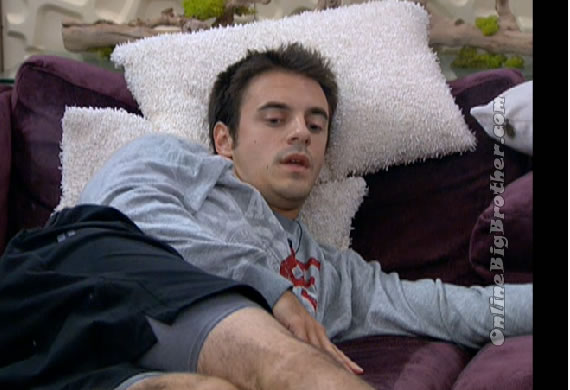 11:20pm HOH Dan and Willie
Willie tells him he's going to tell his people to vote to keep Kara if Dan can keep him safe next week. Dan says yes that deal still stands.
Willie warns Dan about Joe, "Joe's an exagerator he makes shit up.. you better tell your people to watch what they say to joe"
Dan: "I look at this as a week to week thing.. you save us this week we'll help you next week"
Willie: "joe is Adam from last year" ( he's Shelly, we're blessed there are no Adams" )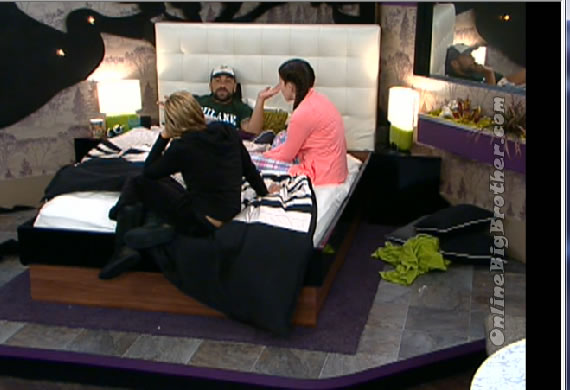 11:45pm Head of Household Room, Willie, Danielle and Kara Willie tells them if they keep him safe next week he'll try and get them the votes for this week to save Kara.
the Girls agree. Willie proceeds to tell his side of the Frank/Willie argument.
11:45pm While Willie talks to them upstairs Britney does damage control with Dan. Tells him that she had no idea about Willie side deals all she knew is Willie wanted to team up with frank because he thought Frank was honest.
brintey: "really I feel sorry for Willie.. He honestly thought he could trust Frank"
12:15am HOH Ashley, Britney, Willie and JOJO Britney tells them that Janelle and and Boogie are working together, she hears them in the backyard. Britney warns them that JOe is working the entire house right now. Ashley agrees, Ashley adds that Janelle hadn't spoke to her all Day.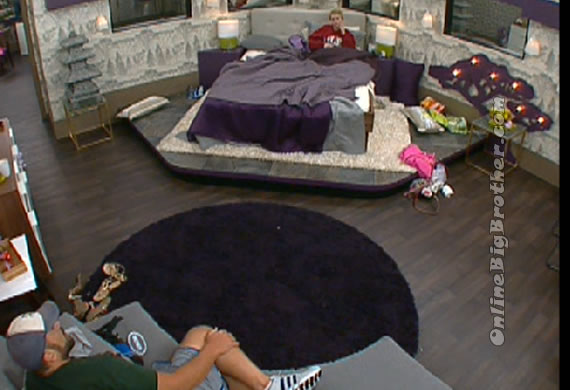 12:25am HOH Brit and Willie
Britney: "Look the master mind behind this whole situation is Janelle and Joe.. but you made a mistake telling Joe to stay away from Janelle..She's got Boogie and dan. We're down a player"
Willie: "If I can stay one more week i'm starting to learn this game and Find out where I'm making mistakes"
Britney: "You told Joe WAY too much"
Willie: "Joe's gotta go"
Britney: "You've said taht about 6 people now "
Britney: "We've really thrown ourselves out there I'm going to take a step back and build some relationships"
Britney: "I'm trying to work Ian.. but honestly I don't think Ian has any game"
Britney: "If you can make it through next week you're good.. IF YOU CAN MAKE IT"
Britney says that she thinks that the competition may be physical tomorrow only because they saw guys out in the backyard and they were pointing at things like they are planning something big.
Britney: "I'm glad Ashley is not blind to Janelle"
Willie: "But JOE ohh man"
Britney tells him right now they're only chance is to stick with Dan. Willie says good they have a deal with them for one week.
12:50am Bathroom Dan and Kara Dan says all they need is one vote to keep her safe. Dan is just worried that Boogie's next move to keep frank safe is to tell people that Frank will take out willie if they leave him in the house. Dan is worried this might work with Wil. Dan instructs her to throw the next HOH, regardless of who wins she'll be safe this week. Dan: "that's the beauty of it all". Kara says that Willie thinks he has Ashley.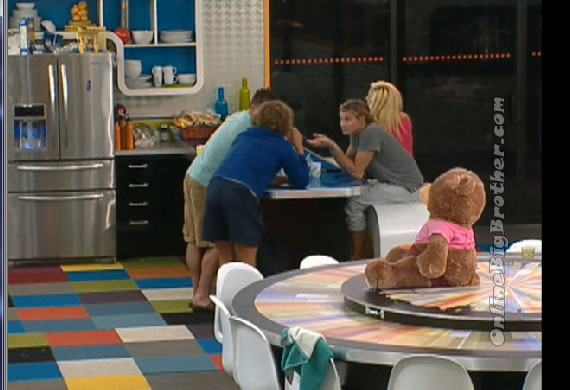 12:55am Kitchen Joe, Janelle, Wil, and Frank They are agreeing to work together to take out Willie. They plan to vote out Kara this week. Janelle is starting to get a little worried about Ashley. She just needs to talk to her tonight. Joe is certain that Ashley can be trusted.

Share it YO!
Tweet