POV Holder:
Shane
Next POV:
July 20 (Friday)
POV Used
No
POV Ceremony
July 15 (Sunday)
HOH Winner:
Willie
Next HOH:
July 19 (Thurs)
Original Nominations:
Frank and Kara
Current Nominations:
Frank and Kara
Have Nots /Slop
Danielle, Shane, Ashley, Ian
Coach Competition Winner
Boogie, Ian is safe
Next Coaches Competition
July 21 or 22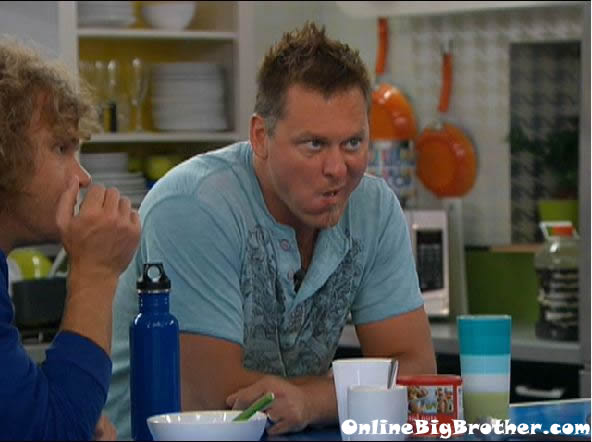 Re-Watch ALL THE DRAMA on FlashBack:
Big Brother 14 Live Feeds – 3 Day Trial!
1am Joe, Frank, Wil, and Janelle are in the kitchen talking about Willie. Frank says that Willie is just too much of a wannabe manipulator. Joe asks who figured that one out? Janelle says he did (pointing at Wil). Wil says that he is normally a good judge of people, and was so shocked when he started being so nice to him. When I'd go in a room he would go HEHEHE! He was doing that to mock me. He had me fooled for a second. And then I was blood honest. Frank says you got to be with the people you work with. Frank says that's what I told him out side, and he said don't talk to me! Willie comes down from the HOH room and heads outside. Joe comments on this being so awkward. I hate it. Frank says the last thing I want is a fu*king tie. Wil asks a what? Joe says a tie, because then Willie gets to send him out. Frank says that he would pull his fu*king hair out. Janelle asks Frank what he would do? Frank says I would be like, alright, eat your fu*king fruit loops! Joe says that he wants to send him home to run someone elses life, stop trying to run 12 of our lives. They comment on how Britney and Willie flirt with each other and its weird. The conversation changes to talking about Mike. Frank says that Mike wanted to be up talking game tonight but that he's been in bed for an hour. Janelle says that he's been in bed this whole game so far. Janelle laughs about how Willie is so egotistical and said that he was the biggest threat in this game.


1:20am – 1:35am
Joe asks Janelle if doing the show opened a lot of doors for her after? Janelle said that she didn't know, I just did it to win. Frank says that Dan said he would be in here for a year if he could. Frank says he would to for a million. They start asking Janelle about her season 6 and how it worked. Joe and Janelle start talking about possible twists. Joe thinks that maybe the coach and the player team up and split the $500,000 plus the $100,000. So that each get $300,000. That way it still keeps the coach concept. Janelle talks about how some coaches like Mike don't even give a sh*t about their team though. That's why Jenn won't work with him and why he is just sleeping right now. They both point to Dan and say that he cares. Just as Dan walks up. Joe comments on why Dan cares, because he is in the game and he is a coach. It's a little more incentive because you want to be a good coach. Dan says that he loves to be able to positively impact someones life. Janelle tells Dan that Mike isn't playing the game like himself. Dan asks really? Janelle says he's slept for the last 2 weeks. Dan says that he was surprised that Mike got in the middle of the argument today. Janelle says that's who he is, he loves that sh*t. Janelle and Dan talk about how they both though that Willie wouldn't be a person that would listen. Dan says that she got a good player Joe. Janelle says yeah she was happy. Janelle and Dan continue to point at the memory wall and talk about their team choices. Dan wonders why Boogie is here, he doesn't need the money. Janelle says for street cred… that and he needs a break from his job.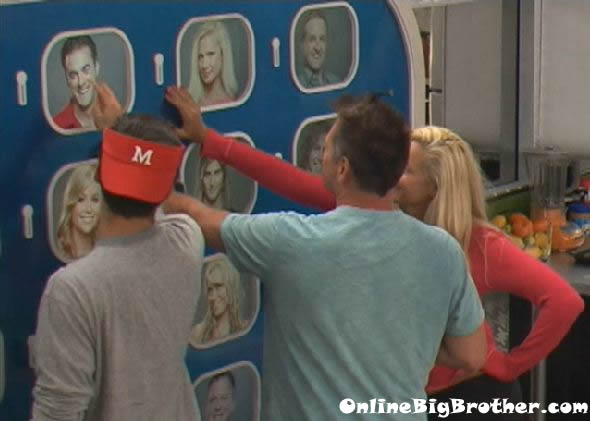 Big Brother 14 Live Feeds: 3 Day Trial!

1:40am Joe and Ashley are in the storage room talking. Joe tells her that they are voting out Kara. Ashley says okay what I thought we weren't keeping Frank. I am glad I came to talk to you. Joe says no we are absolutely keeping Frank. Frank is a part of our alliance. Ashley says okay, okay, then that is how I am voting! Joe says that he likes Kara, but there's nothing I can do. Ashley asks so Wil is on board? Joe says Wil is on board. Ashley says alright! Joe says I just re-talked to him again, he hates it but we have to. Joe says that Frank outted, he did a very good think, he basically assured that Willie is going. Ashley says okay. Joe says it will be our alliance, we all have to vote Frank in. He is turning to be a much better dude than I ever thought. Ashley asks so you trust him. Joe says that he talks a lot and it makes sense what he's telling us. Ashley brings up how Janelle doesn't talk to her. Joe explains that this is an alliance guaranteed till the final 6, then we go our own way. Ashley says okay. Joe says me, you, Wil, Jenn, Frank and Ian. Ashley says okay, lets do this. Shoot, so happy I talked to you. Joe says 100%. They break up the conversation and leave the room.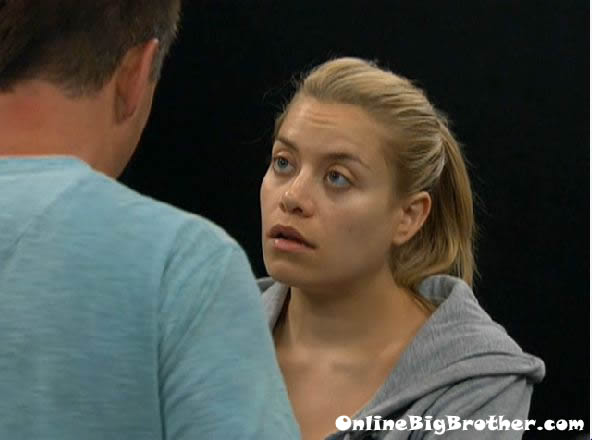 2am – 2:40am Up in the HOH room, Jojo is in bed with Willie with the lights off. Willie is talking about how he is going to start talking to Kara and building a relationship with her tomorrow. And Danielle just to let them know that this game changes. Willie says that if we can get past this week, it can all change. I want to get rid of Boogies team because I want Boogie out of here. Because Boogie is going to be where the drama is. Jojo says that part of her strategy was to be friend with everyone, even if it was fake, and the truth is I really can't stand Danielle. Jojo says that if I have to pretend to like someone then that's what I got to do. Jojo says that Joe stares at her like he is picturing me naked in his head. Willie says he is stupid, if he thinks he is going to end up in the final two he is retarded. I got a better chance at ending up in the final two than Joe and I am probably in the worst spot now. He just doesn't, that running around telling people shit doesn't work. Willie says that he told Joe out there that he wanted to work with him and that said I hope you stay Kara because I want his punka$$ to go home. Willie says everyone wants to throw me under the bus for some reason, except my own people. I am a beast in competitions too. Jojo starts talking about how good Willie did in the last competition. Willie tells Jojo that she needs to win this next challenge. Jojo says that she knows Danielle wont put her up because I would flip out and make her life hell. Willie says that he thinks Danielle would put up Ian and Jenn, but I could go and talk to Dan and get them to put up Joe because he is going back and forth. Jojo and Willie are getting ready to go to sleep and talking about making out with each other. They are laughing. Willie tells her that they'll make out on day 60. Jojo says no, day 40 …no, day 30. Willie laughs and says ok, we'll make out on day 30, now they're going to sleep. They both go to sleep.
Watch what happens AS it happens: Big Brother Live Feeds!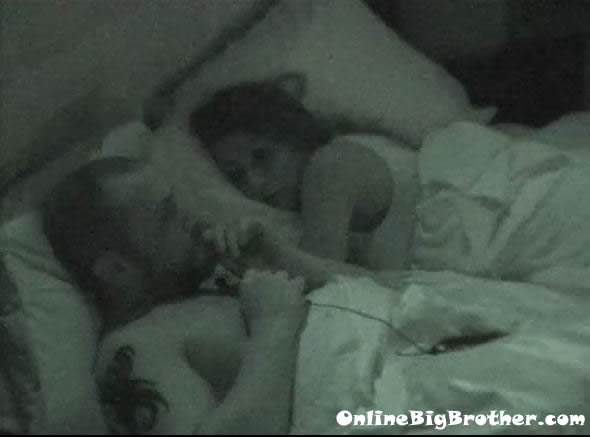 6am All the house guests are still sleeping..
Share it YO!!
Tweet