Signup for the Big Brother 14 LIVE FEEDS and get the Mobile Live Feeds for FREE!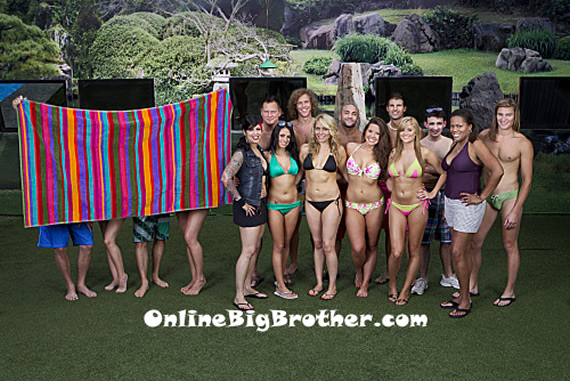 CBS has released the Big Brother 14 Cast photo of all the house guests in the backyard of the Big Brother house. Its nice to see Wil Heuser isn't afraid to rock the banana hammock. The photo also includes the Big Brother 14 Alumni Mentors hidden behind a towel. From the looks of it, it looks like Britney Haynes legs second from the left and Janelle Pierzina four from the left. Its too hard to tell for sure which male mentors are coming back from the photo, but its a strong possibility that its Dan Gheesling and Mike "Boogie" Malin.
If you don't already have the Big Brother Live Feeds, NOW is the time to SIGN-UP! Every season before the première SuperPass offers the Early Bird Special where you can save $10 off the regular 3 month subscription price. That allows you to watch the ENTIRE season of Big Brother 14 for only $29.99! Plus you get $30 in music credits, exclusive interviews, and much much more ..so its win win! Sign-up today for the the limited time offer runs out! On July 12th the live feeds go back up to the regular price of $39.99!
Download our FREE OnlineBigBrother.com iPhone and Android apps, they are 100% free, all the best spoilers right away on your phone. Notifications, Thousands of screen captures, HOH, POV, Nominations everything that is on this site now on your phone.