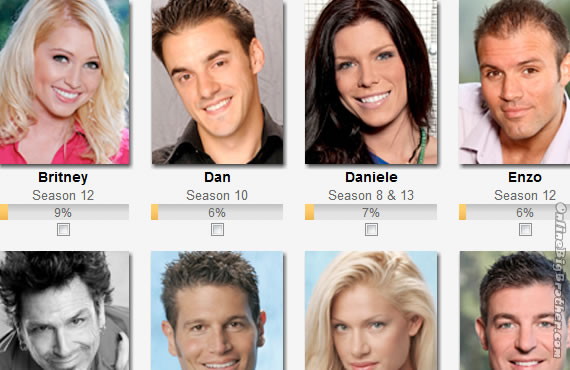 Signup for the Big Brother 14 LIVE FEEDS and get the Mobile Live Feeds for FREE!
Looks like the Mentor Twist was correct and 4 past players are returning to the Big Brother Game. How this is going to play out we don't know yet nor do we have confirmation of which houseguests will be coming back, The offical press release states this
In a Series First, Four of the Most Successful Players of All-Time Return to BIG BROTHER, Playing the Game with Their Own Agenda and For Their Own Prize
12 cast members were shown on Wednesday with 4 mentors to be known on the day of the premiere. CBS' website has all the possible faces and they will grey out one face every day only 4 remains.
For the first time in the history of Big Brother, four of the most successful players will return to play their own game for their own seperate prize. Who do YOU think will be returning?
As of Saturday July 7th the grayed out faces are Natalie and 'Evel' Dick. this leaves Britney, Dan, Daniele, Enzo Howie, Janelle, Jeff, Jessie, Kayser, Boogie, Rachel, Ragan, Renny, and Will.
Rumors had the 4 mentors as Boogie, Janelle, Dan and Rachel but it seems now that Britney is the favorite. This still leaves us with 16 players which doesn't coincide with the
Super-size commercial
that stated Big Brother 2012 will have the MOST players. The 12 new players + the 4 mentors doesn't beat the Big Brother 9 cast. A recent Superpass splash ad shows the 4 mentors as Britney, Janelle, Will and Dan, However superpass tweeted later that the ads have anything to do with what will actually happen on Thursday night.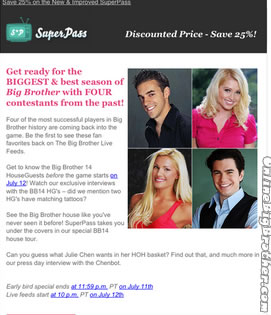 @DogdaveBB counted out the beds in the house and tweeted..
16 in the House–I've counted the beds –they are 8 beds short–the have not room would need bunk beds #bb14
*We haven't seen the havenots room yet..
It's safe to say Dan, Janelle and Boogie are the mentors (not official yet)and the 4th spot is up for grabs with all rumors and "Leaks" pointing to Britney. As for what the mentors will be doing nothing is confirmed yet. Some rumors have them coming in and picking their own teams other rumors have them not even being inside the house and just interacting with the noobs in the house during the live show.
What do you all think.. out of the remaining choices who do you want to see?
This was tweeted earlier today.. by – The Game Survivor on Twitter. a trusted leak source
"Rookies enter and mentors meet and select. Before the night is over the first HOH competition will have been held. All happening today/nite"
Monday Update
Howie and Will have been grayed out this leaves
Jessie
Rachel
Renny
Ragan
Kaysar
Boogie
Jeff
Janelle
Enzo
Daniele (BB8 BB13)
Dan
Britney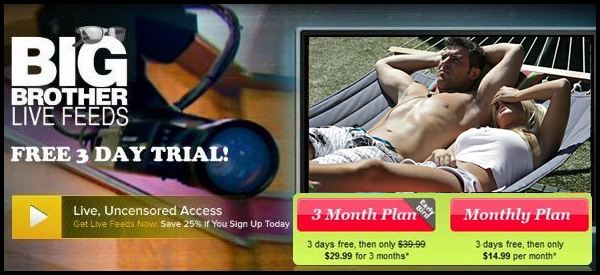 Share it YO!!
Tweet