POV Holder:
?
Next POV
?
POV Used
?
POV Ceremony
?
HOH Winner:
Aaryn
Next HOH:
MVP:
?
Original Nominations:
?
Current Nominations:
?
Last Evicted Houseguest
David
Have Nots
Helen, Elissa, Candice, and Andy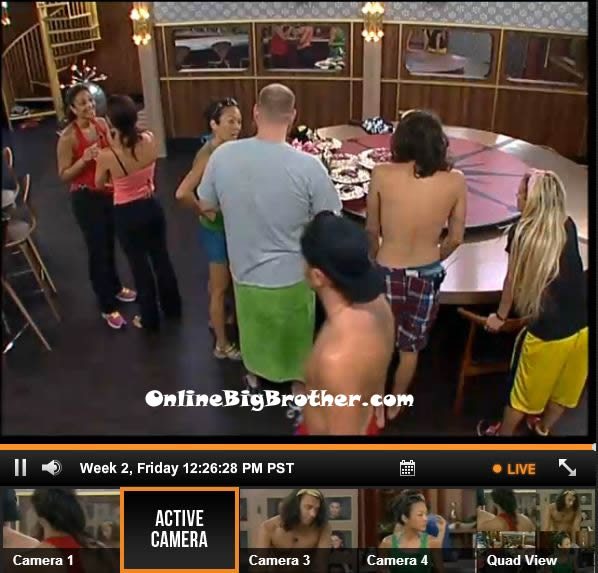 12:25pm When the live feeds return the house guests are inside the house. America voted for the havenot house guest to eat LIVER & LIMA BEANS. Candice is explaining recipes they can make with it. McCrae is super excited and says that he can't wati to try the liver. He says that he has never tried liver before. The havenots thank America for the lima beans. Nick says that he is stocked about the lima beans but not the liver. Nick, Jessie, Andy, McCrae and Jeremy start chucking the lima beans at the liver.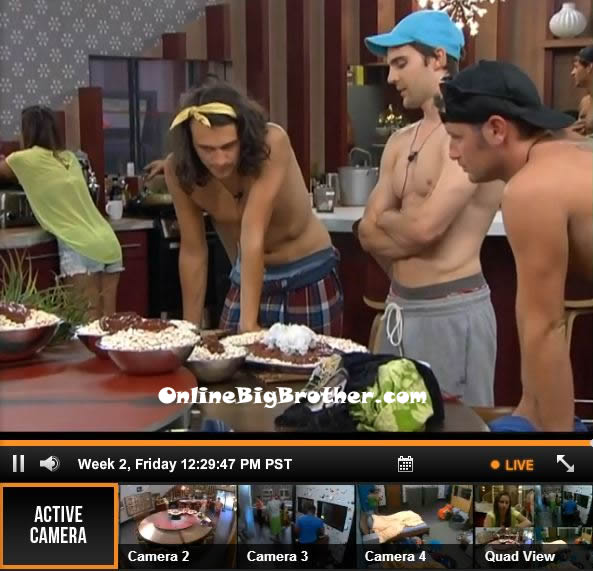 12:35pm In the bedroom – Jeremy, Andy and Gina are talking about a girls period. Gina says that she fights a lot and gets angry when she is on her period. Nick and Gina decide to go back to sleep. Meanwhile out in the backyard – Jessie, Spencer, Amanda and Judd are talking about religion.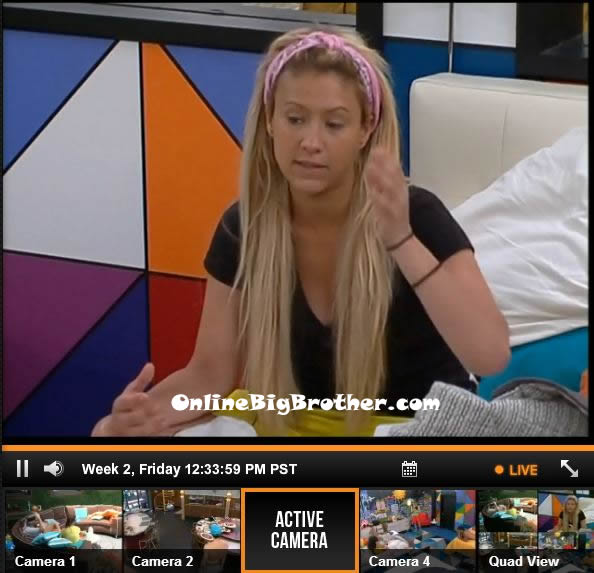 12:40pm – 1pm Up in the HOH room – Aaryn and McCrae are talking. Aaryn says that Helen offered her a deal that if I go with her she will go to the end with me. Kaitlin joins them. Aaryn says if I wasn't HOH I know I would have gone up this week. McCrae agrees. Kaitlin says that she knows she is going up for sure. McCrae tells them that they need to be very careful about what they tall Elissa because she will use it against you. Kaitlin says that she can't use the veto if she wins it because then Jeremy would go up and go home. McCrae tells them that they need to make a deal with Helen so that you have her under your thumb to do what you want. They don't don't think Helen will do what they want. McCrae says that this is tough, the MVP bullsh*t makes it so difficult. Aaryn says we just need to figure out who needs to go home and how to make it work. McCrae says if you put up Candice right away that gives her so much time to boil over. He says that Helen takes things in such good spirits.
Kailin is freaking out that she will go up. She is in pain and says that Big Brother is calling the doctor and will call her back in when they have more information. They talk about how they don't want to put Candice up because people will vote her out over Elissa. McCrae tells them that they need to bring everyone up here individually and make deals with them. Jeremy comes up. Aaryn tells him that they need to starts talking to people and making deals. Aaryn tells Jeremy that they need to put up Candice and tell her she is the pawn. We will get her out next week. If we put up Helen and Elissa they will work together to get out the MVP nomination. Jeremy tells them to do what they need to do, that's why I gave you the key.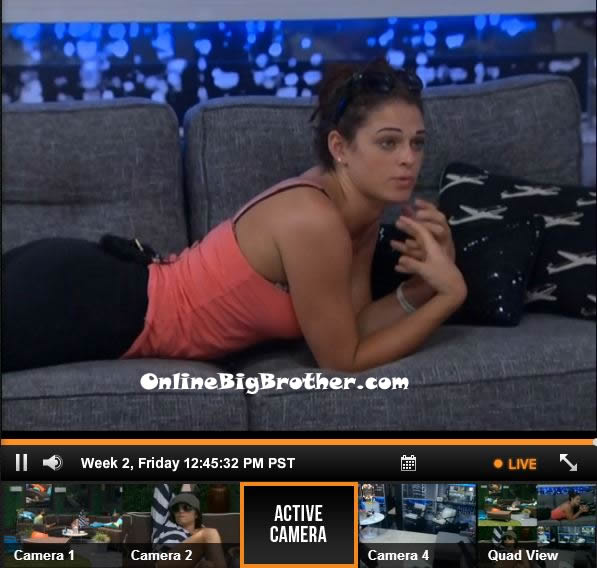 1pm Up in the HOH room – Jessie is in the bathtub talking to Aaryn and Kaitlin. Jessie says that Elissa asked her if she knew who was going up with her on the block. She is already talk about and assuming she is going up. Jessie says that Elissa tells her that Elissa says that Aaryn isn't someone she would even hangout with in the real world. Jessie says that Elissa thinks Aaryn only won the HOH because of her ADHD medication. Aaryn says that she would have been flying in the competition if she wasn't taking the medication.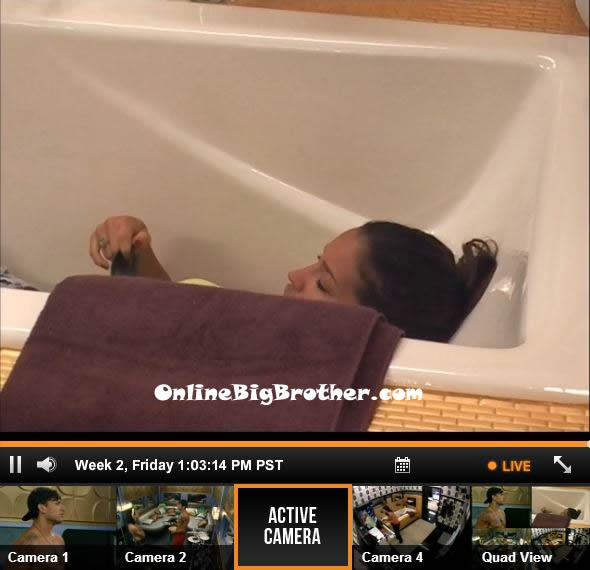 1:15pm In the lounge room – Judd and Jeremy are talking. Jeremy is trying to find out if Judd will vote out Elissa. Jeremy tells him not to lie to him. He tells Judd to not go back behind his back telling them things. Jeremy says that he is going to be winning HOH next week and will be coming after those with Elissa. It should be a land slide to vote Elissa out. I want to believe will vote her out. Jeremy brings up how Elissa is talking about wanting to vote out all the guys and make it an all girls season. Jeremy tells Judd to vote her a$$ out! She has made personal attacks against me and my mom. Judd says that he is worried that someone else will vote the other way and blame it on me. Jeremy says that he has ears everywhere and will know. He says that he knew David was going home before it happened but didn't tell the girls because they would have flown off the handle.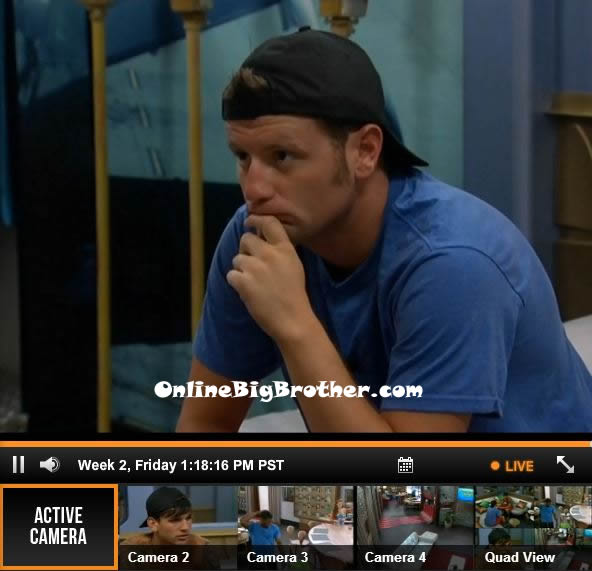 1:20pm – 1:40pm Jeremy heads up to the HOH room. He tells them that he still thinks they need to put up Helen and Elissa because she is a fighter. They don't think that Candice is a fighter. Aaryn says fine lets do that. Howard comes up and they asks him who to put up with Elissa. Howard says that Helen is fine with him. Howard says that he will vote out Elissa. It's a house vote, it's a common sense vote. Aaryn says that if Elissa doesn't go home we are coming after everyone. Howard says he's down with it. Candice comes up next and they ask her who she wants up. Jeremy asks what would be best for your game. Candice says starts going through all the house guests and why she can't say each of their names. Candice stops at Nick and says that she would say him because he is a straddler. Jeremy tells her that she voted for Elissa before and we need you to do it again. Candice says she will vote her out. Jeremy tells her he found out who didn't this time and he will find out again. Jeremy tells her that she isn't a target in their eyes. Candice says that she wants a chance to win MVP, along with everyone else. Candice heads down stairs with Jeremy. Jeremy calls Andy up to the HOH to talk.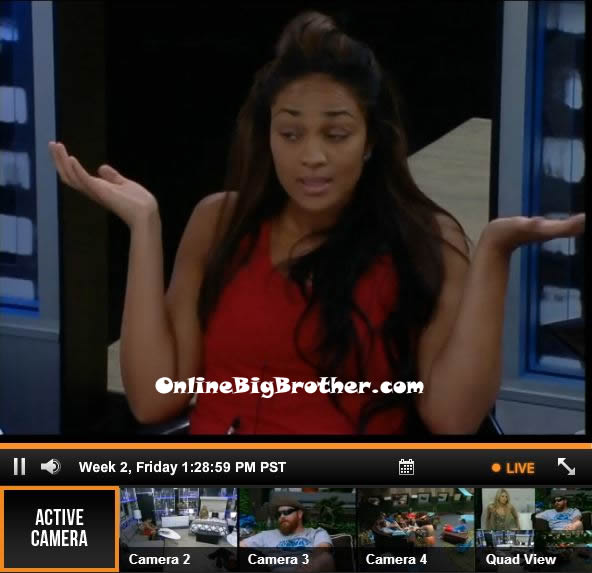 1:45pm – 1:55pm Andy comes up to the HOH room. Jeremy tells him we are putting up Elissa, who should we put up and why? Andy says that he is on board. There is a double edged sword if Elissa get MPV she is going to put up one of you guys. Andy says I think you should put up Candice. He says that Candice would ruffle the least amount of feathers. They talk about how Helen would be a good option too. Andy says that he is in with voting out Elissa. Andy says that Elissa is full of bullsh*t. He says that Elissa said she was sick and asked if she could use the HOH bathroom. Andy says that he told her no, Aaryn is using it to talk to people. Jeremy tells him that if any votes don't go the way they should he will know and be coming after those people. Jessie comes up and tells them that the TV says Nominations Today. Jeremy tells her that they know, they saw it. Jessie leaves. Aaryn comments on how Elissa is just here to get endorsements. Andy says as much as he likes Helen he would be okay with her going up. Andy asks who else they are thinking about. Jeremy says Candice, Amanda and Helen. Andy says that Helen is logical and will understand if you tell her what's going on. Andy ask if this not leave this room but Nick is not picking a side and maybe putting him up will get him to pick a side. At least get him up here and get information out of him. Andy says that he doesn't give a sh*t about Elissa. Andy says just thinking about Helen going up makes me want to cry because she is a good person, but just know if I cry during the nominations I am still on board with the plan. They end the conversation with Jeremy saying 100% vote her out!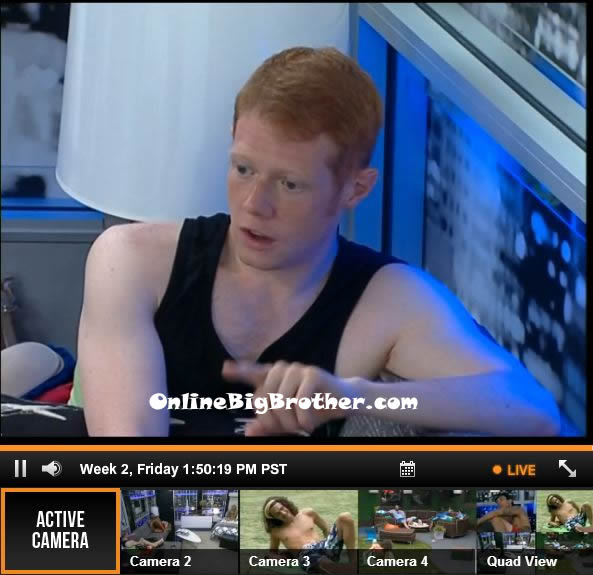 2pm – 2:20pm Jeremy calls Amanda to come up to the HOH next. She asks if McCrae can come with her. Jeremy says certainly. Up in the HOH room – Amanda starts talking about how she knows Candice is talking about her. Jeremy asks who should go up with Elissa and why. Jeremy says that Candice isn't so smart to put up right now, she can be a target next week. Amanda asks are we all together? Jeremy says yes, I would be willing to make a final four deal with you two. Amanda says maybe you should make a deal with Elissa because you don't know how the votes are going to go. If Helen wins the veto, who would you put up. Jeremy says then we put up Candice. Jeremy says that Elissa is riding on Rachels coat tails. Aaryn says that Rachel is ugly any ways. Aaryn suggests that everyone ignores the MVP vote and that way it doesn't even matter. Jeremy asks are you going to vote out Elissa. McCrae says I will put my word on it right now. Amanda says I still think you should make a deal with her. Amanda says she is 100% down. Aaryn says that Howard, Spencer, Andy and Candice said they will vote her out. I know they might lie but.. Aaryn says I think Nick is playing the whole house. Amanda wonders if Nick is related to Brendon. Aaryn says I don't think so, he is just a sketchy fu*k! Jeremy says I don't think he voted for David even though he swears up and down he did. He is not the issue right now any ways. McCrae and Amanda say that they are down with it. McCrae shakes their hands and says my word is bond.
2:25pm – 2:43pmJeremy calls up Judd next to talk. Judd says that he doesn't think Candice would have any votes against her. Judd says if it was me I would put up someone who everyone likes. He says like Helen. Judd says that he is pissed right now and isn't going to talk game with anyone but them. He says that someone is going around saying that I am trying to get information and relay it back to Elissa. Judd says he is going to find out who it is and wants them to back him up and get them out next week. Jeremy tells him to vote Elissa out and we will back you up. Aaryn asks who told him that. Jeremy tells her that he told him. Judd asks so who should I watch out for. Jeremy says everyone on their side. Judd says that Andy pops up like pop goes the weasel. Judd says you scratch my back I'll scratch your back. Aaryn says just so you know my back is on my cock. (It's a line from the movie "Superbad") Judd shakes their hands and head down stairs. Judd leaves. Kaitlin starts freaking out because she thinks she is going home. Kaitlin says that she doesn't want to talk about. Kaitlin leaves. Aaryn tells Jeremy that Kaitlin is my girl but she needs to relax and calm down. She is yelling and people are hearing it. She is super nervous and loud. Kaitlin says that she doesn't want to talk about it. I am more mad about not feeling good and wondering what is going on in my body. Kaitlin says that she doesn't feel protected right now. Kaitlin says that isn't even going to win the veto because then you (Jeremy) are going home. Jeremy tells her to win it, I am fine. You are not going and I am not going home. Jeremy asks her if she is Jessie in Kaitlin's body. You are acting like a two year old. Aaryn says that she needs Kaitlin to relax because she is already freaking out about the nominations and I need my team to trust me. Kaitlin is pissed the Big Brother hasn't gotten back to her about the doctor. Big Brother cuts the feeds and when they come back Kaitlin storms out of the HOH room because Jeremy told her something about her acting like a child.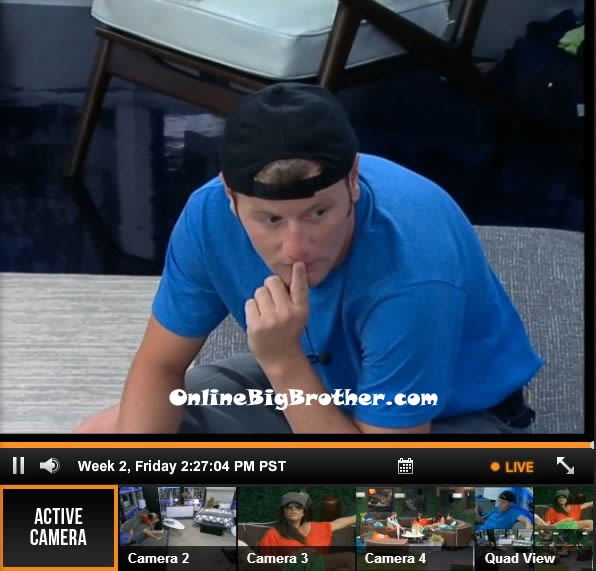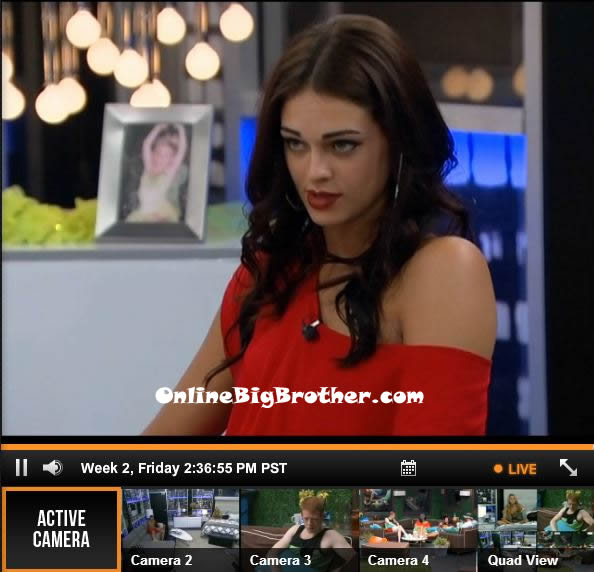 Stay connected and interact with other Big Brother Fans on our Facebook page.
And Follow: @BigBspoilers and @Dawgsbigbrother on Twitter for the most up to date spoilers.