POV Holder:
?
Next POV
?
POV Used
?
POV Ceremony
?
HOH Winner:
Aaryn
Next HOH:
MVP:
?
Original Nominations:
?
Current Nominations:
?
Last Evicted Houseguest
David
Have Nots
Helen, Elissa, Candice, and Andy
9:50am Big Brother switches the live feeds to the we'll be right back screen. Up in the HOH room Aaryn, Jeremy and Kaitlin go back to sleep. In the havenot room – Helen and Elissa talk about working out today. Meanwhile out in the backyard – Judd and Jessie are sitting on the couch talking about her dreams. Andy joins them. Andy comments that the song lyrics played today were I get knocked down but I still get up. He says I bet nominations are today. Judd heads inside and Andy and Jessie talk about boyfriends. Andy talks about the guy he was dating from April – July. He says he lost his virginity to him. Big Brother cuts the feeds. When the feeds come back they are talking about the casting process. Andy explains how casting called a number of people he knows to ask them a ton of weird questions like if I get angry. Big Brother cuts the feeds again. When the feeds come back – Judd joins Andy and Jessie on the backyard couch. They are talking about strategies to big brother. They discuss how different Elissa is from Rachel. Judd says that she is nice and he isn't going to just ignore her and be mean. Andy agrees but says that he doesn't like how the whole game is stacked in her favour. Andy talks about how he voted to keep Elissa because when Jeremy came into the kitchen and yelled at them lumping him with Elissa and Helen it scared him. Andy says that he feels like Aaryn has done a good job to repair things. He says if they want Elissa out this week then I will vote her out. Jessie says that she will vote out Elissa too. They talk about how they hope Elissa doesn't get MVP again. Andy says this could be an easy week. Jessie tells Judd and Andy that she thinks its in their best interest to vote Elissa out because they will be coming after the people that voted David out. Andy and Judd agree.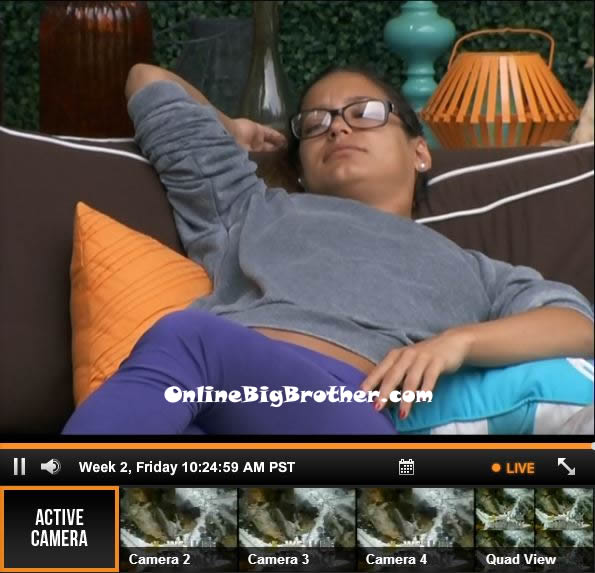 10:50am In the kitchen Candice and Elissa talk. Elissa says that patients is a virtue. She says that she hates prideful people. Elissa starts talking about what a great man her husband is and how humble he is.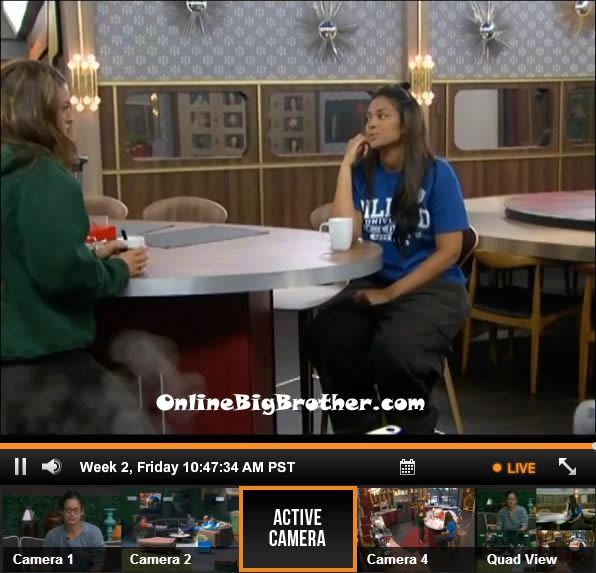 11am – 11:25amUp in the HOH room – Kaitlin and Jeremy are talking about how putting up Helen and Elissa on the block. Jeremy thinks that they will turn on each other but Kaitlin doesn't think so. Jeremy says that it will be a landslide vote. Kaitlin says if I go home, remember you told me that! Jessie comes up to join them and starts doing her hair in the HOH bathroom. Aaryn comes back from the diary room. Jessie and Jeremy leave the HOH room. Kaitlin says that we can only hope that they will fight but they are just going to end up working together. Aaryn says she (Elissa) is smart, but we are smarter. Aaryn says that she was able to flip things in the last minute and will try and do it again so we will make sure that doesn't happen. Aaryn talks about having Candice on the block because no one wants her here. Aaryn says we have the votes – Amanda, McCrae, Jessie, Jeremy.. they think they have at least 4 votes and just need two more. Kaitlin says that she won't take herself off the block if she wins the POV because if I do, then Jeremy will go up and he doesn't have the votes to stay. Aaryn and Kaitlin talk about how Spencer hasn't even been up in the HOH room to talk to her. Aaryn says that Spencer feels really guilty for voting out David. Aaryn says that she is going to tell people that if they don't vote out Elissa, then they are going to be next. We will fight for you, if you fight for us. Aaryn says that Nick is so, so sketchy! I think he is the one orchestrating this. He is working through someone else like Helen to keep his nose clean. I think he is just trying to get information to use it against us. Kaitlin says this is scary. If I go home, its because I got involved with Jeremy. I need to mentally prepare myself so I don't freak out. Aaryn says that she doesn't think nominations are today. Aaryn comments on how people are already starting to like Elissa. She says that Jessie already came up and said that she likes Elissa. Why is she telling us that, is she retarded?! Kaitlin wonders if they should put up Candice. Aaryn says no we should back door her. Kaitlin says she doesn't know. Aaryn says we are the triangle of thrust we need to make this decision together. Big Brother tells them this is an out door lock down please go outside and close the sliding glass door. Katilin and Aaryn heads down to the storage room to change their batteries. McCrae comes in and Aaryn asks him who they should put up. She says that she won't tell anyone whos name he throws out. She feels that this is going to get .. Big Brother cuts the feeds.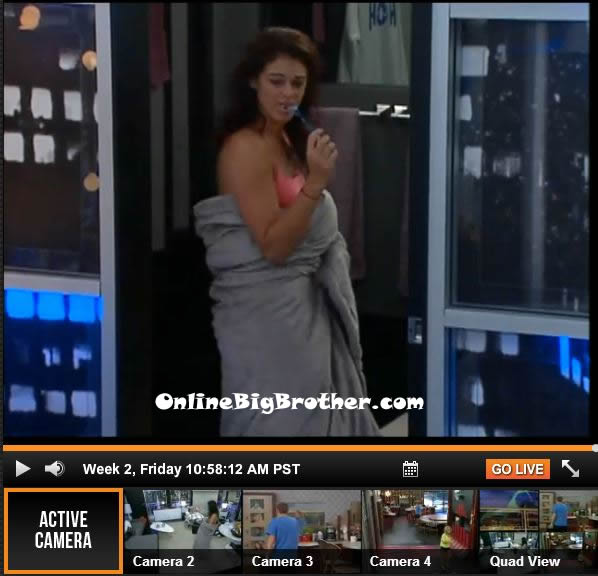 11:30am Aaryn is talking to Spencer by the pool. She is talking about the votes and says that she thinks McCrae is going to go after the people that didn't vote how he wanted. Spencer says you put up who ever you want to against Elissa because it doesn't matter. It matters who the third nomination is. Who do you think she will put up? Aaryn says that she thinks she can beat in the POV. Spencer says maybe put up Jessie since she got into it with Elissa the other night. Aaryn says she thinks a lot of people are against us because we are strong but we can also protect people because we are strong. If you vote with us we can protect you from going up. Aaryn says that she thinks Spencer is friends with Candice. Spencer says fu*k no, she annoys the fu*k out of me. Her baby talk voice annoys the fu*k out of me. If she is one of your nominations, I would be okay with that.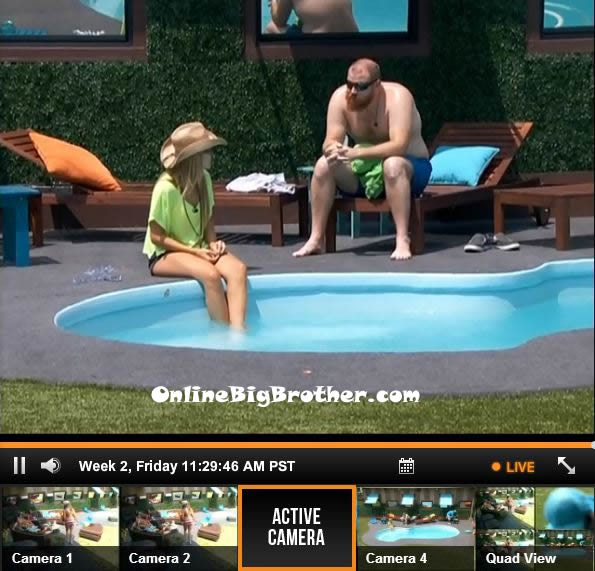 11:45am Aaryn asks Spencer if he knows who formulated the plan to get David out. Spencer says that he told David he had his back and I did. Aaryn says that if you say you didn't hear anything, then you definitely need to work with us. Spencer says that he knows he isn't really with her group and that he is definitely being left out. Aaryn says that she thinks Nick is an actor. Spencer says that he knows Nick is the big question mark in the house. He says that since the eviction he has been acting goofy. Spencer says that he told David he was good a number of times and I was never going to change.
11:55pm Jeremy and Spencer are in the pool talking. Jeremy says that he is sleeping good with the two girls. He says he is waking up with morning wood each morning. Spencer says that he would be worried about sh*tting the bed. Jeremy says that before he came out here he blew himself up. Spencer says yeah I did too! Big Brother tells them to fill the pool with water. Judd puts the hose in the pool. Jeremy pretends its an anaconda snake and wraps himself up in it.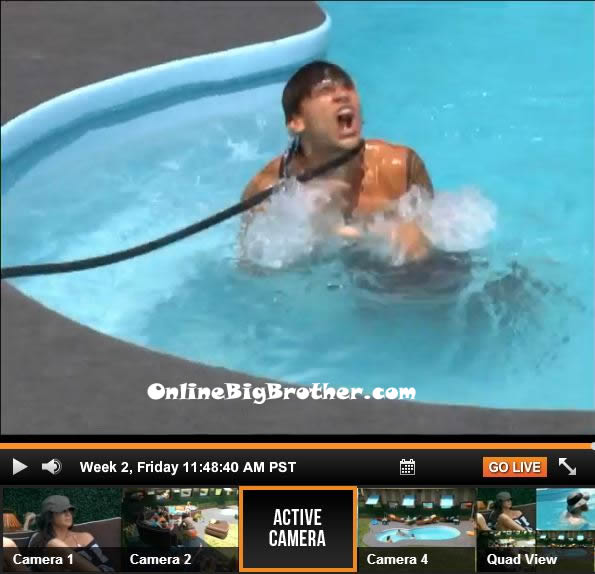 12pm – 12:25pm The house guests are all out in the backyard wondering why they are on a backyard lockdown. They are talking about random things. Big Brother then switches the live feeds to the we'll be right back screen.
Stay connected and interact with other Big Brother Fans on our Facebook page.
And Follow: @BigBspoilers and @Dawgsbigbrother on Twitter for the most up to date spoilers.