POV Holder:
?
Next POV
?
POV Used
?
POV Ceremony
?
HOH Winner:
Aaryn
Next HOH:
MVP:
?
Original Nominations:
?
Current Nominations:
?
Last Evicted Houseguest
David
Have Nots
Helen, Elissa, Candice, and Andy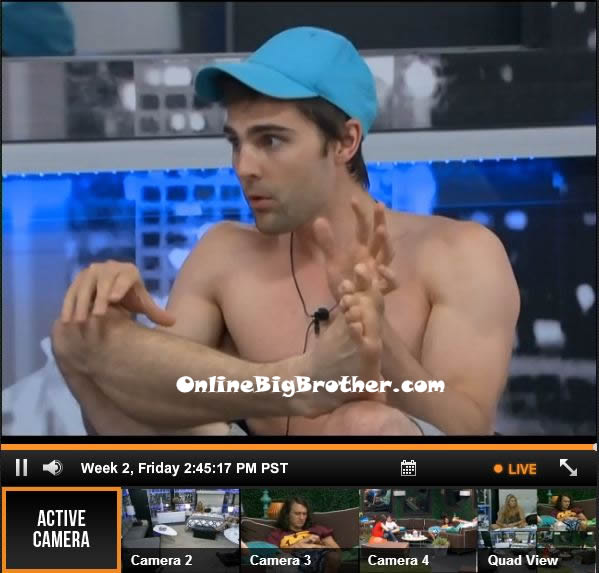 FYI you can re-watch ever second on the feeds using their flashback feature.. It's super easy to use click this link for a free trial —> Big Brother Live
2:45pm Nick comes up to the HOH room. They ask him who they should put up with Elissa. Nick says I thought you had it all figured out. Jeremy says we are asking everyone what they want and we are asking you because we don't want anyone to think we aren't talking to you. Aaryn says that what scares her is that he won't throw out any names. Nick tells them to put up a pawn. Nick then asks to talk to Aaryn alone. Jeremy leaves the HOH room. Nick tells Aaryn that he watched everyone the first week to see who he could trust. He says that he put his trust in a few people and those people are the only ones he is talking game with. Jeremy comes back in. Nick says that he thinks there is enough guilt in the house to send her home. Jeremy asks so you are voting her out? Nick says yes. Nick asks who else would go up with her. Jeremy says anyone but MC. Jeremy says that Candice is the target next week. They talk about putting up Helen and talking to her about after the nominations.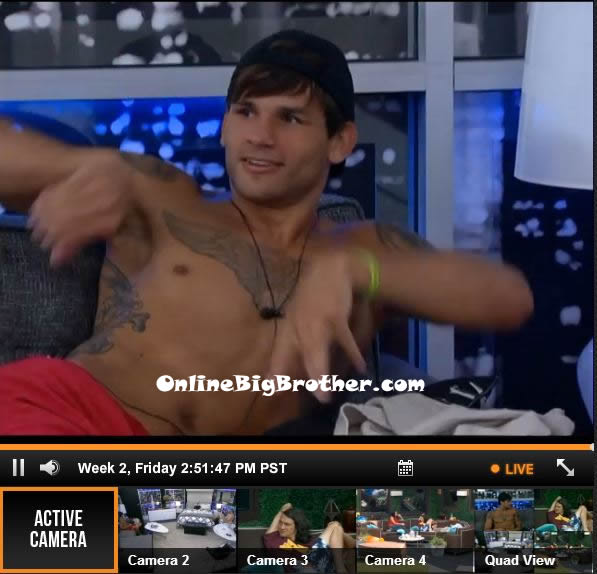 3pm Helen comes in next. Jeremy her who she thinks should go up. Helen says that I know you want Elissa out, if you put me up I will win the Veto and take myself off. She says and that will put more blood on your hands. Helen says that I am a mom and want to set a good example for my kids. I was honest with you about voting David out and that's why I put my hand up. Helen says that I know that you are thinking of putting me up because I know if you put up Candice she has no way of beating Elissa in the POV. Jeremy says that he is blown away by how honest she is being with them. Jeremy says that you are both physically and mentally one of the strongest players here. Aaryn and Jeremy say that they want to work with her. Aaryn says I don't want you to think that just because Elissa goes home, it doesn't mean we are coming after you next. Helen says that she is ready to go up on the block. Jeremy tells Helen that he wants to really move forward with her and that he believes what she says because she has an image to uphold. Helen says put me up, I am not a revengeful person. She says then next week we can talk and move forward.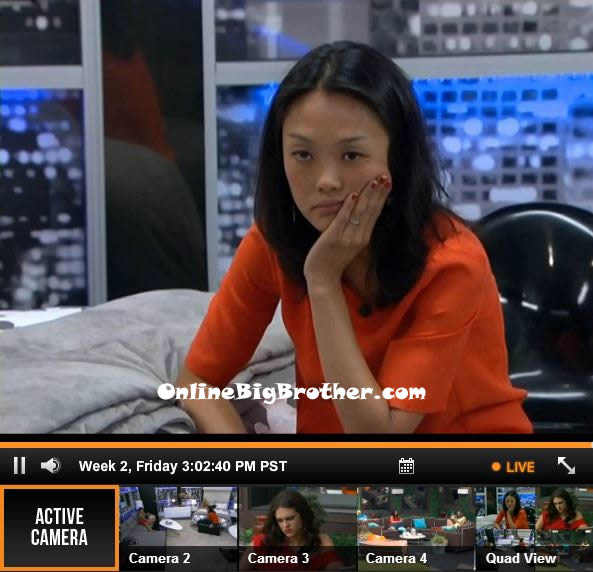 3:10pm Gina comes into talk next. Gina says okay where is the hot seat. Jeremy says oh no we don't need to talk to you like that. Gina asks do you want me to do or say anything to anyone. Jeremy asks Aaryn what Nick said when he was out of the room. Aaryn says I don't know why he didn't say it in front of you because all he said was that he only trusts a few people in the house and those are the only ones he will talk game with. Jeremy asks why couldn't he say that in front of me? Aaryn says that she thinks he is trying to build trust with me after last week. Gina says that she knows Nick is here for himself but there is something not right. Jessie tries to come in and they tell her they're just doing one on ones right now. She leaves. Jeremy says that is the 3 time she has tried to come in here. They agree that Jessie is feeling guilty about something and that's why she keeps trying to come up here. Gina tells them to talk to Jessie and look her in the eye when she talks because if she looks up you know she is lying. Gina leaves and they tell her to grab Elissa. Jeremy and Aaryn agree that Amanda is lying to them. They talk about how they know she voted David out and is lying to them.
Jeremy says that he knows and that he talked to McCrae about it last night. Aaryn says that you know if you put her up she is going to tell everyone that we made a final four deal with her.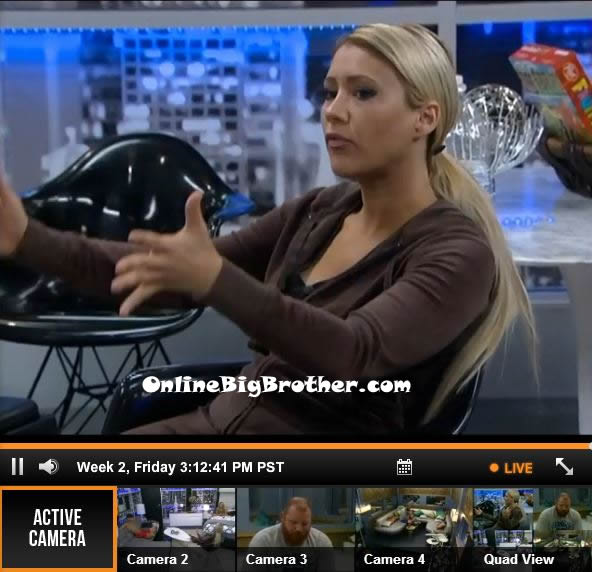 3:20pm Jessie comes up to the HOH and they tell her that she already knows what they are doing so she is just up here to show everyone that we are talking to everyone. Jeremy and Aaryn tell her that they are pretty sure they are putting up Helen and Elissa. Jessie asks if Helen threw anyone under the bus. Jeremy says yes kind of but not really. He says that she was basically saying we need to take out Amanda. Jessie heads down to tell Spencer to come up.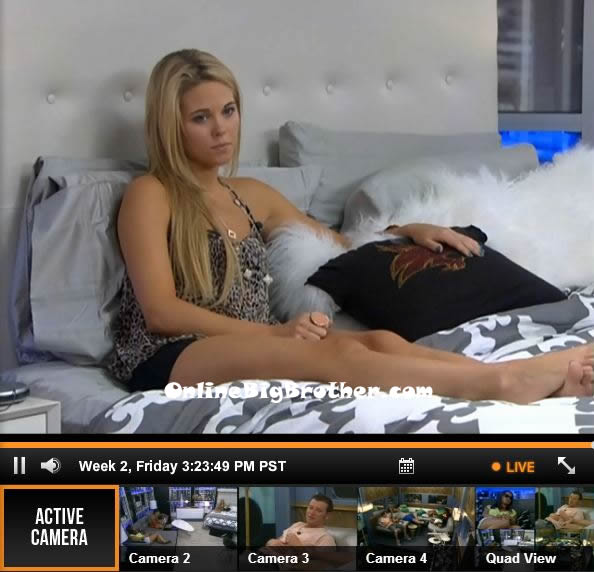 3:25pm – 3:40pm Spencer comes up to the HOH room. They ask him who he thinks should go up on the block with Elissa. Spencer says H. Just because she is not the type to retaliate and she will try for the POV. They talk about how Elissa is having stomach problems because of the slop. Jeremy says that is why it is so awesome how we put her on slop again. Aaryn says that the only reason Elissa doesn't go home is if she wins veto. I just need to pull good players and win it. Aaryn says that they only thing she is worried about is if the competition is the one were you have to guess how much time has gone by. She says that she did it in the hotel room and was within a few minutes. Spencer comments on how Elissa is saying that she would be offended if she didn't go on the block again. Spencer leaves to go tell Elissa she is next. Kaitlin comes up to get her makeup. Jeremy whispers to Aaryn if they should tell her about Helen. Aaryn says no because we don't want it getting back to Helen. Kaitlin leaves. Jeremy comments that Kaitlin is a wrecking ball right now I don't even want to talk to her.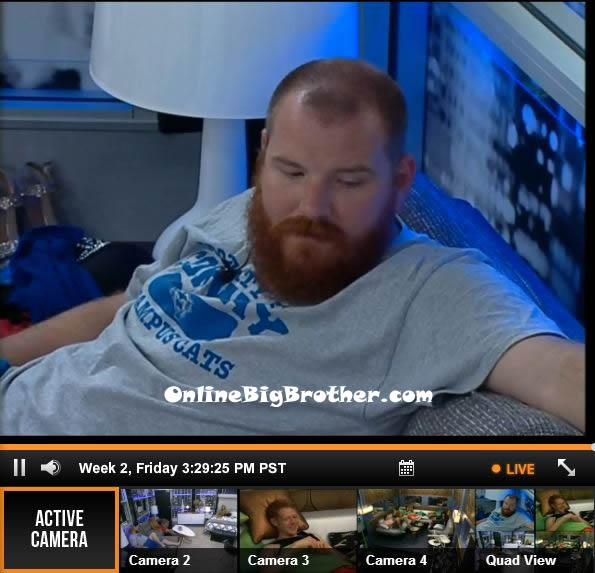 3:45pm – 3:50pm Elissa comes up to the HOH room to ask if she can use the bathroom. She says that she is in so much pain. When she goes into the bathroom. Aaryn comments that she feels bad for her. Aaryn and Jeremy talk about Amanda and how she can lie so easily.
3:50pm – 4:10pm Big Brother switches the live feeds to the we'll be right back screen. When the feeds come back – Aaryn is down in the kitchen talking about how the liver is going to make her throw up if she has to look at it any more. Gina calls something a puerto rican shower. Judd says they call it a wh*re bath. Meanwhile up in the HOH room – Aaryn and Kaitlin talk about how Elissa was crying that she was in too much pain. Aaryn says that she thinks Elissa will self evict because she doesn't want to be sent home by me. Kaitlin says that Elissa is embarrassed about being constipated on national tv. Aaryn gets called to the diary room.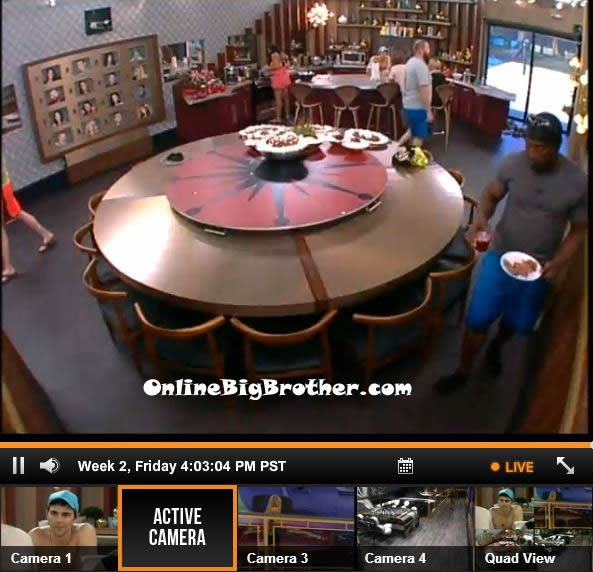 Stay connected and interact with other Big Brother Fans on our Facebook page.
And Follow: @BigBspoilers and @Dawgsbigbrother on Twitter for the most up to date spoilers.