12am HOH room - Liz says he (Austin) his so annoying! Julia says you get too mad, like I feel like he is starting to get annoyed that you always get mad at him. Liz says whatever, get mad at me because I give zero f**Ks!! Julia says get mad and get over it. Liz says he gets so nasty! Did you not see who mean he gets?! Julia says we were being kind of annoying. Liz says no I wasn't, I was picking my nails the whole time. The one time I try to help him (in chess) he yells at me! I haven't tried to help him at all!!! Ughh.. so stupidddddddaaahahahhhhhggghhhh! Julia says I want to know when I was in the shower, what did Meg and James say? Like were they trying to make an argument against Steve?
-Post has been updated--Post has been updated--Post has been updated-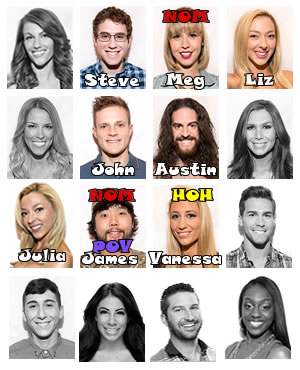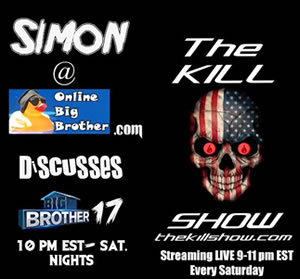 Simon from Onlinebigbrother on THE KILL show Saturdays @ 10pm
http://thekillshow.com
9-11pm
Big Brother Links
Bitchy Big Brother Blog
Big Brother attwx
Hamster Watch
Quirkydudes Archives
Big Brother Archive
Big Brother Gossip
OnlineBigBrother Forum
I Love Reality TV
Big Brother Junkies
IHateBigBrother!
Big Brother 2009
Big Brother Network
Big Brother Insider
The Big Brother Forum
yakkityyaks