-Post has been updated-
9pm - 11:45pm Big brother tells the house guests to go to the head of household room. When the live feeds return we learn that as Head of Household Pilar nominated the two house guests she said she was going to put up - Godfrey & Sindy. Willow, Brittnee, Sarah, Zach, Bobby, Ashleigh, Bruno, Bobby and Godfrey. Bobby tells the house guests just a heads up if Sindy doesn't win the veto her only argument is going to be keep me around because I'll be a bigger target. Don't buy it. Zach asks do you think this veto will be a how bad do you want it because she's up against the wall. Ashleigh says probably.
-Post has been updated--Post has been updated--Post has been updated-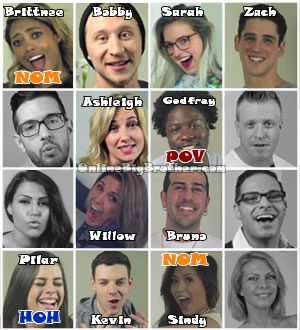 Big Brother Links
Bitchy Big Brother Blog
Big Brother attwx
Hamster Watch
Quirkydudes Archives
Big Brother Archive
Big Brother Gossip
OnlineBigBrother Forum
I Love Reality TV
Big Brother Junkies
The Reality Junkies
Big Brother Fans Blog
IHateBigBrother!
Big Brother 2009
Big Brother Network
Big Brother Insider
The Big Brother Forum
Because You're Addicted
yakkityyaks