-Post has been updated-
12:15am - 12:30am In the cabana room – Jeff is talking to Jace. Jace asks Jeff are you and Jackie close? Jeff says I never cheated on her.. we never really dated. Basically what happened with me and Jackie was along with the blind date we had on Amazing Race .. I think she thought it was more than it really was and we went back to our real lives we both realized we were just friends. I think she got bitter towards me. Not to say that it ruined any kind of relationship that we had or friendship but it kind of put a damper on it. Coming in the the house we came in on kind of awkward terms. I never dated her in the real world. I only trust her because I know her outside this place. That's the only reason but there are people in this house that I would like to trust more.
-Post has been updated--Post has been updated-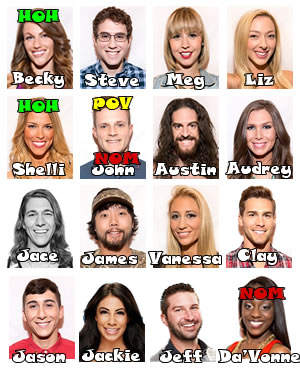 Big Brother Links
Bitchy Big Brother Blog
Big Brother attwx
Hamster Watch
Quirkydudes Archives
Big Brother Archive
Big Brother Gossip
OnlineBigBrother Forum
I Love Reality TV
Big Brother Junkies
IHateBigBrother!
Big Brother 2009
Big Brother Network
Big Brother Insider
The Big Brother Forum
yakkityyaks