Quick Big Brother Spoilers
INVISIBLE Head of Household: Jag
Nominees: Blue & Felicia America and Cory
POV Players: TWO Veto Comps (All 8 play in the first, winner doesn't play in the second veto comp.)
1st POV Winner: JAG
2nd POV Winner: BLUE
Veto Ceremony: Jag and Blue used their vetos. America and Cory put on the block.
Havenots: ?
Lock your ranks in before midnight
The Situation: Cory going to Jury. Felicia and Cirie planning out a all girls alliance.
9:42 am Felicia and Cirie
Felicia going on about Cory trying to throw her name under the bus. "Everything he said to Bowie, Matt and jag he's saying Felicia said.. Felicia told me"
Felicia says there's not benefit for them to keep Cory.
Cirie – if we don't win HOH this week what happens?
Felicia – we have to trust Matt and Jag. I believe Matt isn't putting us up. Jag I still want to believe.
Felicia is going to ask Matt and Jag "How long you do plan on keeping Bowie Jane"
Cirie – tread lightly.. tread MAD lightly cause that's insinuating that what we have is in question
Felicia thinks Matt and Jag will Throw the HOh
Cirie – will they with America still around?
Felicia – they are probably hoping that Bowie or Blue get it.
Felicia says Bowie jane will put them both up.
Cirie – she might put up Blue and America.
Felicia – right.. Bowie Jane will put up Blue and America.
Cirie – Mmmmhmmmm
Felicia – I'll be honest.. I want Bowie Jane gone
Cirie – I know.. if they will let us win.. We can win it we put up Bowie Jane and America. talk to America tell her it ain't her. If something goes awry.
Felicia – Bowie Jane
Cirie – no, Jag goes up.
Felicia – absolutely
Cirie – then it's not our fault.. they'll be like why didn't you put up Blue.
Felicia – after all the shit? that girl fought and she fought hard. I'm really proud of her I didn't want to put her up.
Felicia – lets face it you're (Jag) the biggest target. I don't care what nobody say. Matt isn't going to say it out loud he would be happy with Jag gone.
Cirie – Mmmmhmmmm
Felicia – he won't say it out loud
Cirie – Mmmmhmmmm
Cirie – he'll be scared.
Cirie – Worst case snario Bowie Jane goes home best case Jag goes home.
Felicia – there you go
Cirie – and we still haven't aliendated Blue and America.
Felicia – there you go. there's four of us and matt. (Sounds like BARF final 4 to me. This would be my preferred all girls final 3 with America making it a four https://twitter.com/bigbspoilers/status/1688245241009360896 )
Cirie – Matt will have to win every single thing
Felicia – matt is going to have to SUCK up
They smile.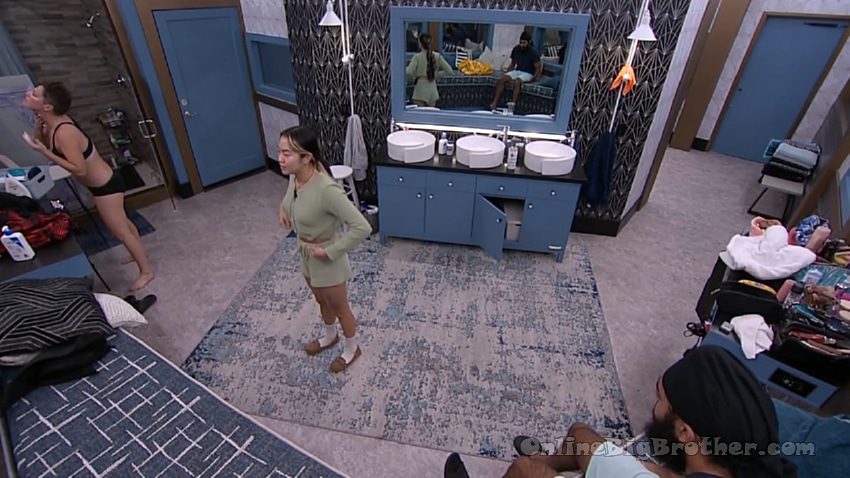 10:14 am Feeds cut when we're back.. Felicia is vacuuming. America/Cory/Matt sleeping. The rest are in the bathroom.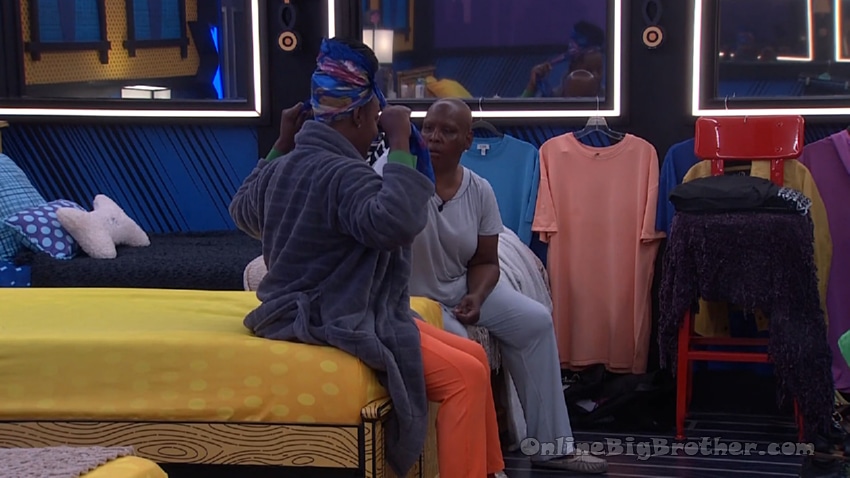 10:25 am Felicia and Cirie
Felicia – I'm wishing America's ass would win girl.. If Blue won she might take the shot.
Feeds flip.. (WHY?) When we're back.
Felicia still going on fantasizing about taking Bowie Jane going up and going on. "Why can't she go home if she's not in the alliance"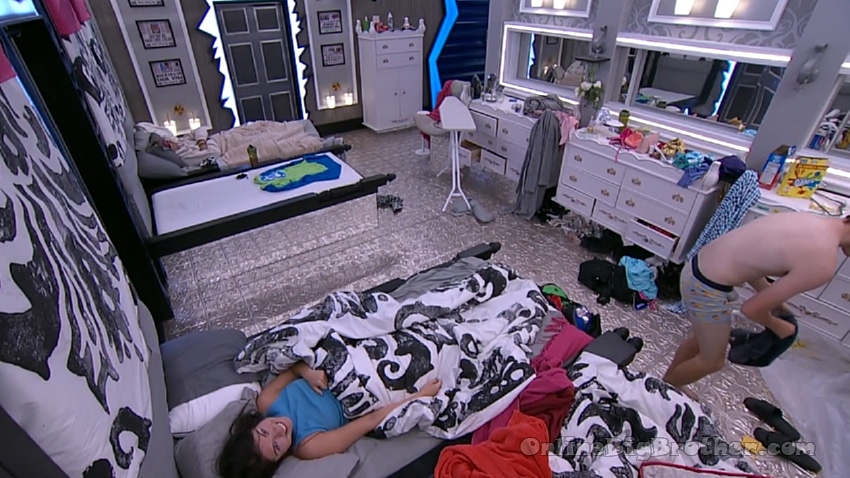 10:44 pm Cory and America last morning together. Cory wakes up with a b*ner
America laughs
America – Okay Bob the builder with a hammer. (LOL)
America giggles
Cory gets dressed..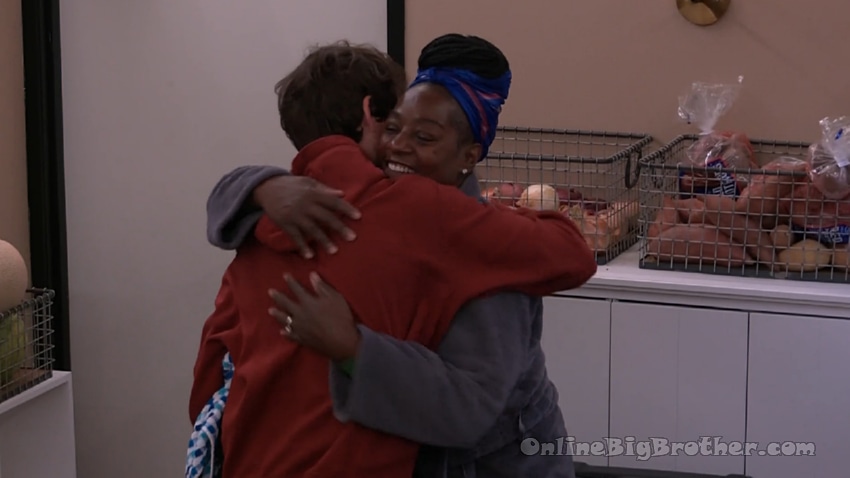 10:50 am Cirie and Cory hug
Cirie mentions how Bowie was really upset about what Cory said yesterday.
Cory says he's such a fan of her. They hug..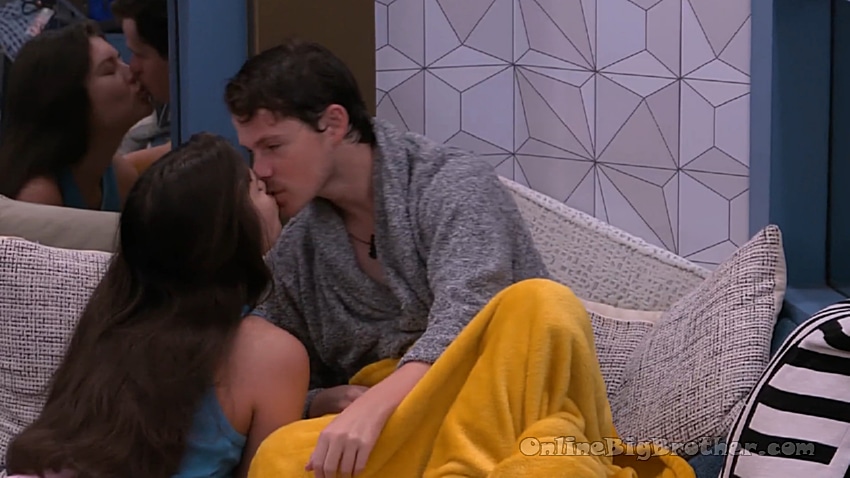 11:30 pm Cory and America getting ready.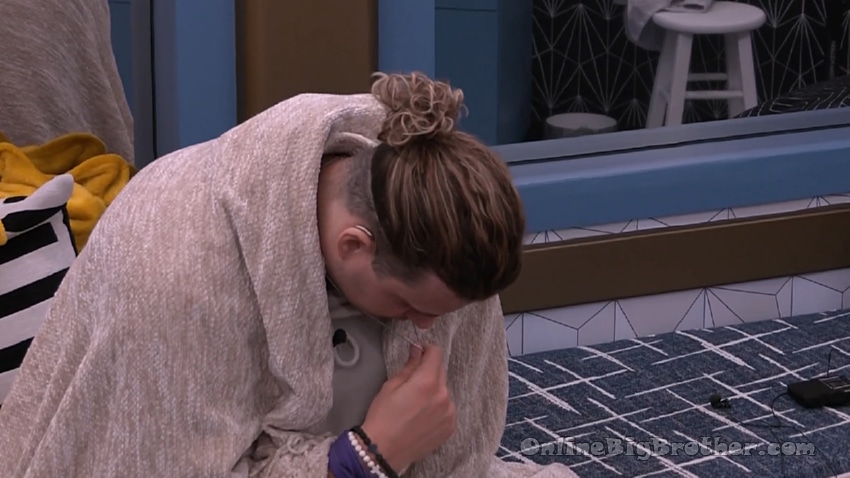 11:55 am Matt praying. a couple minutes later Jag joins him.
Jag – I feel like if it's at the end you and Bowie. I think bowie should win.
Jag – here's why.. if one of us win there's going to be pressure for us to put Bowie up as a pawn. Felicia and Cirie.. Felicia especially will be like why not put Bowie up as a pawn.
Matt – what I would do it tell Felicia she's the pawn. I can't put Bowie up because she's going to freak out and she's not going to handle it. I said I don't care we have the votes right here.
Jag – True .. but if you look at we come in pieces you did way better than Bowie.
Jag says he trusts Matt to win competitions more than Bowie. "If she's HOH and she takes a shot it's off of us.. If She's HOH hopefully it takes heat off of us"
Jag – She puts up two people she puts up Felicia and America. Felicia will be mad at Bowie. So the following week if Felicia wins she puts up Bowie next to Blue.. or whoever. It gives us a better shot. if it's you that does that suddenly the noms are locked and it's me and you.
Matt – I will just put up Blue and America.
Jag – That means Blue or whoever survives they're putting us up.
Jag – if Bowie puts up Blue and America they will want Bowie on the block.
Jag – I'm throwing it and I think you should throw it to Bowie
matt – yeah
Jag adds clarity Ideally Bowie wins if Bowie can't win Matt should win if Matt can't win Jag will win.
Jag – tell Bowie if it's between you and her you'll throw it to her.
Matt offers up maybe he doesn't tell Bowie.
Jag – what if she tries to throw it
matt laughs "We're both trying to go as slow as we can ion the last round" (Nothing would capture modern BB more than the two last standing houseguests going as slow as they can to complete a competition. Almost like it turns into a endurance comp.)
Matt – I'll slip and fall.
Feeds cut to pound

12:58 pm Feeds return.
1:17 pm
1:50 pm Chit chat
America – you look so handsome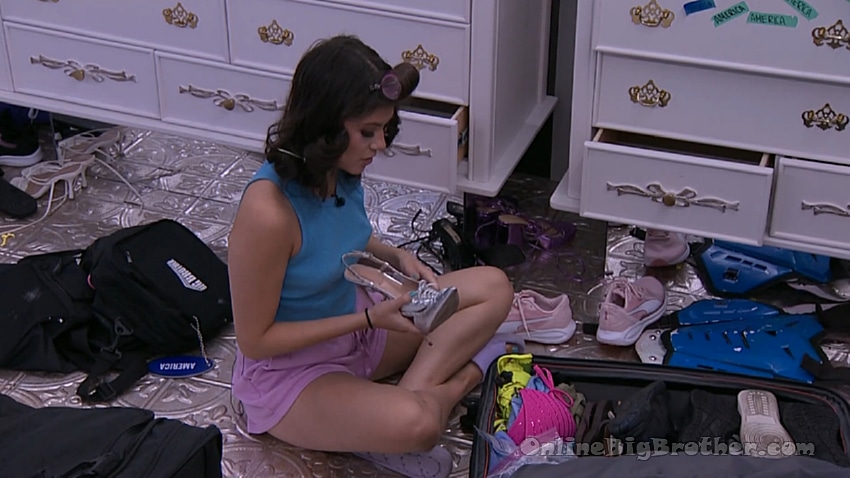 2:15 pm America starts to pack.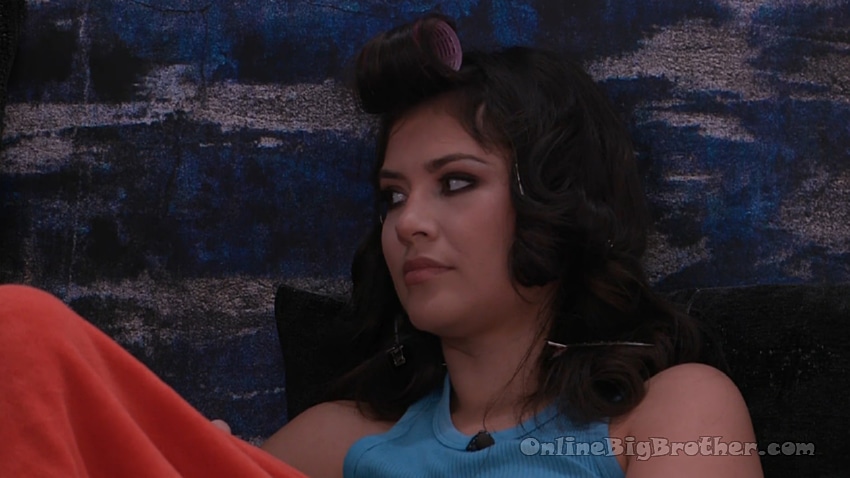 4:14 pm Feeds cut to pound
Feel like leaving a TIP?
Any amount is appreciated! Thank you in advance!