Quick Big Brother Spoilers
Head of Household: Jag
Nominees:
POV Players:
POV Winner:
Veto Ceremony:
Havenots: ?
Lock your ranks in before midnight
The Situation: America and Blue are the planned nominations. Primary target is Blue, Secondary is America. Bowie or Felicia possible renoms.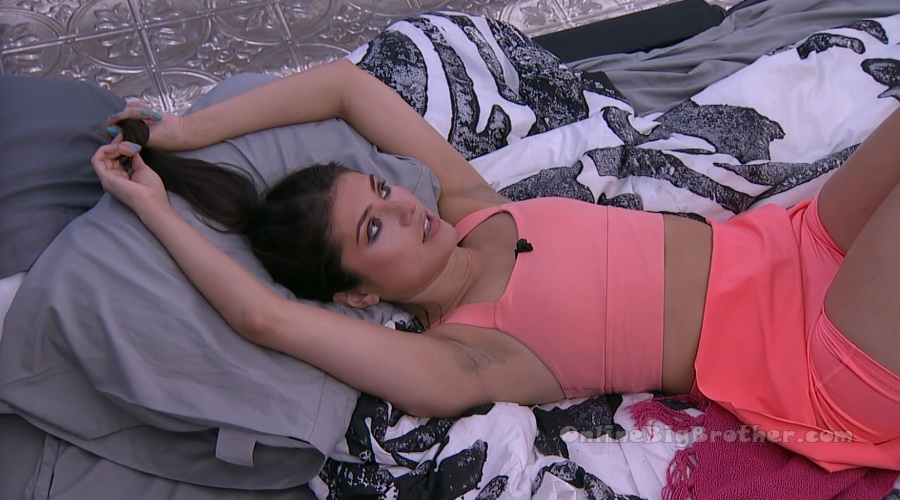 10:34pm The live feeds return from being blocked for the live eviction episode where Cory was evicted.
JAG WON Head of Household!
America – I am going to talk to Jag. I am going to try and make a deal for this week to keep me safe through the double. I gotta cook up some sort of deal! So that he won't nominate me .. so that he won't back door me. Matt joins America. America – so veto will be in the backyard. Matt – I know, I wonder what it is going to be. Maybe the slip n slid veto? America – Maybe, I don't know. It could be anything. It would be a better HOH. They talk about the fake news stories on the wall. They start talking about The Hitmen / Victoria from BB16. The Brigade and Brittany. They talk about the competition again. America – I wonder if I almost had it. They talk about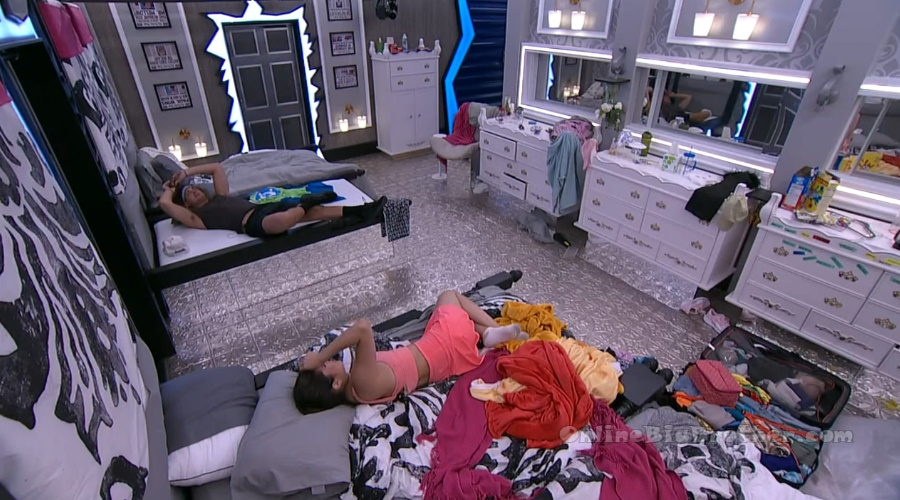 10:55pm Cirie tells Matt – When I heard Jag scream. I was like YES! But I had to act regular. They head into the Comic Bedroom. Matt – I heard some commotion, I could tell it was a guy so I knew Jag won. Matt laughs/jokes – he is going to put you can Felicia up there. I need to win HOH. Cirie – I know. I know. Matt – Sh*t! I feel bad. Jag is doing all the work. Cirie – you saw me running.. I was running HARD tonight. I was f**king moving! Your chance to win something is coming. Felicia joins them. Felicia – But who is he going to put up next to America? Matt – I mean there are only two choices (Blue or Bowie). Felicia – Blue or Bowie. Matt – here is the thing if he puts up Bowie that's bad because she will be a wreak. Felicia – if he puts up Blue, she ain't going to recover from that sh*t. Bowie hasn't been on the block yet. She should be okay with going on the block. I know you (Matt) haven't too. Cirie and Matt laugh. Matt – no! Felicia – he should be able to explain it to her. Cirie – that was fun! Felicia – it was. Cirie – go on you Jag. Matt – how many people aren't playing? You or Me. Cirie to Matt – Go talk to Jad and see what he is thinking. Matt – okay.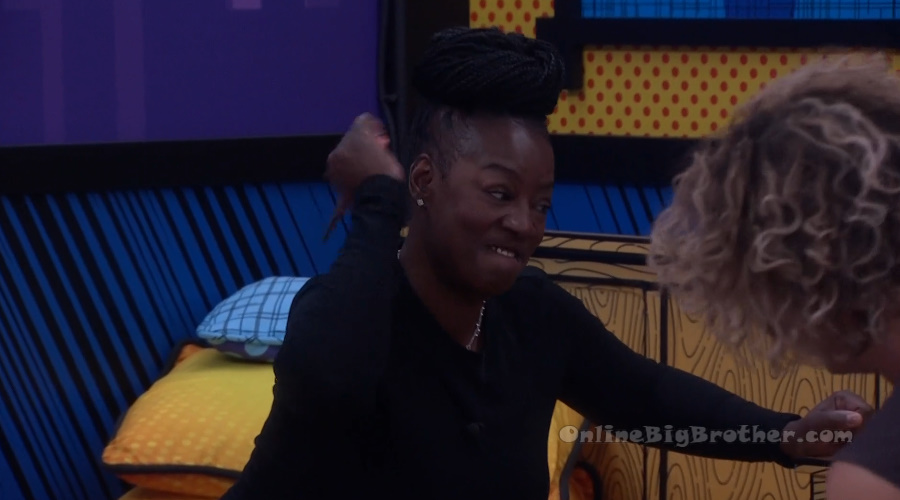 11:03pm – 11:44pm Bathroom – Jag and Bowie
Jag – next week you or Matt need to win. Bowie Jane – well if you would stop winning we will. Jag – right. Bowie – you keep getting in the way. I am so f**king proud (of Jag). Matt – There only one person doesn't play. Bowie – I am afraid that someone will win and take America down and then you have to send Felicia home and then we're f**ked. Jag – Blue and America were not happy. Matt – I feel bad .. he (Jag) keeps winning. Jag this next HOH when I don't only. this next HOH if they don't get me out. This next HOH when I don't play they're going to try and get me out. Bowie – how many votes do we need this week. Jag – two and I break the tie. Getting Blue out this week might be able to get America on our side. Matt – I agree. Bowie leaves. Matt to Jag – I can't wait for the pitch ..like tomorrow morning. I wonder if she is going to sell us out? Bowie comes back again. Bowie – Blue and America are out there talking like mates again. As like they're friends .. so it didn't take long. Matt – yeah. Blue joins them. Jag – that was a hard comp. That was hella hard. Blue – I agree.. we all took hella long. America joins them. she's wearing Cory's HOH robe. I'm going to wear it all the time now. They start talking about studying the days / events of the season.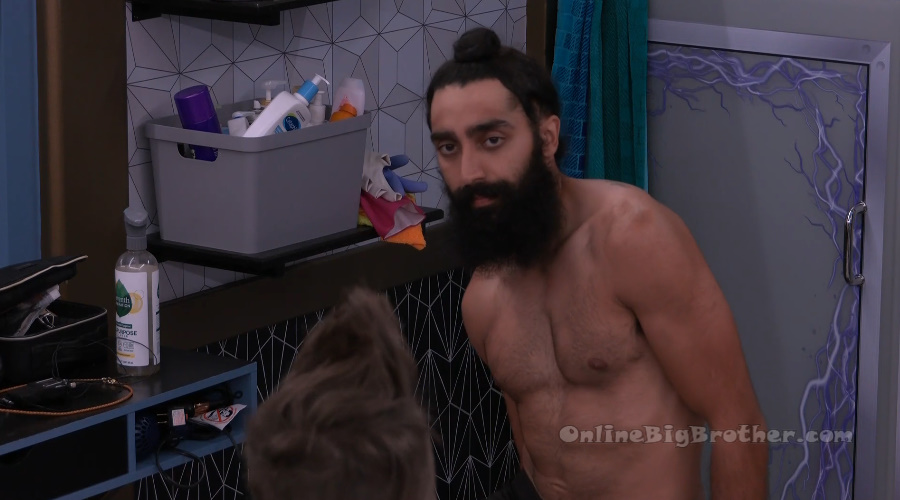 11:55pm Bathroom – Matt, Bowie and America
America – Cory and I had one last game room time.. and he goes I LIKE LIKE LIKE YOU. And I said do NOT say that. Do NOT come at me with that childish sh*t. Like.. Matt – do you want him to say I love you or something? America – I was like do not say that! That is so childish! Tell me how you really feel. And he is like what do you want me say? And I was like I don't want you to say anything that you don't mean. Tell me what you're feeling!? And he goes … starts messing with the robe.. I Love You! Matt – he said that? America nods. He did! And I was like I love you too!!!! So then we kissed. So when he walked out today I said I love you. Let me tell you what is even cuter… I didn't expect this to happen today. I didn't expect him to say it. Yesterday when I did my video (goodbye message) at the end I was like I love you! BYE!! So when he saw my goodbye message he will realize that I had already said it. Bowie – awe that is perfect. That is so nice he said it. Wow. Well you guys definitely spent a lot of time together. America – it felt right to say it.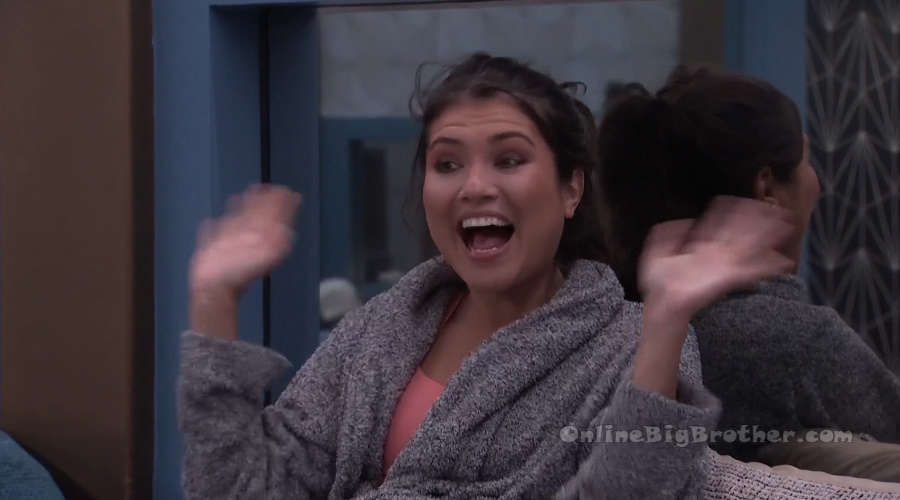 12:16am – 12:30am Bathroom – America and Matt.
America – I feel like a lot of stuff was twisted and maybe words were said and yeah they came out of my mouth but it wasn't what I said exactly. Because even when I was talking with her, she was like you said final two.. And I said I did not say final two. And she was like okay yeah you didn't say final two. And I was like you're not going to gas light me… right!? Anyway point is, if there is a way I can make it past this week and make it into the double my proposition would be .. and I haven't really thought about it a lot because we just had the HOH .. but it would be like he doesn't get to play in the double next week .. next Thursday .. if I can play and I can win you have my word that both of ya'll would be safe and neither of ya'll would go up. We make it to final five and then we take it from there. You shoot your shot if you want. If I can at least make it to final five I will confirm with you that like if it comes to me you guys are not touching the block. Matt – from what I can say… as long as you don't tell anyone else you know. America – I don't have anybody. That's what I was telling Jag I don't have anybody. I am alone. Matt – I have a different target.. and so does Jag. America – okay. Matt – still campaign but like.. America – of course. No I am going to talk to him and I want to talk to you but I am alone. I am on an island. Its what it feels like after Cory I was closest to you and Jag. I am not going to start getting close to Cirie and Felicia in that way. I was never close to them. And Blue I tried so many times and it never worked out. She still feels salty about Jared. And she pretty much told me that she would never work with me when I campaigned to her. She was like you have my vote but we're not going to work together.. I was like okay. And Bowie .. I think my connection with her was through Cory. So I will try to talk to her more and I will try to talk to Blue more. Matt – That's the thing I am not blaming you. As much as I wish that Reilly was here it was good for my game because.. America – well now I have to focus.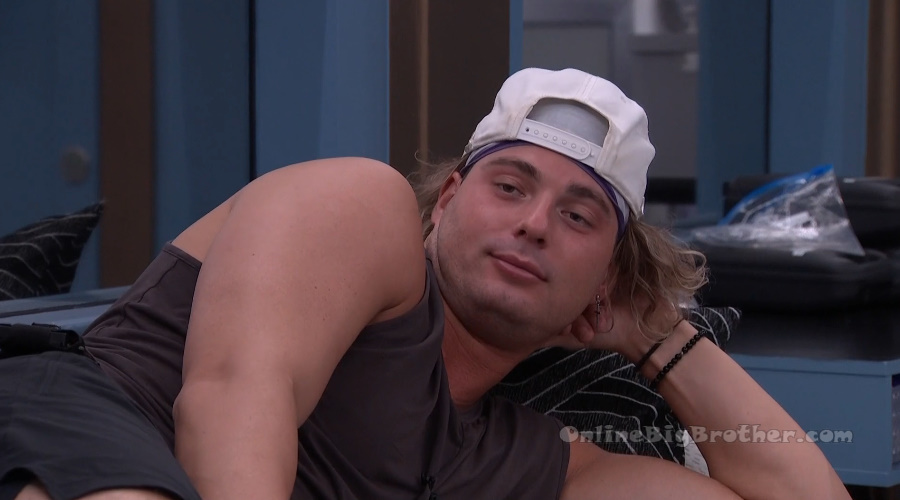 12:30pm – 12:40am Kitchen – Cirie, Jag and Bowie are talking about words they would use if the veto comp is a spelling comp.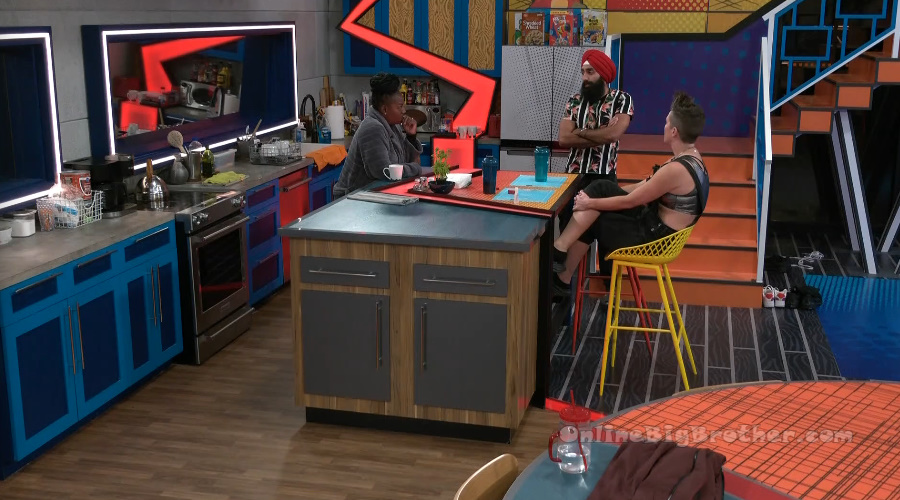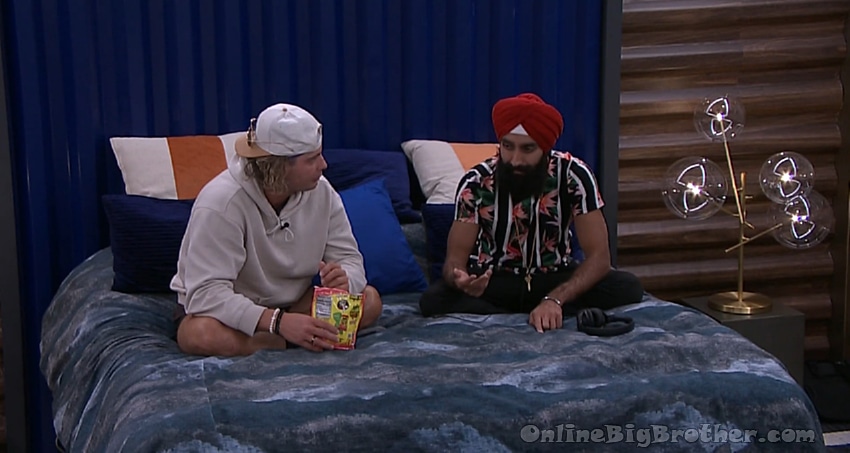 2:06 am Jag and Matt
Matt brings up America telling him 'I have other people as my targets'
Matt – she has to say that obviously
Jag – she was saying that beforehand
Matt – she's saying she would have put Bowie and Blue up.
Matt – she said if she wins double next week she wouldn't put us up.
Jag – I have to put her up she's just not the target
Matt – let her know she has the votes and the other person can't win the veto. If Blue wins the veto and Felicia goes up we have to send America home
Jag – yeah
Jag – here's what i'm thinking.. There's two options. America is on the block regardless who goes next to her there's two options Felicia or Blue.
Jag – If we do Felicia.. mmmm Blue will most likely play in the veto anyways.
Jag – if Blue does win she could keep it (Noms) the same and America goes home.
Jag – if we want America to be on our side she has to sit next to Blue. The moment Blue wins the veto and Blue's not on the block. America is going to go to Blue and be like They wanted to Backdoor you let me join you to get them out. Only one of them can play next week let's cook them.
Matt – f*** the guys
Jag – either we can't tell America anything but we don't gain anything from that. Or Blue sits next to America.
Jag – how do I tell Blue she's the pawn?
Matt – Blue is going to BEG you to put up Bowie instead.
Jag – I'm going to say look if I put up Bowie I lose Bowie.
Jag is going to use the excuse that he doesn't want any new blood on his hands so doesn't want to put Bowie up.
Jag – I'll just tell Blue if america wins we'll put up Bowie or FE
Jag – what do we tell Cirie? do you think Cirie will tell Blue?
Jag – America is going up but is she going up as the target or the pawn


Matt – me, you and Bowie she's a pawn. To everyone else she's going up as the target.
Jag says If America is gone Blue is taking a shot at them. If Blue is gone America is taking a shot at them.
Jag – i'm just going to put up Both of them. If I put up both of them one of them goes home it's a good week. We want Blue to go home but if America goes home it's still a good week.
Jag – I don't want to get any new blood on my hands going into the double next week.
Jag says Blue will ask him what happens if he put her up with America and America wins the veto. "Who's the next target to go"
Matt points out anyone that sits next to Blue will survive.
Jag – I'll say Bowie.. We'll just tell Bowie we're saying that.
Jag – Bowie needs to calm the f*** down.
Matt – I know
Jag – to be very clear the reason this whole past week got f***ed and we started this war was because Bowie wasn't down to be a pawn.
matt – I Know
Jag – like literally.. I was trying to convince her Please Bowie. It would have been Bowie and Felicia. I win the first veto. Let's say Blue wisn the second Veto. Corey and America would have gone up. Blue would have been fine with me and you.
Matt points out Bowie started crying the minute they brought up her as a pawn. They're running low on numbers.
Jag – had she been down to be a pawn it would have been so much more chill right now Blue wants to F***Ing murder us so does America.
Sounds like Blue and America going up Blue is the target.
2:40 am zzzzzzz
Feel like leaving a TIP?
Simon & I could use some Kraken to survive the last few weeks listening to these jokers!
Any amount is appreciated! Thank you in advance!