Quick Big Brother Spoilers
Head of Household: Jag
Nominees: America and Blue
POV Players:
POV Winner:
Veto Ceremony:
Havenots: ?
Lock your ranks in before midnight
The Situation: America and Blue are the planned nominations. Primary target is Blue, Secondary is America. Felicia possible renoms.
9:30 am lights on, Houseguests slowly getting up.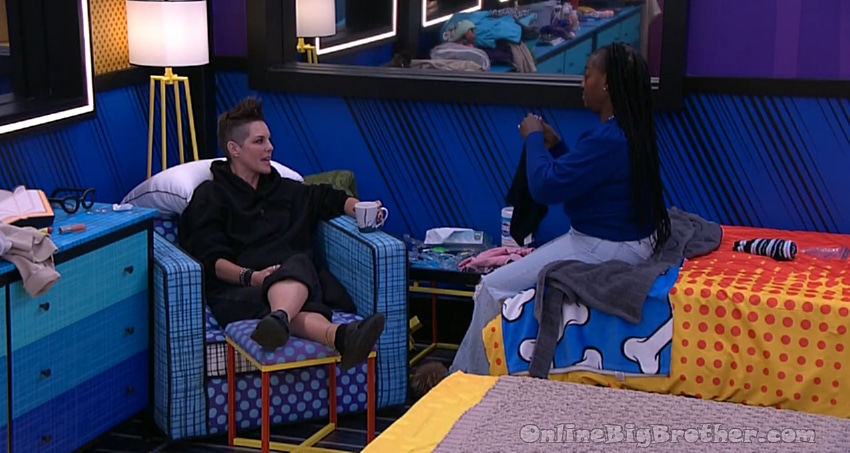 10:32 am Cirie and Bowie talking about studying for mental competitions.
America joins them and they chit chat about showmances America/Cory and past showmances Rachel/Brendon

America says her and Cory were in the game room "Cuddling and whatever" when Cory said "I like like like you"
America – I was like Shutup don't come at me with that childness stuff like we're on the playground. He was like what do you want me to say. I said grow up. He said I love you.
Felicia is shocked.. "Ohh my god REALLY"
Cirie and Felicia give her a hug and they laugh.
America – I had been wanting to say it..
America say she told cory "I love you to"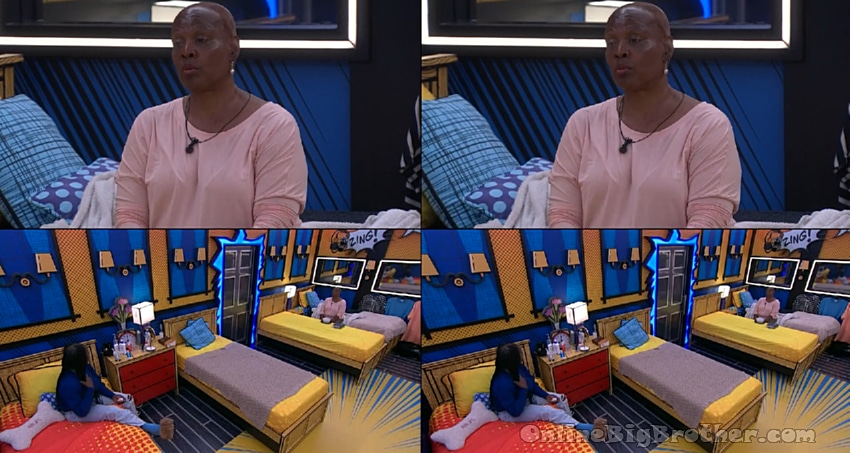 11:22 am Felicia and Cirie
Cirie says Bowie is worried to.
Felicia – under normal circumstances she wouldn't be in here.
Felicia – Jag is doing his thing and Matt isn't hanging out with her she doesn't have a connection with Blue and America. Now she ain't got nobody but us.
Cirie – mmmmhmmmm
Felicia – When's the last time she was hanging out with us sitting in the damn chair
Cirie – mmmmhmmmm
Cirie says Blue is in the kitchen because she's worried
Cirie – Bowie Jane said Blue was chatting America up A LOT
Felicia – She is out there a little nervous
Cirie – mmmmhmmmm
Felicia says that Mat told her they are good.
Cirie – that is what he told me. he said.. I guess last night he stayed up with Jag for a little while. He said you're good don't worry about it.
Felicia – I can't tell if it's going to be Blue or Bowie Jane. I wish he would put up Blue and Bowie Jane and Leave America's as$ alone.
Bowie joins them. Says Jag isn't out of the diary room yet. Felicia comments that he's been in there for over an hour.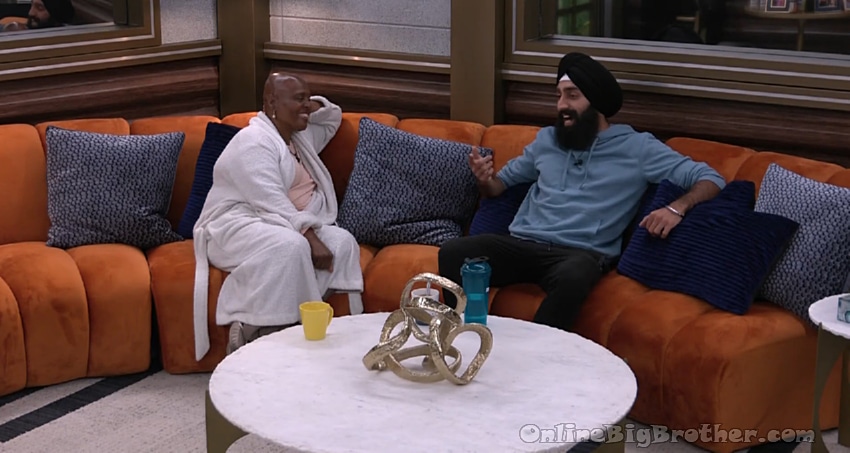 12:05 pm Jag and Felicia
Felicia goes on about how she's good at reading people and all along she thought Jag was Genuine (Felicia not calling him a snake anymore)
Felicia says she trusts Jag, "How do you see this playing out?"
Jag – this week is straightforward. She made it publically clear she's coming after me. The question is who sits next to her. How are you feeling in terms of what do you think should happen.
Felicia – it's a big toss up.
Jag – part of me.. I got so much blood on my hands last week for no reason I don't want to get any more blood on my hands. I don't want to put up anyone new. I'm clearly targeting one person so that leads you or Blue. For me we've had our conversations and I know you've sat as a pawn a lot. I don't want you to keep doing the same thing.
Felicia pushes Bowie Jane to go up not Blue. Says if he puts Bowie up he won't lose her trust but if he puts Blue up then he will.
Jag repeats he doesn't want to get any more blood on his hands. He adds that he's serious about the Matt,Jag,Cirie and Felicia final 4.
Jag – I don't want you to be in any danger. I'm serious about working with you, I'm serious of the four.
Felicia – I am with you. Here is where I think our real connection is. If I left today I would feel like the BIG purpose. I really appreciate that I put a spiritual presence in the house (Good grief)
Felicia – THAT I believe was my real mission in here
Felicia bring sup Blue telling her that she's not a religious person but "Seeing my higher faith" is what Blue liked.
Felicia – praying before we eat.. I don't want to offend anybody because everybody is something.. If I connect with anybody in that way then I've done my job in here and that's how I feel about you.
Felicia – even though out religions are different we're still connected spiritually. There you go..
Jag encourages her says "I'm connected to you beyond game"
Felicia – thank you likewise.. You are playing a fantastic game.
Jag – you're not going to touch the block. I'm not nominating you. what I ask from you now. If I don't want any new blood on my hands Blue will go up. She will feel scared and nervous. Blue is not my target it's obvious who my target is. Whoever is going next to America is not my target.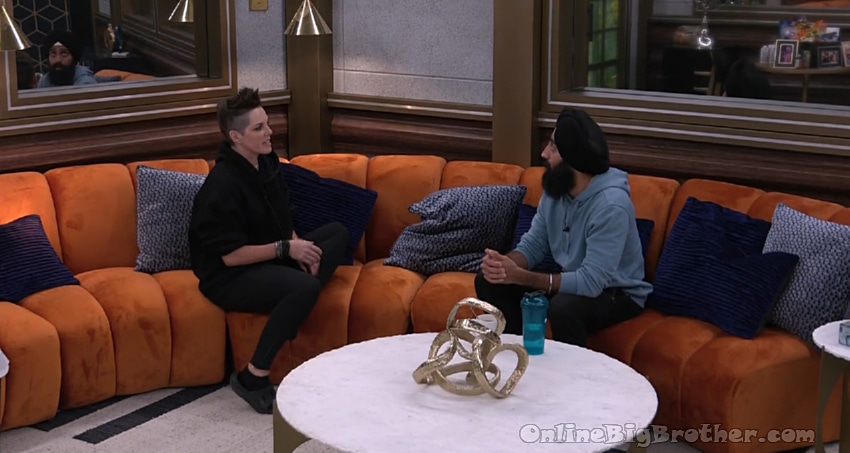 12:25 pm Bowie and Jag
Jag tells her she's not going up and explains "not wanting to get more blood on my hands" angle he's been saying. Tells her that Felicia wants Bowie to go up. He's sure Blue will say the same thing.
Jag says if America wins the veto he'll put up Felicia but will tell Blue he's putting up Bowie Jane.
Jag says America winning veto isn't all that bad they'll have Felicia and Blue on the block it'll be an easy excuse for them to evict Blue. He adds that the only person they don't want to win Veto is Blue.
Jag – Ideally Blue is out this week that would be perfect. Imagine Cory just left then right afterwards Blue leaves.. Those are the two people that are the biggest threats to us making it to the end. Truly
Bowie – Yeah.. the others We can deal with.
Jag – yeah
Bowie – I have a better relationship with America than Blue so I can nurture that.
Jag – say America doesn't trust me and comes after me and Matt next week FINE I would rather America competing in that competition than Blue
Jag – the only people that know Blue is the target is you and Matt
Bowie – Cirie has guessed it on her own.
Jag – I Don't want to confirm that.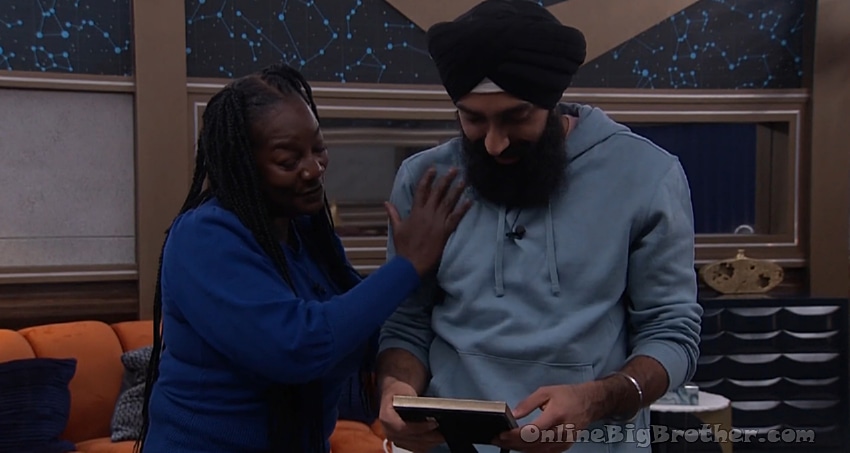 12:45 pm Cirie and Jag
They start with the same pleasantries as Felicia did. Jag sister's wedding. Jag never got HOH basket last week because of the invisible HOH.. etc etc..
Jag tells her he's not putting any more blood on his hands this week. Cirie and Matt are not going up, "America is for sure going up". Says that leaves Blue and Felicia.
Cirie -for sure I know America is coming for you and Matt. Let us know if America is the biggest threat and she's out of here. We're rocking rocking rocking with you guys.
Jag says he's thinking of putting Blue up he doesn't think Felicia should be a pawn again
Cirie – Mmmmhmmm
Jag goes on about how he's rocking with their four.
Jag – Blue has shown over and over that she's a better competitor
Cirie – then America. I know
Jag – she's done so well on every Veto she's done better than America
Cirie – I don't want you and Matt at risk in ANY WAY
Jag – if something happens and I have to beat Blue in a veto that's a lot scarier than beating America.
Cirie – same that is what I was thinking
Jag – the goal ultimately is to get BLue out so Blue cannot win the veto (Ohh shit he told Cirie)
Jag – I will do whatever I can to make sure that doesn't happen.
Cirie – I'll will leave that part for you to bring everyone in on and when I leave this room America is the target.
They talk about how Jag will tell Blue she's going up.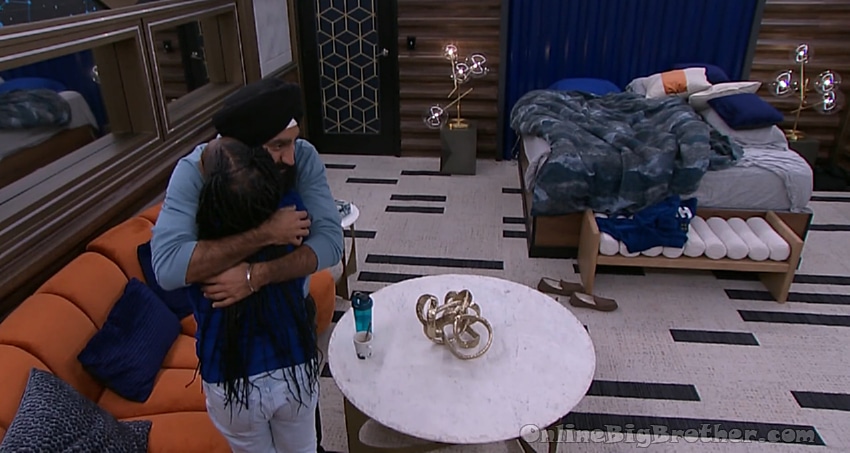 They hug it out. Cirie tells him he's doing a great job. "I love you. you are doing good"
Jag is happy to get the love.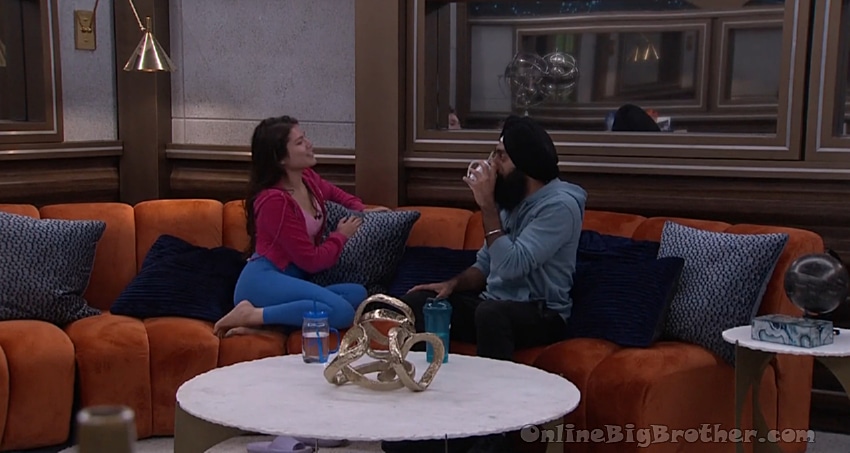 1:08 pm America and Jag
Starts off kinda awkward. Says she hopes he doesn't think she's the only one that would take a shot at Jag and Matt if they won HOH.
America offers to keep Matt and Jag safe during the double. "I would take you off.. lets say I win the veto.. during the double people will come after you guys that will eb the only opportunity to do it. If you guys are up and I win the veto I promise you guys I'll use it on you"
America says if she doesn't win HOH or Veto during the double she'll be a vote for Jag. "if you are up next to Matt I feel like you will be the target. I will be that vote to keep you. You'll only need two. I will try to convince people to keep you I will be your advocate to keep you"
Jag – it'll look really SUSS if I don't put you on the block.
Jag tells her he has to put her on the block everyone expects that but "you don't have to be my target"
Jag – without blowing up my own game I will do everything in my power to make sure you are here.
Jag says he will throw the veto to her and hopes she wins it. He tells her she's going up against Blue and is telling everyone she is the target, "They will think you are the target you will think you are the target I will say you are the target, BUT I want to be VERY clear you are not my target"
Jag – I will talk to Matt
America – if she wins I'm f***ed i'm going home against Cirie or Felicia that's what sucks.
Jag points out he would rather it be him and America competing in the Veto against Blue than Him and Felicia.
Jag – you can stay this week. That is also based on me putting trust in you AGAIN (lol)

1:22 pm Cirie and Felicia
Cirie – I told you last night if BLUE go up. Blue is their target. you ain't gotta be a rocket scientist to figure out
Cirie – it's only been four days since that whole I'm sorry I put you up I was going to save you, I rock with you, we FAM FAM from day one now you are back on the block.
Cirie – Jag ain't stupid
Felicia – who in here is going to give the three votes to America?
Cirie – I knew last night he he put up Blue he's after Blue.
Felicia – Why?
Cirie – Blue damn well near beat his a$$ to the ground (In comps)
Cirie say jag doesn't want anyone in the game that can beat him ion comps. That's why he wants them in the game.
Felicia – that will be his downfall
Cirie -0 now start counting
Felicia – this room makes my head hurt
They start to count the junk in the room.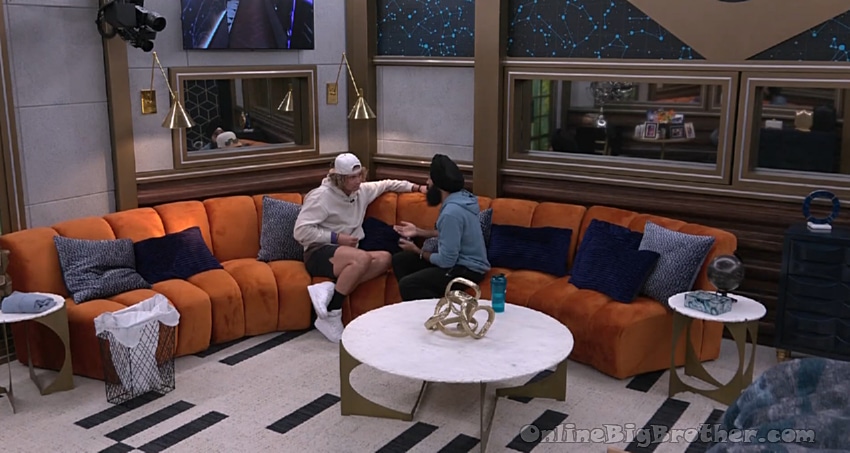 1:37 pm Matt and JAg
Jag give Matt the rundown of his conversations.
Jag cums it up "We're going to lose Blue anyways.. "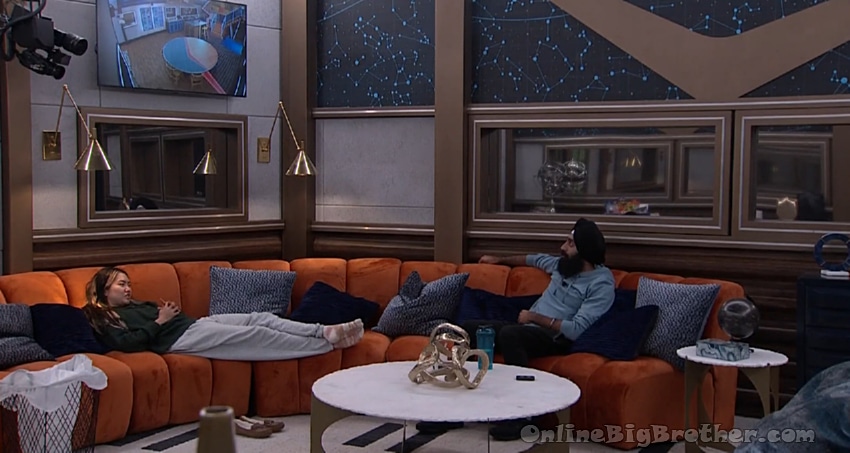 1:50 pm Jag and Blue
Jag tells her that America is the target. "there's not bullshiting around that"
Jag – at this point I can't trust her.
Jag says she's going up as the pawn because he doesn't want any more blood on his hands.
Blue says she's really not upset "If I win veto and take myself down have you thought about who you will put up?"
Jag – yeah, umm, I'm thinking Bowie……..
Jag – here's why.. I don't know for sure so tell me where your thoughts are. Maybe Momma Fe.. I don't know.. backtrack.. probably momma FE.. No new blood on my hands.
Jag clarifies. If she wins Veto then he'll put up Momma Fe to get America out. If America wins veto then he'll put up Bowie.
Jag says he doesn't want Bowie gone, "Then next week America just MERCS me. I'm cooking her a$4 right after I cooked Cory's.. you know what I mean" (Jeepers)
Blue says she wants America out then Bowie.
Jag – I agree that would be crazy.
Blue – you like.. Listen.. I had a hand in Cory going home. I want a f***Ing hand in America going home.
Jag – Absolutely
Blue – if it wasn't HOH it was going to be Veto. If I'm sitting next to her on the block and she goes home.. F***** that's POETIC justice. The end of the goddamn POEM so f*** yeah"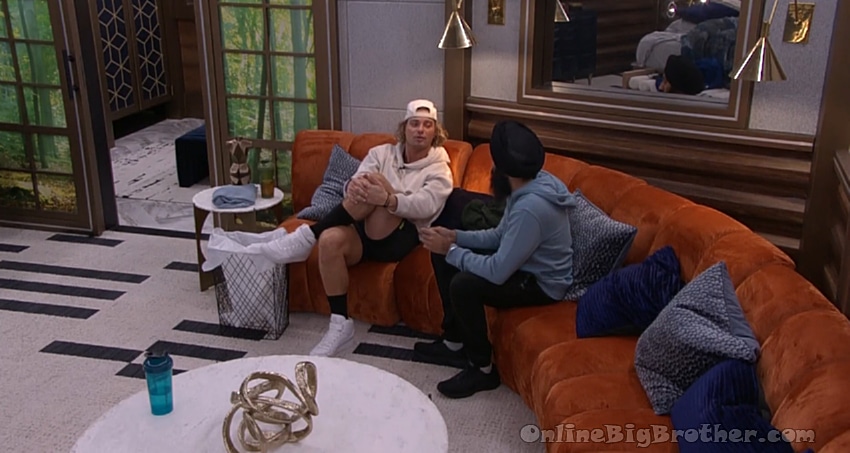 2:32 pm Jag and Matt
Jag telling him to go for the veto win and keep the noms the same.
They joke about an all girls alliance forming.
Jag – either America or Blue are leaving this week.

2:42 pm Blue, Cirie and Felicia
Blue going over her talk to Jag.
Blue – as long as you know we play our cards right, we just secured TOP five. so we're hoping America goes Double eviction the only person that can not win is BOWIE.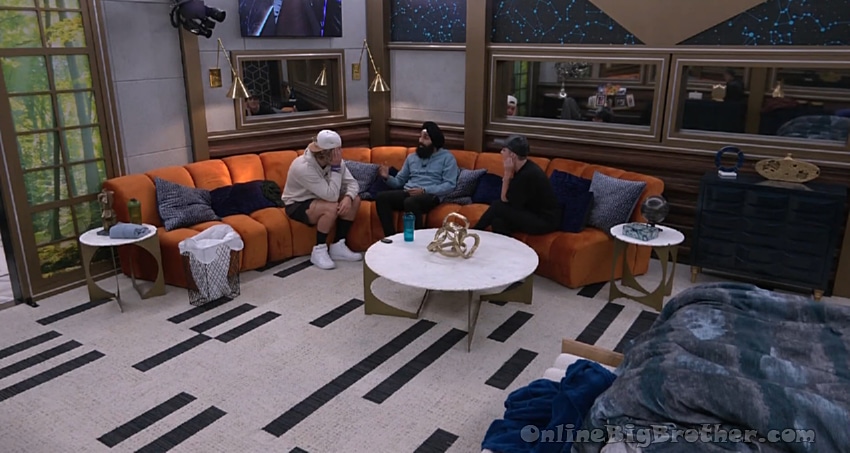 2:48 pm Bowie, Jag and matt
Bowie says that Felicia, Cirie and Blue talking to her downstairs then coming up here and trying to get her ass up is "Dodgy… it's just so dodgy"
Jag – at this point everyone is going to be dodgy. we're in final 6 now. we're making it all the way to the f***ing end. If we survive the double we are rocking.
Jag instructs Bowie to start getting close to the girls the last thing they want is her and him going up and Matt being the replacement
Jag – even if one week we have to pretend we're not close.. F*** it that's one week out of 16 .. make that sacrifice and we're sitting in the final three together
In the likely event Felicia wins the veto. Jag says he'll plead with Felicia to not use the veto saying he doesn't want to get any more blood on his hands.
3:00 pm Feeds cut to pount. America and Blue going up.


4:25 pm Feeds return America and Blue on the block.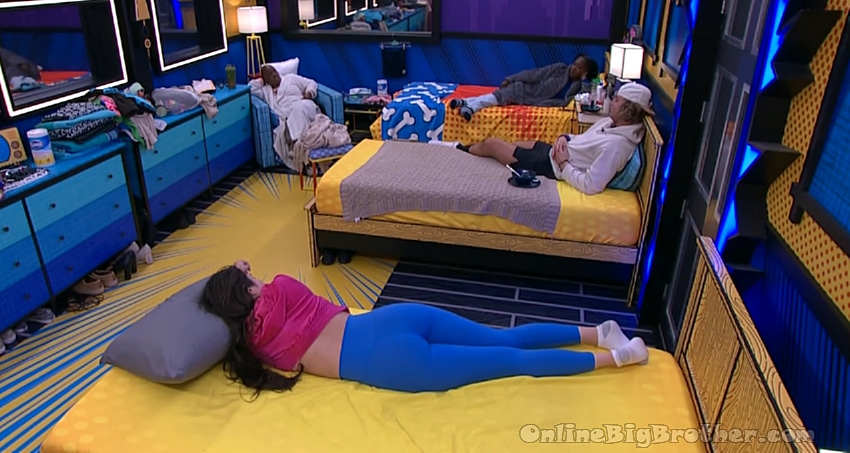 4:52 pm it's chill
Feel like leaving a TIP?
Any amount is appreciated! Thank you in advance!