Quick Big Brother Spoilers
Head of Household: Jag
Nominees: America and Blue
POV Players:
POV Winner:
Veto Ceremony:
Havenots: ?
Lock your ranks in before midnight
The Situation: America and Blue are the planned nominations. Primary target is Blue, Secondary is America. Felicia possible renoms.

4:40Storage room – Jag and Bowie Jane
Bowie – I was just thinking .. this would actually work perfectly. Blue goes this week. Then even if we lose and you two (Matt/Jag) get put up, one of you wins veto. Felicia is going to put America up as the replacement. She is the only one that we need to worry about. Jag – yeah. Bowie – Or America would put Felicia up. Because I'll be coming for America. Jag – yeah.
In the Comic Bedroom – Matt, Felicia, Cirie and America.
Felicia – VETO VETO VETO What is the veto going to be?? Matt – Hot dog eating contest! Felicia – oh lord! I won't do good on that one. I hope its not that pie in the face thing. America – it won't be, we already had our pie thing. Felicia – oh yeah yeah yeah we sure did. America – It was a cool competition but we already got pie'd. They start studying the days / events of the season.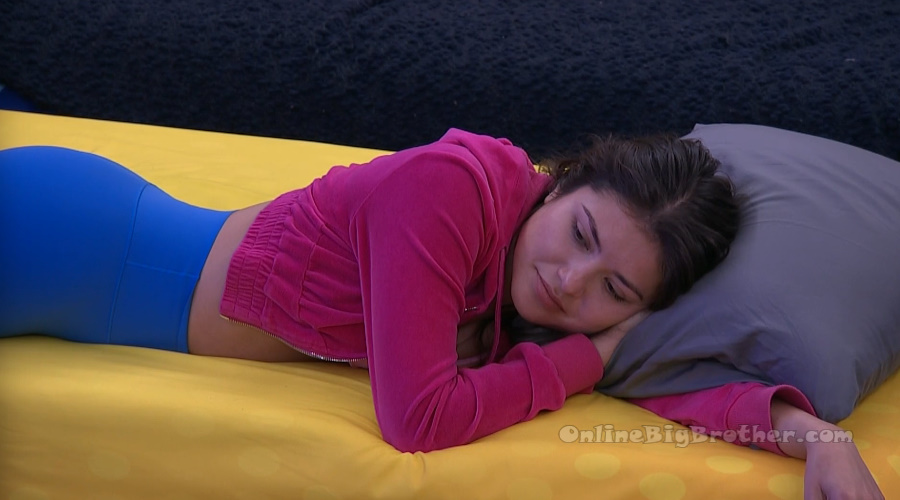 Bedroom – Blue, Jag and Bowie.
Blue – Look at you (Jag) hanging out with the peasants. Jag – I am a peasant. I was born a peasant and I will die a peasant.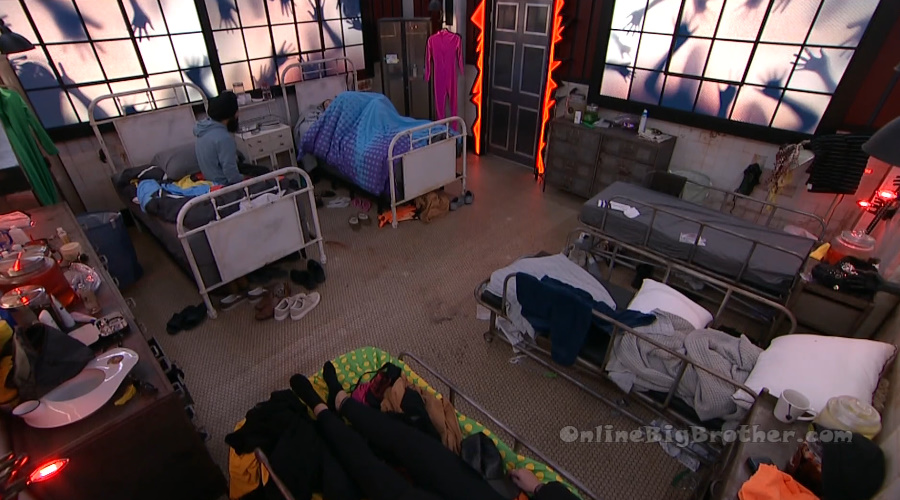 5:33pm – 5:45pm HOH Room – Blue and Matt.
Matt – so what to pick me for house guest choice. Blue laughs – absolutely. I was telling Jag because obviously he was telling me that he was putting me up .. like he was leaning towards putting me up so I feel good about it. I think it makes sense. I am not upset because if he said he was going to put someone else up I was going to ask him can I be house guest choice. Because I definitely want .. in the same way that I had a part in Cory leaving because I had a veto, I want to be a part of America leaving too. Like to be honest because with Cory me and him have always been going at it but like with America I feel like I have given her so many chances. So many times to be honest with me to just like work with me. Matt – for the entire season she's played Cory's game. Blue – literally! Matt – and she's never worked with anyone else. Blue – exactly. And her and I are personally close, like we talk all the time. We hang out. She's been there for me for a lot of stuff too. But its just like girl, we could have worked together and each time you picked your man. Each time you played his game. So I was going to ask him if I could be house guest choice. Matt – he's like I could do you one better, I can guarantee it. Blue – I was thinking about it, I don't want Felicia to be up again. Matt – even that I get that but between you and Felicia .. its like Blue your chance of winning .. not to be mean against Felicia but if there is going to be someone sitting out this veto hopefully its Felicia. There will be one person not playing. Blue – yeah and I really need her (America) out this week. Like honestly, I really need her out this week. And Jag and I talked about this .. we are so close! SO CLOSE! Even just being top five. Lets just have a flawless week. Flawless double eviction and see where it goes. Matt – yeah I can't have America here for the double. Blue – yeah I know. Blue talks about how Bowie this far in the game still can't pick a side and still doesn't have an opinion. Matt – everyone just wants America out. Blue – because she is so dangerous BRO. Matt – she is just so random, she has nothing to lose. And who knows what Cory told her to do. I think she is playing dumb.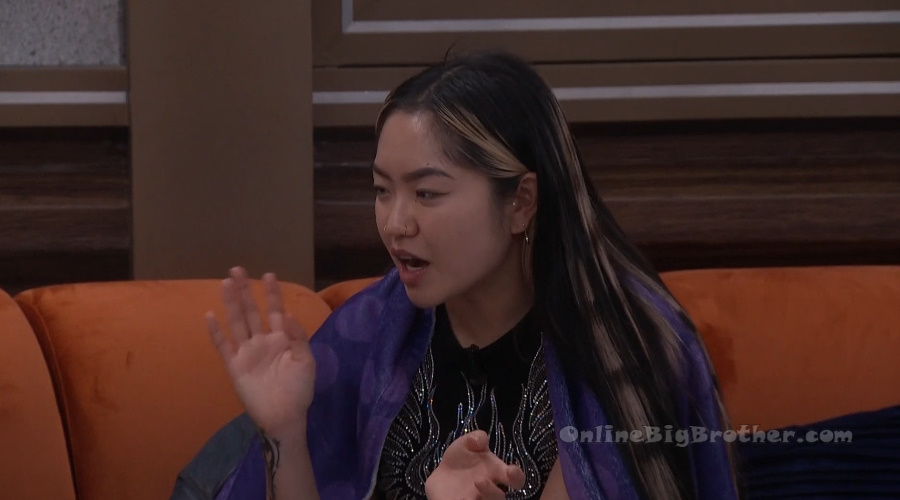 5:58pm – 6:08pm Bedroom – Bowie and America are studying the days / events of the season. America – So I am still holding out hope. It could go either way at the end of the week. Bowie – I think you should play it real careful. Be happy go lucky.. you know how that works somehow. America – I have to get primed up for veto tomorrow. And I don't want to be too confident .. I won't be to cocky or confident that I will have the votes at the end of the week. I just feel like I will be there on Thursday. I am going to try not to and win the veto tomorrow but at this point I really think that no one would want to use it on me and Blue which is okay. If you win, I totally understand if you don't want to use it so Jag doesn't have to put up someone and have that blood on his hands and piss off someone else. Bowie – its not dire straights that's for sure. I think its fine. America – hopefully. I think it will be .. best case I am able to win and can pull myself off. If I do pull myself off I trust that he won't put you or Matt up. Bowie – well hopefully not but I doubt it. America – The worst case scenario is that if she wins and takes herself off. At that point I would hope I have your vote and Matt's vote. We'll know after tomorrow and we'll talk about it. Bowie – We'll know after tomorrow. Its still doable.

6:18pm – 6:40pm HOH room – Jag and Blue.
Jag – at this point its like a lay up for real! Blue – yeah its written! And then we'll all spend Halloween together! That's so cute!! In our little costumes. Jag – I was thinking if the script f**ks us up … man I would be so mad! At this point I think of it as a shoe in. This week is like … we walk. Blue – yeah we walk. And then its free smoke and we can walk around like whatever. I would be so happy with any of us just going further. Jag – truthfully we have to win. She has to leave this week. I don't want to seem like there is a second option because it f**ks me way worse. Blue – even if Bowie wins next week during a double eviction we would be okay. Jag – for me I need America to go because under an America HOH I go up next to Matt. Blue – whatever point I go whether its five, four, three, two, one… I would just be so happy that one of us represents BB25. Not an America… not a Bowie. Its get to be one of u. Jag – just one of us .. that would be wild. Na but we got to make it to the end.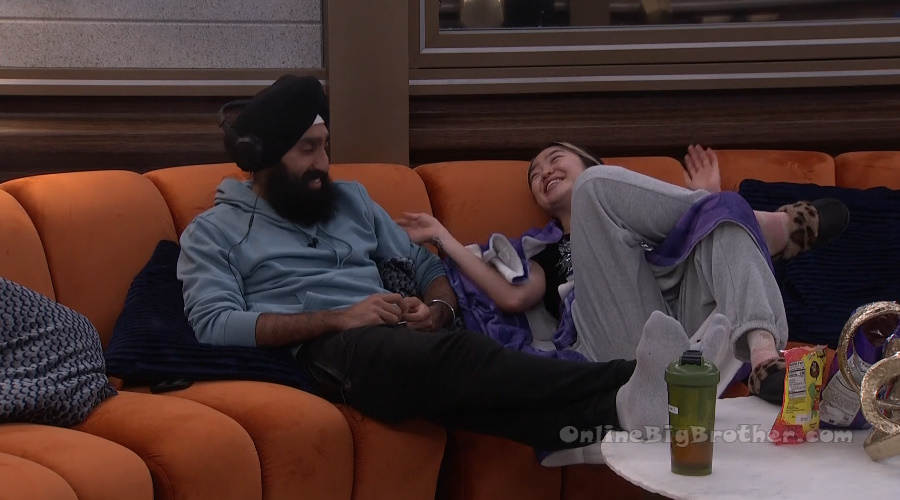 7:07pm Kitchen – Cirie and Felicia are cooking dinner. Meanwhile up in the HOH room – Jag is going through his HOH fridge to see what he got.
7:24pm – 8:27pm HOH room The house guests are having dinner in the HOH room. They eat / chat and head downs stairs to clean up.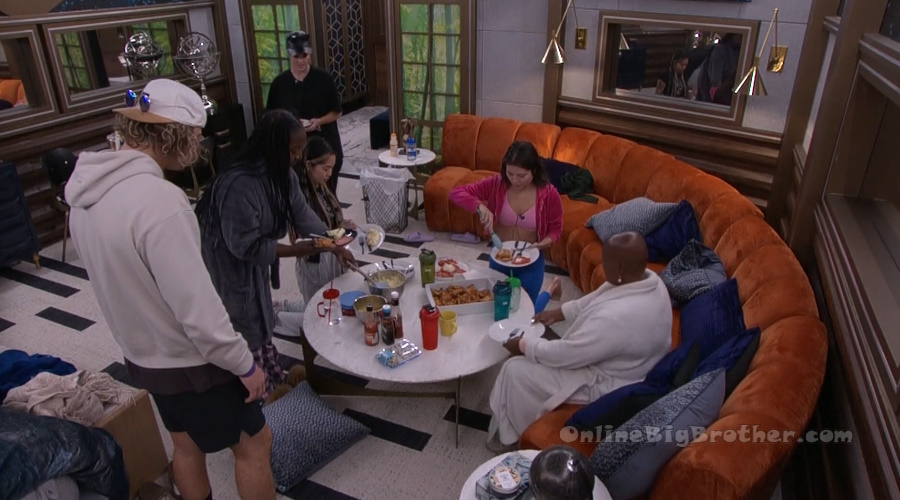 8:35pm bedroom – Jag and America.
America – I am fine. Its sucks obviously. Yesterday was hard. I'm going to gun for it obviously. Tomorrow is just thinking about the veto. What will it be. How will I prepare for it. Jag – I don't remember them doing a spelling veto. Have words ready if it is a spelling one but I don't think it will be that. America – it can be maybe. Jag – slip n slid? America – I did talk to Bowie.. if I do get house guest choice I asked if I could pick her. I told her I understand if you want to keep noms the same. That's fine, do what is best for you game but I would appreciate it if you do use it but we'll have that conversation after and figure out how that works. Jag – do you have a second choice? America – I figure Blue will pick Matt so that's all that's left. Jag – if I get house guest choice first I'll pick Matt. We got to win this veto. America – you're telling me. Jag – we will.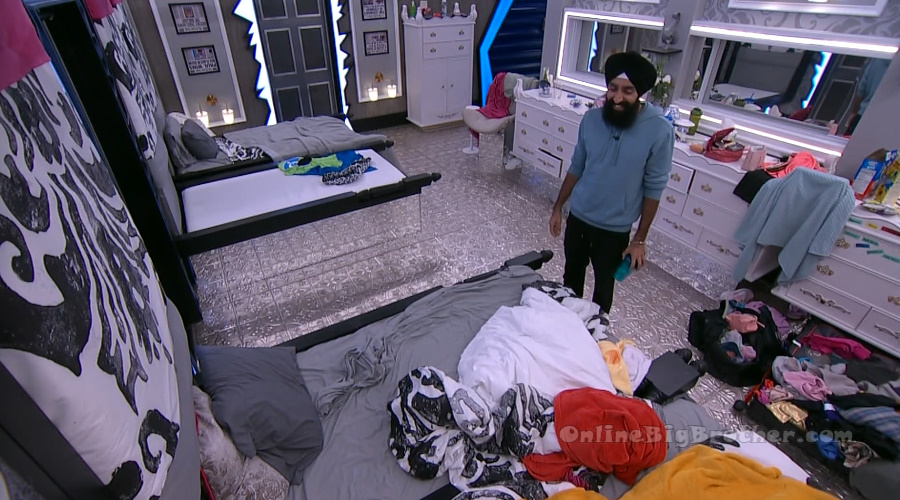 9:40pm HOH room – Jag, Matt and Bowie.
Bowie – she (America) told me that she's not going to put you up next week. Jag – she told you that she's not going to put me up next week? Bowie – she said any of you. So I don't know if she meant you to or.. Matt – she said she'll put any of us? Jag – she told you? Bowie – yeah. If she wins HOH she is not going to put any of you. Oh and that she's not a competition threat and if she is (HOH) she won't put you up and she said she won't go back on that. Matt – because she won't be able to play the next game and then boom she's out. Bowie – I get alone better with her than I do with Blue. Blue I don't know where to go with her. Matt – Blue is more cutthroaty .. more fake. Bowie – see now that she's on the block she hasn't had that conversation with me. I just need to accept that we're playing a game and I am not here to make friends. I am going to win the HOH next week. I really f**king want to win.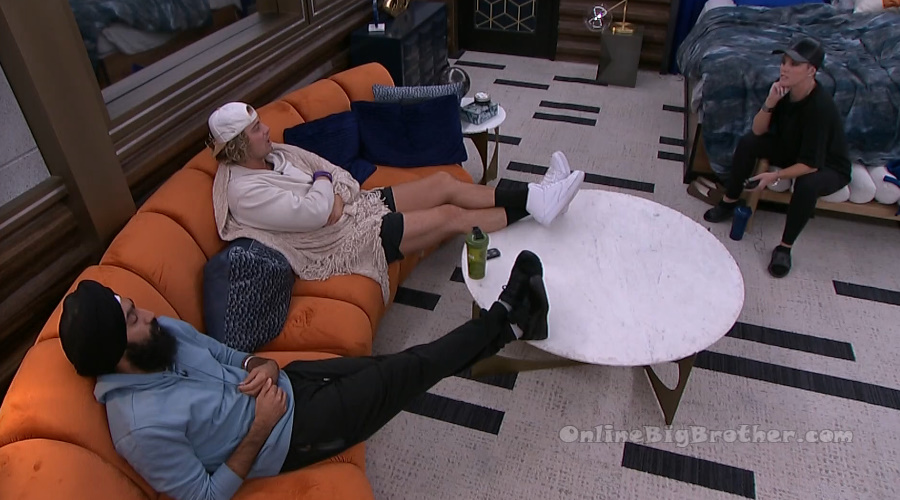 10pm – 10:25pm HOH room – Matt and Bowie.
Bowie – I hope Felicia is not playing. Maybe Blue will pick her. Matt – Blue said that she would pick me. Bowie – did she? Perfect! Matt – yeah I brought it up to her .. I was like ah pick me! And she was like you know I will. Bowie – and maybe Jag picks Cirie. If you're taken? Oh no, he picks me. yeah. oh Jag is first. Matt – yeah Jag will pick me. Blue will pick you. Or me if I'm not called yet. America will pick you. If you're not called yet. Bowie – we don't want Felicia to be picked. I hope I get to play. Matt – I hope we all do, all of us. That's what I am saying I hope it is just one of the Mama's because it will be wasted because they probably won't you know .. those comps they haven't been doing good. I don't mean that in a mean way .. its just we're competitors and we're going to be fighting for our lives for this veto… every comp moving forward we will be fighting for our lives. Bowie – yeah. Matt – Jag has 6 wins now. Bowie – yeah he is doing really well. They head downstairs to get ready for bed.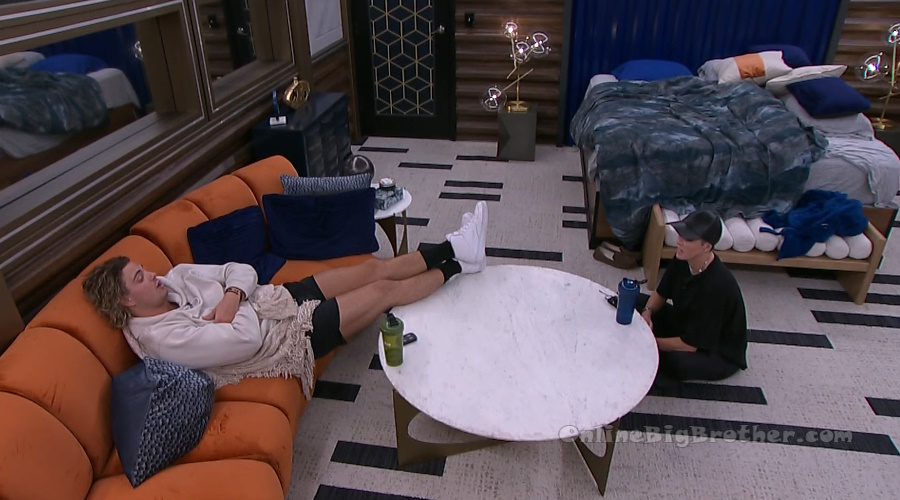 12am The house guests are sleeping..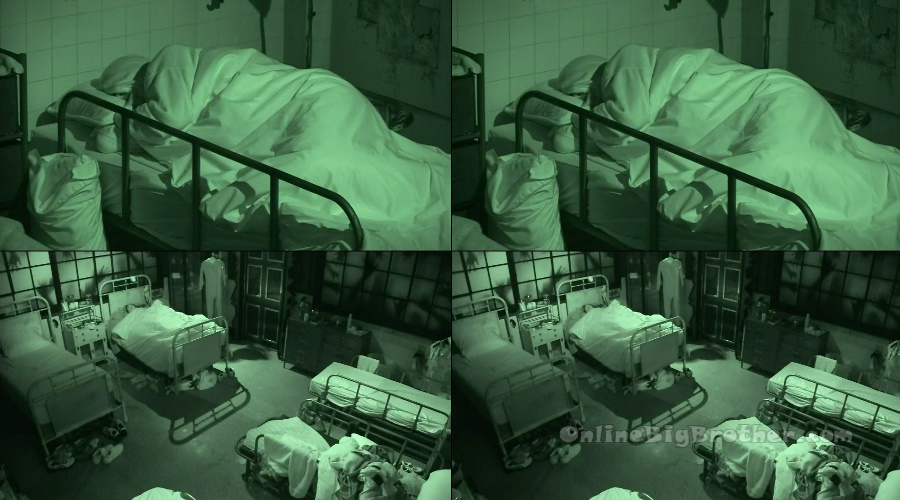 6:40 am zzzzzzzz
Feel like leaving a TIP?
Simon & I could use some Kraken to survive the last few weeks listening to these jokers!
Any amount is appreciated! Thank you in advance!